Back to top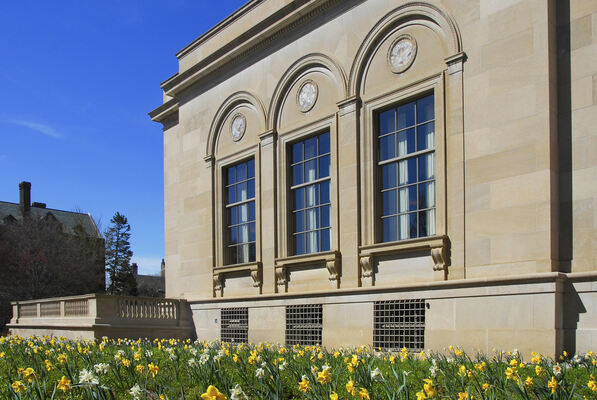 Address

:

909 South University Avenue

Ann Arbor, MI 48109, USA
Thomas J. Chew family papers, 1797-1875 (majority within 1802-1857)
Using These Materials
---
Restrictions:

The collection is open for research.
Summary
Creator:

Abstract:

The Thomas J. Chew papers mainly consist of ingoing and outgoing correspondence of Thomas J. Chew and his wife, Abby Hortense Hallam, in the early 1800s. A significant amount of the collection was written during the War of 1812, and many of the letters relate to Chew's duties as purser of several ships of the United States Navy and in the Navy Yards of Boston and New York. Other personal letters, official documents, and account books are also included in the collection.

Extent:

777 items (1.75 linear feet)

Language:

English

Authors:

Collection processed and finding aid created by Meg Hixon, February 2010
Background
Scope and Content:

The bulk of the collection is the Correspondence series (716 items), which contains the personal and Navy-related correspondence of Thomas J. Chew and other members of his family and together spans the years 1797 to 1875. The Thomas J. Chew family papers also include documents (9 items), financial records and receipts (40 items), account books (3 items), and miscellaneous items (7 items).

Early letters in the collection include an account by Joseph Chew of various branches of the Chew family, including a short history of the different Chew families emigrating from Virginia, accounts of his nieces and nephews (of whom Thomas J. Chew is one), and a mention of the marriage of his sister, who "died last year [and] has left children whose names I do not know;" these included future President Zachary Taylor. A group of letters from 1802 between Thomas J. Chew and Secretary of the Navy Robert Smith discuss Chew's future in the Navy after his return from the West Indies.

Much of the pre-War of 1812 correspondence of Thomas J. Chew consists of autograph copies of Chew's outgoing letters as well as incoming letters regarding his official duties as purser of the John Adams; a main correspondent during this period was Thomas Turner. A letter from Turner at the Navy Department Accountant's Office, dated June 7, 1809, outlined changes to the Naval Regulations, as well as reminding the recipient that "the most minute compliance with all the regulations…will be required." Other letters addressed to Turner regarded payment for sailors onboard the John Adams and the settlement of the ship's accounts.

Thomas J. Chew received another commission as purser from the Navy Department, signed by Paul Hamilton and dated April 29, 1812, and joined the crew of the Constitution almost immediately thereafter (May 20, 1812), serving under Isaac Hull. Most of the letters of late 1812 dealt with issues related to Chew's duties as purser and include copies made by Chew of letters to various clerks and officials within the Navy Department. One of the few more personal items from this period was a letter from Isaac Hull to Chew, dated November 1, 1812. Chew spent the winter between 1812 and 1813 at the Navy Yard in Boston, where he nonetheless kept a consistent professional correspondence as purser in the Yard (February 10, 1813; [April] 1813).

Chew's wife, Abby Hallam, related her esteem for Captains James Lawrence and Isaac Hull in a June 1, 1813, letter to Thomas, anticipating his imminent departure that had, in fact, taken place one day prior. Chew's brief time as a prisoner of the British in Halifax after the capture of the Chesapeake in 1813 is represented by two letters from John Mitchell, one regarding the funeral of Captain James Lawrence and the other regarding his own return to the United States alongside other officers of the Chesapeake (June 7 and 12, 1813). A copy of a letter to William Jones, Secretary of the Navy, informing him of Chew's return to Boston is accompanied by a letter acknowledging its receipt (June 24 and July 5, 1813).

Several letters in the collection concerned the ongoing difficulty regarding the distribution of disputed prize money for the capture of the Volunteer and Liverpool Hero in early 1813. Chew, as purser of the Chesapeake, did not wish to distribute prize money disputed between Captain Samuel Evans and Commodore Stephen Decatur "until it is settled to whom it belongs" (July 16, 1813), noting also that he would obey the ruling of the district court when doing so (July 23, 1813). By September of that year, Chew was prepared to pay an allotted amount of prize money to Decatur, though the matter was addressed again in a draft of April 10, 1819, in which Chew defended his conduct.

The Chews corresponded often with and about high-ranking officers in the Navy. A letter from John H. Elton, dated May 16, 1814, inquired as to the well-being of Abby Hallam and paraphrased Oliver Hazard Perry, stating that the men of the Superior "have seen the foe but they are not ours, neither could we meet them." Likewise, a letter from Charles W. Greene, dated May 16, 1814, discussed various personalities in the Navy including the fact that Commodore Decatur "says Evans is crazy." On June 9, 1814, Isaac Chauncey gave Chew orders to "immediately report to Captain Trenchard [as] the Purser of the Madison--you will also receive the Crew of the Oneida and act as her Purser until further orders." Other letters from prominent figures in the United States Navy include a personal note from Isaac Hull from December 30, 1814.

Post-war correspondence in the collection includes many items addressed to Thomas J. Chew and his wife; these items are mostly of a personal nature, interspersed with correspondence related to Thomas's ongoing duties as purser of the Washington. Letters were written by both Thomas and Abby in this period; hers spoke of home and family while his recounted his experiences on the Washington, including travel to the Mediterranean from June 1816-July 1818. In one letter, Thomas wrote about "the government and the people [being] much occupied at home with the transactions out here. The former have much to do, in my humble opinion, to secure to us the high character we acquired during the short war" and expressed his hope that "[his son] Lawrence will not be inclined to become a Navy officer" (May 9, 1818). Abby discussed the growth of their children, including the sickly Lawrence and a child who died in infancy (May 19, 1816). A letter of January 9, 1821, provided an account of another child's early death: "[God] has call'd home our dear babe, lent only for a season…her life has been a short one, but she has suffered much yet…& now she lies cold & inanimate corpse." Personal correspondence between husband and wife becomes much scarcer in the collection after this date. A letter from Thomas to the Reverend William Bull of Lebanon, Connecticut, related the news of the death of Lawrence and asked Edward to share the news with his wife, Eliza (October 26, 1829).

Thomas's other post-war correspondents included various naval officers involved in his duties as purser, as well as others whose letters were of a more personal nature. The latter include M. C. Attwood, who wrote a letter recounting the USS Cyane's travels through the West Indies and the Caribbean (December 27, 1822) and for whose estate Chew eventually became responsible (September 27, 1823), working closely with Richard Ringgoth of Chestertown, Maryland. Chew's correspondence in 1829 includes many letters from Amos Kendall of the U.S. Treasury department's Auditor's Office discussing Chew's work as purser through 1832. Letters of March 9 and March 29, 1832, discussed the reconciliation of Chew's outstanding accounts as of his retirement at that time.

The collection contains many personal letters addressed to Abby Hallam (later Chew), particularly regarding her daughters. Often signing her letters "Hortensia," she corresponded with both friends and family. Frequent correspondents included Lucretia M. Woodbridge of New London, Connecticut, and Mary Perkins in the early 1810s and a cousin Jacob in 1818. In various letters from the early 1830s, Abby recounted to her daughter Mary, who was staying with Edward and Eliza Bull in Lebanon, Connecticut, the progress of her sisters in school. Other family letters in this period were written between Abby and her children, amongst the children, and to the Bull family. A letter from George Lewis to Thomas Chew, dated December 18, 1843, asked "sanction to my addresses to [Mary Hallam Chew]…no gentleman should address a lady, or make any other attempt to gain her affection, unless assured of her parents approval." The pair were engaged soon thereafter (January 15, 1844), and a letter from A. Lewis, likely George Lewis's sister-in-law Adelaide Lewis, offered assistance to Mary in making plans for her wedding (March 7, 1844).

The focus of the correspondence gradually shifts toward Thomas and Abby's daughters, who wrote to their parents, to their aunt Eliza Bull, and to one another. Abigail, who often signed herself Hortense, and Mary shared vibrant personal correspondence beginning in 1840, including a letter from Abby who offered some helpful advice as Mary began to maintain a household of her own: "I want to know how your nurse & cook come along, don't err in my way & give them too much liberty--require them to do their duty I believe is the secret" (May 1, 1846). Mary's friend Josie wrote on July 28, 1846 to give condolences to Mary upon the death of her father. Other Chew family members represented in the collection include George R. Lewis, Thomas J. Chew's future son-in-law, and Chew's daughters and granddaughters. Also included are scattered letters relating to Harry W. Nelson, Jr., who married a great-granddaughter of Thomas J. Chew; these include a stern reprimand from a godfather dated April 13, 1853, and several undated items.

The correspondence series also contains several items addressed and authored by Mary Norton of Hopkinton, New Hampshire, beginning in the mid-1820s; by 1829, she was a resident of Boston. The collection includes an August 10, 1829 letter from Moses Story, who proposed that Mary "consider [her]self a candidate for my companion in life." Her relationship to the Chew family is unclear.

The series also includes 54 undated items, mostly comprised of personal correspondence, with a significant portion being between Abby and Thomas. One letter from Abby to Thomas foresaw the loss of one of their children: "From every appearance the agony will soon be past with our dear little infant." Much of the correspondence also came from Eliza Bull, addressed to various members of the Chew family. A letter addressed to Abby from a niece, Frances, described the arrival of a baby, Cecilia, and included a poem dedicated to the occasion. Also included are several letters addressed to Harriet Lewis, recently widowed and receiving letters primarily from her sister, Jennette Richards.

The Documents series (9 items) includes several items related to Thomas J. Chew's time in the Navy, including his time as a prisoner of the British, his involvement in Decatur v. Chew, and his resignation from the Navy. Two legal documents are included as well as an inventory for the Protection Fire Insurance Company and a partially-signed petition.

Many of the items in the Financial Records and Receipts series (40 total items) were addressed specifically to Thomas J. Chew, and the series includes receipts for various purchases in New York and Boston. These items span the years 1806-1847, with several items that date to the War of 1812. Several receipts regarded payment for James Lawrence Chew's tuition at the Classical School of New Jersey in the 1820s. A note from Samuel Phillips asked Thomas J. Chew to pay his share of the prize money for the capture of the Plattsburgh to Mrs. Jane Phillips. This was accompanied by a receipt roll, housed with other oversized manuscript items, which listed the distribution of the prize money for the capture of that ship. A pay roll for the officers of the Peacock is also housed in the small oversize area. This series also includes three stock certificates, all pertaining to stock held by Mary F. Hallam.

The Account Books series contains three items: one small account book housed in a red leather wallet and two bound volumes. The first contains various personal records for 1814, and the bound volumes contain records kept by Thomas J. Chew in his capacities as purser for the Washington, treasurer for St. Anne's Church in Brooklyn, and in an unknown capacity for the United States Naval Fraternal Association. One of the bound volumes contains Sunday Accounts for the Navy Department dealing with balances due and paid to various personnel.

The Miscellaneous series (7 items) includes two dated personal items as well as poetry, essays, and a partial family tree.

Biographical / Historical:

Thomas John Chew, son of Samuel Chew and Lucy Miller, was born January 28, 1777, in New Haven, Connecticut, and descended from the long-established Chew family of Virginia. His uncle, Joseph Chew, was a prominent loyalist who fought against United States forces in the Revolution and eventually relocated to Montreal, Canada, where he remained Secretary to the Indian Department until his death on September 24, 1798. Chew's father, Samuel, was killed while commanding the Resistance against British forces on March 4, 1778, and Thomas followed him to the sea, joining the Navy before taking a furlough to sail to the West Indies. Returning in 1802, he was the captain of a ship travelling to Amsterdam in 1806 and engaging in trade in Europe. In 1809, Chew returned to the Navy, receiving an appointment as purser on the John Adams. He acted in this capacity until May 1812, when he joined the crew of the Consitution as purser, serving through the ship's defeat of the Guerriere and its return to the Navy Yard in Boston late that year.

After working in the Navy Yard in Boston during the winter of 1812-1813, Chew was, by May 1813, serving as purser on the Chesapeake under Captain James Lawrence. While serving onboard the Chesapeake, Chew was taken prisoner after the ship was defeated by the HMS Shannon of the Royal Navy on June 1, 1813, and held until June 17, 1813, when he was released back to Boston where he continued working for the Navy. In June 1814, Chew was ordered to report to the Oneida as its new purser, and by July of that year he was on the ship at Sackets Harbor, New York. After the war, Chew served as purser onboard the Washington as it sailed to the Mediterranean in May 1815. After its return in July 1818, Chew remained at the Navy Yard in Brooklyn, New York, until resigning from the Navy in March 1832. Thomas J. Chew died in 1846.

Outside of his naval life, Thomas J. Chew served for a time as president of the Protection Fire Insurance Company, presumably in New York City, until resigning the post in September 1830, and served as treasurer for St. Anne's Church in Brooklyn, New York, from April 1833 to March 1837.

Thomas J. Chew married Abby Hortense Hallam in September 1812. They had several children, including James Lawrence (1814-1829), Elizabeth Hallam, Abigail Hortense (b. 1822, m. McRee Swift), Mary Hallam (b. 1824, m. George R. Lewis, 1844), Lucy Christopher (b. 1826, m. M. Ludlow Whitlock), and at least two daughters who died in infancy. Chew and his wife Abby maintained correspondence with his brother, Samuel Chew, Jr., and with Reverend William Bull of Lebanon, Connecticut, and his wife Eliza.

Henry Wells Nelson, Junior, was born in 1839 or 1840 and married a great-granddaughter of Thomas J. Chew, Hortense Lewis.

Harriet and James Lewis were the parents of George Richards Lewis (May 25, 1809-June 16, 1853), husband of Mary Hallam Chew and son-in-law of Thomas J. Chew.

Acquisition Information:

1963-2005. M-1266; M-1270a; M-1284; M-1305; M-1313; M-1317; M-1335; M-1424; M-1428; M-1429; M-1433; M-1435; M-1440; M-1450; M-1472; M-1550; M-1567; M-1581; M-1583; M-1588; M-1589; M-1590; M-1593; M-2300; M-2539; M-4458.2 .

Processing information:

Cataloging funded by the National Endowment for the Humanities (NEH) and the "We the People" project.

Arrangement:

The collection is arranged in 5 series:

Series I: Correspondence
Series II: Documents
Series III: Financial Records and Receipts
Series IV: Account Books
Series V: Miscellaneous

Each series is arranged chronologically, with undated items appearing at the back.

Rules or Conventions:

Finding aid prepared using Describing Archives: A Content Standard (DACS)
Related
Additional Descriptive Data:

Related Materials

The following collections contain letters from and concerning Chew's naval career:

The Historical Society of Pennsylvania possesses a large collection of Chew family papers, related to the Pennsylvania and Maryland branches of the family.

Bibliography

Chew, Thomas J. Chesapeake and Shannon: a list of the killed and wounded on board the Chesapeake. Boston: Printed by Nathaniel Coverly, 1814.

Leighton, Douglas. Joseph Chew. In Dictionary of Canadian Biography Online, 2000.

Leiner, Frederick C. The Squadron Commander's Share: Decatur v. Chew and the Prize Money for the Chesapeake's First War of 1812 Cruise. In The Journal of Military History, vol. 73, no. 1, 2009. Pages 69-82.

Navy Department Office of the Chief of Naval Operations, U.S. Naval History Division. Chew. In Dictionary of American Naval Fighting Ships (vol. 2, p. 100). Washington, D.C.: United States Government Printing Office, 1963.

Documents Series Itemized List

A letter of recommendation for John Grace regarding his acceptable service on the President, written and signed by Isaac Chauncey, dated July 7, 1802.
A letter from William Berry, midshipman on the Chesapeake, authorizing Tunis Craven to receive any prize money on his behalf, dated March 17, 1813 and witnessed by S. Dashwood and George L. Storey.
A pass authorized by a British Agent for Prisoners of War, allowing Thomas J. Chew to walk freely within one mile of his lodgings in Halifax, Nova Scotia, dated June 7, 1813 and containing identifying physical information.
A certificate releasing Thomas J. Chew from his captivity as a prisoner of war of the British, allowing him to proceed from Halifax, Nova Scotia, to Boston, Massachusetts, signed and dated June 17, 1813, including identifying physical information about Thomas J. Chew
A document, notarized by Anthony Woodward, appointing Edwin Hicks as attorney for Silas H. Stringham, signed by Silas H. Stringham and dated January 19, 1824; including an addendum of April 27, 1825 noting the receipt of $51.03 prize money from Thomas J. Chew.
A document from the Surrogate's Office at Flatbush, Kings County, New York, appointing Thomas J. Chew guardian of Julia Evans following the death of Samuel Evans, signed by Jeremiah Lott and dated June 12, 1826.
Inventory and Trial Balance of the Protection Fire Insurance Company, New York, dated August 4, 1830 and including a September 4, 1830 addendum regarding the resignation of Thomas J. Chew from the Presidency of the company, signed by his successor Benjamin Huntington.
A letter signed by Levi Woodbury, Secretary of the Navy, accepting Thomas J. Chew's resignation as a Purser in the United States Navy, dated March 15, 1832.
A petition swearing allegiance to the United States Constitution, including two signatures from Hancock County, dated April 23, 1838, and August 1, 1838.

Account Books Series Itemized List

Miscellaneous Accounts, 1814
Accounts for USS Washington, 1815-1831; St. Anne's Church, Brooklyn, New York, 1834-1837; United States Naval Fraternal Association for the relief of families of Deceased Officers, 1820-1821; Contingent Fund for defraying the Expenses of the Convention of United States Naval Fraternal Association, 1820; Contingent Account of the United States Naval Fraternal Association, 1820; Amount of Fees received from Members of the United States Naval Fraternal Organization &c., 1820.
Sunday Accounts [Director] to Navy Department for Balances due them; Sunday Accounts for balances overpaid them Transferred.

Miscellaneous Series Itemized List

May 6, 1828 invitation for James Lawrence Chew to attend the Junior Ball at Yale University.
A death notice for George Richards Lewis.
A long poem composed on the death of Mary Hallam.
A short poem entitled "Contented Shepherd."
An account of the "Cure for Deafness" for a specific individual.
A description of the many medicinal properties of "The Bone Plant from Africa."
A partial family tree for a branch of the Chew family not including Thomas J. Chew or his immediate relatives.

Alternative Form Available:

The portion of this collection spanning January 1812 to June 1815 has been microfilmed and is on permanent loan to the USS Constitution.
Contents
Using These Materials
---
RESTRICTIONS:

The collection is open for research.

USE & PERMISSIONS:

Copyright status is unknown
PREFERRED CITATION:

Thomas J. Chew family Papers, William L. Clements Library, The University of Michigan