Back to top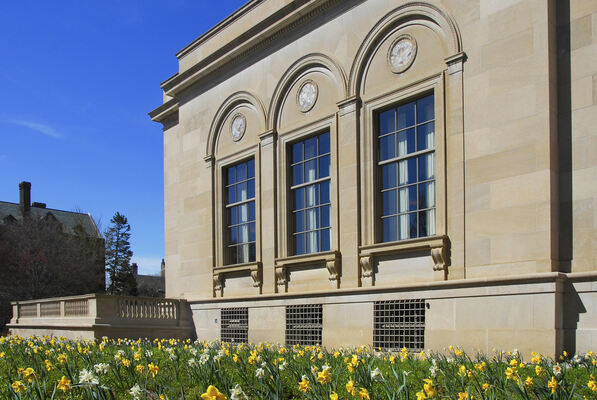 Address

:

909 South University Avenue

Ann Arbor, MI 48109, USA
David Porter and David Dixon Porter papers, 1803-1889
Using These Materials
---
Restrictions:

The collection is open for research.
Summary
Creator:

Abstract:

David Porter and David Dixon Porter papers (4 linear feet) contain the letters and writings of two American naval officers who served in the 1st Barbary War, the War of 1812, the Mexican War, and the Civil War. Included are official and family letters, as well as David D. Porter's manuscript drafts of his history and fiction works.

Extent:

4 linear feet

Language:

English
Spanish
French

Authors:

Collection processed and finding aid created by Philip Heslip, June 2011
Background
Scope and Content:

David Porter and David Dixon Porter papers (4 linear feet) contain the letters and writings of two American naval officers who served in the 1st Barbary War, the War of 1812, the Mexican War, and the Civil War. Included are official and family letters, as well as David D. Porter's manuscript drafts of his history and fiction works.

The David Porter Correspondence series (231 items) contains Porter's incoming and outgoing letters covering 1805 to 1840, most of which deal with his naval service during the War of 1812, and his West Indian patrol duty, with some items documenting his time in the Mexican Navy and his diplomatic career. Present are seven items related to his time in the Mediterranean during the First Barbary War, eight letters from Secretary of the Navy Robert Smith during Porter's service in command of the United States Gun Boats at New Orleans prior to the War of 1812, and 15 War of 1812 era letters from Isaac Hull concerning his interest in administrative improvements in the navy. Other topics include the release of officers and crew of the U.S. Essex, Porter's relationship with the Carrera brothers and support for Chilean independence, and Porter's command of the West India Squadron (1823-1825).

Items of note include:

March 10, 1809: Edward Livingston to David Porter requesting an opinion of his proposed improvements to the harbor of New Orleans
September 21, 1812: John Stricker to David Porter announcing the safe arrival of the Prize brig Lamprey, captured by Porter on July 13, 1812
May 3, 1824: Cecilio Ayllon, military governor of Cuba, to Porter concerning the disrespectful and damaging conduct of American sailors at a woman's property near Matanzas, Cuba
January 1843: George Read's naval order and an order of the procession, with diagram, for David Porter's funeral
April 24, 1843: Abel P. Upshaw's general order concerning the death of David Porter

The David D. Porter Correspondence series contains Porter's incoming and outgoing letters between 1845 and 1889. These include few letters from early in his naval career, 26 Civil War era letters, and many peacetime letters with fellow naval officers and government officials. Also of importance are 24 letters dealing with the 1889 Benjamin Butler controversy, along with typescripts of material related to the court. Other family papers include 3 items to Evelina Porter and a small number of late 19th and 20th century material concerning the naval career of Theodoric Porter.

Items of note include:

January 10, 1847: David P. Porter's "Last will and testament"
June 18, 1854: C.J. Latrobe to David D. Porter, Bay of Panama, concerning gratitude to Porter from the passengers on the Golden Age, the first steam ship crossing of the pacific to Panama
March 23, 1855: Harry S. Wayne to David D. Porter, concerning introducing camels for use in U.S.
August 25, 1861: G.H. Heap to his brother-in-law David D. Porter describing pre-war excitement in Washington D.C.
June 1, 1862: Letter to David D. Porter planning an assault on the mouth of the Mississippi River
September 6, 1862: Edward Hooker to David D. Porter recounting the naval engagement of the Louisiana
June 5, 1863-May 30, 1865: 11 letters to or regarding David Dixon Porter and the Mississippi Squadron. Two of these letters refer to African Americans, including contraband (December 1, 1863) and "peddlers" (April 23, 1864).
September 28, 1864: David D. Porter's general order for the Mississippi Squadron announcing his leave of office
January 7, 1879 and April 21, 1889: William Tecumseh Sherman to David D. Porter discussing memories of Sherman's brother, Porter's current naval activities, and social engagements
August 8, 1879: Fragment report on the construction of the Danish ironclad Helgoland
March 3, 1884: Ulysses S. Grant to David Porter describing the state of Grant's health

The David D. Porter Manuscript Writings series is comprised of drafts and fragments of Porter's literary and historical works, novels, essays, speeches, and biographical notes.

These include:

Two autobiographical manuscripts, parts 1, 2, and 3 of My Career in the Navy Department and portions of a journal describing his Civil War experiences
Draft of an adventure story
Pages 353-474 of a novel
Notes on the Civil War, in particular the Vicksburg campaign and the Red River Expedition, and Sherman and Lincoln, for his book The Naval History of the Civil War
"Extracts from my Journal made for General Badeau, when he was writing the life of General Grant. These are a little fuller than the Journal"
Sketch of the career of D. D. Porter in the Mexican War (1870s)
Report concerning a 1873 North Western Texas Land and Copper Expedition
Various naval reports: Fleet Tactics, Report of the Board on injuries received by the Hyascar in the action of October 8, 1879, a "List of Vessels of the Chinese Navy and Custom Service" with details on class, tonnage, guns, carriages, number of men, horse power, location built, and construction material (1864-1877)

The Miscellaneous Documents series consists of newspaper clippings, a David D. Porter article entitled "The Opening of the Lower Mississippi, April 1862," a color map of Fort Jackson, and a schematic diagram of torpedo machinery designed for the tugboat Nina (May 1869).

Biographical / Historical:

David Porter (1780-1843) was born in Boston, Massachusetts, to the Revolutionary navy captain David Porter and Rebecca Henry. He entered the navy in 1798 and served on board the Constellation during the Quasi War with France. He participated in the 1st Barbary War as a 1st lieutenant on the Philadelphia. He and the rest of the crew were captured and held prisoner at Tripoli from October 1803 until June 1805. After release he remained in the Mediterranean as captain of the Enterprise. Porter took command of the New Orleans naval station in 1808, and during the War of 1812, he sailed around Cape Horn, entered the Pacific, and captured several British prize ships. However, on March 28, 1814, Porter's ship was captured by Captain James Hillary off the coast of Valparaiso, Chile. After the war, he served on the Board of Navy Commissioners until given command of the West India squadron in 1823. He was court martialed in 1825 for invading Fajardo (Foxardo), Puerto Rico, and resigned from the United States Navy the following year. From 1826 to 1829 he served as a capitán de navio of the Mexican Navy, after which, Porter returned to the United States. In 1830, the Jackson administration appointed him consul general to Algiers, and a year later appointed him minister to Turkey. He died in Constantinople in 1843.

David Porter married Evelina Anderson in 1808. They had ten children, including David Dixon Porter.

David Dixon Porter (1813-1891) was born in Chester, Pennsylvania. He began his naval career sailing under his father on the frigate John Adams in the West Indies. He followed his father into the service of the Mexican Navy from 1826 to 1829 as a midshipman for the Libertad and the Guerrero. In 1829, he returned to the United States and joined the US Ship United States as a midshipman. From 1834 to 1842, he worked for the Coast Survey, eventually climbing to the rank of lieutenant. During the Mexican War, he served in the Gulf and the South Atlantic and helped blockade Veracruz onboard the gunboat Spitfire. After the war, Porter left the navy to captain private vessels, such as the Panama, the Crescent City, and theGolden Age. He returned to naval service in 1855, as commander of the Supply, which transported camels from Turkey to Texas for the United States Army. During the Civil War, Porter participated in the taking of New Orleans (1862), the fall of Vicksburg (1863), the Red River expedition (1864), and the capture of Fort Fisher (1865). In 1866, he was promoted vice admiral and given superintendency of the Naval Academy at Annapolis. Ulysses S. Grant appointed him special advisor to the Navy Department, and there Porter instituted a number of administrative reforms. He succeeded Farragut as admiral in 1870, and served on the Board of Inspection until his death in 1891.

David D. Porter married Georgy Patterson in 1839. They had two daughters and four sons, including Captain Theodoric Porter.

Acquisition Information:

1944-2008. M-495, M-1321, M-1414, M-1442, M-1485, M-1592, M-1660, M-1661, M-1686, M-1700, M-1712, M-1733, M-1746, M-1750, M-1930, M-2845.2, M-4691, M-5079 .

Processing information:

Cataloging funded by the National Endowment for the Humanities (NEH) and the "We the People" project.

Cataloging partly funded by the National Historical Publications and Records Commission (NHPRC).

Arrangement:

This collection is organized into three series:

Series I: David Porter Correspondence
Series II: David D. Porter Correspondence
Series III: David D. Porter Manuscript Writings
Series IV: Miscellaneous Documents

Series I is ordered chronologically.

Rules or Conventions:

Finding aid prepared using Describing Archives: A Content Standard (DACS)
Related
Additional Descriptive Data:

Alternate Locations

The following broadside is located in the Clements Library Broadside collection: Porter, David Dixon. The Naval History of the Civil War: Covering the Marvelous Growth of Our Navy... 1886.

The following maps are located in the Clements Library Map Division:

Fuller, Charles A. Sketch of Red River at and Near the Raft: Compiled from Surveys &c. Washington: U.S. Congress, 1858.
Map of Part of Niagara River & Plan of Gen. Porters Proposed Harbor. Buffalo: David M. Day, 1823.
McCarty, W. C. Map of North-western Texas, Showing Routs of Texas Land & Copper Expd. under Comd. of Col. W.C. McCarty. July 1872,
Pincard, G. J, and J. C. Williamson. From Sheet No. 4 of G.J. Pincard's Plans of the Mississippi River, Made Under the Direction of Comdr. J.C. Williamson U.S. 1866.
Roessler, A. R. Map Showing Route of the Texas Land and Copper Company in Grayson County for the Exploration of North Western Texas with Geological Notes (from Sherman), Mineral Localities Etc. June 1872.
Strausz, A. Route of the Late Expedition Commanded by Act'g Rear Admiral D.D. Porter U.S.N. Attempting to Get into the Yazoo River by the Way of Steels Bayou and Deer Creek: Compiled and Drawn. Washington: Coast Survey Office, 1863.
United States Coast Survey Charts with David D. Porter's manuscript sailing directions, lighthouse information, and tide tables for each location, and selection from Professor A.D. Bache's Tide Tables for the Use of Navigators:

Stono Inlet, South Carolina (1862)
Bull's Bay, South Carolina (1859)
Charleston Harbor and its Approaches (1858)
Charleston Harbor and its Approaches (1858)
Sea coast of the United States from Cape Roman, South Carolina, to Tybee Island, Georga (1857)
Atlantic coast from Cape Hatteras to Cape Florida (1861)
Calibogue Sound and Skull Creek forming the inside passage from Tybee Roads to Port Royal Sound, South Carolina (1862)
Winyah Bay and Georgetown Harbor, South Carolina (1855)

Related Materials

The following collections contain letters written by David Porter or David D. Porter:

The David Harris collection: David Porter to Reverand Goodell (February 27, 1835, San Stefano, Turkey)
The Schoff Civil War letters and documents collection
The Smith Naval collection

The Clements Library Graphics Division contains many images of David and David D. Porter:

Chappel, Alonzo. David D. Porter. New York: Johnson, Fry & Co., 1863.
Com. Porter. Elias Dexter. 18--.
David D. Porter. 18--.
Edwin, David. David Porter, Esqr., of the United States Navy. Published by M. Thomas, 18--.
The Defenders of Our Union. New York: Published by Chr. Kimmel & Forster, 1865-1871.
The William H. Brearley album contains a photograph of David D. Porter
Color lithograph of The Victorious Attack on Fort Fisher, North Carolina, January 15, 1865. By the U.S. Fleet under Rear Admiral D.D. Porter, and Troops under Major Gen. A.H. Terry

David Porter wrote the following seven Books:

David Dixon Porter wrote the following four books:

Bibliography

Maloney, Linda M. "Porter, David." American National Biography. Oxford University Press, 2000.

Fowler, William M. "Porter, David Dixon." American National Biography. Oxford University Press, 2000.

Partial Contributor List:

Adams, John.
Alexis, Louis.
Anderson, Joseph, 1757-1837.
Armstrong, James, 1794-1868.
Ayllo, Cecilio.
Bainbridge, William, 1774-1833.
Baring.
Barragan, Marcos, J.F.
Blanco, Remigo.
Boss, John Linscom, Jr., 1780-1819.
Brannan, John.
Brown, James, 1776-1843.
Brown, Uriah.
Caillad.
Campbell, Hugh G.
Carrera, Jose Miguel de, 1785-1821.
Carroll, M.B.
Castello, Jose del.
Chitty, W.D.
Cochrane, Sir Alexander Forrester Inglis, 1758-1832.
Coppinger, Joseph.
Coudry, Dr.
Crabb, Thomas.
Crane, William Montgomery, 1784-1846.
Denison, William.
DeWitt, Charles Gerrit, 1789-1839.
Dexter, Daniel S. d. 1818.
Finch, William B.
Forbes, John Murray, 1771-1831.
Frost, Benjamin.
Gamble, F.B.
Gregory, Francis H., 1789-1866.
Hambleton, Samuel.
Haraden, Nath.
Heap, Samuel Davies, 1781-1853.
House, James.
Hull, Isaac, 1773-1843.
Jones, William, 1760-1831.
Judas, Thomas Philip.
Kelly, John.
Ker, B.V.
Kremer, George, 1775-1854.
Lawson, Edward.
Leandar de Echenique, Rafael.
Legare, James E.
Livingston, Edward, 1764-1836.
Macdonough, Thomas, 1783-1825.
McKenney, William E.
McNeill, Daniel.
MacRea, William.
Mexico, Secretary of war (Secretaria de Guerra y Marina)
Milnor, James.
Mitchell, John.
Montenegro, Feliciano.
Ogden, H.W.
Perry, Oliver Hazard.
Piercy, William P.
Porter, David, 1780-1843.
Porter, David Dixon, 1813-1891.
Reed, William, 1776-1837.
Richards, Mark, 1760-1844.
Ridgely, Charles Goodwin, 1784-1848.
Robinson, William D.
Rogers, William T.
Rose, Robert M.
Rudd, John.
Shields, Thomas.
Skinner, John Stuart, 1788-1851.
Smith, Robert, 1757-1842.
Smith, Sydney.
Stricker, John.
Stringer, Greenbury Ridgely.
Thomas, I.
Watson, William H.
Winder, William H.
Wish, John A.
Subjects
Click on terms below to find any related finding aids on this site.
Subjects:

Formats:

Names:

Places:
Contents
Using These Materials
---
RESTRICTIONS:

The collection is open for research.

USE & PERMISSIONS:

Copyright status is unknown
PREFERRED CITATION:

David Porter and David Dixon Porter Papers, William L. Clements Library, The University of Michigan