Back to top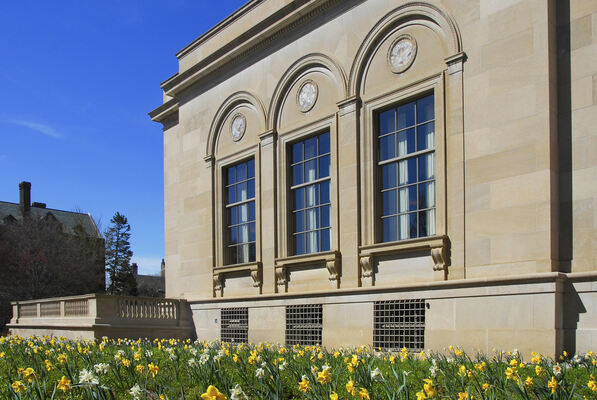 Address

:

909 South University Avenue

Ann Arbor, MI 48109, USA
Isaac Chauncey papers, 1801-1818
Using These Materials
---
Restrictions:

The collection is open for research.
Summary
Creator:

Abstract:

This collection holds official letters, letterbooks, and documents of the American naval commander Isaac Chauncey, who served during the Franco-American War, the War of 1812, and both Barbary Wars. The material largely concerns naval administration during Chauncey's command of the American navy in Lake Ontario and naval operations in the Mediterranean during the Second Barbary War.

Extent:

0.75 linear feet

Language:

English
Spanish

Authors:

Collection processed and finding aid created by Philip Heslip, February 2010
Background
Scope and Content:

This collection holds 41 official letters, 3 letterbooks (1199 pages), and 7 documents of the American naval commander Isaac Chauncey, who served during the Franco-American War, the War of 1812, and both Barbary Wars. The material largely concerns naval administration during Chauncey's command of the American Navy on Lake Ontario and Erie during the War of 1812, and naval operations in the Mediterranean during the Second Barbary War.

The Correspondence series (41 items) contains letters related to Chauncey's naval career primarily during the War of 1812 and the Second Barbary War. The collection contains 11 secretarial copies of letters and 5 English translations of letters from the Dey of Algiers and the Spanish Diplomat Luis de Onís. The rest of the items are original including a letter from James Monroe and one from Stephen Decatur.

Five of the early letters are from Robert Smith, Secretary of the Navy in the Jefferson Administration, regarding Chauncey's placement as a lieutenant on the President, ordering Chauncey not to assist ships carrying contraband; one letter informed him of his appointment as Captain (April 24, 1806). Other early items include a letter from Chauncey to Stephen Decatur, reassuring him that he had no deserters or private sailors on board the John Adams (April 3, 1805) and a friendly letter from Decatur to Chauncey that mentions the possibility of their being sent to the Mediterranean (May 11, 1809).

Items related to the War of 1812 include three letters to Roger Hale Sheaffe, one congratulating him on becoming a baron and another placing a British officer into his service in Upper Canada. The collection also holds two Chauncey letters from 1813, including a letter from James Wilkinson about the positioning of Chauncey's squadron, and a letter from the Mayor of Savannah celebrating Chauncey's and Commodore Perry's victories against the British.

Several letters concern the political situation in the Mediterranean Sea during the Second Barbary War. One is an 8-page extract from Tobias Lear, consul general to Algiers, describing the political situation there. Another is a translation of a letter from the Dey of Algiers to President Madison on continuing terms of peace. Four letters are from Chevalier Luis de Onis, Spanish foreign minister to the United States, addressed to Secretary of State James Monroe. The letters discuss Chauncey's capture of one of the Deys' brigantines, an act of aggression which violated the American-Algerian peace agreement and lead to threats from the Dey. Other letters are from Stephen Decatur to James Monroe and William Shaler, United States consul general to Algiers, and between Secretary of the Navy Benjamin William Crowninshield and Chauncey.

The Letterbooks series contains 3 volumes of incoming and outgoing letters and orders during the War of 1812 and from 1815-1817, while Chauncey served as captain and diplomat in the Second Barbary War. These volumes provide an excellent account of the highest level of decision making for the Great Lakes in the War of 1812, and document Chauncey's part in America's Mediterranean naval operations between 1815-1817. Entries consist primarily of outgoing letters (many marked private and confidential), but also include some incoming letters, general orders, circulars, charges of disobedience, records of courts martial, and tables of naval expenses. The entries are largely ordered by date, though occasionally Chauncey's reply was copied before the incoming letter was entered, and, in a few instances, letters were misplaced and copied at a later date.

The first volume dates from September 3, 1812, to March 30, 1813 (320 pages). Over this period Chauncey mainly corresponds with high-level naval and military leaders, such as Secretary of the Navy Paul Hamilton, Major General Henry Dearborn, Navy Agent John Bullus, Naval Commander of the forces on Lake Erie Jesse Duncan Elliott, Brigadier General John Chandler, and Commander Melancthon Taylor Woolsey. Of note are letters written on November 17, 1812, to New York Governor Daniel D. Tompkins and American General Dearborn, stating that Chauncey has "complete command of this Lake, and that we can transport Troops and Stores to any part of it with safety" (volume 1, p.102 and p.105). Along with communications between Chauncey and high-ranking officers, the volume also contains official correspondence with captains and lower-ranking service members throughout the great lakes region. For example, a letter from January 27, 1813, grants leave to mid-shipman William Bunnell, so that he can visit his dying father (volume 1, p.214). During most of this time period, Chauncey is stationed at Sackets harbor, except for September 3-26, 1812, when he was managing the New York Navy Yard (volume 1, p.1-36); October 21-October 24, 1812, when he was on a trip to Oswego (volume 1, p.56-62); December 25- January 9, 1813, when he was at Black Rock, Connecticut (volume 1,,p.176-200); and February 10-28, 1813,when he was on a trip to Albany and New York (volume 1, p.239-257).

The second volume, April 1-August 25, 1813, is a continuation of the first (561 pages and 11 blank pages). The bulk of this volume are letters to Washington D.C., with many addressed to the Secretary of the Navy, Williams Jones. Like the previous volume, these communications document the navy's ship-building operations and military decisions. Chauncey was away from Sackets Harbor on three occasions: he was at the capture of York on the U.S. Ship Madison, April 27-May 8, 1813 (volume 2, 85-100); he stopped near Niagara, May 9, 1813 (volume 2, 101-103); and he visited Niagara again from August 3-6, 1813 (volume 2, 277-288). Of note are a report of the killed and wounded in the attack on Fort George, May 27, 1813 (volume 2, p.134), and an account of 195 vouchers for Navy Department expenses from September 1812-July 1813 (volume 2, 250-269). Another interesting item reveals Chauncey's attitude toward racial prejudice in the navy. He wrote to Oliver H. Perry, "I regret that you are not pleased with the men sent by Mssrs. Champlin & Forrest, for to my knowledge a part of them are not surpassed by any seamen we have in the Fleet, and I have yet to learn that the colour of the skin or cut and trimmings of the Coat can effect a man's qualifications or usefulness. I have nearly 50 blacks on board of this Ship and many of them are amongst my best Men..." (volume 2, p.275).

The third volume dates from March 17, 1815-March 25, 1817 (318 pages and 4 blank pages). It documents Chauncey's final months at Sackets Harbor, between March-June 1815 (volume 3, 1-108), a short stay in New York from July 19-August 18 (volume 3, 109-121), and three months on Board the U.S. Ship Washington stationed first in Portsmouth, New Hampshire, August 27-November 25 (volume 3, 122-178), and then in Boston and New York, December 5-May 8, 1816 (volume 3, 178-231), and finally just off Annapolis, May 10-June 8 (volume 3, 231-241). The early part of the 3rd volume contains many letters to and from Secretary of the Navy B.W. Crowninshield and other contacts in Washington during the close of the war with Britain. Of note is a detailed report on building ships on Lake Ontario during the war years (volume 3, 115-120).

The remainder of the volume contains Chauncey's letters from the US Ship Washington as it travelled through the Mediterranean Sea. The ship visited Gibraltar; Malaga Bay, Spain; Port Mahon, Spain; Naples Bay, Italy; Messina, Italy; Tunis, Tunisia; and Algiers Bay. He maintained contact with several US captains in the Mediterranean and with American diplomat William Pinkney in Naples. A considerable portion of the volume consists of copies of letters, accounts of events, and transcriptions of the hearings of various courts marital during the war. Chauncey was in close contact with Captain John Shaw, president of the courts martial on board the Constellation. One particularly well-documented trial was for Captain John Orde Creighton of the Java, for beating a fellow crew member with a stick. The charges are on pages 282-284, but numerous copies of documents from the trial continue to page 328.

The Documents series (7 items) contains:

An item documenting the court inquiry of Captain James Barron who, in 1807, surrendered the Chesapeake to a British war ship off the coast of Virginia, without properly attempting to defend it.
A copy of a deed of land transfer from the New York State government to the United States government, for use as a navy yard along the East River (April 3, 1810).
A general order from Commissioner Steward to Naval Commissioner Isaac Chauncey, discussing disciplinary duties of naval officers and commending Chauncey for his skill in this field (February 4, 1818).
A parole and receipt for British prisoners taken after the siege of York, signed by Lieutenant Clemworth of the 3rd Regiment Militia and 37 British officers (April 28, 1813).
A copy of Colonel Tobias Lear's observations concerning the Barbary affairs addressed to the United States government (17 pages). The document reports the political role of Algiers in the Mediterranean Sea and its relationship with various European nations in 1812. This document is intended to give American policymakers and military leaders background on the Algerian situation.
Extracts from general accounts of losses sustained by the Mohawks during the War of 1812, with a note at the bottom stating that one claim had been paid to Joseph Brant by Mohawk Chief Isaac Hill.
A memorandum on the defense of Kingston, Ontario (undated).

Biographical / Historical:

Isaac Chauncey (1772-1840), American naval commander, was born in Black Rock, Connecticut, to Wolcott Chauncey and Ann Brown, both of established Connecticut families. After only a modest formal education, Chauncey entered the shipping trade around age 12 under the merchant marine Captain Brewster. At age 19, he was put in command of the Jenny for a shipping company out of New York, and by 1799 was commissioned as a lieutenant in the Navy. Around this time he supervised the outfitting of the President and served under Thomas Truxtun in the Franco-American War (also known as the Quasi-War). Chauncey was appointed to the frigate New York in 1802, and served in the Mediterranean during the First Barbary War, after which he was given command of the John Adams (1804). He was officially made a captain on April 24, 1806.

In 1806 Chauncey requested a furlough from the navy to command the private trading ship the Beaver for John Jacob Astor. The Beaver voyaged to China and at Whampoa, China, was boarded twice by the British Navy searching for deserters or undocumented Americans who could be impressed into service. Upon the second boarding, by the HMS Lion, Chauncey defended his crew and refused to allow them to be searched or interrogated. He held his ground against the British and was eventually released unharmed and was able to return the ship safely to America, with the loss of only one man to impressments. After his return, Chauncey was appointed to command the Navy Yard in Brooklyn, where he remained until the outbreak of the War of 1812.

Lake Ontario and Lake Erie were deemed crucial by the United States and in August 1812, Chauncey was appointed commanding officer of all naval forces on both lakes, and operated out of a frontier base at Sackets Harbor, New York. Chauncey initiated an intense shipbuilding effort to establish an American navy in the Great Lakes, and by the end of 1812, the United States had full control of Lake Ontario and Chauncey was named commodore. In 1813, Chauncey's naval forces assisted General Henry Dearborn's army in facing the British army under Sir James Yeo. Chauncey delivered a number of victories including an amphibious attack capturing York [Toronto] on April 27, 1813, and an attack on Fort George, Upper Canada, on May 27. Chauncey continued his aggressive naval construction program but could not contend with the competing British war ships and, before the end of the war, was forced to surrender control of the lake to Yeo.

In June 1816, Chauncey replaced Stephen Decatur as commander of the Mediterranean Squadron and assisted with peace negotiations with the Dey of Algiers to end the Second Barbary War. Chauncey returned to New York to command the navy yards in 1818, and from 1821-1824, he served as navy commissioner in Washington D.C. After another term at the New York Navy Yard from 1825-1832, he was appointed as president of the Board of Navy Commissioners from 1937 until his death in 1840. He and his wife Catherine Sickles married c.1794; they had three children: Naval Lieutenant Charles W. Chauncey, sailor John S. Chauncey, and Reverend Peter S. Chauncey of St. James's Church in New York.

Acquisition Information:

1980, 1997. M-1266, M-1932, M-3392, M-3422.1, M-3493 .

Processing information:

Cataloging funded by the National Endowment for the Humanities (NEH) and the "We the People" project.

Arrangement:

This collection is organized into three series:

Series I: Correspondence
Series II: Letterbooks
Series III: Documents

Each series is ordered chronologically with undated items in the back.

Rules or Conventions:

Finding aid prepared using Describing Archives: A Content Standard (DACS)
Related
Additional Descriptive Data:

Related Materials

The following list offers a selection of Clements Library collections containing Chauncey letters and items related to the War of 1812 or the Barbary Wars:

The Jacob J. Brown papers: letter by Chauncey dated September 14, 1816.
The Thomas J. Chew family papers: letter from Isaac Chauncey to John Grace (July 7, 1802), as well as 9 other Chauney-related items.
The David P. Harris collection: "Fifteen Personal Letters from Prominent Figures in America's Early Years": letter from Chauncey to Captain John Rodgers concerning the death of Chauncey's son (January 22, 1812).
The Tobias Lear papers: two journals regarding the negotiations with the Barbary States.
The Miscellaneous collection: letter from Freeman to Samuel F. Hooker, dated Jan. 25, 1826, regarding recent actions of Isaac Chauncey.
The Charles Morris papers: two items related to Isaac Chauncey.
The Oliver Hazard Perry papers: 17 items either written by or related to Isaac Chauncey.
The John Rodgers papers: several letters to and from Chauncey before and during the War of 1812.
The Hubert S. Smith Naval letters and documents : three letters written by Isaac Chauncey, dated February 11, 1834, November 27, 1837, and August 9, 1838.

The following Broadside and Map are also related to this collection:

The New York Historical Society holds six of Chauncey's letter books and a book of Navy Department accounts (1812-1815).

The Naval Historical Center in Washington, D.C., owns Chauncey's official correspondence and his captains' letters.

Bibliography

Fredriksen, John C. "Chauncey, Isaac." American National Biography Online . Oxford University Press, 2000.

The Clements Library holds the following related items that describe Chauncey's part in the War of 1812:

Alternative Form Available:

The letterbooks have been microfilmed.
Contents
Using These Materials
---
RESTRICTIONS:

The collection is open for research.

USE & PERMISSIONS:

Copyright status is unknown
PREFERRED CITATION:

Isaac Chauncey Papers, William L. Clements Library, The University of Michigan