Back to top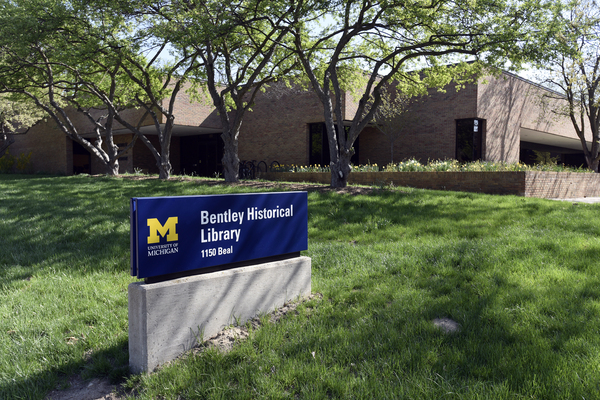 Address

:

1150 Beal Avenue

Ann Arbor, MI 48109-2113, USA
Alexander G. Ruthven Papers, 1901-1961 (majority within 1906-1951)
Using These Materials
---
Restrictions:

The collection is open for research.
Summary
Creator:

Abstract:

Zoologist, college professor, president of University of Michigan, 1929-1951. Professional files relating to his career with the University Museum and as a professor of zoology, and presidential files containing correspondence, reports, speeches, and other University materials, including budget and legislative files, material relating to changes in University administration, his relationship with faculty, students and alumni, and photographs.

Extent:

65.4 linear feet
1 oversize folder

Language:

English.

Call Number:

86550 Aa 2 UAm

Authors:

Finding aid prepared by: Michigan Historical Collections staff
Background
Scope and Content:

The Alexander Ruthven papers consists of two series of records. The first is the papers of Ruthven as president of the University of Michigan, 1929 to 1951. The second, and smaller, series is the files maintained by Ruthven as a zoologist with the University Museum and as professor of zoology. This latter series dates largely from 1908 to 1929 but also includes collected earlier files from the 1870s.

Biographical / Historical:

Alexander G. Ruthven was born April 1, 1882 in Hull, Iowa. He received his BS degree in 1903 from Morningside College and his Ph.D. in Zoology from the University of Michigan. As a zoologist, Ruthven's major interest was in reptiles and amphibians - snakes, lizards turtles, frogs, etc. He wrote extensively in his disciple and also directed various scientific expeditions in North, South and Central America. Also, before assuming the presidency, Ruthven was chief field naturalist with the Michigan Geological and Biological Survey (1908-1912).

Ruthven's entire career was spent at the University of Michigan where he was successively instructor of zoology and curator of the Museum of Zoology (1906-1911); assistant professor and curator of the Museum of Zoology (1911-1913); assistant professor and director of the Museum of Zoology (1913-1915); profess and director of the Museum of Zoology (1915-1929); director of University Museums (1922-1936); chairman of the department of zoology and director of the Zoological Laboratories (1927-1929); and dean of administration (1928-1929). Upon President Little's resignation, Ruthven was named to a committee of three to administer the affairs of the University. With administrative skills demonstrated in this position, Ruthven in October 1929 was selected by the regents as president of the University of Michigan. He served in this position until 1951 when Harlan Hatcher assumed office.

Upon assuming office as president, Ruthven worked to reform the administrative structure of the university. He believed that the university must distribute authority and responsibility among the many units and officers which make up the total structure. Early on he selected two vice-presidents, one in charge of business affairs and the other in charge of educational investigations. He also appointed a director of plant extension, and some time later, a vice-president in charge of university relations outside the campus. In 1944, the university's administrative structure included a provost, two vice-presidents, and a secretary. Deans and directors of schools, colleges, and other educational units were given authority commensurate with their responsibilities. Usually, advisory or executive committees were set up to aid unit heads with their duties.

During Ruthven's tenure, the School of Music was formally affiliated and integration with the university. In 1941, the School of Public Health was established; and in 1951, the School of Social Work was established. Other important developments during his tenure were the creation of an Institute of Public Administration and the reorganization of the School of Forestry as the School of Natural Resources.

Ruthven died January 19, 1971.

Acquisition Information:

The bulk of the collection was transferred over from the President's Office (donor no. 566 ) in 1948. Professional papers were transferred from the Museum of Zoology (donor no. 837 ) in 1982.
Contents
Using These Materials
---
RESTRICTIONS:

The collection is open for research.

USE & PERMISSIONS:

Copyright is held by the Regents of the University of Michigan but the collection may contain third-party materials for which copyright is not held. Patrons are responsible for determining the appropriate use or reuse of materials.
PREFERRED CITATION:

item, folder title, box no., Alexander G. Ruthven Papers, Bentley Historical Library, University of Michigan