Back to top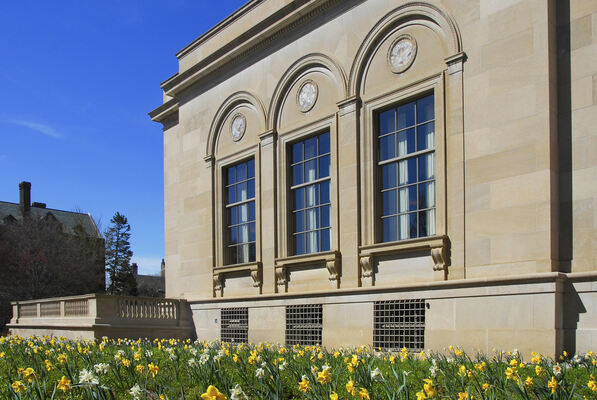 Address

:

909 South University Avenue

Ann Arbor, MI 48109, USA
John Parrish journals, ca. 1790-1793
Using These Materials
---
Restrictions:

The collection is open for research.
Summary
Creator:

Abstract:

The collection consists of five journals and one memoir that document Quaker missionary John Parrish's travels throughout Pennsylvania, New York, Michigan, and Ohio from 1773 to 1793, during a treaty negotiations between the U.S. government and the Six Nations Iroquois.

Extent:

6 volumes

Language:

English

Authors:

Collection processed and finding aid created by Bethany Anderson, 2007
Background
Scope and Content:

The Parrish journals consist of six volumes that document relations with several Native American tribes during and following the Revolutionary War (1775-1783). He was present during the creation of a series of treaties that attempted to end the conflicts over land ownership, such as the Newtown Point Treaty of 1791 and another treaty negotiated at Sandusky, Ohio, in 1793. Parrish's journals provide a great deal of insight into the often hostile and tenuous relationship between White people and Native Americans, while at the same time giving an idea of what daily life was like for men and women residing in these much contested territories.

Written during the late 18th century, the five journals are dated 1791 (1) and 1793 (4). The sixth item in the collection is a memoir that describes events occurring in 1773, yet appears to be written much later, possibly as early as 1790. Parrish traveled through Ohio, Pennsylvania, New York, and Michigan and encountered many different Native American groups. The tribes with whom he had the most contact were the Shawnee, the Wyandot, the Seneca, the Stockbridge, the Chippewa, the Delaware, the Tuscarora, the Miami, and the Oneida. He also encounters many Native Americans who belong to the Moravian sect. Many of these tribes were part of the Six Nations Iroquois present at the treaty councils.

Each journal varies considerably in content, yet all contain very detailed descriptions. The memoir, which describes events occurring in 1773, documents Parrish's journey to Newcomers Town in Ohio to meet with members of the Delaware tribe, most importantly Captain White Eyes and Chief Netawattwaleman. Traveling with fellow Quakers Lebulon Heston and John Lacy, the men embarked on the journey primarily as missionaries. Despite their intentions, however, the men become embroiled in the political volatility of the time. On his way to Newcomers Town, Parrish encountered Chief Logan (1725-1780), a Native American of the Mingo tribe, whose family was killed in what is known as the "Yellow Creek Massacre." Logan, who delivered a speech referred to as "Logan's Lament," is quoted by Thomas Jefferson in his Notes on the State of Virginia and likewise verbatim in Parrish's memoir. In addition to the Delaware tribe, Parrish also met members of the Shawnee and Wyandot tribes. The memoir is thought to have been written sometime after 1773, the earliest possible year date being 1790, given Parrish's reference to historical information occurring after this time, such as the "Yellow Creek Massacre," Dunmore's War, and Thomas Jefferson as Secretary of State.

Parrish's 1791 journal serves as a description of the Treaty of Newtown Point and the events leading up to it. Originally the council was to take place at Painted Post in New York, but was changed to Newtown Point due to the low water levels of the Tioga River. Over 600 Native Americans were present for the treaty, and Parrish faithfully records sentiments expressed regarding attitudes towards White people and land ownership. He was especially careful to document several interviews and speeches of prominent Native American leaders, such as the Stockbridge chief Hendricks, Pater of the Onieda tribe, the Seneca chief Red Jacket, and a chief named Cayasuter. In addition to describing Native American customs, attitudes, and the events that transpired during the council, the issue of alcoholism among the tribes proved to be a chief concern for Parrish. Consequently, he asked Col. Pickering to cease the distribution of whiskey at the council fearing that it was hindering the negotiation process while simultaneously making the Native Americans vulnerable and easily exploitable.

Ultimately the Newtown Point council was unsuccessful, and the three volumes dated 1793 relate another attempt by Pickering to secure peace with the tribes. Although the Six Nations had agreed with Pickering's terms, the western tribes were still rebellious and discontented. This necessitated the scheduling of yet another council to form a treaty. In the first volume Parrish -- accompanied by Beverly Randolph, John Elliot, Joseph Moore, and Pickering -- traveled to Detroit as a point from which they could easily meet with several tribes, while being close to Sandusky on Lake Erie -- the site of the upcoming council. Parrish noted that the tribes insisted on Ohio as the eastern boundary for their lands, remaining persistent in their demand despite the abundance of gifts that Pickering bestowed upon them. The second volume is mainly a discussion of Native American customs and the problem of slavery, especially the multitude of white captives. The narrative of Parrish's departure from Detroit to attend the council appears at the end of the second and beginning of the third volume. This treaty too failed, the tribes rejecting Pickering's gifts in lieu of the restoration of their lands. At the end of the third volume, Cornplanter (1750-1836) -- chief of the Seneca -- delivered a moving speech to President Washington on the selling of their lands. Parrish related how Cornplanter demanded of Washington, "Brothers of our Fathers where is the place which you have reserved for us to lie down upon?....all the Lands we have been speaking of belong to the Six Nations no part of it ever belonged to the King of England and he could not give it up to you" (1793, No. 3, p. 11, 13). The latter replied and a brief exchange ensued.

Parrish's last journal entitled "Some Notes on Indian Affairs," which also dates to 1793, seems to have been written after returning home from Detroit and Sandusky. Much of the information recorded serves as a summary of some of his work described in the previous journals, as well as commentary on the situation of the tribes. He discussed in particular the Gnadenhütten massacre. This massacre, carried out by Lt. Col. David Williamson (1749-1814) and 160 of his militiamen on March 8, 1782 near Gnadenhütten, Ohio, left approximately 96 Moravian Indians dead. Parrish deplored this and other crimes committed against the tribes.

Parrish wrote intelligently and clearly, alternating between descriptions of events and his personal thoughts. His religious beliefs figured prominently in his attitudes and opinions, and they informed his desire for social justice for Native Americans, as well as for African American slaves. Present in all these journals is his sympathy for the human suffering he encountered, which he hoped to see eradicated. These journals thus prove to be not only rich in historical information, but also detailed in the accounts of Parrish's quest for a more peaceful coexistence between whites and Native Americans.

Biographical / Historical:

John Parrish (1729-1807) was a Quaker missionary who, at the time he wrote these journals, was involved in several negotiations between the United States government and the Six Nations of the Iroquois, who lived in the territories east of the Mississippi River. Because he has been poorly documented as a historical figure, very little information exists on his personal life. In his adult years, he lived with his wife and daughter in Philadelphia, although as a young man he resided in Maryland. It is also known that he suffered from a stroke in 1807 while in Philadelphia, and is thought to have died as a result. Even in his journals, Parrish writes little about personal matters, chronicling instead his travels, his observations of Native Americans, his missionary work, the issue of slavery, and the treaties in which he was involved.

The events about which Parrish writes provide tremendous insight into the political strife characteristic of the time. Following the 1783 Treaty of Paris, which ended the American Revolutionary War (1775-1783), the newly established United States government was interested in utilizing the influence of Quakers to create peaceful relations with Native Americans, whose territories were gradually being usurped. Many tribes retaliated, and the U.S. Congress was compelled to appoint commissioners to end these hostilities. Colonel Timothy Pickering (1745-1829), one of the commissioners with whom Parrish worked closely, was appointed to assuage conflicts over land in the Ohio Valley, particularly to quell Native American hostilities and to reassure them of the government's peaceful intentions. After several attempts to form treaties, for which Parrish was present, Pickering was finally successful in negotiating the Treaty of Canandaigua in 1794.

Parrish, like many Quakers, was on friendly terms with the tribes he documents in his journals. Indeed, he was given the name "Bland and Pleasant" or "Level" by the Seneca. As one of many representatives of Secretary of State Thomas Jefferson, Parrish traveled on horseback through the territories of Ohio, Pennsylvania, New York, and Michigan, sometimes accompanied by a native guide or by other commissioners. He was not only interested in promoting peace for the sake of the U.S. government, but also in creating a more hospitable atmosphere for these tribes. The grievances and injustices the Native Americans suffered at the hands of U.S. government was a great concern for Parrish. He writes in his 1791 journal, "How happens it that the Indians who ran the greatest losses by the war in attempting to support the British Government has not their losses repaired as well as the white people."

In addition to the issue of Native American relations and grievances, Parrish also discusses the problem of slavery in his journals, especially the mutual enslavement of white people and Native Americans, one of many tactics employed by both groups during this period of hostilities. Parrish also laments the situation of African slaves, which he discusses mostly in the second of his 1793 journals as well as in passing in his other journals. The issue proved to be of great importance to him, and indeed he wrote a book published in 1806 entitled Remarks on the Slavery of the Black People. Thus, as a missionary and early abolitionist, Parrish can be considered an exemplary historical figure whose writings provide a plethora of information worthy of further study.

Acquisition Information:

2005. M-4505.4 .

Rules or Conventions:

Finding aid prepared using Describing Archives: A Content Standard (DACS)
Related
Additional Descriptive Data:

Related Materials

The Quaker Collection at Haverford College, Haverford, Pennsylvania, holds letters and diaries written by or related to John Parrish.

Bibliography

Biddle, Henry D. ed. Extracts from the Journal of Elizabeth Drinker, from 1759 to 1807 A.D. Lippincott: Philadelphia, 1889 (pp. 207, 237, 410).

Campisi, Jack and William A. Starna. "On the Road to Canandaigua: The Treaty of 1794," inAmerican Indian Quarterly . Vol. 19, 4 (Autumn, 1995), pp. 467-490.

Jefferson, Thomas. Notes on the State of Virginia, with an Appendix relative to the Murder of Logan's Family. Wilson & Blackwell: Philadelphia, 1803.

Parrish, John. Remarks on the Slavery of Black People addressed to the Citizens of the United States, particularly to those who are in Legislative or Executive Stations in the general or State Governments; and also to such Individuals as hold them in bondage. Kimber, Conrad & Company: Philadelphia, 1806.

Phillips, Edward Hake. "Timothy Pickering at his best: Indian Commissioner, 1790-1794," inEssex Institute Historical Collections . Vol. 102, 3 (July, 1966), pp. 163-203.

S., T. "Extracts from the Journal of John Parrish 1773," inThe Pennsylvania Magazine of History and Biography . Vol. 16, 4 (1892), pp. 443-448.

Sherwood, H.N. "Early Negro Deportation Projects," inThe Mississippi Valley Historical Review . Vol. 2, 4 (March 1916), pp. 484-508.

Snyderman, George S. "A Preliminary Survey of American Indian Manuscripts in Repositories of the Philadelphia Area," inProceedings of the American Philosophical Society . Vol. 97, 5 (Oct. 30, 1953) pp. 596-610.

Taylor, Francis Richard. The Life of William Savery of Philadelphia 1750-1804 . Macmillan: New York, 1925 (pp. 49-113).

Name Index

| | |
| --- | --- |
| Blue Jacket, 1743-1810. | |
| Brant, Joseph, 1742-1807. | |
| Carlton (Lord Dorchester), Guy, 1724-1808. | |
| Chapin, General Israel, d. 1795. | |
| Cornplanter, Chief, 1750-1836. | |
| Cresap, Colonel Thomas, 1702-1790. | |
| Curry, Captain. | |
| Drake, Captain Richard, d. 1856. | |
| Elliott, John. | |
| England, Colonel. | |
| Greathouse, Daniel, 1752-1775. | |
| Girty, Simon, 1741-1818. | |
| Heckwelder, John, 1743-1823. | |
| Hendrick Aupamut, 1775-1829. | |
| Heston, Lebulon. | |
| Jefferson, Thomas, 1743-1826. | |
| Johnson, Sir William, 1715-1774. | |
| Killbuck, John, 1737-1811. | |
| Lacy, John . | |
| Lafayette, General Marie-Joseph-Paul-Yves-Roch-Gilbert du Motier, 1757-1834. | |
| Lincoln, General Benjamin, 1733-1810. | |
| Lindley, Reverend Jacob, 1774-1857. | |
| Little Johnny. | |
| Logan, Chief, 1725-1780. | |
| McKee, Colonel Thomas. | |
| Moore, Joseph . | |
| Murray, John (4th Earl of Dunmore), 1730-1809. | |
| Netawattwaleman (Delaware Chief). | |
| Parrish, Jasper. | |
| Penn, William, 1614-1718. | |
| Pickering, Colonel Timothy, 1745-1829. | |
| Putnam, General Israel, 1718-1790. | |
| Randolph, Governor Beverly, 1754-1797. | |
| Red Jacket, 1750-1830. | |
| Savery, Lieutenant John. | |
| Simcoe, Governor John Graves, 1752-1806. | |
| Wayne, General Anthony, 1745-1796. | |
| White Eyes, 1730-1778. | |
| Young Cornplanter. | |

Alternative Form Available:

Transcriptions of the journals and the memoir are located in the collection's control file.
Contents
Using These Materials
---
RESTRICTIONS:

The collection is open for research.

USE & PERMISSIONS:

Copyright status is unknown.
PREFERRED CITATION:

John Parrish Journals, William L. Clements Library, The University of Michigan