Back to top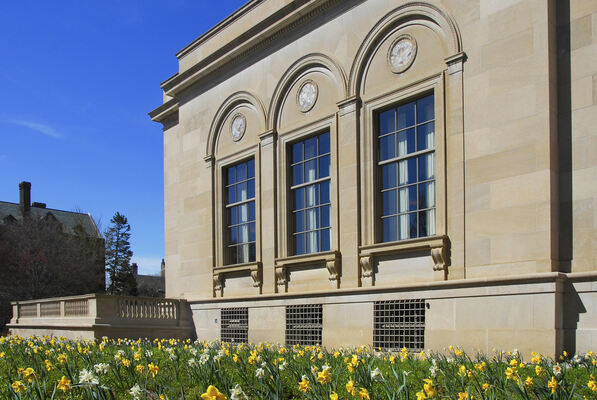 Address

:

909 South University Avenue

Ann Arbor, MI 48109, USA
Hiram B. Crosby journal, 1872
Using These Materials
---
Restrictions:

The collection is open for research.
Summary
Creator:

Abstract:

This journal reflects the experiences of Hiram B. Crosby, a New York City lawyer, during his trip to Michigan's Upper Peninsula in the fall of 1872. As part of a prospecting party, Crosby analyzed the potential for iron mines near Iron Mountain, Michigan. He recorded his impressions of local scenery, commented on his daily activities, and described the area's Native American settlements and peoples. The volume contains 24 pen and ink drawings.

Extent:

1 volume

Language:

English

Sponsor:

Duane Norman Diedrich Collection

Authors:

Collection processed and finding aid created by Mary Parsons, 2005, and Meg Hixon, February 2012
Background
Scope and Content:

This 127-page journal reflects the experiences of Hiram B. Crosby, a New York City lawyer, during his trip to Michigan's Upper Peninsula in the fall of 1872. As part of a prospecting party, Crosby analyzed the potential for iron mines near Iron Mountain, Michigan. Crosby began the journal on September 26, 1872, as he left New York City, traveling by railroad to Menominee, Michigan, via Sandusky, Ohio, and Chicago, Illinois. While in Ohio, he visited Jay Cooke on Lake Erie's Gibraltar Island (September 30, 1872), and pasted a pressed flower from the island onto the journal's first page.

After his arrival in Menominee, Crosby joined the members of his party and together they started out for Iron Mountain, where they planned to inspect specific areas for iron mining potential. In daily journal entries, Crosby recorded details of the group's travels along the Sturgeon and Menominee Rivers, particularly regarding local scenery and people. A few days into the trip, he fell from his horse while attempting to shoot a partridge, and suffered a fractured wrist (October 4, 1872); despite his injury, the trip proceeded smoothly, aided by the expertise of local Native Americans the group hired to make camp and guide the mining party. Crosby and the others frequently traveled by canoe, and he often described the guides and local Native American settlements, particularly at "Bad Water," near Iron Mountain.

On October 10, 1872, the explorers reached Iron Mountain and proceeded to examine the area. They set out again for Menominee shortly thereafter, and reached the town on October 15. There, Crosby inquired about the prices of shipping iron ore to Cleveland by boat (October 16). From Menominee, Crosby traveled to Escanaba, Marquette, and Houghton, Michigan, before heading to Detroit, which he described in several entries in late October. Crosby wrote the final entry in Detroit on October 26, 1872.

Three items are inserted into a flap in the front cover of the journal: 2 assurance tickets for Hiram B. Crosby from the Railway Passengers Assurance Company (November 14, 1872) and an advertising card for the Douglass House in Houghton, Michigan. A printed view of Marquette, Michigan, is pasted onto page 108 of the journal.

The journal also includes 24 pencil and ink drawings depicting scenes from Crosby's travels in the Upper Peninsula. See the Additional Descriptive Data section of this finding aid for an index of the illustrations.

Biographical / Historical:

Hiram B. Crosby worked as a lawyer in New York City between 1871 and 1883. In September 1872, he embarked for Michigan's Upper Peninsula as part of a prospecting party examining the geological potential for iron ore mines near Iron Mountain. His travelling companions included two Englishmen, parliamentary representative Robert William Hanbury (1845-1903) and Walter Williams, as well as Harvard University Professor Raphael Pumpelly (1837-1923), and John T. Howard of Brooklyn, New York. A support team led by Michael Casey of Marquette, Michigan, accompanied the group, including three wagon drivers from Menominee (Robert Bartlett, Edwin Quimby, and Dick Wreath), as well as four "Chippeway Indians" (Henry Santano, Sam De Nannie, Charles Normangobble, and John Adams). Three additional Native Americans, Negauneeseek, Sturgeon, and Killikinick, joined the party at the "Bad Water" Indian village.

Acquisition Information:

1997. M-3377.2 .

Processing information:

Cataloging funded by the National Historical Publications and Records Commission (NHPRC). This collection has been processed according to minimal processing procedures and may be revised, expanded, or updated in the future.

Rules or Conventions:

Finding aid prepared using Describing Archives: A Content Standard (DACS)
Related
Additional Descriptive Data:

Crosby's 24 pencil and ink drawings from his travels in the Upper Peninsula:

Page 16: "Our first camp at 'Conover's'"
Page 25: "Style of 'Buck Board' wagon in which we rode part of the way to mouth of the Sturgeon from Menominee"
Page 36: "The Professor" [Raphael Pumpelly]
Page 39: "The 'Menominee' going up the Menominee river. Oct. 7, 1872, 3 P.M. a
beautiful October afternoon." [Sam De Nannie, Hiram B. Crosby, and Charlie Normangobble are in the canoe, the Native Americans paddling]
Page 42: [Skeletal remains of two recently abandoned Native American structures]
Page 45: "River Scene, between the Twin Falls and the Great Vequenesec"
Page 46: [Bear droppings on rock]
Page 48: "Carrying canoes around lower 'Twin Falls'"
Page 52: "The home of 'Dutch Frank,' on the Menominee" [Frank Schutz]
Page 58: "Sketch of ore ledges at Sec. 31"
Page 67: "Our fleet passing the Rapids"
Page 69: "An Indian carrying one of our canoes around Great Vequenesek Falls
Page 70: "The first morning in camp -- Hon. R.W.H. [Richard William Hanbury]
Page 71: "The Pedestrian of our Party [Prof. Pumpelly]
Page 72: [Map of intersection of Sturgeon and Menominee Rivers]
Page 75: "Contest with the Big Indian with the long Kentucky rifle, Mouth of the Sturgeon"
Page 85: [$5 U.S. bank note]
Page 87: [Two men firing at a fungus thought to be a partridge in a tree, with dialogue]
Page 90: "White Rapids"
Page 95: [William Hanbury sketching "White Rapid squaws"]
Page 99: [Purket House hotel sign]
Page 109: "'Shoe' worn by Hon. Walter Williams on the March through woods of Lake Superior"
Page 112: "Head of Ship Canal, Lake Superior...Crosby Pt."
Page 113: "The little Pine planted and watered...Crosby Pt."
Subjects
Click on terms below to find any related finding aids on this site.
Subjects:

Formats:

Names:

Places:
Contents
Using These Materials
---
RESTRICTIONS:

The collection is open for research.

USE & PERMISSIONS:

Copyright status is unknown
PREFERRED CITATION:

Hiram B. Crosby Journal, , Duane Norman Diedrich Collection, William L. Clements Library, The University of Michigan