Back to top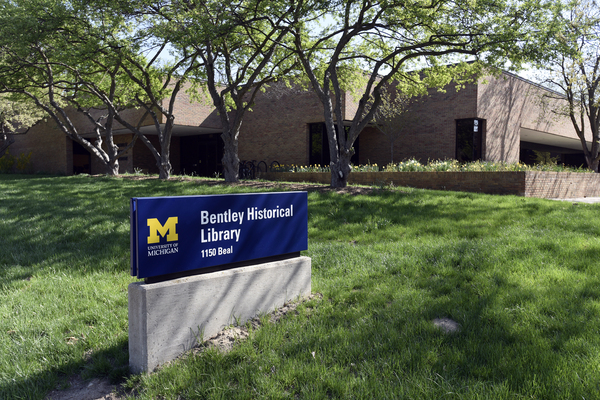 Address

:

1150 Beal Avenue

Ann Arbor, MI 48109-2113, USA
WUOM records, 1914-1982 (majority within 1940s-1960s)
Using These Materials
---
Restrictions:

The record group is open to research. The collection contains audio tapes from which digital copies have been made. Source tapes are for staff use only. Audio files are only available in the...
Summary
Creator:

Abstract:

University of Michigan radio station, founded 1948. Administrative records documenting the development of radio broadcasting at the University of Michigan; radio scripts, transcripts of talks given by faculty, publicity, scrapbooks, and photographs; and sound recordings of radio programs produced and broadcast by WUOM, as well as recordings of various University conferences, ceremonies, etc.

Extent:

33.25 linear feet
1 oversize volume
437 GB

Language:

English

Call Number:

8738 Bimu C471 2

Authors:

Finding aid created by Marlin F. McLaughlin, 1993-1994. Marlin M. McNitt, (printed) 1994.
Background
Scope and Content:

The records of radio station WUOM document the development of radio broadcasting at the University of Michigan from the 1920s through the 1960s. The bulk of the material dating from the founding of the campus radio station WUOM in 1948. The records include administrative files; scripts, publicity material, course guides and other program related material; and recordings of select broadcasts. the WUOM records are organized into three subgroups: Paper Records (including visual materials), Audio Materials (sound recordings) and Printed Material. The content description and arrangement idiosyncrasies of each are presented below. Though the dates of the current accession continue only into the early 1980s, with the bulk of materials concentrated in the 1940s-1960s, WUOM is a continuing unit of the university, and future accessions are anticipated.

Biographical / Historical:

Radio broadcasting at the University of Michigan began in 1923 when students in the Department of Electrical Engineering set up a homemade broadcasting station in the West Engineering Building. On January 14, 1924 a federal license was issued, authorizing the university to operate station WCBC on 1,070 kilocycles, with 200 watts of power for unlimited time. However, the equipment was experimental and proved inefficient for more than periodic transmission. Consequently, the department submitted to the regents a request for $20,000 to build a more professional station, and a yearly appropriation of $3000 to maintain it. However, the regents, believing that the university's broadcasting program could be carried out with less expense through the cooperation of a commercial station which had an established audience, refused the request. As a result, when the station's license expired in June 1925, no application for renewal was filed, and the station's privilege was canceled in October.

Lack of administrative support for funding did not mean lack of support for radio broadcasting. In the same year that WCBC's license was allowed to lapse, the regents established the University of Michigan Broadcasting Service (UMBS) and appointed Waldo Abbot, then instructor in rhetoric in the College of Literature, Science and the Arts, as director of the Broadcasting Service, a position he would hold until his retirement in 1957. During the 1925-26 academic year arrangements were made with Detroit radio station WJR for the regular broadcasting of programs originating on the campus, chiefly talks presented by faculty and musical programs by School of Music students and organizations.

The first of these "Michigan Night" programs featured University President Clarence Cook Little, who, in his remarks set forth the broadcasting mission of the university: "to give to the former students, alumni and alumnae, a few reminders of the spirit of the campus [and] to give to the citizens of the State entertainment and a brief opportunity to become acquainted with certain of the policies which are shaping the efforts [of the university] to serve the State as wisely and as widely as we can." [1]

In 1933 UMBS became a unit of the Extension Division. Though Abbot continued as director of the Broadcasting Service, he was transferred from the Department of English Language and Literature to the Department of Speech and General Linguistics, in which he instituted courses in radio speech, dramatics, and writing. These were "hands-on" courses that provided students with both "on-air" and "behind-the-scenes" broadcasting experience. The functions of the Broadcasting Service were increased to include class instruction, the recording of speech for students and for faculty research, and the making of recordings to be used by University of Michigan alumni clubs.[2] Radio programming throughout the 1930s and 1940s would consist of music instruction, art and vocational guidance to schools, and a host of adult programs featuring the academic and cultural resources of the university.

One of the first educational institutions to recognize the potential in FM broadcasting--a technological marvel first demonstrated at the 1939 New York World's Fair--the University of Michigan applied for authorization to build a non-commercial frequency modulation station in 1943. Although the FCC granted the permit in 1944, construction was delayed until after World War II, and it wasn't until July 1, 1948 that station WUOM made its debut. Since 1928 UMBS had operated out of a small studio located in Morris Hall. When Morris Hall was torn down to make room for a new administration building (now the Literature, Science and Arts Building) in 1945, UMBS moved into temporary quarters in Angell Hall, while awaiting construction of a "state of the art" facility that was to dominate the fifth floor of the new building.

When it first went on the air in 1948, WUOM offered a daily broadcast schedule of forty to fifty hours per week, with scheduled programming from 3:00 p.m. to 8:00 p.m. Then, as now, the largest percentage of this programming consisted of music: faculty chamber music recitals, regular rehearsals of the University Choir and the Symphony Orchestra, an "informal program of music appreciation" hosted by Wiley Hitchcock, and recorded classical music. But the new station did not abandon its commitment to sharing the university's cultural and academic resources; rather, it also offered a fairly diverse schedule of radio plays performed, and often written, by the Radio Guild and students in the Department of Speech, a children's story program, foreign language programs, and talks by university faculty.

By 1949, when WUOM finally moved into its new studios, Waldo Abbot could boast that "at the present [the station is] on the air fifty-five hours a week, devoting fifty percent of its time to transcribed and recorded musical programs. Eleven percent [is] live music presented by faculty, students, and organizations connected with the University's School of Music. Ten percent [is] programs in which students participate, such as dramatic programs, round tables, campus news, etc. Sixteen percent [are] presented by members of the university faculties, either in talks, round tables, interviews, or quiz programs. Six percent is devoted to sports and seven percent to public service programs from off-campus sources."[3] That fall, WUOM introduced "Treasures Off the Shelf," an original dramatic series based upon manuscript materials in the university's Clements Library. This series, the first of many such series WUOM would produce over the next twenty years, not only proved popular with listeners, but received a First Award from the Institute for Education by Radio.

Prior to 1950 the focus of WUOM programming had been on adult education and enrichment. That fall, however, the station inaugurated the Radio Classroom, through which it offered the university's academic and cultural resources to school systems throughout the state of Michigan. The first--and longest running--of the Radio Classroom series was "Festival of Song," a program of music instruction and singing lessons designed to enhance the classroom experience of every child. Though the series was first limited to schools in Washtenaw County, response was so positive that by 1952 Radio Classroom series were being carried, either via direct relay or distributed programming, by sixteen stations state-wide, including the Upper Peninsula. When WUOM celebrated its tenth anniversary on July 5, 1958, President Harlan H. Hatcher enthusiastically cited the station's efforts to "extend the important educational resources of the University to an ever-increasing audience ranging from pre-school youngsters to senior adult citizens... Through the maintenance of professional standards and the recognition of radio as serious art, educational broadcasters have made an important contribution to modern methods of communication. We are confident that the next decade will see the leadership of educational broadcasting extended, and the service of the University's own WUOM to the people of the State of Michigan enriched and expanded."[4]

The next decade did indeed see an extension of both leadership and service by WUOM, as well as significant changes in how that service was carried out. In 1961 WUOM received FCC permission to construct an FM station in West Michigan, in order to relay WUOM programming to the metropolitan areas of Grand Rapids, Kalamazoo, Battle Creek, and Muskegon. WVGR began broadcasting on December 2 of that same year. Though WUOM had always been closely affiliated with the National Association of Educational Broadcasting and its affiliate, National Educational Radio, the 1960s saw an increase in staff involvement. Particularly significant is the role played by station manager Edgar Burrows whose tenure as NAEB chairman encompassed the critical Public Broadcasting Act of 1967, as well as the controversy concerning copyright law revision, and NAEB's 1967 reorganizational study.

Though still responsive to its listeners' preferences for classical music programming, and still committed to its long-standing policy of extending the University's academic and cultural resources to the people of the State of Michigan, in 1960 the station began to increase its emphasis on news reporting and analysis, as well as on broadcasting more of the issues-oriented public lectures and panel discussions held on campus. By 1969 WUOM felt that local, national, and international events were requiring them to spend more time "interpreting the proper role of the University to the general public, explaining and analyzing the nature of internal conflicts in the light of national and international events, and bringing to the University community itself as balanced and detailed a reporting of events on and off campus as possible."[5] Consequently, long-time musical program favorites like The Record Collector, Afternoon Musicale, and Music of the Masters increasingly shared the broadcast schedule with protest rallies, teach-ins and sit-ins, and special sessions of the University Senate.

Subsequent decades have brought even more changes to WUOM--new network affiliation, rapidly changing technologies, budget uncertainties, personnel and leadership turnovers--all of which have, in some way, influenced station operation and programming. Nevertheless the station remains faithful to the mission established in the 1940s by the University Executive Committee on Radio, to "interpret and report to its audience the various activities of the University with emphasis upon education, research, and training with the intent to develop a broader knowledge, a fuller understanding and deeper appreciation of the humanities, of the sciences, and of social, economic, and civic problems [as well as offering] entertainment consistent with the policies and practices of an institution of higher learning."[6]

___________________________

1--Radio Programs Given at the University of Michigan During the Year 1925-1926, Printed Materials, box 34, WUOM, Bentley Historical Library (BHL).

2--"A Report on Radio Broadcasting at the University of Michigan", 1943, Annual and miscellaneous reports, 1933-1945, box 32.

3--"WUOM of the University of Michigan," Collins Radio Company, Cedar Rapids, Iowa [1949?], Printed Materials, box 32.

4--WUOM Program Schedule, October 1958, Printed Materials, box 32.

5--University of Michigan Broadcasting Service - Radio WUOM/WVGR Annual Report, 1968-70, Printed Materials, box 32.

6--University of Michigan Broadcasting Service - Radio Station WUOM [By-laws], Executive Committee on Radio, 1947-1948, box 2.

Acquisition Information:

The records of WUOM (Donor No. 788. ) were received in a series of transfers, beginning in 1952. Printed material is received at regular intervals.

Processing information:

Digitization: The Library has undertaken the digitization of a number of sound recordings within this collection. The resulting audio files are available for playback only in the Bentley Library Reading Room. Links to item images and additional information are available within this finding aid. Original sound recordings are only available for staff use.

In preparing digital material for long-term preservation and access, the Bentley Historical Library adheres to professional best practices and standards to ensure that content will retain its authenticity and integrity. For more information on procedures for the ingest and processing of digital materials, please see Bentley Historical Library Digital Processing Note. Access to digital material may be provided either as a direct link to an individual file or as a downloadable package of files bundled in a zip file.

Arrangement:

PAPER RECORDS, 1913-1984 (boxes 1-16)

Director's Files: Waldo Abbot

(Pre-WUOM), 1913-1948 (box 1)
(WUOM), 1933-1957 (boxes 2-3)

Manager's Files: E.G. Burrows, 1957-1972 (boxes 3-4)
Manager's Files: Neal Bedford, 1972-1984 (box 4)
Radio Classroom, 1951-1971, undatd (box 5)
Radio Scripts

[Bound] (Pre-WUOM), 1930-1948 (boxes 6-10)
[Bound] (WUOM), 1948-1960 (boxes 11-13)
[Unbound] (Pre-WUOM), ca. 1930-1946 (box 14)
[Unbound] (WUOM), 1951-1970, undatd (box 14)

Visual Material, ca. 1940-1960 (boxes 14-15)
Sound Reels: Accompanying Material, ca. 1960-1970 (box 16)

AUDIO MATERIAL, 1937-1990 (boxes 16-31)

Audition Copies, 1960-1962, 1964, 1970 (box 16)
Sound Reels (7"), 1948-1990 (boxes 17-21)

WUOM: Anniversaries and Dedication Programs, 1950 (box 17)
WUOM: Original Productions, 1949-1967 (boxes 17-18)
WUOM: Program Series, 1948-1990 (boxes 18-19)
U-M Ceremonies and Convocations, 1961-1969 (boxes 19-20)
U-M Conferences and Lectures, 1961-1969 (box 20)
U-M History, 1958, 1961 (box 20)
U-M Sesquicentennial Celebration, 1967 (box 21)
State and Local History and Events, 1950, 1960, undatd (box 21)

Sound Reels (10 ½"), 1950-1982 (boxes 22-30)

WUOM: Anniversaries and Dedication Programs, 1950, 1958, 1961 (box 22)
WUOM: Original Productions, 1953-1969 (boxes 22-23)
WUOM: Program Series, 1973-1975 (box 23)
U-M Ceremonies and Convocations, 1960-1974 (boxes 23-24)
U-M Conferences and Lectures, 1954-1982 (boxes 24-29)
U-M History, 1965-1966 (box 29)
U-M Sesquicentennial Celebration, 1967 (box 29-30)
State and Local History and Events, 1963 (box 30)

Sound Discs, 1937-1971 (box 31)

WUOM: Original Productions, 1960 (box 31)
WUOM: Program Series, 1958-1971 (box 31)
University of Michigan: Ceremonies and Convocations, 1937-1938, 1947-1948, 1953 (box 31)

PRINTED MATERIALS, 1926-present (Boxes 32-34)
Contents
Using These Materials
---
RESTRICTIONS:

The record group is open to research.

The collection contains audio tapes from which digital copies have been made. Source tapes are for staff use only. Audio files are only available in the Bentley Historical Library reading room on designated Bentley Library computers.

USE & PERMISSIONS:

Copyright is held by the Regents of the University of Michigan but the collection may contain third-party materials for which copyright is not held. Patrons are responsible for determining the appropriate use or reuse of materials.
PREFERRED CITATION:

[item], folder, box, WUOM Records, Bentley Historical Library, University of Michigan