Back to top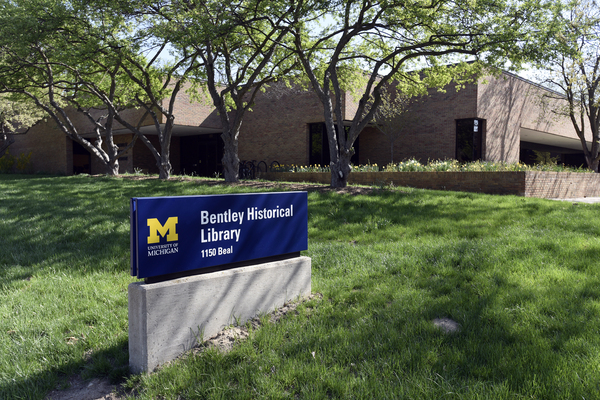 Address

:

1150 Beal Avenue

Ann Arbor, MI 48109-2113, USA
Balthazar Korab photograph collection, circa 1950-1997
Using These Materials
---
Restrictions:

The collection is open for research.
Summary
Creator:

Abstract:

Architectural photographer based in Troy, Mich. Photoprints and copy negatives, chiefly a portfolio entitled "Man's Presence," a study of Michigan's manmade environment.

Extent:

1 linear foot

Language:

English

Call Number:

0154 Aa 2

Authors:

Finding aid created by Kathy L. Steiner, August 2000
Background
Scope and Content:

Representing but a tiny fraction of Korab's oeuvre, the collection held at the Bentley Library will nevertheless appeal to a broad range of researchers. Especially in a collective sense, Korab photographs are not only about architecture and architectural photography, but also about art, technology, modernism, photography's history, the environment, urbanism, ruralism, and the creative process itself. They also document one individual's spirited commitment to a life's work -- work expressed both analytically and emotionally.

The essence of the collection is a Korab portfolio entitled Man's Presence, a study of Michigan's man-made environment that drew him to dozens of towns, cities and rural areas in the upper and lower peninsulas. Photographs capture the quiet magnificence of silos and barns, the elegance of 19th century mansions, the utilitarian architecture of iron foundries and grain elevators. There are also pictures depicting ways man has wasted resources (an abandoned lumber mill, a barren tract of bulldozed land. A superb example of Korab's lifelong fascination with vernacular architecture, Man's Presence is a deliberate effort to capture on film Michigan worlds that otherwise might go unnoticed or become lost to future generations.

The collection is comprised of three series: Biographical Materials; Man's Presence Contact Sheets; and Man's Presence Copy Prints and Copy Negatives.

Biographical / Historical:

Architectural photographer Balthazar Korab was born in Hungary on February 16, 1926. A student of architecture when he left Budapest in 1949, he completed his studies at the Ecole des Beaux Arts in Paris in 1955. Also while still in Europe, he studied art history in Paris, urbanism in Venice, and worked with Le Corbusier. Emigrating to the United States in 1955, Korab joined Eero Saarinen's firm in Bloomfield Hills, Michigan, where Saarinen was innovatively making use of large scale models as a way for designers to better understand "the wholeness" of a project. In this environment, which was devoted to the architectural application of new technologies, Korab introduced photography to the studio as a principal tool in the process of design. A year later, however, he quit the firm when he was denied entrance into an international competition for Australia's Sydney Opera House because Saarinen was on the jury. Turning to professional picture-making in order to earn a living, he flourished almost immediately, and established his own studio in Troy, Michigan in the same year. Interpreting and documenting architecture through photography became his passion and his life's work.

From the start, Korab had a unique gift for integrating photographic possibilities and architectural sensibilities with architectural documentation. "To record architecture," he once said, "is to service the architect. To interpret architecture, one has to dig deeper to the essence of the idea and project it onto an image."[1] There is distinction and depth of vision evident early on in Korab's photographic representations of the architecture of most of the legendary designers of the modern era. His client list includes Mies van der Rohe, Louis Sullivan, Minoru Yamasaki, and Frank Lloyd Wright. He has photographed work from the offices of Gunnar Birkerts & Associates, Frank O. Gehry, Albert Kahn Associates, Skidmore, Owings & Merrill, I.M. Pei, and for the pages of Progressive Architecture, Architectural Record, National Geographic, Fortune, and Architectural Digest, to name but a handful.

It is important to make the distinction that Korab is an architect who takes photographs, not simply a photographer who is knowledgeable about architecture. Architectural photography for him goes well beyond the representation of buildings. "For me," he once said, "the built environment, architecture, is of prime interest and not just a pretext, a subject of esthetic considerations ... Aesthetics, however, lend power to the message I am to convey." Korab's prime concern is to interpret the building, to understand its soul or purpose. These interests translate into striking and memorable images, not only of modern and contemporary structures by world-renowned architects, but of regional, vernacular, and folk traditions, another lifelong enthusiasm. With a reputation that spans continents, Korab spends much of his time traveling the world on assignment, and has combined an ongoing interest in native architecture with his travels, searching worldwide for historic "high and low examples (sophisticated and vernacular, urban and rural.[2]

His study of Michigan, for example, entitled "Man's Presence," focuses broadly on the man-made environment and includes images depicting the way "man changes the environment for better or worse. He lives in a place, he works, he builds, he exploits, he improves, he destroys. It's all there." [3] Korab produced more than 5,000 photographs of the towns, cities, and rural areas in the upper and lower peninsulas, driven by the belief that, "You cannot really save the buildings, but ... the next best thing is to go there with an educated eye and record them so that when they are destroyed, they will be remembered."

Korab's talent was early recognized and celebrated by the American Institute of Architects in 1964, when he was awarded the AIA Medal for Photography of Architecture. In 1986, he was the first photographer ever to receive the Arts Foundation of Michigan award. His work has been widely exhibited, collected and published. Publications include Saarinen House (1995); Encyclopedia of American Architecture (1994); Columbus, Indiana (1988); Michigan: a Photo Essay (1987); Roofscapes of Rome: an Urban Thesis (1976); and Archabet: An Architectural Alphabet (1985).

In 1997 Korab was selected to give the first Michigan Honors Lecture, which was jointly sponsored by University of Michigan's College of Architecture and Urban Design, the American Institute of Architects Huron Valley, and the Michigan Architectural Foundation. For an exhibit accompanying the event entitled Balthazar Korab, 40 /40, forty images executed over forty years were mounted, including examples from a large collection of the work of Frank Lloyd Wright; images culled from years of photographing Cranbrook in Bloomfield Hills, Michigan; selections from the commissioned photographs of Mies van der Rohe's later works; and photographs of many of the classic buildings of the modern age. One of the highlights was a portfolio of twelve photographs presented as an official gift to Hungarian President Arpad Goncz by President Clinton while on a state visit to Hungary in 1994. Also included on the walls of the exhibit were examples of the vernacular Korab continues to document while traveling the world.

____________________________

1) Exhibit brochure, Miscellaneous, Biographical, Box 1, Balthazar Korab collection, Bentley Historical Library.

2) "Balthazar Korab, Architectural Photographer,"Articles, Biographical, Box 1, Balthazar Korab collection, Bentley Historical Library.

3) "A man-made world: The intimate images of Balthazar Korab," Articles, Biographical, Box 1, Balthazar Korab collection, Bentley Historical Library.

Acquisition Information:

The collection was donated by Balthazar Korab (Donor no. 8552 ) and came to the Library in February and June 1998.

Accruals:

Periodic additions to the collection are expected.

Rules or Conventions:

Finding aid prepared using Describing Archives: A Content Standard (DACS)
Contents
Using These Materials
---
RESTRICTIONS:

The collection is open for research.
PREFERRED CITATION:

[item], folder, box, "Balthazar Korab Courtesy of the Library of Congress," Bentley Historical Library, University of Michigan