Back to top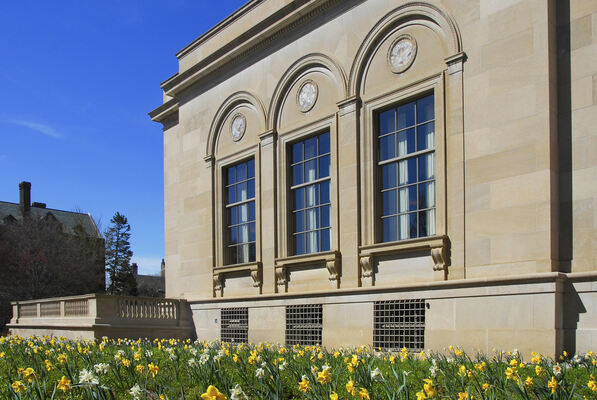 Address

:

909 South University Avenue

Ann Arbor, MI 48109, USA
Charles K. Cummings, Voyages in the U.S.S. Mount Vernon, 1921
Using These Materials
---
Restrictions:

The collection is open for research.
Summary
Creator:

Abstract:

This volume is a history of the USS Mount Vernon's service as a troop transport ship during World War I, written by United States Navy Lieutenant Charles K. Cummings, who served on the ship during the war. Cummings's narrative relates daily incidents as the Mount Vernon carried troops between New York City and Brest, France, during and after the war. Cummings noted the names of prominent passengers and included several diagrams and drawings depicting naval formations and the Mount Vernon.

Extent:

1 volume

Language:

English

Authors:

Collection processed and finding aid created by Richard C. Bates, October 2007, and Meg Hixon, March 2012
Background
Scope and Content:

This volume is a 137-page typed history of the USS Mount Vernon's service as a troop transport ship during World War I, written by United States Navy Lieutenant Charles K. Cummings, the ship's communications officer. Cummings presented this copy, entitled Voyages in the USS Mount Vernon, 1917-1919, to James Madison Doyle, the ship's gunnery officer, in December 1921. The title page has an intricate drawing of the ship by Harleston Parker.

The narrative is structured as a diary and opens with 4 pages of introductory material with information on the Mount Vernon's history prior to its first voyage as a United States Navy transport vessel. The daily entries cover the period between October 11, 1917, and April 24, 1919, during which time the ship made 12 round-trip voyages between New York City and Brest, France, carrying members of the American Expeditionary Forces. Many of the entries record the day's weather, compiled from the author's personal diaries and the ship's official logs; lists of military units being ferried across the Atlantic Ocean; and notable incidents or the names of distinguished passengers. The Mount Vernon traveled as part of a heavily guarded convoy and Cummings routinely noted the camouflage and deceptive sailing patterns employed to guard against German submarine and torpedo attacks, as well as news of other ships throughout the convoys. On February 11, 1918, he provided a list of distress calls the ship received on its most recent voyage (pp. 51-52). In addition to military officials and diplomats, the ship also carried a 13-year-old stowaway mascot of the 132nd Infantry Regiment (p. 89), a group of African American soldiers (pp. 101-102), and several wounded soldiers, including two Red Cross nurses suffering from shell shock (p. 117). On September 5, 1918, the Mount Vernon was struck by a torpedo, which killed 35 members of the ship's crew (pp. 126-129). Cummings frequently mentioned his activities while in port at Brest, Southampton, and Boston, which included social calls and spending leave time with his family.

The book includes several partially colored diagrams and illustrations pertaining to events mentioned within the text:

USS Mount Vernon (title page)
"Collision Between Agamemnon and Von Steuben" (pp. 26-27)
"Torpedoing of Finland" (pp. 26-27)
"Torpedoing of Antilles" (pp. 26-27)
"Intensive Lookout Station on Mount Vernon" (pp. 40-41)
"Types of Camouflage on U.S. Destroyers" (pp. 60-61)
"Manoeuvre for Practice with Submarine Target" (pp. 96-97)
"Sinking of British S.S. Instructor, July 15, 1918 (pp. 96-97)
"Torpedoing of U.S.S. Mount Vernon, September 5, 1918 (pp. 126-127)
"Mount Vernon Showing Camouflage on Port Side" (pp. 128-129)
"Diagrams of Mount Vernon Showing Effect of Torpedo Explosion (pp. 128-129)

Biographical / Historical:

Charles K. Cummings was born in Massachusetts around 1870 and worked as an architect in Boston, Massachusetts, after his graduation from Harvard University in 1893. On April 4, 1917, he enlisted in the United States Navy Reserve, after which he trained at the Naval Training Station at Marblehead, Massachusetts. He joined the crew of the USS Mount Vernon as a lieutenant on September 27, 1918, and worked as the ship's communications officer until he was put on inactive duty on April 25, 1919. As the officer formally in charge of the ship's war diary, he composed a history of the ship's World War I service, which he presented to several crew members in 1921. After the war, he returned to his architectural career in Massachusetts. He and his wife, Lydia E. Cummings (born ca. 1877), had several children, including Francis, Charles K., Ethel, Evelyn, and Margaret. His brother, F. H. Cummings, served onboard the destroyer Dyer during the war.

The USS Mount Vernon, originally a ship in the North German Lloyd Line called Kronprinzessin Cecile, took refuge at Bar Harbor, Maine, after the outbreak of World War I. The United States government formally took possession of the ship in February 1917, and it was sent to Charleston Navy Yard to be refitted as a troop ship. Under the command of Captain Ashley H. Robertson and Captain Douglas E. Dismukes, the Mount Vernon transported troops between New York City and Brest, France, until the spring of 1919. On September 5, 1918, the ship was hit by a torpedo, which killed 35 crew members and wounded an additional 13, two of whom died in the following days.

Acquisition Information:

2007. M-4589 .

Processing information:

Cataloging funded by the National Historical Publications and Records Commission (NHPRC). This collection has been processed according to minimal processing procedures and may be revised, expanded, or updated in the future.

Rules or Conventions:

Finding aid prepared using Describing Archives: A Content Standard (DACS)
Related
Additional Descriptive Data:

Bibliography

Harvard Alumni Bulletin. Volume 23. Boston: Harvard Bulletin, Incorporated, 1920.

More detailed information on the collection, including a list of the Mount Vernon's 12 voyages and the military units it carried on each voyage, is available in the Manuscripts Division.
Subjects
Click on terms below to find any related finding aids on this site.
Subjects:

Formats:

Names:

Places:
Contents
Using These Materials
---
RESTRICTIONS:

The collection is open for research.

USE & PERMISSIONS:

Copyright status is unknown
PREFERRED CITATION:

Charles K. Cummings, Voyages in the U.S.S. Mount Vernon, William L. Clements Library, The University of Michigan