Back to top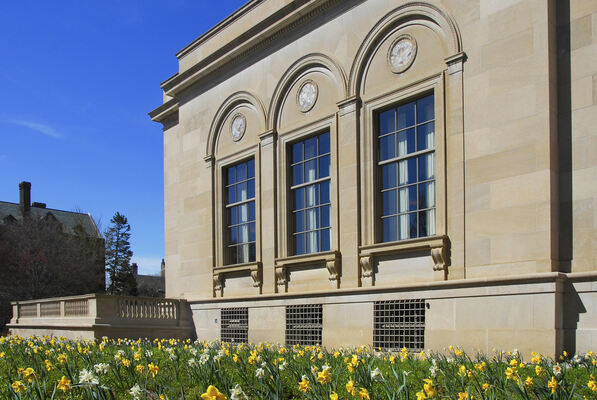 Address

:

909 South University Avenue

Ann Arbor, MI 48109, USA
John Vaughan papers, 1779-1781, 1784, 1789, 1794
Using These Materials
---
Restrictions:

The collection is open for research.
Summary
Creator:

Abstract:

The John Vaughan papers document British activities in the West Indies during the American Revolution. Covered are Vaughan's incoming letters, dispatches, bills, reports, and memoranda during his command of the Leeward Islands from November of 1779 to March 1781, as well as several postwar manuscripts pertinent to the British Colonial West Indies.

Extent:

3 volumes and 3 loose items

Language:

English

Authors:

Collection processed and finding aid created by Philip Heslip, March 2011
Background
Scope and Content:

The John Vaughan papers (3 volumes and three loose items) document Vaughan's first two years as commander-in-chief of the Leeward Islands, from November of 1779 to March 1781. The papers comprise approximately 470 items, almost all of which are incoming letters, dispatches, bills, reports, and memoranda from naval commanders and subordinates, officials in England and North America, and friends and relatives in England.

The papers primarily relate to the conduct of the Revolutionary War in the West Indies, and reveal a close coordination between the army and navy in the region. Topics documented include the capture of St. Eustatius, the capture of transports by the French, the treatment of prisoners of war, and the provisioning and paying of troops. Also covered are promotions, discipline, and reports on hardships, such as endemic sickness, supply shortages (food, candles, rum, and money), poor barracks, a lack of doctors and medicine, and bad weather. Of note are the letters from William Mathew Burt, governor of Antigua and St. Christopher's; Gabriel Christie, commander at Antigua; Lucius Ferdinand Cary, commander at Tobago; George Ferguson, governor of Tobago; Commodore William Hotham; Admiral Hyde Parker; Admiral Samuel Hood; George Brydges Rodney, commander of the Leeward Island Station; Anthony St. Leger, brigadier general at St. Lucia; Major Henry Fitzroy Stanhope; and Loftus Anthony Tottenham, brigadier general at Barbados.

In addition to the incoming material, this collection contains four items written by Vaughan:

Volume 1, item 23: After March 19, 1780: Memoranda for an answer to Christie's letter of March 18-19
Folder 1: May 11, 1784: Vaughan's deposition sent to Isaac Howell, for a property dispute involving Edward Foord, Samuel Delprat, Richard Clark, and Simon Nathan, over a lawsuit in Jamaica
Folder 1: September 29, 1789: Vaughan to an unknown property owner (partnered to a Mr. Alexander Ellis) concerning purchasing land on the Mohawk River
Folder 1: September 17, 1794: John Vaughan to William Wyndham, reporting on specifics of British troop strengths throughout the Caribbean. Mention of surrender of Belville Camp, Guadeloupe, by capitulation in October, and lost companies in that affair. Martinique is the most important island from a military perspective. St. Lucia. Enemy strength at Guadeloupe, specifying around 400-500 "whites" and 4,000 or 5,000 "Blacks" armed with muskets and bayonets. Guadeloupe would require a Garrison of troops, with the number of men needed to attack. Believes that they should raise the siege of Basse-Terre and keep the enemy in check. Royalists can't be relied on. Strength at Antigua, St. Christopher's, and Dominica. Sir Charles Grey, Admiral Jarvis, and islands of St. Bartholomew and St. Thomas. Current assessment of privateers. British and French reinforcements. Capt. Hare's 10th Light Dragoons: when they came from America, they had "hardly a sound horse amongst them"--consider discontinuing this expensive Corps.

Volume 1 contains 246 items; Volume 2 contains 276 pages; and Volume 3 contains 207 pages.

Biographical / Historical:

British officer and Member of Parliament John Vaughan (ca.1731-1795) was the second son of Wilmot Vaughan, third Viscount Lisburne, and Elizabeth Watson. Vaughan saw duty in the Seven Years' War in England, Scotland, and Germany before raising his own light infantry regiment, the Royal Welsh Volunteers, for service in America. After the capture of Martinique in 1762, his regiment was disbanded and Vaughan took command of the 46th Regiment of Foot; he remained in America until the regiment returned to Ireland in 1767. In 1774, he entered Parliament representing Berwick-upon-Tweed, and in 1776 represented St. Johnstown in the Irish Parliament. Promoted to colonel, he accompanied the reinforcements sent to America under Cornwallis in 1775. Vaughan led the British grenadiers in the Battle of Long Island, participated in the Battle of Fort Hills, and saw action at Fort Clinton, Fort Montgomery, Verplanck's Point, and Stony Point. At the end of 1779, he returned to England and shortly after accepted a commission as commander-in-chief of the Leeward Islands. His influence covered all of the British-controlled islands in the Lesser Antilles. Vaughan participated in several military excursions during his tenure in the West Indies (1779-1782). He failed to take St. Vincent's Island from the Dutch in 1781, but assisted George Brydges Rodney in the taking of St. Eustatius later that year. After the war, Vaughan retired from the military and resumed his seats in the English and Irish parliaments. He returned to the West Indies in 1794 and died at Martinique in 1775.

Acquisition Information:

1928, 1944, 1989, 2023. M-38, M-500, M-2520i, M-7821 .

Processing information:

Cataloging partially funded by the National Endowment for the Humanities (NEH) and the "We the People" project.

Arrangement:

This collection is bound into three volumes with three loose items.

Rules or Conventions:

Finding aid prepared using Describing Archives: A Content Standard (DACS)
Related
Additional Descriptive Data:

Related Materials

The following Clements Library collections contain letters to or from Sir John Vaughan:

The Clements Library Graphics Division has an engraving portrait of Vaughan and one map related to Vaughan's sojourn in the West Indies:

Martin, P. F. St. Eustatia Topogaphically Drawn & Humbly Dedicated to His Excellency John Vaughan Commander in Chief of His Majestys Forces in the West Indies. [c.1781].

Bibliography

Thomas, Peter D. G. "Vaughan, Sir John (c.1731-1795)." Oxford Dictionary of National Biography, Oxford University Press, 2004.

For an overview of the collection along with an annotated list of contributors see: Vosper, Edna Field. Report on the Sir John Vaughan Papers in the William L. Clements Library. Ann Arbor, Michigan: The William L. Clements Library, 1929.

Contributors:

Ackland, Dudley.
Amherst, Sir Jeffery Amberst, 1st baron, 1717-1797.
Antrim, Randal William MacDonnell, 1749-1791.
Batwell, Lullum.
Beauchamp, Francis Ingram Symour, 1743-1822.
Boycott, Richard.
Bradshaw, Robert H.
Brotherson, Charles Payne.
Burt, William Mathew, d. 1781.
Caldwell, Fitzmaurice.
Calder, Sir Henry, bart., d. 1792.
Campbell, Archibald, Sir, 1739-1791.
Carteret, Philip, d.1796.
Cary, Anne Leith, d.1785.
Cary, Lucius Ferdinand, d. 1780.
Christie, Gabriel, 1722-1799.
Clark, Francis Rush.
Clarke, John.
Clarke, William.
Clinton, Henry, Sir, 1738?-1795.
Crosbie, J. H.
Cockburn, James.
Conolly, Thomas, 1738-1803.
Cuninghame, James.
Cuyler, Abraham Cornelius, 1742-1810.
Dalling, John.
Damer, George, 1746-1808.
Deacon, James.
Dickson, William.
Dillon, Robert, Jr.
Dinzey, Thomas.
Donkin, Robert, 1727-1821.
Drewe, Edward, d.1793.
Drummond, John.
Eden, William, 1744-1814.
Edmeston, Robert.
Edmeston, William.
Fawson, Jones.
Ferguson, David.
Ferguson, George.
Ferguson, Joseph.
Forster, Matthew.
Fraser, George.
Fraser, John.
Garth, George, d.1819.
Germain, George.
Gillan, John.
Gordon, Abraham Cyrus.
Gordon, Adam, 1726-1801.
Gould [Morgan], Sir Charles, 1726-1806.
Granard, George Forbes, 1760-1837.
Gray, John.
Grenville, J.
Haviland, William, 1718-1784.
Herbert, John Richardson, d.1793.
Heriot, George, 1759-1839.
Hewetson, William.
Hood, Samuel Hood, Viscount, 1724-1816.
Hotham, William, 1736-1813.
Jenkinson, Charles, baron Hawkesbury, Earl of Liverpool, 1727-1808.
Johnson, Mathew.
Jones, Daniel.
Laforey, John, 1729-1796.
Lewis, Matthew.
Lisburne, Wilmot Vaughan, d.1800.
Macartney, George, 1737-1806.
May, Humphry.
Maylor, Paul.
Montgomery, William.
Murray, Frances Maria.
Napier, James.
Northumberland, Hugh Percy, 1742-1817.
Pagett, William.
Parker, Hyde, 1714-1782.
Patterson, Stephen.
Pitts, Matthew.
Powell, Hugh.
Prescott, Robert, 1725-1816.
Ramsay, James.
Reynolds-Moreton, Francis, 1739-1808.
Robinson, John, 1727-1802.
Rodney, George Brydges, 1719-1792.
Ross, A.
Russell, Peter, 1733-1808.
St. Leger, Anthony, d.1786.
Santin, Chic Fortesque.
Savage, Henry.
Scott, John, 1739-1798.
Scott, Thomas Barton.
Scudamore, John, 1727-1796.
Sheridan, Henry Fortich
Stanhope, Henry Fitzroy, 1754-1828.
Stopford, Joseph, d.1786.
Sutherland, William.
Sydney, Thomas Townshend, Viscount, 1733-1800.
Temple, William Johnstone, 1739-1796.
Temple, Anne, d.1793.
Thomas, John, d.1810.
Tonhouse, W.
Tottenham, Loftus Anthony, 1715-1811.
Townshend, George Townshend, 4th viscount and 1st marquis, 1724-1807.
Vaughan, Dorothy Elizabeth, Lady Palk, d.1849.
Warner, Ashton.
Watson, Catherine.
Young, Walter.
Contents
Using These Materials
---
RESTRICTIONS:

The collection is open for research.

USE & PERMISSIONS:

Copyright status is unknown
PREFERRED CITATION:

John Vaughan Papers, William L. Clements Library, The University of Michigan