Back to top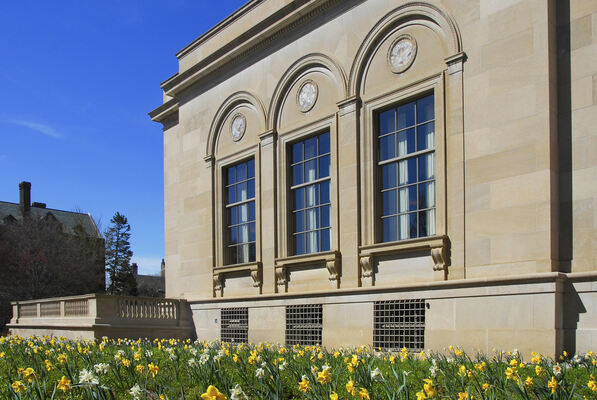 Address

:

909 South University Avenue

Ann Arbor, MI 48109, USA
Goodman-Vent papers, 1830s-1890s
Using These Materials
---
Restrictions:

The collection is open for research.
Summary
Creator:

Abstract:

The Goodman-Vent papers contain letters and writings from the families of Thomas Goodman and Charles Frederick Vent, two prominent 19th century Chicago and Cincinnati businessmen. Of note are detailed eyewitness accounts the great Chicago Fire of 1871.

Extent:

1,333 items

Language:

English

Authors:

Collection processed and finding aid created by Philip Heslip, November 2009
Background
Scope and Content:

The Goodman-Vent papers (1,333 items) contain letters and writings from the families of Thomas Goodman and Charles Frederick Vent, two prominent 19th-century Chicago businessmen. The collection consists of 1,285 letters, a diary, an account book, 4 poems, 5 genealogical items, 33 printed items, 4 maps, and a lock of hair. Of note are detailed eyewitness accounts the Great Chicago Fire of 1871.

The Correspondence series (1,285 items), 1837 to 1896, centers on business, family, and social lives of Charles Frederick Vent, Thomas Goodman, and their families. Other families represented are the Chickerings and the Saxons.

The earliest letters were addressed to Vent from his family and friends during the time when he was a teacher in Massachusetts (1837), as well as his ventures in Jacksonville, Illinois (1838), Boston, Massachusetts (1842), Dartmouth, New Hampshire (1848), and Pittsfield, New Hampshire (1849). Of interest are several letters from his maternal grandfather, Jonas Chickering, the noted piano-maker, who paid for his education. In the 1850s, while Vent was working as an Ohio salesman, most of his letters were from salesmen working under him; these offer a view into everyday life in small towns in the Midwest.

From the 1860s through the end of the collection, the letters are largely to and from the Goodman and Vent families and their many well-known and influential friends. Charles Vent and Thomas Goodman discussed a wide range of subjects, including personal and family affairs; business dealings; city, state, and national politics; the Civil War; and social and religious topics. In one instance, Goodman wrote to Vent: "A collection of your letters and mine would form a pretty fair history of the family" (December 3, 1871). While not necessarily comprehensive, these items also document many aspects of Chicago and Cincinnati society during the last half of the 19th century.

The Civil War era letters contain items from both the front lines and the home front. Highlights include a gloomy eyewitness account of First Bull Run, in which friend John Hirshorne reprimanded Union soldiers for being too confident (July 24, 1861). Vent was involved in raising a brigade called the Teachers Home Guard, made up largely of teachers in Cincinnati, that was formed to fend off any potential attacks on Cincinnati. In one letter he described purchasing arms for the regiment from Colt and Justice and Ketteridge (June 1861).

Of particular note are letters that describe the Great Chicago Fire of 1871. Hannah Goodman started to write one letter shortly after the fire began to spread, and provided a minute by minute account of the inferno as it blazed from the west bank of the river toward the downtown area. The family wrote updates throughout the night and for several days after the fire; these provide a detailed record of the destruction. Later letters document the families' personal struggles (tensions within the family, the death of Vent's 14-year-old daughter in 1877) and economic hardships.

Other items of note include:

7 letters from Vent's schoolmate James Emerson, a noted abolitionist, who described the conditions of blacks in the South (March 18, 1855, January 13, 1856, December 21, 1856, January 27, 1858, March 16, 1860, March 1, 1866, and undated).
Mentions of the first African Americans to be baptized in the family's church (February 11 and October 28, 1866).

The following letters contain visual materials:

May 30, 1861: an engraving of the Colt factory
June 28, 1861: a letterhead engraving of the Charles Cammell and Co. Cyclops Steel Works, in Sheffield, England
March 20, 1862: a lithograph letterhead of a riverscape in Peoria, Illinois
1871: a map of the "burnt district" in Chicago, Hannah Goodman to Emily Goodman Vent and Charles Vent
Undated: a picture of a Young Ladies' Collegiate Institute and Seminary in Monroe City, Michigan

The Diary and Account Book series contains a tiny diary from March 1-19, 1877, documenting the child Kitty Vent's sickness and death. The 35-page account book documents daily cash expenses for supplies and serives but is undated and unattributed.

The Poetry series (4 items) consists of a poem from Thomas Goodman to his wife on her birthday (1890); a 20-page poetry book written by Elizabeth "Eliza" Fisher Vent of Dedham, Massachusetts, who was the grandmother of Charles Vent; a poem entitled "Going Forward"; and a poem by Annie Goodman entitled "Secrets."

The Genealogy series (5 items) contains a bound journal (51 pages, 20 blank pages) copied by Thomas Goodman Vent in 1920 from a manuscript created by Josiah Boutelle Chickering, Sarah Maria Brown Chickering, and her son Clifford Cummings Chickering. This documents the Chickering, Boutelle, Brown, Lovering, Wheeler, Vent, and Goodman families as early as 1576, with more thorough family records starting in the 19th century.

Other items include:

A printed Memoranda of Anniversaries, labeled "PRIVATE," containing birth and death information of the Goodman and Vent families (1884)
A one-page memorandum of birth and death dates for the Goodman family
A copy of a grave marker for Mary Wright
A 21-page genealogy of the Fisher family created by Elizabeth Fisher Vent and her daughter-in-law Melinda Chickering Vent

The Printed Items, Maps, and Ephemera series (33 items) consists of:

Speeches Delivered at the Eighteenth Ward Republican Festival In Commemoration of the Birth of Washington (February 22, 1860)
Items celebrating the 50th anniversary of Thomas and Hannah Goodman including a 23page printed booklet (1888)
A 16-page printed booklet celebrating Thomas Goodman's 75th birthday
A two-page printed "Tribute to the Memory of Rev. William Goodman" (1918)
Education material including teaching certificates and report cards
Fifteen newspaper clippings, including items related to Ida Saxton McKinley, wife of President McKinley
Maps of Spring Grove and Graceland cemeteries

The Realia series contains a lock of hair (unidentified).

Biographical / Historical:

Thomas Goodman was born in England in 1816 and emigrated to Canton, Ohio, in 1832. Six years later, he married Hannah Jane Saxton (1820-1895), daughter of the prominent banker James Saxton. They had eight children including daughter Emily Goodman (born 1840), who married Charles Vent. Thomas Goodman studied law in Canton and was admitted to the bar in 1845. Instead of becoming a lawyer, Goodman was hired as a secretary for the Stark County Mutual Insurance Company. In 1849, he joined the Hartford Insurance Company as an agent. He and his family moved to Chicago in 1861. Along with his insurance interests, he was also a partner in a publishing company. He left that company in 1863 to found the Lumbermen's Insurance Company, which specialized in fire insurance. Though the company prospered, it was bankrupted by the Great Chicago Fire (1871). He continued in the Chicago insurance business with a new company, Goodman's Insurance Agency.

Charles Frederick Vent was born in Concord, New Hampshire, in 1830. He was sent to Dartmouth College by his maternal grandfather, Jonas Chickering, and was a member of the Delta Kappa Epsilon fraternity. After college, Vent taught at the Maplewood Young Ladies' Institute in Pittsfield, Massachusetts, but left this position to travel west as a salesman. He eventually settled in Cincinnati, where he entered the printing business, in partnership with Thomas Goodman to form the subscription-based publishing company C. F. Vent, J. S. Goodman & Co. With offices in Cincinnati, Chicago, and later New York, the company published abolitionist pamphlets and history books, including volumes on Lincoln and Grant, and the Great Chicago Fire. In 1862, he married Emily Goodman (b. 1840), daughter of his partner Thomas Goodman. They had four children: Evelyn Vent, Lillian Vent, Fred Vent, and Thomas Goodman Vent. Charles Vent remained in the printing business until his death in 1905.

The Goodman and Vent families were both wealthy and well connected. Goodman's Chicago acquaintances included Mayor John Wentworth, Cyrus McCormick, and Marshall Field, among others. Hannah Goodman's sister, Ida Saxton, became the wife of William McKinley, 25th president of the United States. Vent corresponded with such notable people as Vice President Hannibal Hamlin, General Lew Wallace, and Harper's Weekly editor G.W. Curtis. The families both held progressive views on abolition and women's suffrage and were Republican supporters.

Acquisition Information:

1997, 1998. M-3415, M-3431 .

Processing information:

Cataloging funded by the National Endowment for the Humanities (NEH) and the "We the People" project.

Arrangement:

This collection is organized into six series:

Series I: Correspondence
Series II: Diary and Account Book
Series III: Poetry
Series IV: Genealogy
Series V: Printed Items, Maps, and Ephemera
Series VI: Realia

The Correspondence series is ordered chronologically with undated items at the end.

Rules or Conventions:

Finding aid prepared using Describing Archives: A Content Standard (DACS)
Related
Additional Descriptive Data:

The collection's authority file in the Manuscripts Division contains an extensive partial index, organized into the following categories: Pre-Civil War Letters; Civil War Letters; Famous People and Events; Pre-Civil War Abolitionist Views; Trains, Steamships, Science, and Culture; School and Land Purchases, Bounties, Persona Certificates, etc.; Doctors' Letters, Death, Diseases, and Crime; Famous Friends and Family Letters; Chicago Fire Letters; and Evanston, Illinois, Letters (1864).

Alternate Locations

The 139 photographs from this collection are located in the Clements Library's Graphics Division.

The following book is located in the Clements Library Book Division: Everett, Marshall. Complete Life of William McKinley and Story of his Assassination: an Authentic and Official Memorial Edition Containing Every Incident in the Career of the Immortal Statesman, Soldier, Orator, and Patriot. Array: The Author, 1901.
Subjects
Click on terms below to find any related finding aids on this site.
Subjects:

Formats:

Names:

Places:
Contents
Using These Materials
---
RESTRICTIONS:

The collection is open for research.

USE & PERMISSIONS:

Copyright status is unknown
PREFERRED CITATION:

Goodman-Vent Papers, William L. Clements Library, The University of Michigan