Back to top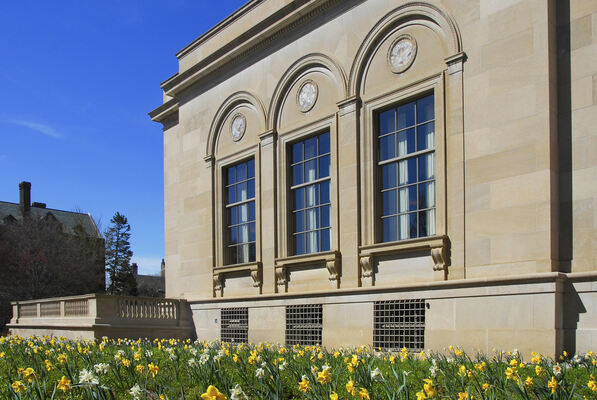 Address

:

909 South University Avenue

Ann Arbor, MI 48109, USA
Eaton-Shirley family papers, 1790-1939 (majority within 1850-1906)
Using These Materials
---
Restrictions:

The collection is open for research.
Summary
Creator:

Abstract:

The Eaton-Shirley family papers consist of personal diaries, correspondence, military papers, legal and business documents, printed materials, and photographs. A primary figure in the collection, John Eaton, Jr., was Civil War Superintendent of the Freedmen and later Commissioner of Education under Grant. The papers also contains substantial material from other Eaton family members, including military papers and correspondence of his brother, Lucien B. Eaton, and papers of the Shirley family (the family of John Eaton, Jr.'s wife, Alice E. Shirley).

Extent:

1,903 items (5 linear feet)

Language:

English

Authors:

Collection processed and finding aid created by Cheney J. Schopieray, 2003
Background
Scope and Content:

The Eaton papers consist of 1,903 items, dating from September 1790 to July 30, 1939. The bulk of the collection falls between 1850 and 1906. The papers contain 318 letters, 9 diaries/journals, 60 personal documents of John Eaton Jr., 275 legal documents and business papers, 112 military documents, 923 photographs, 84 printed items, and 122 miscellaneous items.

The majority of the correspondence is personal and relates to family matters. The 168 letters of John Eaton, Jr., contain extensive biographical information. Of particular interest are 44 Civil War-era letters including information about the freedmen, three letters pertaining to the publication of The Post, and two with content regarding the Ku Klux Klan. The collection also contains 22 letters to and from Alice (Shirley) Eaton, 31 letters to and from Lucien Eaton, and 32 miscellaneous letters from members of the Eaton family. Of the 30 letters written by Alice Eaton's parents (James and Adelaine Shirley), 10 letters regard compensation for the damage done to the Shirley House during the Civil War. Various other members of the Shirley family wrote 15 letters, and 20 letters are from other people unrelated to the Eaton and Shirley families.

John Eaton Jr.'s aunt, Ruth Dodge Eaton, wrote two diaries which consist almost entirely of Christian hymns and essays. John Eaton Jr.'s uncle, Horace Eaton, wrote one diary that contains Christian material written while he attended Dartmouth College. John Eaton, Jr., wrote two diaries, one of which he wrote as a youth, and the other as a student at Dartmouth. Other journals include two by John Eaton Jr.'s brothers, Frederick and Charles, and a household account book, kept by his sister Christina. Of particular importance is Alice Shirley's diary, in which she described pre-civil war tensions between the north and the south, speculation on the upcoming Siege of Vicksburg, the early stages of the Siege of Vicksburg, and very personal feelings regarding her marriage to John Eaton, Jr.

The 60 personal papers of John Eaton Jr. include 17 documents regarding his appointments and titles, two documents about freedmen, and 41 miscellaneous address cards and invitations (including an invitation to the opening of the Brooklyn Bridge).

Of the 275 legal papers, 74 documents pertain to the sale of land in Mississippi; 7 concern Robert M. Jones's claim to Choctaw Nation lands; and 25 relate to estate papers, deeds of trust and documents about the proceedings of Adelaine Shirley's post-war relief claims; and a receipt for the sale of an African American woman. The remaining 176 legal papers are miscellaneous financial documents, such as tax documents, checks, and receipts.

Of the 112 military documents, 58 pertain to John Eaton, Jr., 7 of which are about freedmen. The military documents of Lucien B. Eaton number 54.

The 923 photographs consist of six photo albums, 31 cased daguerreotypes and ambrotypes, 144 cabinet cards, and 421 loose photographs and snapshots all depicting members of the Eaton and Shirley families, scenic locations, and the Shirley House.

Of the 84 printed items in the collection, 49 newspaper clippings pertain to the occupational and personal activities of John Eaton, Jr., and 9 miscellaneous clippings relate to the Eaton family. The remaining 26 items are published pamphlets, including addresses and reports concerning John Eaton, Jr.; a sermon written by Horace Eaton; a report of proceedings of an Ohio Brigade reunion; an Anti-Slavery Almanac from 1838; and an incomplete piece describing the history and restoration of the Shirley House.

The 122 miscellaneous papers of the John Eaton, Jr., collection consist of 53 recipes and 69 miscellaneous items including a partial autobiography of Alice Eaton.

Biographical / Historical:

While the Eaton-Shirley family papers primarily focus on John Eaton, Jr., the collection also contains a significant amount of information regarding other members of the Eaton and Shirley families. These members include John Eaton Jr.'s wife, Alice Eugenia (Shirley) Eaton, one of their children, Elsie Eaton, and several of John's siblings: Lucien B., Nathan A., Charles, Frederick, and Christina Eaton. Papers regarding John Eaton Jr.'s uncle, Horace Eaton, and his aunt, Ruth Dodge Eaton, are also present. The primary Shirley family members represented in the collection are Alice E. (Shirley) Eaton's parents, James and Adelaine Shirley; her uncles, Robert and Edward Shirley; and her brother, Quincy Shirley. Though the Eaton family was from New Hampshire, the bulk of the papers in this collection are from places where members of the family relocated - most prominently, Vicksburg, Mississippi; Toledo, Ohio; and Memphis, Tennessee. The most prominent figures in this collection are John Eaton, Jr., Lucien B. Eaton, and various members of the Shirley Family.

John Eaton Jr. (December 5, 1829-February 9, 1906) was born in Sutton, New Hampshire, to John and Janet Cole (Andrews) Eaton. He was the eldest of 9 children. At the age of 16, he became a district schoolteacher. His mother died when he was 17 (in 1846). Eaton attended classes at the Thetford Academy in Vermont, and then graduated from Dartmouth in 1854. For two years after graduation, he served as principal of Clinton Street (Ward) School in Cleveland, Ohio.

In 1856, John Eaton, Jr., became superintendent of the city schools in Toledo Ohio. He resigned in 1859 and entered Andover Theological Seminary. After ordination in 1861, he volunteered for the Union Army and became chaplain of the 27th Ohio Volunteer Infantry. He was in rebel hands two times, following which, in 1862, General Grant made him Superintendent of Freedmen in the Mississippi Valley. This position included caring for and organizing the large numbers of African American men and women who escaped slavery behind Union lines. Eventually, Eaton's jurisdiction as Superintendent of Freedmen encompassed the entire departments of Tennessee and Arkansas.

In October 1863, John Eaton, Jr., was given a colonel's commission for the 63rd U.S. Colored Infantry, raised near Vicksburg, and was later brevetted Brigadier-General. He accepted a position with the Bureau of Refugees, Freedmen, and Abandoned Lands as assistant commissioner in charge of Maryland, the District of Columbia, and parts of Virginia. On September 29, 1864, Eaton married Alice Eugenia Shirley, the daughter of a Vicksburg Unionist, and three months later, he resigned his commission. In 1866, with the financial assistance of several prominent men, he established The Post in Memphis, Tennessee (the first Republican newspaper in the Mississippi Valley between New Orleans and St. Louis). In 1867, he won election as state superintendent of education.

In March 1870, General Grant appointed Eaton Commissioner of Education. His experience and political savvy helped him salvage the Bureau of Education from congressional annihilation. He promoted important changes in elementary level instruction, aided improvement in schoolhouses, promoted greater attention to hygiene in public schools, and helped to improve the qualifications of teachers and the standards of legal and medical instruction. He also oversaw the development of the Bureau's collection of statistics. John Eaton, Jr., was appointed by President Grant to represent the Department of the Interior at the Centennial Exhibition in 1876.

After resigning from the Bureau of Education for his poor health, Eaton became president of Marietta College, Ohio, in 1886, where he stayed until 1891. He assisted in the publication of several pamphlets bearing strong anti-Mormon sentiments. In 1895, he was unanimously elected president of the Sheldon Jackson College (now Westminster College), a Christian college in Salt Lake City, Utah.

In January 1899, General Eaton became the first American Commissioner of Education in Puerto Rico for the purpose of establishing an American school system there. He was forced to resign a year later as a result of serious illness. Among his many other honors, he became an honorary member of the French ministry of Public Instruction, and Commander of the Order of the Rose, which was granted by the Emperor of Brazil. He was also a member of the society of Japanese savants for the promotion of education.

Lucien Bonaparte Eaton (b. March 8, 1837) was John Eaton, Jr.'s brother. He graduated from Dartmouth College in 1859, and then studied law with William Callamer in Woodstock, Vermont, and with Hill and Pratt in Toledo, Ohio. Following his education, he was appointed head of the Prospect St. School in Cleveland. In 1861, he was appointed 2nd Lieut. 65th Regt. Ohio Volunteers, then later 1st Lieut. and Captain.

During the Civil War, Lucien fought in the Battle of Stone River Bridge, Chickamauga, Chattanooga, Recaca, and in other conflicts under General Sherman. He was appointed Lieut. Col. 69th Regt. U.S. Colored Volunteers, and then promoted to Colonel in 1865. In 1866 he assisted his brother, General John Eaton, Jr., in establishing the Memphis Daily Post. General Grant appointed him U.S. Marshall of the Western District of Tennessee in 1870, where he served until 1878, when he resigned. He then practiced law in Tennessee, primarily focusing on real estate, and became one of the largest real estate owners in Memphis.

Shirley family . James Shirley (1794-1863) was the father of Alice (Shirley) Eaton and a native of Goffstown, New Hampshire. He was a graduate of Dartmouth College, and studied law in Albany, New York, before moving to Georgia where he ran an academy. He practiced law in Alabama. He married Harriet Walsworth and was a Whig with a firm allegiance to the Union.

While traveling in Mississippi, James stayed the night at a plantation owned by a Mr. Pryor. There, he met his second wife, Adelaine Quincy, who had taken a job there as governess at the age of 19. She was a native of Boston, Massachusetts. They took up residence near Vicksburg, Mississippi, on a plantation, living in what would later become known as "The Shirley House." The Shirleys had three children, Quincy, Frederick, and Alice Eugenia (b. May 2, 1844).

During the Civil war, Alice moved to the small town of Clinton (near Vicksburg) with her father, while Adelaine stayed at the Shirley House with her son, Quincy. Frederick had fled to Indiana to escape southern hostility toward Union sympathizers. During the Siege of Vicksburg, Adelaine refused to abandon the Shirley House. She and Quincy stayed in their home until the battle was over, even though the house was badly damaged. In 1902, the secretary of war authorized the repair of the Shirley House, and it is now a part of the Vicksburg National Military Park.

Acquisition Information:

1996-2008. M-3268, M-3276, M-3323, M-4650.1, M-4650.2 .

Arrangement:

The Eaton-Shirley family papers have been organized into the following series, based on their original order:

Series 1: Correspondence

John Eaton, Jr.
Alice E. Eaton
Lucien B. Eaton
Other Eaton family members
James Shirley
Adeline Shirley
Other Shirley family members
Miscellaneous Correspondence

Series 2: Diaries and Journals
Series 3: Personal Papers

Personal Documents
Name, Appointment and Address Cards
Invitations and Announcements

Series 4: Legal and Business Papers

Land Documents
Legal Papers
Tax Documents
Checks, Receipts and other Financial Papers

Series 5: Military Papers

John Eaton, Jr. Military Documents
Lucien B. Eaton Military Documents

Series 6: Printed Materials

Newspaper clippings
Pamphlets
Other published items

Series 7: Photographs
Series 8: Miscellaneous papers

Rules or Conventions:

Finding aid prepared using Describing Archives: A Content Standard (DACS)
Related
Additional Descriptive Data:

Alternate Locations

The Eaton photographs are housed in the Clements Library Graphics Division. Many are individually cataloged and may be represented in the Clements Library Image Bank.

The following printed materials are housed in the Clements Library Book Division:

Bibliography

Historical Research of 712 Capitol Street, N.E. Washington, D.C.: Kelsey & Associates, 2002, pp. 9-12.

Armstrong, Warren B. Union Chaplains and the Education of the Freedmen. The Journal of African American History, Vol. 52, No. 2., Apr., 1967, pp. 104-115.

Ross, Steven Joseph Freed Soil, Freed Labor, Freed Men: John Eaton and the Davis Bend Experiment . The Journal of Southern History, Vol. 44, No. 2, May, 1978, pp. 213-232.

Worthen, Augusta H. The History of Sutton New Hampshire. Sutton: The Town of Sutton, 1975.

The Shirley-Eaton family papers include the following cataloged maps:
Contents
Using These Materials
---
RESTRICTIONS:

The collection is open for research.

USE & PERMISSIONS:

Copyright status is unknown.
PREFERRED CITATION:

Eaton-Shirley Family Papers, William L. Clements Library, The University of Michigan