Back to top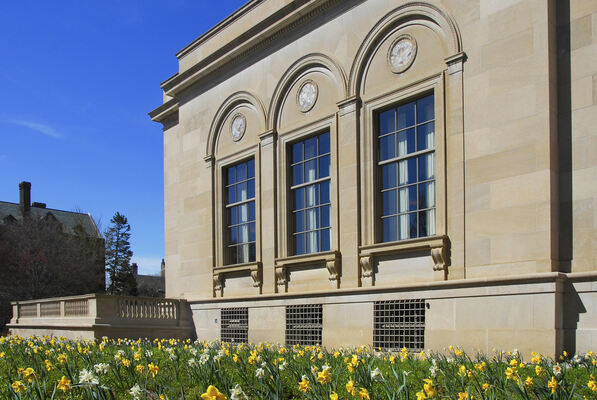 Address

:

909 South University Avenue

Ann Arbor, MI 48109, USA
Augusta and Francis R. Holland papers, 1818-1849 (majority within 1840-1849)
Using These Materials
---
Restrictions:

The collection is open for research.
Summary
Creator:

Abstract:

This collection contains correspondence between Augusta Wolle Holland and Reverend Francis Raymond Holland, regarding missionary life in Jamaica in the 1840s.

Extent:

55 items

Language:

English
German

Authors:

Collection processed and finding aid created by Manuscripts Division Staff, November 2006; Philip Heslip, December 2009
Background
Scope and Content:

The Augusta and Francis R. Holland papers are comprised of 55 letters, which focus on Augusta Wolle Holland's and Reverend Francis Raymond Holland's missionary life in Jamaica in the 1840s.

Series I: These 12 letters, some quite lengthy, are between Francis (2) and family friend Mary Steiner Denke (10). Mary's letters provide a diverse and well-written discussion of politics, plants, scenery, and society from her life in a Moravian settlement in Salem, North Carolina, and from travels to Macon, Georgia, in 1840, and to France in 1845. In addition to thoughtful discussions on the treatment and conditions of slaves in North Carolina and Georgia, she wrote of a May 1 celebration at Mr. Napier's school in Macon, Georgia; stage travel in Georgia (during which the passengers had a political debate between Whigs and Locos); a Cherokee Indian Mission and the building of schools there; trans-Atlantic travel; Protestant versus Catholic churches and doctrine in France; and travel around the French countryside near Montauban. She was also interested in academic and religious teachings.

Series II: The August and Francis Holland Correspondence with Parents series, which comprises the bulk of the collection, contains 33 lengthy letters written between 1842 to 1849 and passed between the Hollands in Jamaica and their parents in the United States. Though Augusta was the more prolific of the writers, both wrote extensively about life as missionaries, thoroughly detailing their surroundings, food, health, gardening, religious education, and interactions with fellow missionaries and Jamaica's inhabitants. Augusta's letters focused on home and garden; she expressed great interest in the local flowers and edible plants. She also taught Sunday school classes, cared for her children, and kept up-to-date on current events in the United States. Francis' letters often mention national American politics, including national appointments and the ongoing Mexican War. Letters from their parents concern the family's well being, local events in the town, and religious activities and viewpoints. The Hollands kept servants while in Jamaica, and discussed them in their letters.

Series III: The Miscellaneous Correspondence series contains 10 items, primarily letters addressed to Holland from his colleagues in the church. A few letters were also written to Augusta and one to her father Jacob Wolle. Another item, sent from Bergen, Norway, to Philadelphia, is dated 1818 and is written in German.

This collection includes three illustrations: the letter from September 3, 1842, contains a sketch of a garden plan in Fairfield, Jamaica; the letter from January 31, 1845, has a small paper seal with a black floral image; and the November 26, 1845, item features a rough illustration of a flower.

Biographical / Historical:

Francis Raymond Holland, the son of William Holland (1790-1860) and Anna Elizabeth Schumacher, was born in Salem, North Carolina, in 1820. In 1841, Holland left North Carolina to become a preacher and missionary in Jamaica. While there, he was head of and taught at the Moravian Training School in Fairfield, Parish of Manchester, Jamaica, where he taught grammar, arithmetic, geography, composition, and Bible studies.

In July 1844, Holland returned to Salem to be ordained a deacon and, in September of that year, married Augusta E. Wolle (b. 1820), the daughter of Jacob Wolle and Eliza Horafield of Bethlehem, Pennsylvania. They had at least one daughter named Mary Elizabeth Holland. Over the next few decades the family would move between Jamaica, Ohio, and Pennsylvania, where Holland would preach, serve as a missionary, and teach in various capacities. In May 1866, he and his family moved to Hope, Indiana, where he founded the Seminary for Young Ladies, which he ran for 13 years.

Holland held a number of official church positions throughout his life. In 1869, he was a delegate of the Northern Province of the Moravian Church in America and attended the General Synod, held in Herrnhut, Germany. In 1873, he was elected to the Provincial Elders' Conference, an office he held for five years. He retired in 1879 and spent his remaining years in Indiana with his wife. He died in 1894.

Mary Steiner Denke (b. 1793) was a Holland family friend. She was the widow of Reverend Christian Frederick Denke, a Morovian missionary to the Delaware and Chippewa Indians. She lived at a Moravian settlement in Salem, North Carolina, but apparently traveled frequently, to Macon, Georgia in 1840, to France in 1845, and to the Pyrenees Mountains in 1846.

Acquisition Information:

1995. M-3134.2 .

Processing information:

Cataloging funded by the National Endowment for the Humanities (NEH) and the "We the People" project.

Arrangement:

This collection is organized into three series:

Series I: Francis Holland to Mary Denke Correspondence
Series II: Augusta and Francis Holland Correspondence with Parents
Series III: Miscellaneous Correspondence

Each series is ordered chronologically.

Rules or Conventions:

Finding aid prepared using Describing Archives: A Content Standard (DACS)
Related
Additional Descriptive Data:

Related Materials

The Clements Library holds additional manuscripts pertaining to the Hollands and Moravian missionaries in Jamaica including:

Blandina Diedrich collection:

Augusta Holland to Jacob Wolle, Feb. 25, 1845
Francis Wolle to Jacob Wolle, March 20, 1845

Weld-Grimke papers: Theodore Weld to Lewis Tappan, July 31, 1841, regarding David S. Ingraham, a former missionary among emancipated slaves in Jamaica
Subjects
Click on terms below to find any related finding aids on this site.
Subjects:

Formats:

Names:

Places:
Contents
Using These Materials
---
RESTRICTIONS:

The collection is open for research.

USE & PERMISSIONS:

Copyright status is unknown
PREFERRED CITATION:

Augusta and Francis R. Holland Papers, William L. Clements Library, The University of Michigan