Back to top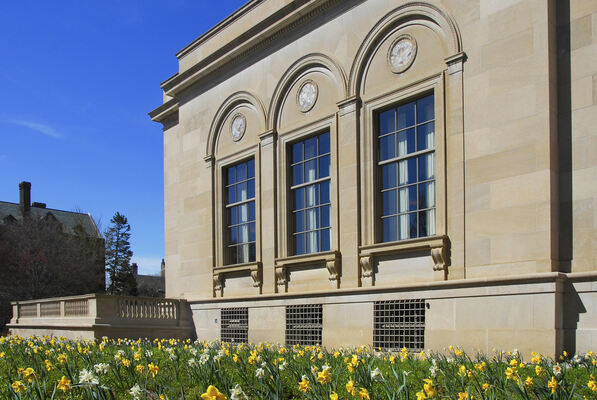 Address

:

909 South University Avenue

Ann Arbor, MI 48109, USA
Hopkins family papers, ca. 1800-1932
Using These Materials
---
Restrictions:

The collection is open for research.
Summary
Creator:

Abstract:

The Hopkins family papers contain wide variety of materials relating to the Hopkins family of Vermont and California. A few of the wide variety of topics covered include the Episcopal Church, student life at the University of Vermont, the 1849 Gold Rush and 19th-century life in California, the San Francisco Earthquake of 1906, art, and music.

Extent:

4 linear feet

Language:

English

Authors:

Collection processed and finding aid created by Shannon Wait, March 2011
Background
Scope and Content:

The Hopkins Family papers document the activities of several generations of the Hopkins family of Vermont and California, whose members included prominent 19th century artists, musicians, religious figures, and writers. Among its notable figures are John Henry Hopkins (1792-1868), the first Episcopal bishop of Vermont; John Henry Hopkins, Jr., best known for writing the song "We Three Kings"; and Caspar Hopkins, a writer, early explorer of southern Oregon, and miner and entrepreneur during the California Gold Rush. Perhaps the most extraordinary aspect of the Hopkins family was the wide extent of their collective talents and experiences. As a result, their collection touches on numerous historical subjects, including the Episcopal Church, the insurance business in California, shipping, Vermont in the 19th century, California during and after the Gold Rush, gothic architecture, classical and religious music, education, and family life during the 19th century. Spanning 1800 to 1932, and comprising four linear feet of material, the collection contains a huge variety of material, including correspondence, documents, printed matter, drawings, manuscript and printed music, photographs, broadsides, pamphlets, monographs, periodicals, and maps.

The Correspondence series contains approximately 400 incoming and outgoing letters, spanning 1824 to 1932, with the bulk concentrated in the years between 1830 and 1890. Caspar Hopkins contributed the largest number of letters to the collection, writing approximately 25%; followed by his brother, John, Jr., (15%); his mother, Melusina (10%); his wife, Almira (5%), and his father, John, Sr., (5%). Caspar wrote frequent letters to his wife and family, and they document many stages of his life, such as his 1849 voyage to California via Mexico and his participation in the Gold Rush as a speculator and businessman, his exploration of the Umpqua River in southern Oregon in the early 1850s, and his career as president of the California Insurance Company in the 1860s through the 1880s. His Gold Rush letters in particular contain incisive comments on the miners he encountered and on their way of life. On October 14, 1850, he wrote a letter to "Friend Clarke," describing frontier conditions, the attitudes of settlers, and the habits of Native Americans in the Klamath River Valley. Many letters also discuss religious and intellectual matters, two areas of interest for Caspar.

Bishop John H. Hopkins' letters span 1831-1866 and contain a great deal of advice to Caspar, as well as his thoughts on religious matters, the Civil War, family affairs, and many other topics. In a few early letters written to Caspar when he was a young man, John described his views on the raising of children and gave advice on being successful (December 11, 1850); he lamented Caspar's lack of interest in the ministry as a career (February 20, 1851). Other letters by the bishop touch on the satisfaction of worship (August 17, 1854), contain pro-South speculation as to the causes of the Civil War (May 28, 1861), and mention his upcoming golden wedding anniversary with Melusina (March 10, 1865). In a letter of August 10, 1866, John addressed Caspar's growing skepticism toward organized religion, urging him to return to the church "to which you and your dear family rightfully belong," despite its "earthly" defects. John Henry Hopkins, Jr., wrote several dozen letters, primarily concerning his experience as a member of the clergy, touching often on pedagogical subjects which ranged from arguments on why Lincoln was a bad president to theological discourses, some even written in Latin. On February 25, 1844, he wrote a particularly good description of student life at the University of Vermont, and bemoaned the "inveterate practice of loafing into each other's rooms in study hours" and "lolling on each other's beds." The Hopkins women are also well-represented among the letter-writers. Melusina Mueller Hopkins, the wife of Bishop Hopkins, wrote numerous letters to Caspar, which include biographical information about Caspar's siblings and father, as well as other family news. Others female writers include Amelia Muller (Melusina's sister), and Caspar's sisters Caroline Hopkins Canfield and Matilda Hopkins Camp.

The Bishop Hopkins' Sermons and Pastoral Letters series contains ten manuscript sermons (including one fragment), two printed sermons, and two printed pastoral letters. The manuscript items note the various dates on which Hopkins read them before his congregation; he frequently performed them multiple times between 1824 and 1862. The printed sermons and pastoral letters all date to the period of 1850-1855. They touch on numerous religious and scriptural themes and shed light on the Episcopal Church in Vermont and Hopkins' own views on morality, the meaning of life, and the role of the church. Many additional items written by Hopkins are housed in the Book Division, and listed under "Additional Descriptive Data."

The Caspar Hopkins' Writings and Documents series contains one linear foot of material, dating from Hopkins' college years (1845-1847) to the end of his life in the 1890s. Containing both manuscript and printed items, it includes four subseries. The General Writings subseries consists of 24 items, including essays that Hopkins wrote for classes at the University of Vermont, several plays, and articles that he wrote on topics as diverse as divorce law, happiness, American government, and the insurance agency. The second subseries, Berkeley Club Writings, contains 16 manuscript essays that Hopkins wrote between 1873 and 1889 for presentation to the social and intellectual organization, the Berkeley Club. They pertain to such topic as evolution, agnosticism, religion in public schools, and marriage and divorce. The Autobiography subseries consists of three copies of Hopkins' self-published biography, written in 1889, which provides biographical information and insightful commentary on himself and various other members of the Hopkins family. The final subseries, Documents, includes three documents relating to Caspar Hopkins dated between 1873 and 1893: a publishing contract, a printed petition, and a will.

The Printed Matter and Clippings series contains miscellaneous printed items related to or collected by members of the Hopkins family, dating ca. 1850 to ca. 1940. The series comprises printed playbills and concert programs, newspaper articles relating to members of the family, and other printed material. It also includes an undated phrenology chart for Caspar Hopkins. Two printed broadsides in this series are housed in the Graphics Division. For more information, see "Separated Materials" under "Additional Descriptive Data."

The Genealogy series contains manuscript and printed information on various lines of the Hopkins family, gathered primarily in the early 20th-century.

The Music series includes manuscript and printed music played or written by various members of the Hopkins family. Among the many items of interest are a volume of music written by Bishop John Hopkins; a set of scores written and copied by Caspar Hopkins while in California, 1861-1865; and two ca. 1800 books of German songs belonging to the sisters of Melusina Mueller, Charlotte and Theresa.

The Art series contains the drawings, sketches, watercolors, and hand-colored botanical paintings produced by Bishop John Hopkins, his mother (Elizabeth Fitzackerly), and his children. Included are six volumes of drawings and watercolors by the bishop, which depict scenes he encountered while traveling in upstate New York in 1825, gothic churches, landscapes, and human hands. Of particular note are nineteen large plates from Hopkins' 1834 Vermont Flower Book, nine of which his children hand-painted, as well as a letter from William Bayard Hopkins, laid into the volume, describing their habit of working together around the dining room table. Also of interest are botanical paintings by Hopkins' mother, Elizabeth Fitzackerly, dating to the late 18th- or early 19th-century.

The Photographs and Maps series includes approximately 50 photographs of various members of the Hopkins family, including John Hopkins, Sr.; Melusina Hopkins; Caspar Hopkins; John Henry Hopkins; Jr.; Frances (Hopkins) Hinckley; William Bayard Hopkins; and various family groups, landmarks, and homes. Formats include cartes de visite, cabinet cards, tintypes, and a glass plate positive. Also present are two large views of San Francisco shortly after the destruction of the 1906 San Francisco earthquake. The collection also includes three maps, housed in the Map Division. They include an 1849 sketch of San Francisco by Caspar Hopkins; a map of Penobscot County, Maine (ca. 1900); and one of the Union Pacific Railroad and its rail connections (1872). For more information, see "Separated Materials" under "Additional Descriptive Data."

Biographical / Historical:

John Henry Hopkins (1792-1868) was born in Dublin, Ireland, the son of Thomas Hopkins and Elizabeth Fitzackerly. In 1801, his family emigrated to the United States, settling first in New Jersey and then in Pennsylvania. John was educated primarily by his mother, and took early employment in the iron industry in western Pennsylvania. He began reading for the law in his mid-20s, and was admitted to the bar in Pittsburgh in 1818. He established a successful law career in Pittsburgh, but when a vacancy opened in his parish church, Trinity Church, the community elected Hopkins to fill it. He had not previously considered pursuing the ministry, but he considered the church's vote to be a sign of divine will and decided to read for orders. He was ordained to the priesthood in the Episcopal Church in 1824, and in 1832 was elected to be the first bishop of Vermont, an office he would hold for 36 years. During his episcopate in Burlington, Hopkins established the Vermont Episcopal Institute, which most of his children attended. Aside from his ecclesiastical duties, he wrote the first book on gothic architecture in the United States (Essays on Gothic Architecture, with Various Plans and Drawings), drafted the plans for the University of the South, composed music, was a skilled engraver and artist, and wrote several dozen theological works.In 1861, he wrote his most controversial pamphlet, The Bible View of Slavery, in which he criticized abolitionists and declared that no scriptural basis for ending slavery existed. He came under fire in the North during the Civil War, but had a key role in uniting the northern and southern Episcopalians after hostilities ended.He died in 1868.

In 1816, Hopkins married Melusina Mueller (1795-1884), whose family had emigrated from Germany in 1805, and together they had 14 children, 11 of whom survived to adulthood. Melusina's sister, Amelia Mueller, lived with them and helped raise the children. The eldest son, John Henry Hopkins, Jr., (1820-1891) followed his father's calling and became an Episcopal minister. He is now best known as the composer of "We Three Kings," but he was also an author and important figure in the Episcopal Church. However, it was their third son, Caspar Thomas Hopkins (1826-1893), who is the main focus of this collection. Not inclined to the ministry, Caspar tried many occupations. Shortly after his graduation from the University of Vermont in 1847, he started a periodical called "The Vermont State Agriculturalist." In 1849 he moved to California, attracted by the opportunity to mine for gold. In 1853 he married Almira Burtnett (1828-1875), and they had four children: Frances Isabella or "Belle" (1854-1941), Amelia (b. 1856), Myra (b. 1864), and William (b. 1866). After testing out several endeavors, including trading, sailing, and exploring southern Oregon, Caspar finally settled on a career in marine and fire insurance. In 1861, he established the first insuranc company on the Pacific coast, the California Insurance Company, and served as its president for 35 years. Like others in the Hopkins family, Caspar shared a love for intellectual and artistic pursuits, especially music and writing. Caspar also participated in the more secular worlds of scholarship and politics (he wrote a civics textbook entitled Manual of American Ideas), as an active participant in societies like the small, invitation-only Berkley Club. Caspar remained in California until his death on October 4, 1893.

Acquisition Information:

1986, 2006. M-2316, M-4529 .

Processing information:

Cataloging funded by the National Endowment for the Humanities (NEH) and the "We the People" project.

Arrangement:

The Hopkins family papers have been arranged into the following series:

Correspondence
Bishop Hopkins Sermons and Pastoral Letters
Caspar Hopkins Writings and Documents

General writings
Berkeley Club
Autobiography
Documents

Printed Matter and Clippings
Hopkins Family Genealogy
Music
Art
Photographs and Maps

Rules or Conventions:

Finding aid prepared using Describing Archives: A Content Standard (DACS)
Related
Additional Descriptive Data:

Alternate Locations

Graphics:

Two photographs of San Francisco shortly after the 1906 San Francisco earthquake are housed in the Clements Library Graphics Division.

Maps:

Books:

Broadsides:

Pamphlets:

Related Materials

The Clements Library's Episcopal Bishops collection includes 3 items related to John Henry Hopkins (1792-1868), including a letter, newspaper clipping, and carte-de-visite (Februry 27, 1833, and undated).

The Clements Library has the Albin Kendall Putnam papers, which contain references to Bishop John Henry Hopkins.

The Graphics Division of the Clements Library has the Kate Johnson Album (Volume 41), which includes a view of Caspar Hopkins' house in San Francisco.

The University of Vermont has the John H. Hopkins papers.
Subjects
Click on terms below to find any related finding aids on this site.
Subjects:

Formats:

Names:

Places:
Contents
Using These Materials
---
RESTRICTIONS:

The collection is open for research.

USE & PERMISSIONS:

Copyright status is unknown
PREFERRED CITATION:

Hopkins Family Papers, William L. Clements Library, The University of Michigan