Back to top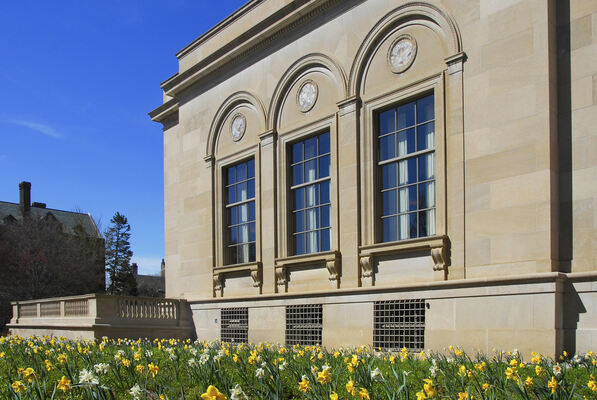 Address

:

909 South University Avenue

Ann Arbor, MI 48109, USA
Clarke family papers, 1823-1929 (majority within 1851-1912)
Using These Materials
---
Restrictions:

The collection is open for research.
Summary
Creator:

Abstract:

This collection is made up of correspondence, diaries, writings, documents, and other items related to the Clarke family of Gilmanton and Manchester, New Hampshire. The materials concern the Civil War, life in 19th-century New Hampshire, education, and other subjects.

Extent:

3 linear feet

Language:

English
Latin

Authors:

Collection processed and finding aid created by Clements Staff, March 2007, and Meg Hixon, December 2013
Background
Scope and Content:

This collection contains correspondence, diaries, writings, documents, and other items related to the Clarke family of Gilmanton and Manchester, New Hampshire.

The Correspondence series (approximately 920 items) comprises the bulk of the collection. Most of the correspondence written between the 1850s and the early 1870s is made up of letters between and addressed to William Cogswell Clarke, Anna Maria Greely Clarke, and their three eldest children: Stephen Greely Clarke and his wife, Lydia Mason Wight Clarke; Anna Norton Clarke and her husband, Robert M. Appleton; and Julia Cogswell Clarke. A few letters by Mary Ann Wight are also present. Letter enclosures include a lock of hair, plants, cartes-de-visite, and newspaper clippings.

The Clarke family's personal correspondence focuses primarily on life in and news of Gilmanton and Manchester, New Hampshire throughout the 19th century. Writers discussed religious beliefs and activities; romantic relationships, courtship, and marriage; births and deaths; social activities; teaching and education; politics; and other subjects. During the Civil War, some writers shared news of battles, regiments, casualties, and the general progress of the war.

After 1871, many items are incoming and outgoing letters between and addressed to Julia C. Clarke, her sister Anna, and their mother. Some of Julia's letters pertain to her life in Framingham, Massachusetts, while Anna Clarke Appleton and Anna Greely Clarke provided news from Lake Village, New Hampshire, and Manchester, New Hampshire. During the 1880s, Julia wrote a series of letters to William H. Ladd, discussing newspaper advertising (particularly with regard to schools); her experiences in Lake Village, Kents Hill (Maine), and Boston, where she worked for the Chauncy Hall School; and advice for Ladd's upcoming visit to Europe. Groups of enclosed newspaper clippings contain advertisements for educational institutions. Other late personal letters to members of the Clarke family concern travel in Asia, estate administration, and finances.

Additional correspondence from the 1870s to the 1910s includes a large number of business letters, including many related to Stephen G. Clarke's legal career. Other groups of correspondence include letters to Edward Reilly of San Francisco, California, about mining concerns in Arizona and New Mexico; to Lafayette H. De Friese of New York City about the timber industry and shipments of logs; and to a man named "Bagley" of New York City. Other personal correspondence includes love letters from "Dolph" to "Sadie" and letters related to O. F. Bryant, who taught at or attended Chauncy Hall School. New York City lawyer Ernest G. Stevens received several business letters in the early 1910s.

The Diaries and Journals series consists of 5 items. Anna Maria Greely (later Clarke) kept 2 diaries from October 12, 1828-June 19, 1829, and June 26, [1872]-September 21, 1872. Her entries, which were written mostly on loose scraps of paper, concern daily life, social calls, and activities with family members and acquaintances. The later diary contains frequent mentions of Clarke's children. The remaining items concern an unidentified author's Bible readings and Christian beliefs (September 12, 1858-April 24, 1859); "Mrs. Robinson's" desire to write a journal for the benefit of her 7-year-old daughter Kitty, who required instruction in housekeeping (July 1, 1868); and Emma F. Moore's "Two Days on the Concord River," describing her travels with a companion (undated).

The Writings series is comprised of essays (15 items), published articles (2 items), letters to the editor (6 items), drafts (2 items), rejected submissions (9 items), "A Reading of the Will: A Farce" (1 item), "Seminal Weakness" (1 item), poems (30 items), and a speech. The essays, by Stephen G. Clarke, Lydia M. Wight, and Anna Greely Clarke, concern topics such as politics and history, morality and religion, English and Latin grammar, teaching and education, and horse breeding. The rejected submissions are primarily poetry, including one about African Americans. "The Reading of the Will" is a farce and "Seminal Weakness" is a lengthy essay on the male reproductive system. Many of the poems concern religion and nature. The 54-page speech is a presidential address delivered by Dr. Nahum Wight before the New Hampshire Medical Society. He discussed the society's history and goals, medical history and education, and his own medical career.

The School Papers series contains Latin Exercises (5 items), Academic Notes (19 items), Debates (2 items), and items related to the Chauncey Hall School (21 items). The academic notes and debates largely pertain to Stephen G. Clarke's studies, including items regarding animal classification and birds. One lengthy debate considered whether men were influenced more by women or money. The Chauncy Hall School subseries consists of newspaper advertisements, several copies of a printed advertisement, and correspondence from recipients of a circular and from managers at the Pittsburgh Chronicle Telegraph and the Chicago Tribune. One item is an invitation to the school's "Promotion Day," held on June 12, 1894.

The Documents series is divided into two subseries. Financial Documents (10 items), most of which concern Stephen G. Clarke, include accounts, receipts, a promissory note, and bank checks. One document between Willard B. Farwell and the American Machine Gun Company concerns the ownership of Farwell's inventions and patents. Printed Documents (11 items) include certificates regarding Stephen G. Clarke's attendance at Harvard University (July 16, 1855) and Josephine Evarts's license to practice medicine in Connecticut (April 1, 1929), documents regarding the activities of the American Folklore Society and the Wednesday Club (1892 and undated), and descriptions of an invention, the Hussey Motor Battery, by Willard B. Farwell (undated). A price list for advertisements in the Chicago Tribune and a sign regarding the treatment of animals in a scientific laboratory are also present.

Newspaper Clippings (12 items) include obituaries for William C. Clarke, articles about the Clarke family, advice for young writers, advertisements, and poetry.

The Photographs series (2 items) contains a portrait of an unidentified man, likely taken around the 1860s or 1870s, and a picture of a home and its large front garden. Both prints are mounted on large cards.

The Genealogy series consists of family trees written into a bound volume of blank genealogical tables that belonged to Julia C. Clarke. The tables concern ancestors of Julia C. Clarke and their families; some lineages are traced back as far as the 1600s. Many of the pages have cut-out sections to coordinate records across different trees and pages.

Biographical / Historical:

William Cogswell Clarke was born in Atkinson, New Hampshire, on December 10, 1810, the son of Greenleaf Clarke and Julia Cogswell. His siblings included Sarah (b. 1812), Francis (1814-1852), Greenleaf (b. 1816), Moses (1818-1864), and John Badger (b. 1820). After graduating from Dartmouth College in 1832, William C. Clarke studied law at Harvard College; he was admitted to the bar in 1836 and practiced at Meredith, New Hampshire, and Manchester, New Hampshire. He held local political offices in Manchester and served on the boards of the Manchester & Lawrence Railroad, the Manchester Bank, the City Bank, and the Manchester Savings Bank. In 1834, Clarke married Anna Maria Greely (b. 1811); their surviving children included Stephen Greely (b. 1834), Anna Norton (b. 1838), Julia Cogswell (b. 1844), and Greenleaf (b. 1849). William Cogswell Clarke died on April 25, 1872.

Stephen Greely Clarke studied at Harvard Law School from 1854-1855 and later practiced law in New York City. He and his wife, Lydia Mason Wight, married on November 17, 1857, and had three children: Edith (1858-1862), Edward Wight (b. 1862), and William Cogswell (b. 1872). Anna Norton Clarke married Robert M. Appleton, a native of Leicester, England. Julia Cogswell Clarke became a teacher, working at the State Normal School in Framingham, Massachusetts, and the Chauncy Hall School in Boston, Massachusetts. Members of the Clarke family lived in Gilmanton and Manchester, New Hampshire, in the mid- to late 19th century.

Acquisition Information:

1985. M-2200 .

Processing information:

Cataloging funded by the National Historical Publications and Records Commission (NHPRC). This collection has been processed according to minimal processing procedures and may be revised, expanded, or updated in the future.

Arrangement:

The collection is arranged in the following series:

Series I: Correspondence
Series II: Diaries and Journals
Series III: Writings
Series IV: School Papers

Subseries I: Latin Exercises
Subseries II: Notes
Subseries III: Debates
Subseries IV: Chauncy Hall School Documents

Series V: Documents

Subseries I: Financial Documents
Subseries II: Printed Documents

Series VI: Newspaper Clippings
Series VII: Photographs
Series VIII: Genealogy

Most series are arranged chronologically, with undated items placed at the end.

Rules or Conventions:

Finding aid prepared using Describing Archives: A Content Standard (DACS)
Related
Additional Descriptive Data:

Related Materials

This collection arrived at the Clements Library with the Willard Parker papers, which are housed and described separately.

Bibliography

Clarke, George K. Genealogy of the Descendants of Nathaniel Clarke of Newbury, Mass. Boston: Press of T. R. Marvin & Son, 1883.

Quinquennial Catalogue of the Law School of Harvard University, 1817-1904. Cambridge, [Mass.]: Published by the Law School, 1905.
Subjects
Click on terms below to find any related finding aids on this site.
Subjects:

Formats:

Names:

Places:
Contents
Using These Materials
---
RESTRICTIONS:

The collection is open for research.

USE & PERMISSIONS:

Copyright status is unknown
PREFERRED CITATION:

Clarke Family Papers, William L. Clements Library, The University of Michigan