Back to top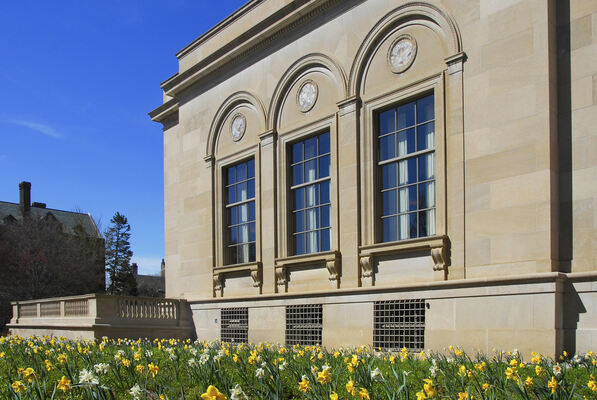 Address

:

909 South University Avenue

Ann Arbor, MI 48109, USA
Masters-Taylor-Wilbur papers, 1796-1857
Using These Materials
---
Restrictions:

The collection is open for research.
Summary
Creator:

Abstract:

The Masters-Taylor-Wilbur papers are the personal and business letters of an extended family in New York, New Jersey, Pennsylvania, and Washington D.C. Of special interest are a group of letters between former slave Matthew Matthews and Mary F. Spence (the owner of his six children), and between Francis Markoe, Jr., and Jeremiah Wilbur, who helped Matthews purchase his children's freedom.

Extent:

2 linear feet

Language:

English

Authors:

Collection processed and finding aid created by Mary Parsons, February 2010, and Philip Heslip, December 2010
Background
Scope and Content:

The Masters-Taylor-Wilbur papers (618 items) consist of 570 letters, 9 legal documents, and 39 financial records (1796-1850). The vast majority of the letters are family correspondence written by Thomas Masters and two of his daughters, Martha [Mrs. Henry W. Taylor] and Sarah [Mrs. Jeremiah Wilbur], between 1824 and 1850. The collection also includes letters written by his wife Isabella, his daughter Anna, his sons Samuel and Francis, and his sons-in-law, Jeremiah Wilbur and Henry W. Taylor. Many of the letters are between family members living in New York City, where Thomas Masters ran his mercantile business and Canandaigua, New York; Marshall, Michigan; Philadelphia; and Mt. Morris, New York. Several are joint letters with notes from two or more family members. The letters are rich in details of family life: illnesses, disease, and cures are much discussed, as are family weddings, and travel. Though dominated by family news, the family occasionally discussed politics, religion, temperance, and other religious-inspired social reform issues.

Of note:

July 19, 1832: G.H. Green to Martha C. Masters claiming a link between the consumption of alcohol and the occurrence of cholera
October 15, 1833: Jeremiah Wilbur describing an anti-slavery speech
December 19, 1835: Henry Masters to Martha Taylor recounting in detail a fire that swept through parts of New York City and destroyed Taylor's firm of Masters & Markoe at 51 South St.
March 20-April 3, 1838: A long communal letter to Martha Taylor and Samuel Masters from family in New York City, in the form of a newspaper entitled "The Burning and Shining Light and Free Discussionest"
August 1840: passing reference to hearing Daniel Webster speak
Three letters from Lydia H. Sigourney to Martha Caldwell Taylor (July 26, 1841; February 18, 1846; February 13, 1849)
February 15, 1842: Martha Taylor to Sarah Wilbur describing the temperance movement in Marshall, Michigan
June 2, 1842: Sarah Wilbur to Martha Taylor discussing a wedding feast and spousal abuse
December 11, 1842: Thomas Masters to Martha Taylor, providing a detailed account of the first New York Philharmonic Concert, which opened with a well-received piece by Beethoven
March 3, 1844: Thomas Masters to Martha Taylor giving a second hand account of the explosion on board the U.S.S. Princeton, which killed the Secretary of State and the Secretary of the Navy

The earliest letters in the collection pertain to the Wilbur family from 1811 to 1818 (32 letters). These consist of letters from Backus Wilbur in Princeton and Newark, New Jersey, to his brother Marcus Wilbur in New York City, describing Backus' schooling, religious training, and life at school. Included in one letter is an account of a food fight that escalated to a near riot (February 6, 1812).

Of special interest are 12 letters and two enclosures documenting the attempt of Francis Markoe, Jr., and Jeremiah Wilbur to help former slave Matthew Matthews of Washington, D.C., purchase his six children (January-September 1835). Markoe and Wilbur outlined strategies regarding the best use of the available money to maximize the purchase of the highest number of children in the shortest possible time. Also included are two letters to Matthews, one from Mrs. Mary F. Spence, informing him that she may be forced to sell his children at public auction, and the other from Luke Johnson of Dumfries, Virginia, a black slave who loaned him money toward the purchase of one of the children. Enclosed with the letters are copies of bills of sale for two of the children.

In addition to the family papers are 135 business letters, 35 receipts, four invoices, and nine legal documents that relate to the mercantile affairs of Thomas Masters, Francis Markoe, and their firms of Markoe & Masters, and Masters & Markoe in New York City and Philadelphia (1796-1847). These business papers give some insight into the New York and European financial markets and the economic climate of the time.

Biographical / Historical:

Thomas Masters (1781-1844) was born in London, England, to Thomas Masters, Sr., and Sarah Rowley. He married Isabella Caldwell (1783-1841) of Philadelphia on June 3, 1807. They had eight children, including Martha Caldwell Masters, who married Henry W. Taylor, and Sarah Rowley Masters, who married Jeremiah Wilbur. Thomas Masters worked in the mercantile business for thirteen years before collaborating with his brother-in-law Francis Markoe, Sr., in 1810 to form the firm of Markoe & Masters. Francis Markoe (1774-1848) was married to Sarah Caldwell. Masters had important business connections in England, as well as in Philadelphia and New York, while Markoe's business ties were in St. Croix and Philadelphia. Later, after Francis Markoe fell into debt, they formed a new company under the name Masters & Markoe. Masters was the more active and successful partner, eventually shouldering most of the responsibility for the firm. In the early 1840's, he was elected director of the Bank of the Manhattan Company. Masters died on November 13, 1844.

Jeremiah Wilbur (born c.1805) and his sister Rachel Wilbur were both born in New Jersey. Jeremiah Wilbur, his wife Sarah Masters Wilbur, and their three children lived in New York City, where Jeremiah worked for his father-in-law's firm of Masters & Markoe. Rachel Wilbur was married in 1818 to Jonathan Harrison Lambdin (1798-1825); they had three daughters. Both of Jonathan Lambdin's business ventures in Pittsburg had failed by the time of his death in 1825, and his widow Rachel Lambdin and her young daughters returned to her family in New Jersey.

Backus Wilbur (1788-1818) was born in Richmond, Massachusetts, on November 9, 1788. Backus was well educated, having graduated from the College of New Jersey (now Princeton) in 1813, and from Princeton Theological Seminary in 1816. Accompanied by a fellow minister, he was sent on a mission to Virginia, Ohio, and Illinois Territory, before being called in August 1817 to be the pastor of the First Presbyterian Church in Dayton, Ohio. On March 25, 1818, he married Mary W. Ferguson, but died six months later. Two of his brothers were merchants: Marcus Wilbur of New York City, and Rodney Wilbur of Newark, New Jersey.

Henry Wyllys Taylor (1796-1888) was born in Deerfield, Massachusetts, to the Reverend John Taylor and Elizabeth Terry. After graduating from Yale University, he was admitted to the bar in 1819 and a year later he opened his own law office in Canandaigua, New York, where he became a prominent attorney and judge. In 1832, he married Martha Caldwell Masters, the daughter of Thomas Masters and Isabella Caldwell. Taylor was elected to the New York State Assembly in 1837, 1838, 1839, and 1840, and to the Michigan Senate in 1846. He served as a justice of the New York State Supreme Court from 1856-1860. In 1869 he received an honorary law degree from his alma mater Yale. Though the family was rooted in Canandaigua, they lived in Marshall, Michigan between 1840 and 1847, before returning to Canandaigua.

Matthew Matthews (1786-1854) was a slave owned by the Reverend Thomas Harrison, of Prince William County, Virginia. Harrison's son, Philip Harrison, purchased Matthews in 1815 and promised to free him after a number of years of service. Matthews gained his freedom on January 22, 1830, and worked in Washington D.C. However, his wife Mary and their six children were owned by Mrs. Mary F. Spence of Dumfries, Virginia. Spence freed Mary, but their six children remained slaves. Matthews was able to free three of his children with the help of Jeremiah Wilbur and Francis Markoe, Jr., in 1835. Later his other children were freed.

Acquisition Information:

1984-2017. M-2125, M-2971.13, M-2819, M-2975.12, M-3216, M-4151.1, M-4520.1, M-4559.2, M-4592.28, M-6085 .

Processing information:

Cataloging funded by the National Endowment for the Humanities (NEH) and the "We the People" project.

Arrangement:

The collection is organized into many types of series including author, recipient, and genre.

Rules or Conventions:

Finding aid prepared using Describing Archives: A Content Standard (DACS)
Related
Additional Descriptive Data:

Related Materials

The Lucius Lyon papers contain two items related to the Taylor family: Henry W. Taylor to Lyon (August 22, 1849), and Arthur Bronson to Henry W. Taylor (July 14, 1843)

Related collections at other Institutions:

New York State Library: "Jeremiah Wilbur papers, 1810-1844"
Syracuse University Library Special Collections: "Gerrit Smith papers"
Hagley Museum & Archives: "Thomas Masters papers"
Library of Congress Manuscript Division: "Galloway-Maxcy-Markoe family papers"
New York State Archives: "Bertha [Martha] Masters Taylor papers, 1833-1885"
New York Historical Society: "Thomas Masters papers, 1792-1880"
American Antiquarian Society: "Lambdin family papers"
Beinecke Rare Book and Manuscript Library, Yale University Library: "Jeremiah Wilbur correspondence & documents, 1858-1871"

Bibliography

Parsons, Mary Hrones. "Prices of Freedom: Matthew Matthews' Struggle to buy his Children, 1834-1848." An Americana Sampler: Essays On Selections From the William L. Clements Library. ed. Brian Leigh Dunnigan. Ann Arbor: William L. Clements Library, the University of Michigan, 2011.

Partial Contributors List

Alexander, Sandy.
Birch, G. R.
Coffin, Sarah Lambdin.
Hancock, Catherine.
Harrison, Philip.
Johnson, Luke.
Lambdin, Rachel.
Lambdin, Sarah.
Johnson, Luke.
Markoe, Francis.
Markoe, Francis, Jr.
Masters, Anna.
Masters, Fanny [Mrs. Frank Masters].
Masters, Frank.
Masters, Isabella [Mrs. Thomas Masters].
Masters, Martha C.
Masters, Samuel C.
Masters, Sarah.
Masters, Thomas.
Matthews, Cymon.
Matthews, George Henry.
Matthews, John.
Matthews, Lavinia.
Matthews, Maria.
Matthews, Mary Ann.
Matthews, Mary.
Matthews, Matthew.
Scott, Mary.
Scott, Thomas.
Spence, John.
Spence, Mary F.
Taylor, Henry W.
Taylor, Martha [Mrs. Henry W. Taylor].
Wilbur, Backus.
Wilbur, Jeremiah.
Wilbur, Marcus.
Wilbur, Sarah [Mrs. Jeremiah Wilbur].
Subjects
Click on terms below to find any related finding aids on this site.
Subjects:

Formats:

Names:

Places:
Contents
Using These Materials
---
RESTRICTIONS:

The collection is open for research.

USE & PERMISSIONS:

Copyright status is unknown
PREFERRED CITATION:

Masters-Taylor-Wilbur Papers, William L. Clements Library, The University of Michigan