Back to top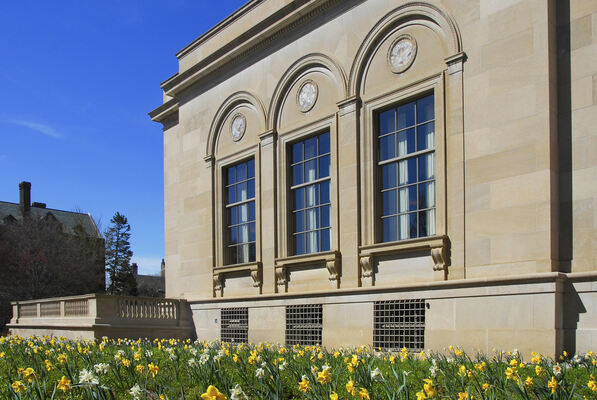 Address

:

909 South University Avenue

Ann Arbor, MI 48109, USA
Viscounts Melville papers, 1600-1851 (majority within 1780-1830)
Using These Materials
---
Restrictions:

The collection is open for research.
Summary
Creator:

Abstract:

The Viscounts Melville papers contain the letters of British statesman Henry Dundas, 1st viscount Melville, and of his son Robert Saunders Dundas, 2nd viscount Melville, first lord of the admiralty. The collection contains incoming correspondence and some copies of letters and drafts of memoranda by the Melvilles. The papers are almost entirely political in nature and deal with English, Scottish, American, Indian, and European affairs.

Extent:

14 linear feet

Language:

English

Authors:

Collection processed and finding aid created by Philip Heslip, May 2011
Background
Scope and Content:

The Viscounts Melville papers (14 linear feet) contain the letters of British statesman Henry Dundas, 1st viscount Melville, and his son Robert Saunders Dundas, 2nd viscount Melville, first lord of the admiralty. The collection contains approximately 1,500 Henry Dundas items and 850 Robert Dundas items, and is primarily comprised of incoming official correspondence, some copies of outgoing letters, and drafts of memoranda by the Melvilles. The papers are almost entirely political in nature and deal with English, Scottish, American, Indian, and European affairs.

The Henry Dundas papers chiefly concern British political affairs and military engagements in France, America, Norway, Denmark, the Netherlands, Austria, Russia, Spain, Cyprus, Gibraltar, Minorca, Portugal, Corfu, Trieste, Malta, Sicily, the West Indies, the East Indies, and South America. The majority of these span 1794 to 1805, and relate to his tenure as secretary at war and first lord of the admiralty.

Included in the collection are:

Diplomatic correspondence
Memoranda on British trade
Letters dealing with Indian and British patronage
Military intelligence reports, defense plans, and secret naval memoranda concerning the war with France
Secret reports on internal affairs of France covering 1791 to 1795 from his nephew George Buchan, Financier Walter Boyd, and J. Bedinfield
Intelligence on English prisoners of war in France, including details on the treatment of prisoners
Memorials that provide details on individual service member's careers
Dealings with the Danish East India Company
Miscellaneous naval material, such as reports on ship construction and repairs and on the fleets of other nations

American affairs consumed much of Melville's attention in the 1780s and 1790s while he served on the Committee of the Private Council for Trade and Foreign Plantations. Topics discussed include compensation claims from American Loyalists for losses during the war, and claims of British merchants against Americans for unpaid debts incurred during the war. Of particular interest are the letters between Melville and Grenville that relate to American debt issues (1785-1805 with a concentration in 1792). Also of note are letters from Thomas Jefferson and members of Congress concerning the 1794 Jay Treaty between England and the United States. Also present are the trial briefs prepared for Dundas' defense during his 1806 impeachment proceedings.

Below is a selection of notable items:

January 14, 1735: Report to the Great Britain Board of Trade on the state of American and West Indies commerce and fortifications, covering 1734-1735 (40 pages)
May 5 and July 14, 1763: Secretary of State Charles Wyndham, 2nd earl of Egremont to the Privy Council, concerning trade in the American colonies after the French and Indian War and a proposal to create a frontier military force
June 12, 1784: Dr. John Halliburton to Henry Melville, relating his struggles as a Loyalist who fled from Rhode Island to Halifax during the American Revolution
July 10, 1791: Lady Eglantine Wallace's account of the plan for the French Royal Family's attempted escape
November 19, 1794: Draft of the Jay Treaty (American Treaty of Commerce, signed by Lord Grenville, along with a copy of a letter from Thomas Jefferson to George Hammond regarding the treaty, 81 pages)
August 3, 1798: Mary Scott's description of the young King of Prussia
July 18, 1799: Anonymous letter from a secret service agent in Göttingen concerning "cloak and dagger" operations to send intelligence through Frankfurt
June 29, 1804: Secret intelligence from Admiral William Cornwallis concerning attacks on Brest and plans to burn the French fleet there
October 17, 1807: William Sweetland's report on the Barbary Coast enclosed in a Sir Charles Flint letter

The Robert Dundas Melville papers relate primarily to his office as first lord of the admiralty from 1812 to 1830. These include material concerning the War of 1812, and secret admiralty memoranda documenting ship locations and movements, strength of forces, and instructions to and from various British admirals. Notably, Melville received copies of intercepted letters from Albert Gallatin, John Quincy Adams, John Speyer, S. Bourne, and R. G. Beasley to President James Madison from 1813 to 1814. The collection also provides insights into American-British tensions in the Great Lakes region in the years after the war. Between 1815 and 1820, Melville received many reports and letters related to the treatment of scurvy in the navy.

Below is a selection of notable items:

June 6, 1812: Lord Keith's "Observations upon the Coast of America"
January 6, 1813: Richard Bickerton concerning proposed attacks on Boulogne and Dieppe
October 6, 1813: Admiral George Tate to Robert Melville containing a complete list of the Russian fleet
November 23, 1813: George Campbell's plans for constructing naval vessels in the Great Lakes, with detailed ship diagrams
February 26, 1814: Britain Navy Commissioner Samuel Bentham's detailed report on the Battle of Lake Erie (25 pages)
July 15, 1814: Charles and George Baillie's presentation of a petition for abolishing the British slave trade
March 1815: Many letters concerning the Duke of Orleans's plan to escape England
September 25, 1815: Manuscript draft to Thomas Moore regarding communications about the "Merchants of Liverpool & Manchester engaged in the trade to Spanish South America."
November 1815: Dr. William Beaty's letter on the value of providing lemon juice and vinegar to sailors for health at sea
April 25-August 6, 1820: Anthony Maitland, 10th earl of Lauderdale, to Robert Melville concerning Trieste and Malta with detailed information on affairs
August 25, 1823: Account of scurvy patients received yearly at naval hospitals at Haslar, Plymouth, Yarmouth, Deal, and Paington for the years 1803-1822
1825: Lord Auckland's report on prize ship laws

The Bound Volumes series (7 volumes) is comprised of the following material:

The Melville Correspondence, 1780-1830 (146 items), containing official letters to and from the viscounts Melville
Frederick Duke of York letters to Melville (32 letters), relating to militia and military matters, and including a color portrait of the Duke, and 1804 and 1810 accounts for field work expenses incurred by the Home Office, covering the years 1795 to 1803
"Precis of Mr. Dundas's Correspondence with the Several Departments of his Majesty's Government," covering the Portland and Perceval ministries (46 pages), March 1807-July 23, 1810
Four bundles of military letters and documents concerning conflicts in Europe, covering the years 1793, 1794, 1795, and 1804-1813

Biographical / Historical:

Henry Dundas, 1st viscount Melville (1742-1811) was born in Edinburgh and educated at Edinburgh University. He began practicing law in 1763, and three years later became solicitor general for Scotland. Melville entered Parliament for Edinburghshire in 1774, and within a year was appointed lord advocate. In 1777, he was made joint keeper of the signet.

Melville proved to be an effective spokesperson for the North ministry, supporting the American War, arguing against any acknowledgment of American independence, and opposing economic reform. In 1781, Melville began his long involvement in India affairs as chairman of the secret committee investigating the Carnatic Wars. In the second Rockingham ministry, Dundas continued as lord advocate and was a member of the Privy Council. Under the Shelburne administration, Dundas was made treasurer of the navy, and held the position from 1782 to 1800. In 1783, he returned to the House of Commons as Member of Parliament for Edinburghshire, and spoke in defense of Shelburne's peace preliminaries. Melville served as lord of trade from 1784 to 1786, and over the next twenty years held various prominent positions, such as William Pitt's secretary of state for the Home Office (1791-1794), president of the Board of Control for Indian Affairs (1793-1801), secretary at war (1794-1801), and first lord of the admiralty (1804-1805). As a military leader, Melville played a major role in the conduct of the war with France. Politically, he dominated Scottish politics in Parliament, defended government control of the East India Company, and opposed abolishing the British slave trade. He was forced to resign from the Admiralty in 1805 when accused, and later acquitted, of misappropriating funds.

Melville married Elizabeth Rannie (d.1847) in 1765, and through her gained the title of Melville. They divorced in 1778, and in 1793 he married Lady Jane Hope (d.1823). He was created Viscount Melville in 1802.

Robert Saunders Dundas, 2nd viscount Melville (1771-1851), was the only son of Henry Dundas and Elizabeth Rannie. He entered politics as private secretary to this father, and was elected to Parliament for Hastings in 1794, for Rye in 1796, and for Edinburghshire in 1801. That same year he was appointed joint keeper of the signet for Scotland. In 1807, the Duke of Portland appointed him president of the Board of Control for Indian Affairs, and he remained in the position throughout the Perceval ministry. Prime Minister Robert Jenkinson, Lord Liverpool, made Robert Dundas first lord of the admiralty, an office he held from 1812 to 1830. During his admiralty tenure, he oversaw British naval operations against the Americans during the War of 1812, and against the French, including the Battle of Trafalgar. He also managed Britain's peacetime drawdown of naval forces.

Robert married Anne Saunders (d. 1841) in 1796 and took her name. Together they had six children, including Henry Dundas, later 3rd viscount Melville.

Acquisition Information:

1932-2015. M-124, M-944, M-986, M-992, M-1012, M-1121, M-1319, M-1322, M-1329, M-1437, M-1870, M-1957, M-1966, M-2491, M-2761, M-2773, M-5082 .

Processing information:

Cataloging funded by the National Endowment for the Humanities (NEH) and the "We the People" project.

Arrangement:

This collection is organized into two series

Series I: Correspondence and Documents
Series II: Bound Volumes

Series I is ordered chronologically with undated items at the end.

Rules or Conventions:

Finding aid prepared using Describing Archives: A Content Standard (DACS)
Related
Additional Descriptive Data:

Alternate Locations

The following map originally accompanied a letter from Captain Peter Puget, enclosed in Sir William Cornwallis to Melville, June 29, 1804. It is now located in the Clements Library Map Division: Puget, Peter John. Harbor At Brest. 1804.

The following drawing is located in the Clements Library Graphics Division: George Campbell diagrams for constructing naval vessels in the Great Lakes (November 23, 1813)

The following books are located in the Clements Library Book Division:

Related Materials

The following Clements Library collections contain letters to and from the Melvilles:

The George Canning papers
The John Wilson Croker papers
The William Pitt family papers contain a volume of 33 letters from William Pitt to the 1st Viscount Melville (1792-1804)
The Hubert S. Smith Naval collection

The Clements Library Graphics Division holds portrait engravings of Henry Dundas, 1st viscount Melville

Bibliography

Case of the British Merchants Trading to America Before the War: Respectfully Submitted to the Consideration of the Members of Both Houses of Parliament, 1803. Glasgow: Printed by Wm. Reid & Co., 1803.

Melville, Henry Dundas. An Abstract of the Trial of Henry Lord Viscount Melville: Upon an Impeachment, for High Crimes And Misdemeanors by the Knights, Citizens And Burgesses, In Parliament Assembled... London: April 1806. Printed by J.B.G. Vogel, 13, Poland Street, Oxford Street.

Melville, Violet (Cochrane Baillie). Catalogue of Valuable Autograph Letters, Historical Documents & Printed Books, Comprising the Melville Papers ..: the Property of Violet, Viscountess Melville ... Which Will Be Sold by Auction by Messrs. Sotheby, Wilkinson & Hodge ... London: Printed by J. Davy & sons, 1924-1927.

Welke, William F. "The Papers of the Viscounts Melvilles." The American Archivist. Chicago: Society of American Archivists, Volume 26, Number 4, October 1963.

Contributors

Abercorn, James Hamilton, 8th earl of, 1712-1789.
Abercromby, Alexander, 1745-1795.
Abercromby, Sir Ralph, 1734-1801.
Abercromby, Sir Robert, 1740-1827.
Aberdeen, George Hamilton-Gordon, 4th earl, 1784-1860.
Aire, Mrs. Christie.
Alvanley, Anne Bootle Arden.
Amherst, Sir Jeffery, 1717-1797.
Amherst, William Pitt, 2nd baron and 1st earl, 1773-1857.
Anker, C.
Anker, P.
Anson, George, 1797-1857.
Anson, Thomas, 1st viscount, 1767-1843.
Aubin, J.
Auckland, George Eden, 1st earl, 1784-1849.
Baillie, Charles Stewart.
Baillie, George Young.
Baillie, Joseph.
Baird, Andrew Wood.
Baird, Robert.
Baldwin, George, d. 1826.
Banks, Sir Joseph, 1743-1820.
Barallier, W.
Barbor, Robert.
Barrallier, Francis Louis, 1773-1853.
Barret, Crepin de.
Barrie, Robert.
Barrow, Sir John, 1764-1848.
Barton, John.
Barton, Richard.
Barrvis, Jackson.
Bath, Thomas Thynne, 3rd viscount, 1742-1811.
Bathurst, Henry, 1st baron Apsley, 1714-1794.
Beauclerk, Lord Amelius, 1771-1846.
Beaumont, Richard Henry.
Bedford, John Russell, 6th duke, 1766-1839.
Bedingfeld, John.
Behague, Jean-Pierre-Antoine, comte de, 1727-1813.
Bell, Sir John, 1782-1876.
Benthem, Sir Samuel, 1757-1831.
Beresford, William Carr, 1st viscount, 1768-1854.
Berkeley, George Cranfield, 17th baron, 1753-1818.
Bertie, Sir Albemarle, 1755-1824.
Bexley, Nicholas, Vansittart, 1st baron, 1766-1851.
Bickerton, Sir Richard Hussey, 1759-1832.
Blackwood, Sir Henry, 1770-1832.
Blair, Robert.
Blane, Gilbert W., 1747-1834.
Bolton, Thomas Orde, 1st baron, 1746-1807.
Bond, Phineas.
Bowles, William.
Boyd, Walter, 1754-1837.
Breadalbane, John Campbell, 4th earl and 1st marquess, 1762-1834.
Bremer, Sir James John Gordon, 1786-1850.
Brisbane, Jemima Ventham, lady.
Bristol, Elizabeth Davers Hervey, countess.
Bristol, Frederick Augustus Hervey, 4th earl, 1730-1803.
Brown, Thomas.
Bryant, Thomas.
Buccleuch, Lady Elizabeth Montagu Scott, d.1827.
Buccleuch, Henry Scott, 3rd duke, 1746-1812.
Buchan, George.
Burdon, R.
Burke, Edmund, 1729-1797.
Burke, Richard.
Cabell, William.
Calder, Sir Robert, 1745-1818.
Caldwell, Sir Benjamin, 1737-1820.
Camden, Sir John Jeffreys Pratt, 2nd earl and 1st marquess, 1759-1840.
Campbell, Archibald.
Campbell, Donald, d. 1819.
Campbell, Duncan.
Campbell, Sir Ilay, 1734-1823.
Canning, George, 1770-1827.
Caradoc, Sir John Francis, 1st baron Howden.
Carleton, Sir Guy, 1st baron Dorchester.
Caroline Amelia Elizabeth, Queen, 1768-1821.
Castlereagh, Robert Stewart, 2nd marquess of Londonderry, 1769-1822.
Cathcart, Sir Andrew, 1742-1828.
Champion, G.
Chatham, John Pitt, 2nd earl, 1756-1835.
Chichester, Thomas Pelham, 2nd earl.
Clarke, Thomas B.
Cleghorn, James.
Clerk, James.
Cochrane, Sir Alexander Forrester Inglis, 1758-1832.
Cochrane, John.
Cockburn, Sir George, 1772-1853.
Cockburn, Sir James.
Cockburn, T.
Codrington, Sir Edward, 1770-1851.
Coffin, Sir Isaac, 1759-1839.
Collier, Sir George Ralph.
Colquhoun, Patrick, 1745-1820.
Conant, Nathaniel.
Congreve, William, 1772-1828.
Cornwallis, Charles, 1st marquess.
Cornwallis, Sir William, 1744-1819.
Cook, Hugh.
Cook, William.
Cooke, Edward.
Cooper, Sir Grey, d. 1801.
Corbin, J.M.
Coutts, Thomas.
Craig, Sir William Gibson, 1797-1878.
Croker, John Wilson, 1780-1857.
Croker, Walter.
Crombie, John.
Cronhelm, William.
Cumberland, Prince Ernest Augustus, duke.
Cuninghame, George.
Dalrymple, Sir John, 1726-1810.
D'Artez.
Davison, Alexander.
Davidson, John.
Debenham, John.
De Nijs, A.
Devonshire, Georgiana Spencer Cavendish, duchess.
Devaynes, W.
Dickson, Sir William.
Dietz, D. H.
Dixon, Alexander.
Dorset, Arabella Diana Cope Sackville.
Drummond, Lady Elizabeth, d. 1821.
Drummond, Edward.
Drummond, Henry, 1786-1860.
Duckworth, Sir John Thomas, 1748-1817.
Duncan, Adam, 1st viscount.
Dundas, Sir David, 1735-1820.
Dundas, John.
Dundas, Thomas.
Dundas, William.
Dunlop, James.
Durham, Anne.
Durham, Philip Charles Henderson Calderwood, 1763-1845.
Durno, James.
Eden, William, 1st baron Auckland, 1744-1814.
Edgcumbe, Richard, 2nd earl of Mount-Edgcumbe, 1764-1839.
Elder, James.
Eldon, John Scott, 1st earl, 1751-1838.
Elgin, Thomas Bruce, 7th earl, 1766-1841.
Elsmere, Hans Sloane.
Erskine, Sir William, 1769-1813.
Eton, William.
Evans, David.
Farquhar, Sir Robert Townshend.
Fawcett, John.
Ferguson, Adam, 1723-1816.
Ferrier, Ilay.
Fife, James Duff, 2nd earl.
Fitzroy, Warren, 1768-1806.
Flint, Sir Charles W.
Flint, James.
Forbes, Henry.
Fordyce, James Dingwall.
Fordyce, John.
Fordyce, Thomas I.
Fordyce, Sir William, 1724-1792.
Foster, Lady Elizabeth Hervey.
Foucault, Comte de.
Foulis, James.
Francis, R.
Franklin, Sir John.
Fraser, I.
Fullarton, William, 1754-1808.
Funchal, Conde de.
Galloway, George Stewart, 8th earl.
George III.
George IV.
Gifford, John.
Glassford, Henry.
Glenbervie, Katherine, Ann North Douglas, baroness.
Glenbervie, Sylvester Douglas, 1at baron.
Gloucester, Maria Waldegrave, duchess, 1737-1807.
Gordon, Lord Adam, 1726-1801.
Gordon, Alexander Gordon, 4th duke, 1743-1827.
Gordon, David.
Gordon, George, 8th marquess of Huntly, 1770-1836.
Gordon, Robert.
Gore, Sir John, 1772-1836.
Goulburn, Henry, 1784-1856.
Graham, Sir James, 1st bart.
Graham, Sir James Robert George, 1792-1861.
Graham, Thomas, baron Lyndedoch.
Grant, Alexander.
Grant, Sir Archibald, 4th bart.
Grant, Charles.
Grant, D.
Grant, Francis William.
Grant, George.
Grant, Sir James, 8th bart.
Grant, Jane Duff, lady.
Grant, Major John.
Grant, L.A.
Grant, Margaret.
Grant, Mary Dishington.
Grant, Sir William.
Grenville, C.F.
Grenville, Charles, 1762-1832.
Grenville, Charles Francis, 1749-1809.
Grenville, Richard.
Grenville, Thomas.
Grenville, William Wyndham Grenville, 1st baron.
Grey, Sir Charles, 1st viscount Howick.
Grey, Charles, 2nd viscount Howick.
Grey, Sir George, 1st bart, 1767-1828.
Guilford, Frederick North, 5th earl, 1766-1827.
Gullan, Richard.
Haldane, George.
Haldane, James Alexander.
Haldane, Margaret.
Haldane, Robert.
Hall, Basil.
Hamilton, Lady Anne, 1766-1846.
Hamilton, Douglas, 5th duke of Brandon, 1756-1799.
Hamilton, Gilbert.
Hamilton, John.
Hamilton, Lady Mary, 1739-1816.
Hamilton, Thomas, Jr.
Hamond, Sir Graham Eden, 1779-1862.
Harcourt, Elizabeth Vernon Harcourt.
Harrowby, Dudley Ryder, 1st earl, 1762-1847.
Hastings, Warren, 1732-1818.
Henderson, Alexander.
Hertford, Francis Charles Seymour-Conway, 3rd marquess.
Hippisley, Sir John Coxe, 1748-1825.
Holland, Henry Richard Vassall Foc, 3rd baron.
Holloway, J.
Home, Alexander, 10th earl, 1769-1841.
Home, George.
Hope, Sir Alexander, 1769-1837.
Hope, Charles, lord Granton, 1763-1851.
Hope, John, 1794-1858.
Hope, Sir William Johnstone, 1766-1831.
Hotham, Sir Henry, 1777-1833.
Howe, Sir William, 5th viscount, 1729-1814.
Humbert.
Hume, James.
Hunter, John.
Hunter, William Orby.
Huskisson, William, 1770-1830.
Impey, Sir Elijah, 1732-1809.
Irvine, Lady Caroline.
Jacob, Ebenezer.
Jardine, Henry.
Jeffrey, Francis, lord, 1773-1850.
Jenkinson, Catherine Bishopp Cope, d. 1827.
Jenkinson, Charles, 1st earl of Liverpool, 1727-1808.
Jenkinson, Charles Cecil Cope, 3rd earl of Liverpool.
Jenkinson, Louis Theodosia Hervey, countess of Liverpool.
Johnston, David, 1734-1824.
Johnston, J.
Keith, George Keith Elphinstone, 1st viscount.
Kellie, Thomas Erskine, 9th earl of, d. 1828.
Kent and Strathern, Prince Edward Augustus.
Kerr, James.
Lake, W.T.
Lascelles, Francis Edward.
Lauderdale, Anthony Maitland, 10th earl, 1785-1863.
Legge, Sir Arthur Kaye.
Le Grice, Charles Valentine, 1773-1858.
Leon, Bishop of.
Leslie, George.
Lindesey, P.
Lindsay, Colin, 1755-1795.
Lindsay, Robert.
Litchfield, H.C.
Littlejohn, James.
Liverpool, Robert Banks, 2nd earl of, 1770-1828.
Livingstone, E.
Locker, Edward Hawke, 1777-1849.
Lockhart, William.
Londonderry, Charles William Stewart Vane, 3rd marquess, 1778-1854.
Londonderry, Lady Frances Pratt Stewart, marchioness, d. 1833.
Londonderry, Frederick William Robert Stewart, 4th marquess.
Lothian, William Kerr, 6th marquess, 1763-1824.
Louis, Sir Thomas, 1st bart.
Lushington, Stephen, 1782-1873.
Lymburner.
Lyndhurst, John Singleton Copley, 1st baron, 1772-1863.
Macartney, George, 1st earl.
Macartney, Jane Stuart, countess, 1742-1828.
Macdonald, Sir Alexander, 1st baron, d. 1795.
Macintosh, William.
MacKinnon, James.
Maclaurin, John, 1734-1796.
Macleod, Col. John.
Malcolm, Sir Pulteney, 1768-1838.
Mallet, John Lewis.
Manners-Sutton, Charles, 1755-1828.
Mansel, Robert.
Mansfield, William Murray, 1st earl, 1705-1793.
Marjoribands, Sir John, 1st bart Tweedmouth.
Martin, Sir Thomas Byam.
McKonochie, Alexander.
McMahon, Col. J.
Meheux, John.
Melfort, Leon Maurice Drummond, comte de, 1761-1826.
Melville, Henry Dundas, 1st viscount.
Melville, Lady Jane Hope Dundas, viscountess, d. 1829.
Melville, Robert Dundas, 4th viscount, 1803-1886.
Melville, Robert Saunders Dundas, 2nd viscount, 1771-1851.
Minto, Gilbert Elliot, 1st earl, 1751-1814.
Miranda, Francisco de.
Mitchell, John.
Molleson, William.
Monday, John.
Monteagle, Thomas Spring-Rice, 1st baron, 1790-1866.
Montellano, Duc de.
Moorsom, Sir Robert.
Morton, George, 16th earl.
Mulgrave, Henry Phipps, 1st earl, 1755-1831.
Murray, Frances Maria.
Murray, Sir George.
Murray, Sir John Archibald, 1779-1859.
Murray-Pultney, Sir James.
North, Frederick, 2nd earl of Guilford, baron, 1732-1792.
North, Joseph.
Nutt, John.
Oddy, J. Jepson.
O'Hara, Charles.
Orde, Sir John, 1751-1824.
Owen, D.
Page, Benjamin William, 1765-1845.
Paget, Sir Charles, 1778-1829.
Panton, Dr. George.
Parish, John, Jr.
Paton, James.
Paxton, George.
Pechell, Sir George Richard Brooke, 4th bart.
Pechell, Samuel George, 1786-1840.
Pechell, Samuel John Brooke, 3rd bart.
Peel, Sir Robert, 1788-1850.
Pellew, Sir Edward, 1st viscount Exmouth, 1757-1833.
Perceval, Spencer, 1762-1812.
Perth, Clementina Elphinstone Drummund, countess, d. 1832.
Peterborough, Lord.
Pitt, William, 1759-1806.
Pitt, William Morton.
Ponton, Alexander.
Popham, Elizabeth Prince, Lady.
Popham, Sir Home Riggs, 1762-1820.
Popham, William.
Portland, William Henry Cavendish Bentinck, 3rd duke.
Powell, Robert William.
Powis, Edward Clive, 2nd baron clive, 1754-1839.
Pownall, Thomas.
Puget, Peter, d. 1822.
Puisaye, Joseph-Genevieve, comte de, 1755-1827.
Pulteney, Sir William Johnstone, 1729-1805.
Queensberry, William Douglas, 3rd earl of March.
Raeburn, Sir Henry, 1756-1823.
Raglan, Lord Fitzroy Somerset, 1st baron.
Rawdon, Francis Rawdon-Hastings, 1st marquess, 2nd earl of Moira, baron.
Redesdale, John Freeman Mitford, 1st baron, 1748-1830.
Reeves, John, 1752-1829.
Reid, Thomas.
Rigby, Richard.
Ritchie, James.
Robertson, William, 1721-1793.
Robson, F.
Rondeaux, Charles de.
Rosslyn, James St. Clair Erskine, 2nd earl of, 1762-1837.
Roxburgh, John Ker, 3rd duke, 1740-1804.
Russell, Lord John Russell, 1st earl, 1792-1878.
Ryder, Thomas.
Salame, A.
Sandercomb, James.
Saunders, R. Dundas.
Searle, John Clarke.
Scott, Mary.
Scott, Thomas, 1745-1842.
Seafield, James Ogilvy, 7th earl of Findlater, 4th earl.
Seddon, Joseph.
Shelburne, William Petty2nd earl, 1737-1805.
Sheridan, Charles Robert.
Siddons, Sarah Kemble, Mrs. William.
Siddons, William.
Sidmouth, Henry Addington, 1st viscount, 1757-1844.
Sinclair, Sir John, 1754-1835.
Smith, Thomas.
Smith, Sir William Sidney, 1764-1840.
Smollett, A.
Spencer, Lord George John, 2nd earl, 1748-1834.
Spencer, Lady Lavinia.
Stafforf,Lady Susannah Steward Leveson-Gower, marchioness.
Staunton, Sir George Leonard, 1737-1801.
Stewart, John.
Stone, Arthur Daniel.
Stowell, Sir William Scott, 1st baron, 1745-1836.
Strange, Anne Dundas Drummond, d. 1852.
Stuart, Andrew, d. 1801.
Stuart, Sir Charles, 1753-1801.
Stuart, Ford Smyth.
Sullie, Mrs.
Sullivan, John.
Sussex, Prince Augustus, Frederick, duke.
Sutherland, David.
Sutherland, Countess Elizabeth, marchioness of Stafford, 1765-1839.
Sutherland, Robert.
Sykes, John.
Talbot, Sir John, 1769-1851.
Tate, George, 1745-1821.
Taylor, Sir Herbert.
Temple, George Nugent-Temple-Grenville, 1st marquess of Buckingham, 3rd earl of, 1753-1813.
Thornton, Samuel.
Thurlow, Edward, 1st baron, 1731-1806.
Tierney, George.
Tinseau, C.
Titchfield, Lord Scott.
Tonge, Richard Peter.
Torrens, Sir Henry.
Tweeddale, George Hay, 7th marquess.
Tunnsall, Joseph.
Vaudreuil, Jean-Louis de Rigaud, vicomte de, 1762-1816.
Vernon, George.
Wallace, Lady Eglantine, d. 1803.
Warren, Sir John Borlase, 1753-1822.
Warrender, Hugh.
Wedderburn, Alexander, 1st baron Loughborough, 1st eal Rosslyn, 1733-1805.
Welch, Mathew.
Wellesley, Richard Colley, 2nd earl of Mornington, 1st marquess.
Wellington, Archer Wellesley, 1st duke.
Westmorland, John Fane, 10th earl, 1759-1841.
Whitbread, Samuel.
Whitworth, Charles, 1st earl.
Whyte, Edward.
Williamson, Charles.
Willoughby de Eresby, Clementina Sarah Drummond Burrell, baroness, d. 1865.
Willoughby de Eresby, Peter Robert Burrell, 2nd lord Gwydir, 21st baron, 1782-1865.
Windham, William, 1750-1810.
Wolff, George.
Wood, Sir James Athol, 1756-1829.
Wood, Sir Matthew, 1768-1843.
Wright, John.
York, Prince Frederick August, duke of Albany, 1763-1827.

For more details see the Clements Library card catalog.
Contents
Using These Materials
---
RESTRICTIONS:

The collection is open for research.

USE & PERMISSIONS:

Copyright status is unknown
PREFERRED CITATION:

Viscounts Melville Papers, William L. Clements Library, The University of Michigan