Back to top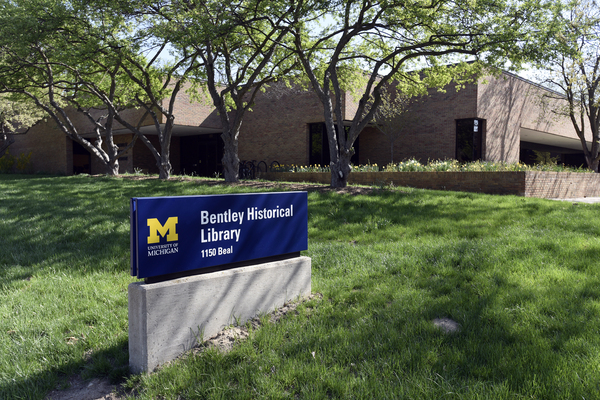 Address

:

1150 Beal Avenue

Ann Arbor, MI 48109-2113, USA
G. Mennen Williams papers, 1883-1988 (majority within 1958-1980)
Using These Materials
---
Restrictions:

The collection is open to research except where noted in the finding aid. The bulk of the closed materials are Williams' case files for the Michigan Supreme Court. These are in boxes 30-61. ...
Summary
Creator:

Abstract:

Governor of Michigan 1949 to 1960, under-secretary of state for African Affairs from 1961 to 1965, and Michigan Supreme Court justice from 1970 to 1986 and leader in state and national Democratic Party. Papers document his public career and aspects of his personal and family life and include correspondence, subject files, staff files, speeches, press releases and news clippings, photographs, sound recordings, films and videotapes.

Extent:

843 linear feet
42 oversize volumes
147 audiotapes (3 3/4 - 7 1/2 ips; 5-10 inches; reel-to-reel tapes)
46 audiocassettes
30 phonograph records
42.1 GB (online)

Language:

English.

Call Number:

86393 AC Ac Aa 2

Authors:

Finding aid prepared by: Michigan Historical Collections Staff
Background
Scope and Content:

The G. Mennen Williams Papers consist of official and personal files arranged into six subgroups: 1) Gubernatorial papers, 1949-1960 (681 linear ft.); 2) Non-gubernatorial papers, 1883-1948 and 1958-1988 (107 linear ft.); 3) Visual materials, ca. 1911-1988 (ca. 25 linear ft.); 4) sound recordings, 1950-ca. 1988 (5 linear ft.) Scrapbooks, 1948-1987 (43 vols.) and State Department Microfilm, 1961-1966 (23 reels).

As part of its own control system, the governor's office maintained a card index to the correspondents in many of the subgroups and series within the gubernatorial papers. This card file is located in the library's reading room. In addition, Nancy Williams and her staff compiled an extensive and detailed run of scrapbooks covering the Williams years. There is a separate inventory to these scrapbooks in a separately bound volume.

Strategy for Use of the Gubernatorial Papers: Although the Williams gubernatorial collection consists of hundreds of linear feet of material, the file arrangement created by the governor's staff is a fairly simple one to understand and to use.

The bulk of the collection falls within specific functional groupings, corresponding to the various activities and responsibilities that Williams performed as governor. Thus, if the researcher is uncertain of what portions of the collection might be relevant to his/her research, he/she is advised to think in terms of gubernatorial function. Does the proposed research concern the workings or area responsibility of a state board? If so, the Boards and Commissions series would be the most likely place in which to find material. The election of 1954? Then Democratic Party/Campaign Papers should be first choice. The passage of a specific piece of legislation? Here, Legislative Files is an obvious choice. The possible choices (called subgroups and series) that the researcher has are listed in the Organization of the Collection section. A description of the contents of each of these subgroups/series is provided below.

If, at first, unsuccessful in finding material on any given topic, the researcher might consider these additional strategies:

1. Refer to the Williams card index (located in the library's reading room). Sometimes, the name of an individual associated with a subject provides the easiest point of access into the collection. This file is arranged alphabetically and lists the dates of letters between an individual and the governor's office. This file only indexes the larger series and subgroups in the collection. It does not index the staff files, or parts of the Democratic Party/Campaign subgroup. Nevertheless it is an invaluable tool, and can uncover important material otherwise buried.

2. Refer to the various series of staff papers. Staff members were often closely involved in a specific subject areas (Jordan Popkin and aging, for example) and thus their files are frequently rich in source material.

3. If only partially successful in locating desired material, the researcher should think of an alternative subgroup or series. The governor's office, for a variety of reasons, often filed related material in different locations depending upon the source of a document. Thus, information relating to a strike might be filed both under the Labor Mediation Board in Boards and Commissions, and Strikes in General Subjects. Furthermore, if the strike influenced a specific piece of legislation, there could be material in the Legislative Files.

Biographical / Historical:

G. Mennen Williams was a man born to privilege but who devoted his life to public service. His career included stints as governor of Michigan from 1949 to 1960, under-secretary of state for African Affairs from 1961 to 1965, and Michigan Supreme Court justice from 1970 to 1986. Williams was born in Detroit, February 23, 1911, to Henry P. and Elma Mennen Williams. After prepping at the Salisbury School in Connecticut, he received his AB degree at Princeton in 1933. Williams finished his formal education by taking a JD degree from the University of Michigan in 1936.

Williams began his career as an attorney for the Social Security Board in Washington, D. C. In 1938 he returned to Michigan to serve as assistant attorney general under Raymond Starr. His public career took him back to Washington where he acted as executive assistant to United States Attorney General Frank Murphy, from 1939 to 1940. He continued to work for Murphy until 1941 as special assistant in the Criminal Division.

With American entry into World War II, Williams' public service took a new form. Despite being thirty-one years old and the father of a young son, Williams sought and gained a commission as a lieutenant in the U.S. Naval Reserve. He saw active duty as an air combat intelligence officer in the Pacific theater. After his discharge in 1946, Williams served as deputy director of the Office of Price Administration for Michigan until 1947. He then took a position as the Democratic member of the Michigan Liquor Control Commission and used this post to build a network of supporters for his gubernatorial campaign in 1948.

Williams was elected governor of Michigan on the Democratic ticket in November 1948. The result was something of an upset in that Michigan was a strongly Republican state. Williams continued to upset Michigan Republicans, narrowly winning re-election in 1950, then winning the 1952, 1954, 1956, and 1958 elections. His re-election in 1958 gave him an unprecedented sixth consecutive term.

By not running for state office in 1960, Williams left himself available to serve the nation as a whole. At one time thought to be under consideration for the vice-presidency, Williams was eventually tapped by President Kennedy to serve as undersecretary of state for African Affairs. Williams held this post until 1966 when he decided to campaign for the U.S. Senate; he lost to Robert Griffin. Williams returned to the public sphere when President Johnson appointed him ambassador to the Philippines in 1967. He held this post until Richard Nixon became president in January 1969.

Williams resumed his career of public service to the state of Michigan by winning election to the State Supreme Court in 1970. He headed a reform movement within the judiciary to make administration of justice "effective and efficient." He served so capably during his first term that he was easily re-elected in 1978 and was elected Chief Justice by his peers in April 1983. Williams retired from the bench in 1987 and died February 2, 1988. He was survived by his wife, Nancy Quirk Williams, and three children, Gery, Nancy, and Wendy.

Acquisition Information:

The collection was donated by G. Mennen Williams (Donor No. 3734 ) and Nancy Quirk Williams in several principal accessions. The bulk of the Williams papers were acquired in 1960-1961. Periodic additional accessions were received through 1988.

Processing information:

The Williams papers were originally arranged and described as six separate collections; Governor's Papers, Non-Gubernatorial Papers, Visual Material, Sound Recordings, Scrapbooks, and State Dept. Microfilm, each of which had its own paper finding aid. Each had a separate box number sequence. In this electronic finding aid each of these collections is treated as a subgroup of the G. Mennen Williams Papers. Boxes in the Governor's Papers subgroup are numbered 1 to 722; the Non-Gubernatorial Papers are 1-N to 105-N; the Visual Materials are 1-P to 21-P; and the Sound Recordings are 1-S to 6-S. Scrapbooks are identified by volume number and the microfilm by reel number. Portions of the Williams Papers were reprocessed in 1996. Some files were reappraised and eliminated from the collection. There was also significant consolidation of boxes with the result that some numbers were eliminated. To facilitate location of items based on citations to the previous physical arrangement, the empty box numbers have been included in the electronic finding aid with the notation "[Eliminated in reprocessing.]"

Boxes 69, 77, 91, 95, 116, 146, 155, 177, 186, 214, 239, 250, 268, 271, 280, 297, 302, 310, 315, 355-360, 369-371, 681-688, 695-700, and 80-N were eliminated during reprocessing.

Arrangement:

The G. Mennen Williams Collection is composed of six subgroups; Governor's Papers, Non-Gubernatorial papers and Visual Materials, Sound Recordings, Scrapbooks,and State Department Files Microfilm. Each of these sections is comprised of a number of, series and subseries. This electronic finding aid to the Williams papers is structured to reflect the intellectual organization of the papers as opposed to its physical arrangement in boxes. As a result, within any series or subseries the box numbers may not follow in consecutive order.

Summary Contents List

Governor's Papers 1949-1960

Chronological (boxes 1-405)

1949

General Subjects [boxes 1-10]
Boards and Commissions [boxes 11-24]
Legislative [boxes 325-327]
Military [box 373]
Federal [box 391]

1950

General Subjects [boxes 25-34]
Boards and Commissions [boxes 34-46]
Legislative [boxes 327-329]
Military [boxes 373-375]
Federal [box 392]

1951

General Subjects [boxes 46-55]
Boards and Commissions [boxes 56-67]
Legislative [boxes 330-331]
Military [boxes 375-377]
Federal [box 393]

1952

General Subjects [boxes 67-78]
Boards and Commissions [boxes 78-90]
Legislative [boxes 332-334]
Military [boxes 378-379]
Federal [box 394]

1953

General Subjects [boxes 90-100]
Boards and Commissions [boxes 101-113]
Legislative [boxes 334-336]
Military [boxes 379-380]
Federal [box 395]

1954

General Subjects [boxes 114-127]
Boards and Commissions [boxes 127-141]
Legislative [boxes 336-337]
Military [boxes 381-382]
Federal [box 396]

1955

General Subjects [boxes 142-154]
Boards and Commissions [boxes 156-172]
Legislative [boxes 338-340]
Military [boxes 382-383]
Federal [boxes 397-398]

1956

General Subjects [boxes 173-185]
Boards and Commissions [boxes 187-204]
Legislative [boxes 340-342]
Military [boxes 373-384]
Federal [boxes 398-399]

1957

General Subjects [boxes 204-217]
Boards and Commissions [boxes 217-235]
Legislative [boxes 343-348]
Military [boxes 384-386]
Federal [boxes 400-401]

1958

General Subjects [boxes 235-249]
Boards and Commissions [boxes 251-267]
Legislative [boxes 348-352]
Military [boxes 386-387]
Federal [boxes 401-403]

1959

General Subjects [boxes 267-282]
Boards and Commissions [boxes 282-296]
Legislative [boxes 352-364]
Military [boxes 387-388]
Federal [boxes 403-404]

1960

General Subjects [boxes 298-309]
Boards and Commissions [boxes 309-324]
Legislative [boxes 365-372]
Military [box 388]
Federal [boxes 404-405]

Executive Office [boxes 406-422]

General (includes memoranda) [box 406]
Special Meetings (includes staff and budget meetings, conferences) [boxes 407-408]
Foreign Trips [boxes 408-410]
Staff Files [boxes 410-418]

Abernethy, John [boxes 416-418]
Boucher, Edward [boxes 415-416]
Brown, Charles [boxes 410-411]
Ferrell, Lawrence [box 412]
Fox, Noel [box 414]
Monat, William [box 415]
Popkin, Jordan [boxes 412-414]
Tripp, Fred [box 415]
Sweeney, John [box 414]

Miscellaneous [boxes 418-422]

Press Office, 1949-1960 [boxes 423-488]

Speeches, 1949-1960 [boxes 423-430]
Messages to the Legislature [boxes 423-430]
Radio talks (and related) [boxes 431-434]
Weekly Newspaper Column [box 434]
Press Releases, 1949-1960 [boxes 435-438]
Schedules [boxes 438-440]
Appointment Books [boxes 441-442]
Topical Files [boxes 443-487]
Miscellaneous [box 488]

Democratic Party/Campaigns (boxes 489-528)

Williams Program (1960 Presidential Campaign Bid) (Box 488)
Campaign files

1949 [box 489]
1950 [box 489]
1951 [box 489]
1952 [boxes 489-490]
1953 [box 491]
1954 [boxes 491-492]
1955 [boxes 492-493]
1956 [boxes 493-496]
1957 [boxes 496-497]
1958 [boxes 497-500]
1959 [boxes 500-501]
1960 [boxes 501-504]

Democratic Party Nationalities Division, 1951-1960 [boxes 505-507]
Democratic Party Advisory Council, 1957-1960 [box 508]
Memoranda and correspondence, ca. 1949-1957 [box 509]
Ethnic Political Files, 1952-1956 [box 509]
South Grand Office: Program Development, 1959-1960 [boxes 510-523]
Thomas Quimby Files, 1957-1960 (boxes 524-528)

Miscellaneous (boxes 530-757)

Personnel

Recommendations to Boards and Commissions [boxes 530-544]
Personnel Files [boxes 545-551]
Orders for Appointive Officers [boxes 552-553]
Miscellaneous [boxes 554-555]
County Agent Appointment Files [box 556]
Press Releases on Appointments [box 557]

Extraditions [boxes 558-581]
Orders for Requisitions and Warrants [boxes 581-582]
Printed Material [boxes 583-596]
Proclamations [boxes 597-609]
Nancy Williams Personal [boxes 610-615]
Programs of Meetings and Celebrations [boxes 616-623]
Executive Office Financial Records [boxes 624-626]
Personal Financial Records [boxes 627-633]
Governor Personal, 1951-1960 [boxes 634-702]
Invitations, 1949-1960 [boxes 703-722]

Non-Gubernatorial Papers. 1883-1948, 1960-1988

Pre-Gubernatorial (Boxes 1-N to 6-N)
Under-Secretary of State for Africa (Boxes 7-N to 18-N)
Wayne Co. Equal Opportunity Council (Box 19-N)
Ambassador to the Philippines (Box 19-N)
Supreme Court of Michigan (Boxes 20-N to 66-N) [Portions closed]

Political (Boxes 67-N to 78-N)

1960-1965 (Boxes 67-N and 68-N)
1966 Senatorial Election (Boxes 69-N to 75-N)
1967-1970 (Box 76-N)
1970 Michigan Supreme Court Campaign (Box 77-N)
1978 Michigan Supreme Court Campaign (Box 78-N)

Personal (Boxes 78-N to 107-N)

Appointment Books (Boxes 78-N and 79-N)
Correspondence (Boxes 81 to 83)
Family (Boxes 84-N and 85-N)
Financial (Box 86-N)
Organizations (Boxes 87-N to 89-N)
People (Box 90-N)
St. Paul's Church (Boxes 91-N and 92-N)
Schedules (Boxes 93-N to 97-N)
Speeches (Boxes 98-N to 101-N)
Topical (Box 102-N)
Miscellaneous (Box 103-N)
Nancy Quirk Williams (Boxes 104-N to 107-N)

Visual Materials

Photographs

Family and Formal Portraits [boxes 1-P - 2-P]
Justice Department [box 2-P]
Gubernatorial Activities [boxes 2-P - 5-P also albums and oversized]
Political Campaigns and Personalities [boxes 5-P - 6-P]
Public Figures [box 6-P]
Assistant Secretary of State for African Affairs [boxes 10-P - 11-P and outsized films]
U. S. Ambassador to the Philippines [box 11-P]
Post-1966 Activities [box 11-P]
Oversize photographs [box 9-P and 18-P]

Films [boxes 12-P - 14-P, 19-P - 20-P and oversize]

Albums [box 7-P and oversize vol., AC]

Caricatures and drawings [box 18-P]

Color Transparencies [box 21-P]

[Note: There are also photographs and cartoons on the walls of the Nancy and G. Mennen Williams Room of the Bentley Historical Library.]

Sound Recordings [box 1-S - 6-S]
Scrapbooks[43 vols.]
State Dept. Files Microfilm [23 reels]

Physical Location:

Portions of the collection are stored offsite; two days notice required for retrieval.
Related
Alternative Form Available:

Digitization: The Library has undertaken the digitization of a number of sound recordings within this collection. The resulting audio files are available for playback only in the Bentley Library Reading Room. Links to item images and additional information are available within this finding aid. Original sound recordings are only available for staff use.
Contents
Using These Materials
---
RESTRICTIONS:

The collection is open to research except where noted in the finding aid. The bulk of the closed materials are Williams' case files for the Michigan Supreme Court. These are in boxes 30-61. Digitized audio files are currently available only in the Bentley Historical Library reading room on designated Bentley Library computers.

USE & PERMISSIONS:

Donor(s) have transferred any applicable copyright to the Regents of the University of Michigan but the collection may contain third-party materials for which copyright was not transferred. Patrons are responsible for determining the appropriate use or reuse of materials.
PREFERRED CITATION:

item, folder title, box no., G. Mennen Williams Papers, Bentley Historical Library, University of Michigan