Back to top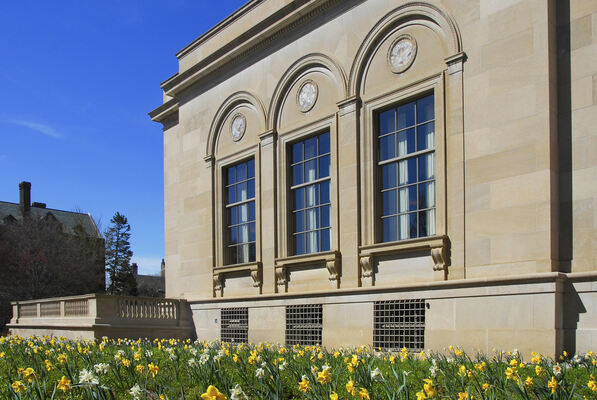 Address

:

909 South University Avenue

Ann Arbor, MI 48109, USA
Japanese manuscript collection, 1832-1861
Using These Materials
---
Restrictions:

The collection is open for research.
Summary
Creator:

Abstract:

This collection of six Japanese manuscripts from the 19th century provides insight into important cultural encounters between Japan and the West. The manuscripts include an illustrated book of costumes of the world, an account of the famous John Manjiro's travels to America, instructions for receiving the first American envoy to Japan, and a diary kept by a member of the first Japanese embassy to the United States.

Extent:

5 volumes and 1 loose illustration

Language:

Japanese

Authors:

Collection processed and finding aid created by Emiko Hastings
Background
Scope and Content:

This collection contains five Japanese manuscripts and one watercolor illustration documenting important encounters between Japanese and Western cultures in the 19th century.

The first manuscript, Bankoku ichiyō, is a popular publication from the late Edo period (1600-1868) that depicts people from around the world in native costumes. Of the 67 pages of watercolor illustrations, over half bear a strong resemblance to the figures accompanying the Shōhō Map or one of its subsequent copies. The poses and broad outlines of the costumes are recognizably the same, although details of dress and features have been altered. The popularity of such publications during the Tokugawa seclusion period reflects the Japanese populace's curiosity about foreign cultures at that time. The brightly colored illustrations show figures with the clothing and weapons of their cultures, including Asian, European, American, and African peoples. Also included are the mythical giants of South America and pygmies of Northern Europe.

Hyokyaku danki, the second manuscript of the collection, contains an account of Manjiro and his companions, who were shipwrecked in 1841. Their testimony upon returning to Japan in 1851 was widely copied and circulated because of great public interest. Especially after Commodore Perry's arrival in 1853 and the signing of the first treaty with the United States, people were eager to learn more about America, and Manjiro's account greatly shaped their perceptions. This handwritten manuscript appears to be an abridged version of the official account, reproduced for popular consumption. It is complete with watercolor illustrations including a map of Manjiro's travels, a train, a steam boat, a sailing ship, furniture, and American clothing. Another section provides a basic dictionary, with kanji accompanied by approximate English pronunciations rendered in katakana. On one page, the English alphabet and numerals are reproduced in stylized cursive, probably based upon Manjiro's handwriting.

The third manuscript is not yet cataloged. Research is being conducted to provide description for this item.

The collection's large watercolor illustration may be by Bunsen Takagawa and bears the transliterated title [Amerika Senchū Shokan Utamai No Zu]. The artwork depicts the largely blackface Ethiopian Minstrels on stage, dancing before stagelights. These minstrels traveled to Japan and performed aboard Matthew Perry's flagship, the U.S. Ship Powhatan, in 1854. Research is being conducted to provide improved description for this item.

The fourth manuscript, Amerika kokusho jisan no ken no ofuredome, was written by Matsumae-Ke, a Japanese nobleman, and provides a series of instructions regarding the first reception of the American ambassador Townsend Harris by the shogun. This historic meeting was an important encounter between Japan and a representative of the United States, without precedent in Japanese history. To ensure that all would go smoothly and that protocol would be observed, these instructions were sent out to various officials to prepare the way. For example, superintendent officers were directed to clean the roads and keep spectators orderly as the mission traveled to Edo. A detailed program for the ceremony itself includes the seating order and exact series of events that were to occur. This manuscript is accompanied by a partial English translation. From the resemblance of this translation to another publication, it appears that these or similar documents were also translated in 1879 and published in the Congressional Serial Set as "Visit of the American Ambassador to the Castle of Yedo in the 10th month of the 4th year of Ansei (1857)," U.S. Congress, Foreign Relations, 1878 (46-2, H. Exdoc. 1/2; Serial Set 1902), pp. 20-636.

Kōbei Nichiroku, the fifth manuscript, is a seven-volume diary kept by a member of the first Japanese mission to the United States. Approximately 40 such travelogues were written by members of the embassy. This appears to be a copy of a diary kept by Tamamushi Sadayū Yasushige, the chief ambassador's manservant. Volumes 1 and 2 describe the voyage from Japan, including Hawaii and California. Volumes 3, 4, and 5 describe the trip from San Francisco and events in Washington and New York. Volumes 6 and 7 describe the return voyage. Tamamushi, a gifted scholar born to a low-ranking samurai family, was known for the honesty and insight revealed in his diary. During the course of his journey to America, he kept an open mind to new experiences and underwent a reexamination of his beliefs as he encountered foreign ideas. Upon his return to Japan, his diary was widely copied and distributed.

Biographical / Historical:

For Bankoku ichiyō [Costumes of the World, Pictures of People of 43 Countries]: Encounters with Western cultures and technologies brought great changes to Japan. European maps were first introduced to Japan in the late 16th and early 17th centuries. During a time when Christianity and all foreigners except the Dutch and Chinese were excluded from Japan, maps were not restricted because of their usefulness. In the Dutch style, illustrations of foreign couples in native costume often accompanied world maps. The earliest printed world map in Japan was the Shōhō Map and Peoples of the World, in 1645. Because of great interest in Japan, numerous copies of such world maps were made, with the illustrated figures repeated from one screen to another with small variations.

For Hyokyaku danki [The Strange Story of a Castaway]: In 1841, five Japanese fishermen were shipwrecked on an uninhabited island in the Pacific. Rescued by an American whaling ship captained by William Whitfield, they were taken to Hawaii, since Japan was closed to American ships. The youngest, a fourteen-year-old boy named Manjiro, accompanied Captain Whitfield to his home in Fairhaven, Massachusetts, where he was raised and educated by the Whitfields. Manjiro, called John Mung by Americans, learned the art of navigation and became a skilled whaler. He also struck gold as a forty-niner in the California gold rush. Returning to his companions in Hawaii, Manjiro found that two, Denzo and Goeman, were eager to return to Japan if possible. The three finally succeeded in making their way back to Japan in 1851, where they were arrested and interrogated. The full account of their testimony, accompanied by watercolor illustrations, comprised four volumes entitled Hyoson Kiryaku, "A Brief Account of Drifting Toward the Southeast." Manjiro's knowledge of English and of Western culture was particularly valuable to the Tokugawa shogunate, since they were aware of the imminent threat of Western powers despite their policy of seclusion. His testimony and sketches formed the basis of officials' information about America just prior to Commodore Perry's arrival in 1853. Commodore Perry was the leader of the United States Naval Expedition to Japan (1852-1854), which opened Japanese ports to U.S. trade and was considered a major turning point in diplomatic history. After the first peace treaty between Japan and the United States, Manjiro served as a secretary to the Tokugawa government and achieved samurai status, gaining the last name Nakahama.

For Amerika kokusho jisan no ken no ofuredome [Instructions for Receiving the Accredited Mission from America]: The first American ambassador to Japan, Townsend Harris, arrived in 1855 after Commodore Perry opened trade between the countries. Harris was finally granted an audience with the shogun in December 1857, and negotiated the Treaty of Amity and Commerce, or "Harris Treaty," in 1858.

For Kōbei Nichiroku [Diary of a Voyage to America]: The Harris Treaty was ratified in 1860 with the visit of the first Japanese Embassy to the United States. Three principle officials, accompanied by secretaries, interpreters and attendants, comprised the 77 members of the embassy. The embassy traveled on the U.S. frigate Powhatan, which had been Perry's flagship in 1854, and on which the Harris Treaty had been concluded. The Japanese sent an escort ship, the Kanrin Maru, with a Japanese crew that included Nakahama Manjiro as an interpreter. The embassy crossed the Pacific with a stop at Hawaii, docked in San Francisco, and traveled to Washington, D.C. by way of the Isthmus of Panama. The ambassadors were presented to President Buchanan, and exchanged treaty ratifications. The group went on to visit Baltimore, Philadelphia, and New York before returning home by the Atlantic route.

Acquisition Information:

1949, 1950, 2019. M-761, M-762, M-797, M-798, M-7128 .

Rules or Conventions:

Finding aid prepared using Describing Archives: A Content Standard (DACS)
Related
Additional Descriptive Data:

Related Materials

The Clements Library also holds a variety of Japanese-language publications, prints, and maps, as well as English-language material concerning various aspects of Japanese history and culture. Please search the library catalog for more information.

Bibliography

Bernard, Donald R. The Life and Times of John Manjiro. New York: McGraw-Hill, 1992.

French, Cal. Through Closed Doors: Western Influences on Japanese Art, 1639-1853. Rochester, Mich.: Meadow Brook Art Gallery, 1977.

Harris, Townsend. The Complete Journal of Townsend Harris, First American Consul and Minister to Japan. Revised ed. Rutland, Vermont: Charles E. Tuttle, 1959.

Kawashima, Yasuhide. "America through Foreign Eyes: Reactions of the Delegates from Tokugawa Japan, 1860." Journal of Social History 5, no. 4. (Summer 1972): 491-511.

Miyoshi, Masao. As We Saw Them: The First Japanese Embassy to the United States (1860). Berkeley: University of California Press, 1979.

Nagakuni, Junya and Junji Kitadai, trans. Drifting Toward the Southeast: The Story of Five Japanese Castaways: A Complete Translation of Hyoson Kiryaku. New Bedford, Mass.: Spinner Publications, 2004.

Shigehiko Miyoshi, trans. The First Japanese Embassy to the United States of America, Sent to Washington in 1860 as the First of the Series of Embassies Specially Sent Abroad by the Tokugawa Shogunate. 2nd ed. Tokyo: America-Japan Society, 1977.

Wallis, Helen. "The Influence of Father Ricci on Far Eastern Cartography." Imago Mundi 19 (1965): 38-45.

Warinner, Emily V. Voyager to Destiny: The Amazing Adventures of Manjiro, the Man Who Changed Worlds Twice. Indianapolis: Bobbs-Merrill: 1956.
Contents
Using These Materials
---
RESTRICTIONS:

The collection is open for research.

USE & PERMISSIONS:

Copyright status is unknown.
PREFERRED CITATION:

Japanese Manuscript Collection, William L. Clements Library, The University of Michigan