Back to top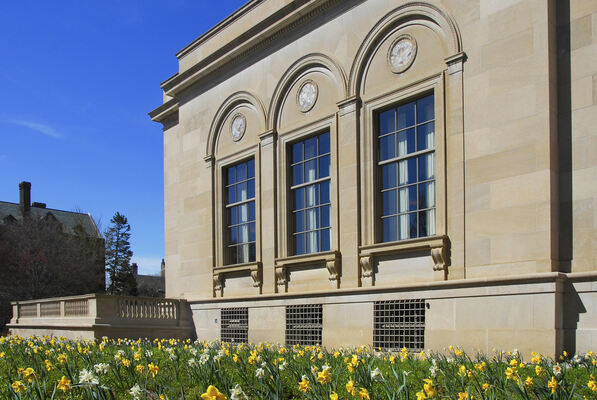 Address

:

909 South University Avenue

Ann Arbor, MI 48109, USA
Richard and William Howe collection, 1758-1812
Using These Materials
---
Restrictions:

The collection is open for research.
Summary
Creator:

Abstract:

This is a miscellaneous collection of letters to and from members of the Howe family, including British army officer William Howe, British naval officer Richard Howe, and their families.

Extent:

48 items

Language:

English

Authors:

Collection processed and finding aid created by Cheney Schopieray and Shannon Wait, June 2011
Background
Scope and Content:

The Richard and William Howe collection contains 48 miscellaneous single letters and documents, spanning 1758 to 1812. The correspondents were various members of the Howe family, including William Howe, Richard Howe, Mary Hartopp Howe, Mary Juliana Howe, and Louisa Catherine Howe. Brought together over several decades, the group of materials includes miscellaneous items related to military operations, as well as a number of family letters. A handful of items concern the Seven Years War and American Revolution, and over half of the collection postdates 1783. See "Detailed Box and Folder Listing" for a full inventory of the items, including abstracts of each letter.

Biographical / Historical:

Richard Howe

Richard Howe was born March 19, 1726, in London, England, the son of Emanuel Scrope Howe, second viscount Howe (1699-1735), and his German-born wife, Mary Sophia Charlotte von Kielmansegg (1703-1782). In 1739, Howe began his naval service on the 40-gun ship Pearl. He served on several ships during the War of the Austrian Succession and was confirmed as a lieutenant in 1744 and as a post-captain in 1746. He afterwards distinguished himself while performing numerous raids on the French coast during the Seven Years War. He became the fourth viscount Howe in 1758, after his eldest surviving brother, George Augustus Howe, was killed at a skirmish near Fort Ticonderoga. In 1763 and 1765, he was a member of the Admiralty Board, and he served as Treasurer of the Navy from 1765 to 1770.

Howe is best known for his role in the American Revolution. He was made vice admiral in December 1775 and then named commander-in-chief of the North American colonies in February 1776. He arrived in New York in July 1776 and took part in the failed peace conference at Staten Island, New York, which occurred in September of that year. He provided naval support during the New York campaign and was ordered to blockade the American coastline, but complained that he lacked enough ships to prevent French vessels from reaching the northern colonies. In 1777, he assisted in the British occupation of Philadelphia, particularly focusing on the capture of forts in the Delaware River. Deeply offended at the deployment of the Carlisle Peace Commission in 1778, Howe attempted to resign his station, but his resignation was refused until November of that year; in the meantime, he successfully defended Newport, Rhode Island, from Comte d'Estaing's large fleet. Postwar, he served as the first lord of the admiralty (1783-1788) and in 1790, he took command of the Channel Fleet during a dispute with Spain. He also commanded the Channel Fleet with great success during the French Revolution at the age of nearly 70. In 1797, he was made a Knight of the Garter. He died on August 5, 1799.

In 1758, Howe married Mary Hartopp, with whom he had three daughters: Sophia Charlotte (b. 1762; m. Penn Assheton Curzon, 1787), Mary Juliana (b. 1765; m. Edward Furse, 1800), and Louisa Catherine (b. 1767; m. John Denis Browne, 1787).

William Howe

William Howe was the younger brother of Richard Howe, born in London on August 10, 1729. He joined the British army in 1746 and served in the War of the Austrian Succession and in the Seven Years War. In the latter war, he distinguished himself during the capture of Quebec and participated in the campaigns of Louisbourg, Belle Isle, and Havana. During the Revolutionary War, he served as second-in-command under Gen. Thomas Gage (May-October 1775) and then as commander-in-chief of British forces in North America (October 1775-April 1778). His service was marked by several missed opportunities (particularly at the Battle of Long Island) and painful defeats in Trenton and Saratoga. After receiving news of John Burgoyne's surrender at the latter engagement, Howe attempted to resign and return to England to defend himself. His resignation was eventually accepted the next year, and he sailed for home in May of 1778. After the war, he lost his seat in Parliament, but was appointed to the privy council (1782) and named lieutenant general of the ordnance (1782-1804). In 1793, he was promoted to full general and served in defense of Great Britain in the French Revolution. After the death of Richard in 1799, he became the 5th viscount Howe. Toward the end of his life, Howe served as governor of Berwick-upon-Tweed (1795-1808) and Plymouth (1808-1814), where he died on July 12, 1814.

In 1765, Howe married an Anglo-Irish woman, Frances Connelly (1742-1817). They did not have children.

Acquisition Information:

1945. M-510 .

Processing information:

Cataloging funded by the National Endowment for the Humanities (NEH) and the "We the People" project.

Arrangement:

The items are arranged chronologically.

Rules or Conventions:

Finding aid prepared using Describing Archives: A Content Standard (DACS)
Related
Additional Descriptive Data:

Related Materials

The following collections contain letters or documents written by Richard Howe; see the card catalog for dates:

William Petty, 1st Marquis of Lansdowne, 2nd Earl of Shelburne papers

George Sackville Germain papers

The following collections contain letters or documents written by William Howe; see the card catalog in the Reading Room for dates:

William Petty, 1st Marquis of Lansdowne, 2nd Earl of Shelburne papers

George Sackville Germain papers

Schoff Revolutionary War collection

The Clements Library also holds:

William Howe orderly book, 1776-1778

Richard Howe, Signal and Instruction book, ca. 1776

Bibliography

Gruber, Ira D. "Howe, William, fifth Viscount Howe (1729--1814)," Oxford Dictionary of National Biography , Oxford University Press, 2004; online edition.

Knight, Roger. "Howe, Richard, Earl Howe (1726--1799)," Oxford Dictionary of National Biography , Oxford University Press, 2004; online edition.
Subjects
Click on terms below to find any related finding aids on this site.
Subjects:

Formats:

Names:

Places:
Contents
Using These Materials
---
RESTRICTIONS:

The collection is open for research.

USE & PERMISSIONS:

Copyright status is unknown
PREFERRED CITATION:

Richard and William Howe Collection, William L. Clements Library, The University of Michigan