Back to top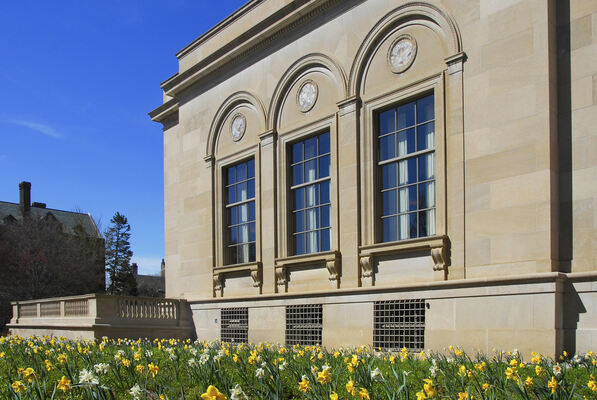 Address

:

909 South University Avenue

Ann Arbor, MI 48109, USA
Edmund P. and Myra C. Gaines collection, 1834-1850
Using These Materials
---
Restrictions:

The collection is open for research.
Summary
Creator:

Abstract:

The Edmund P. and Myra C. Gaines Collection is made up of 23 letters and documents dating between November 10, 1834, and April 5, 1850, and one full-plate daguerreotype portrait of Edmund P. Gaines. The materials present in this collection pertain to mid-19th century United States military politics, the antebellum U.S. frontier, and the activities, perspectives, and public controversies of Edmund Pendleton Gaines and his wife Myra Clark Gaines.

Extent:

24 items

Language:

English

Authors:

Collection processed and finding aid created by Jakob Dopp
Background
Scope and Content:

The Edmund P. and Myra C. Gaines Papers are made up of 23 letters and documents dating between November 10, 1834, and April 5, 1850, and one full-plate daguerreotype portrait of Edmund P. Gaines. The primary recipient of the Gaines' correspondence is Myra C. Gaines's cousin, Colonel John H. "Jesse" McMahon (d. 1869). The manuscripts offer insight into Edmund P. Gaines's opinions and responsibilities while in command of the U.S. Army Western Division, especially with regards to national security, frontier defense policy and the annexation of Texas. Also present are documents concerning the Myra C. Gaines inheritance lawsuits, the Gaines' views on politics, war, Winfield Scott, legal issues and family matters. Edmund Pendleton Gaines wrote, published, and lectured on the subject of frontier defense, a topic directly related to his professional obligations as a career U.S. Army officer. This collection includes several examples of his advices. On December 7, 1841, he offered appointment recommendations to the Secretary of War John C. Spencer. He also suggested that Col. Stephen Kearny, Col. William Davenport, or Gen. Henry Atkinson would be acceptable commissioners to effect "the arrangement" of removing the remaining Sac and Fox Indians from Iowa. A February 21, 1842, letter to Adjutant General Roger Jones elaborates on Gaines's public suggestions for the improvement of defense on the frontiers by adding a particular kind of floating battery and boats, and by paying particular attention to defense at ports in the Gulf of Mexico. Accordingly, Gaines believed that Texas was of vital importance to the naval power and defense of the United States. In a March 28, 1844, letter to a Judge Pascal in Washington D.C., Gaines stated that he had pushed for the annexation of the Republic of Texas from its earliest days, although he was forced to speak and act with cautious impartiality to both Texas and Mexico on account of American neutrality. In a letter to James K. Polk, dated July 4, 1845, Gaines provided enthusiastic remarks on the annexation of Texas. Reflecting on the "Fathers of the Revolution" and quoting from the Star Spangled Banner, he provided his thoughts on the newly acquired land: "We must prove ourselves to be vigilant and ready at every vital point to maintain the ground we have fairly won. Let us no longer be idle, but go to work vigorously until we secure our Sea Ports by means applicable alike to War, and to a prosperous commerce in Peace and in war."

Prior to the annexation, in June of 1845, Maj. Gen. Gaines raised around 1,500 Louisiana volunteers to assist Zachary Taylor in the defense of the western frontier of Texas. The War Department reprimanded the commander for recruiting the men without presidential authorization. The following May, shortly after the outbreak of hostilities with Mexico, Gaines repeated his performance, authorizing the recruitment of almost 12,000 volunteers--again without presidential approval. Gaines was tried at court martial and successfully defended his actions. Apparently unfazed, Gaines wrote to President Polk on March 25, 1847, soliciting orders to raise a division of volunteers for service in Mexico. Gaines intended to send notice to Pittsburg, Cincinnati, Louisville, Memphis, Vicksburg, and New Orleans regarding his recruiting efforts and estimated that he could raise some 20-25,000 "first rate" volunteers. Gaines patriotically referenced the battles of Palo Alto and Resaca de la Palma.

Multiple letters in this collection reveal the bitter nature of Edmund P. Gaines's rivalry with Winfield Scott. Gaines served under Alexander Macomb until the General's death in 1841, at which point both Gaines and Winfield Scott vigorously pursued Macomb's vacancy. President John Tyler attempted to avoid rekindling the Gaines-Scott feud by swiftly promoting Scott to Major General of the U.S. Army. War Department clerk Albert M. Lea's letter of October 11, 1841, informed Gaines of Scott's appointment, praised Gaines's War of 1812 service, and (perhaps provocatively) noted that President Tyler returned one of Gaines's letters without comment. However, as Gaines conducted an inspection tour from Baton Rouge to St. Louis in 1842, he received a series of communications respecting a case brought against him without court martial related to discrepancies in paymaster accounts. In a 19-page letter to Secretary of War John C. Spencer, Gaines defended himself and illustrated how he had been unfairly targeted with inappropriate disciplinary procedures. Gaines was convinced that Winfield Scott was behind what he perceived as an attack on his character and that his old rival had "laboured from the 1st of January 1825 (if not the 15th of August 1814) to the 14th of March 1836 to prove that Major General Gaines was 'a bad or indifferent officer'--as the Brevet Letters and the Starring and Rescue and Sortie letters written by General Scott to the Adjutant General of the Army will testify."(October 10, 1842).

In the summer of 1842, General Scott divided the Eastern and Western Army Divisions into nine smaller units which effectively reduced Gaines's rank and pay from that of (Brevet) Major General to that of Brigadier General. In a letter to Adjutant General Roger Jones, Gaines criticized Scott for breaking up his Division. Gaines's strong feelings on the matter may be summed up by his statement that "Major General Scott's elevation to a larger command than he ever before had cannot lawfully subject me to the degradation of being reduced to a smaller command than I have at any time since the month of August 1814 been honored with" (April 20, 1843). Ultimately, Gaines was able to retain his rank and pay and was serving in command of the Western Division when he died of cholera on June 6, 1849.

The collection includes six letters by Myra C. Gaines. Her correspondence reveals a politically-minded woman with an active interest in her husband's profession, a resilient plaintiff in her inheritance suits, and a troubled mother. In her letter of September 11, 1846, to her "dear cousin" Colonel J. H. McMahon, Gaines provided a summary of the prevailing political climate, believing that her husband had a chance to succeed in the 1848 Presidential election. She remarked that "the whole City have said to me 'I wish the General would be brought forward for the Presidency we give our votes--and if our wives were permitted they would most cheerfully give theirs.'" She remarked that Polk was in poor standing in Tennessee on account of his unfavorable treatment of her husband. On March 13, 1848, she claimed that Henry Clay told her "that if he runs he will insist that I be put upon his ticket for Vice President - but I think I shall decline - having said I was satisfied." A letter dated January 14, 1842, and an undated letter by Edmund P. Gaines provide additional insight into the independent and self-assured nature of Myra Gaines. In the 1842 letter Edmund Gaines expressed support for his wife's address on the horrors of war and referenced the heroic exploits of Sally Ridley Buchanan, while in his undated letter Gaines requested that Col. McMahon forward a letter to Myra. Anticipating that his recipient would wonder why Gaines did not know the whereabouts of his wife, he explained that she had some difficulties with her travel plans, amplified by the theft of her purse "no doubt by a Black chambermaid, who was the only person in the Ladies Cabin on board the Steam Boat."

Items that mention Myra C. Gaines's inheritance case include a letter to Col. McMahon during a visit to New York City in which Gaines mentioned that she believed her "suit against the vile Executors of my late father in laws Estate" will be decided soon and that although the entire affair has been overwhelmingly difficult at times, she possesses a "light heart--resolved to conquer and to put down all opposition" (November 26, 1846), as well as a letter from an unidentified family friend written in response to a report on the case titled A full report of the great Gaines case, in the suit of Myra Gaines vs. Chew, Relf & others, for the recovery of property of the late Daniel Clark, involving several millions, in which the legitimacy of the plaintiff, is investigated, and her romantic and interesting history developed : including the depositions and documents in the case, the speeches of the lawyers (embracing some of the most eminent talent of the bar of Louisiana and Alabama) and the decision of Judge McCaleb, published by Alexander Walker, editor of the New Orleans Delta newspaper. This unknown "family friend" felt obliged to come to the defense of Gaines's mother, who had been cast in an exceedingly negative light by the report, and to refute numerous other unsubstantiated claims made by Walker that were deemed unfairly critical (April 5, 1850).

The Gaineses' only daughter (from Myra's first marriage), Rhoda, was a source of additional tribulation. In her candid letter of September 22, 1848, Gaines blamed "wicked" persons from her own childhood for Rhoda's troubles and remarked that if she hadn't removed Rhoda from New Orleans "it would have been too late to have saved her." Myra determined that Rhoda would be placed in an institution, "a perfect Military Garrison," where she would remain until she is 20 years old. She also made arrangements for Rhoda to attend Madame Conda's academy as a day scholar.

In addition to this finding aid, the Clements Library has created an item-level collection inventory index: Edmund P. and Myra C. Gaines Papers Collection Inventory.

Biographical / Historical:

Edmund Pendleton Gaines was born on March 20, 1777, in Culpepper County, Virginia, to James Gaines (1743-1829) and Elizabeth Strother (1744-1830). Edmund P. Gaines enlisted in the U.S. Army in 1799 and in 1807 became commandant of Fort Stoddert in the Mississippi Territory. While in command of Fort Stoddert, Gaines was responsible for ordering the arrest of former vice president Aaron Burr in Wakefield, Alabama, for treason. Gaines briefly pursued a legal career but returned to the military following the outbreak of the War of 1812 and served in the 24th and 25th U.S. Infantry Regiments, earning successive promotions to lieutenant colonel (July 1812), colonel (March 1813) and brigadier general (March 1814). Gaines was awarded an Act of Congress Gold Medal as well as a brevet promotion to major general for his actions at the Siege of Fort Erie on August 15, 1814.

Following the death of Major General Jacob Jennings Brown in 1828, Gaines and Winfield Scott (1786-1866) were the only two generals technically of sufficient rank to be considered for the vacancy. Gaines and Scott became engaged in a hostile and well-publicized feud over which was the more senior officer, yet President John Quincy Adams ultimately selected Alexander Macomb to succeed Brown instead. Gaines went on to serve as commissioner to the Creek Indians, as commander of multiple military districts, and in command of the Western Military Department during the Black Hawk War and Second Seminole War. Winfield Scott became Major General of the U.S. Army in 1841 following Macomb's death.

Edmund P. Gaines married three times. His first wife, Frances Toumlin (1788-1811), died in child birth. He married Barbara Blount (1792-1836) in 1815 and Myra Clark (1806-1885) in 1839. Gaines died at the age of 72 in New Orleans on June 6, 1849, while still in command of the Western Division.

Myra Gaines (née Clark) was born on June 30, 1804, to wealthy New Orleans-based Irish-American businessman Daniel Clark (1766-1813) and French aristocrat Zulime Carrière (1781-1853). Clark and Carrière may have been secretly wed in 1802 before she was able to legally dissolve her first marriage to Jerome DesGrange, a former business partner of Daniel Clark. By 1806 the Clarks' relationship soured, and rumors persisted that the marriage failed either on account of Carrière's infidelity or Clark's fears that the controversial nature of their engagement would undermine his political aspirations.

Myra Clark was an infant at the time of her parents' separation and was predominantly raised by her father's friend Colonel Samuel B. Davis (1765-1854) and his wife Marion. Although her father occasionally visited and provided some financial assistance, he never publicly claimed paternity before his death in 1813. According to Col. Davis, Myra only learned that Daniel Clark was her real father in 1830 when she came across correspondence between Clark and Davis in which Clark had admitted paternity.

Upon learning that Daniel Clark was her biological father, Myra also found that he had drafted a will in 1811 naming his mother Mary Clark sole heir to his estate and lawyers Richard Relf and Beverley Chew as chief executors of the will. After engaging in discussions with relatives and friends of her father, Myra discovered that Daniel Clark had drafted a second will in 1813 shortly before his death. Daniel Clark's 1813 will purportedly acknowledged Myra as his legitimate child and designated her as the rightful heir to the vast majority of his estate. In 1834, Myra's first husband William Wallace Whitney (1810-1837) initiated a lawsuit on her behalf that contested the 1811 will, which had excluded her. The suit targeted the main executors of the 1811 will, Relf and Chew, alleging that they had deliberately destroyed the 1813 will and had committed fraudulent actions in the management of Daniel Clark's estate. The case was decided in favor of the defendants, who countered swiftly and won a libel suit against Whitney. However, William and Myra did not relent and on June 18, 1834, Whitney brought forth the next in a long series of lawsuits that sought legal recognition of Myra as Daniel Clark's legitimate heir and the requisition of property deeds belonging to the Clark estate.

William Whitney died unexpectedly in New Orleans during an outbreak of yellow fever in 1837, but Myra persevered and continued filing subsequent lawsuits under her own name despite severe financial difficulties and persistent attacks against her reputation. Myra Clark married Edmund P. Gaines in 1839. Clark and Gaines did not have any children together (her two children, Rhoda Jane Whitney and William Wallace Whitney, were both from her first marriage). Following Edmund's death in 1849 she did not remarry. The Louisiana Supreme Court declared Myra the sole heir and legitimate daughter of Daniel Clark in 1867, yet for the remainder of her life she faced significant difficulties securing properties to which she was legally entitled. The City of New Orleans, for example, stood to lose millions of dollars' worth of real estate as a result of the ruling and continued to challenge Myra's claims for nearly two and a half decades. The final ruling in this case was not handed down until six years after Myra Clark Gaines's death in 1891 and resulted in the City of New Orleans being ordered to pay her estate $923,788.

Colonel John H. "Jesse" McMahon (d. 1869), was a cousin of Myra C. Gaines and is the recipient of 11 letters found in this collection. McMahon was a State Department printer, editor of the Memphis Enquirer, and he apparently married the Gaines' cousin Caroline in the early 1840s. McMahon may have been the author of one of the collection's manuscript fragments and may have been the recipient of additional letters and documents.

Acquisition Information:

2015. M-5097, F-1103 .

Arrangement:

The collection is arranged chronologically.

Rules or Conventions:

Finding aid prepared using Describing Archives: A Content Standard (DACS)
Subjects
Click on terms below to find any related finding aids on this site.
Subjects:

Formats:

Names:

Places:
Contents
Using These Materials
---
RESTRICTIONS:

The collection is open for research.

USE & PERMISSIONS:

Copyright status is unknown
PREFERRED CITATION:

Edmund P. and Myra C. Gaines Collection, William L. Clements Library, The University of Michigan