Back to top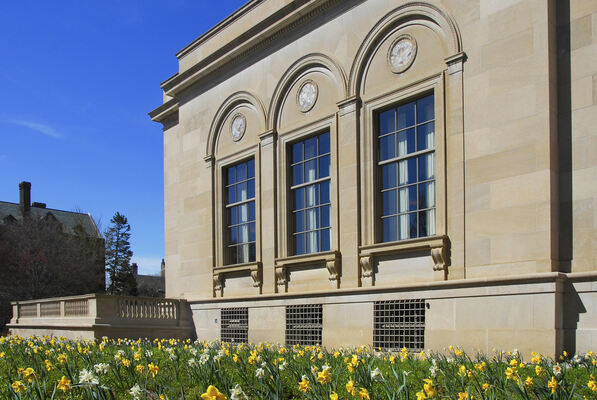 Address

:

909 South University Avenue

Ann Arbor, MI 48109, USA
Beeson family papers, 1765-1956 (majority within 1765-1898)
Using These Materials
---
Restrictions:

The collection is open to research.
Summary
Creator:

Abstract:

The Beeson family papers consist of genealogical notes, travel journals, business documents, and correspondence relating to several generations of the Beeson family, who settled in Uniontown, Pennsylvania, in the 18th century, and later migrated to Michigan and Wisconsin.

Extent:

137 items

Language:

English

Authors:

Collection processed and finding aid created by Terese Austin
Background
Scope and Content:

This collection consists of 137 items, including: 55 items relating to financial matters -- receipts, bank and stock records, subscription lists, etc.; 39 items relating to Beeson family history and genealogy, including handwritten notes, and a 33-page typed transcription; 11 letters written by members of the Beeson and Lukens family (related to the Beeson family by marriage); 2 travel journals; 1 daily diary; 1 oversized journal, containing entries on family history, genealogy, and travel; 6 maps, including one pasted onto the flyleaf of the oversized journal; 9 newspaper clippings; 6 legal documents; 7 miscellaneous items; and one unidentified photograph.

The majority of the financial documents consist of lists of stockholders and subscriptions for the Union Bank of Pennsylvania. One document, a receipt for glassware dated 9 August 1827, is written on the illustrated letterhead of the glass manufacturer Bakewell, Page & Bakewell, of Pittsburgh.

The history and genealogy notes concern the branch of the Beeson family that was instrumental in the founding and settling of Uniontown, Pennsylvania. Two descendants of this branch, Edward Beeson and Jacob Beeson (b. 1807), contribute diaries and journals to the collection.

Jacob Beeson's 1829-1830 travel journal (with occasional notes in shorthand) relates, in brief but lively entries, a journey from Uniontown to New Orleans, to help an uncle in the mercantile business. While traveling by steamer down the Mississippi, Jacob Beeson gives colorful descriptions of his fellow passengers and shipboard events. "We had scarce went 500 yds. when we were rous'd by the cry of 'a man overboard'--drop the Stern Boat, etc. I rais'd my eyes from the book & they were immediately fix'd on the face & arm of a Slave who had pitch'd himself from the Bow of the Boat. He was between the Steamer & her boat when I saw him. By the time he got to where I saw him, he appear'd tired of his sport. He gave a piercing scream & sunk amid the Billows. The Boat was dropped awhile for him but twas to no purpose." (27 March 1829) Jacob describes going to the theater in New Orleans (13 May 1829); the landscape and climate of the area east of New Orleans (8 September 1829); a visit to "Crabtown", at Bayou St. John, where Spaniards subsisted solely by fishing for crabs (23 May 1829); battling a forest fire (14 February 1829); and the inadequacy of his boarding house fare: "For dinner, we have the standby dish of bacon, venison, cornbreads and sour milk served in tea cups, handed round on a waiter that for aught I know to the contrary performed the same service prior to the Revolution. For Supper we have the remains of dinner with the addition of coffee that would be better off than on the table." (16 June 1829) He takes several business trips by boat along the gulf coast. The journal ends with a trip North up the Mississippi in early 1830. A later diary kept by Jacob Beeson in 1873 records the business and personal affairs of a now-settled business and family man living in Detroit Michigan.

Edward Beeson provides much of the family history and genealogy in the collection. His handwritten notes, both loose and in a large bound journal, chronicle Beeson family history and lore, and contain names, dates, and narratives of his direct ancestors, and sketchier details of the wider Beeson clan.

Edward Beeson is also the author of two interesting travelogues. The first is included in the journal he kept in an oversized volume, originally intended for shipping manifests for the shipping agent Monson Lockwood, each page headed with an illustration of ships and a lighthouse. In this journal, Edward recounts a trip he takes from Wisconsin west to Kansas in 1866. He describes the towns he visits on the way, and reflects on the scars left by the Civil War. In Aubry, on the Kansas/Missouri border, his Quaker sense of outrage at the violence perpetrated by both sides is aroused by the abandoned and burnt-out homesteads:

"At this place a cavalry camp was maintained during the greater part of the war. From here the lawless Jayhawkers often started on their thieving raids into Missouri and this was also made a place to be retaliated on by the equally desperate and thievish bushwackers and guerillas of Mo. …Here a voice raised for humanity, honor, mercy, justice or freedom of speech was made the occasion for suspicion, persecution, and defamation, often ending in the murder or robbery of the luckless men who dared to think or speak. These scenes of violence, and the always present danger of life and property, had the effect of almost depopulating the country. The graves of the victims of violence are scattered over the country. The bare chimneys of burned houses loom up on the prairie, monuments of vandalism and violence such as the world has seldom seen. They stand there in the desolate silence pointing upward to heaven -- upward ever -- as if to remind the victims of war who sleep in graves nearby, that mercy and justice alone is to be found above." (9 September 1866, p. 78).

Edward Beeson's second travel journal is an account of a trip to Italy, taken by Edward Beeson and his family in 1877-1878. While his daughter, Abbie Beeson Carrington, takes voice lessons, Edward observes Italian life and customs, largely in and around Milan, and is particularly struck by the overall poverty of the region. Edward reports on the Italian diet, domestic arrangements, attitudes toward religion, and local funeral customs. He is present in Rome for the funeral of King Victor Emmanuel II, and attends celebrations commemorating the 1848 Italian Revolution against Austrian rule.

Five of the maps in the collection are hand-drawn survey maps, likely of Uniontown, Pennsylvania, dated from 1830-1850, with one undated. The sixth map, an undated, hand-drawn map of Uniontown, labeling buildings of significance to the Beeson family, is pasted onto the flyleaf of Edward Beeson's oversized journal.

Biographical / Historical:

Henry Beeson, a Quaker and descendant of English immigrants, settled with his wife Mary in Fayette County, Pennsylvania. The settlement of Beesontown grew up around them, later renamed Uniontown, Pennsylvania. Henry and Mary Beeson had thirteen children, including John Beeson and Jacob Beeson, whose descendants provide much of the material in this collection. John Beeson traveled to Ohio around 1802, and was eventually joined by his father, Henry, sometime around 1812. They made a living by farming, and building and selling mills. John Beeson first married Sarah Schooley on 18 July 1804, with whom he had eight children, including Edward Beeson. After Sarah's death, he married Martha Witter on Nov. 21, 1822; when she died shortly thereafter, he married Elizabeth Carson, with whom he had seven more children.

John Beeson fell on hard times, and sent his children to live with friends and family while he regained his financial footing. His son, Edward, was sent to live on a relative's farm for several years, and after returning home in 1829, was apprenticed to a printer in Beaver, Pennsylvania. Edward, with one of his brothers, eventually purchased the printing office and published the Beaver Republican, a Democratic paper supportive of the administration of General Andrew Jackson. In 1835, Edward traveled to Michigan, Illinois, Ohio, and Wisconsin seeking work, and took temporary employment in newspaper offices in Cincinnati and Detroit, including a brief stint with the Detroit Free Press. He and his brothers also acquired land and built a sawmill near Green Bay, Wisconsin. They sold the mill for a profit, which enabled Edward to buy a farm and settle permanently in Wisconsin. Edward married Susan Emily Bell on September 14, 1839. Among their five children was Abbie Beeson Carrington, an opera singer who toured briefly with the C.D. Hess Opera Company in the 1880s. Edward Beeson bought a stake in the Fond du Lac Journal, eventually becoming editor and publisher. Edward Beeson died in Fond du Lac, Wisconsin, on December 16, 1898.

Another of Henry Beeson's sons, Jacob Beeson, was a prosperous miller and merchant in Uniontown, Pennsylvania. He married Lydia White, and after her death, married Judith Ann Broughton on 30 November 1806. A son, Jacob Beeson, who authored a travel journal and daily diary included in the collection, was born the next year. The travel journal relates a journey taken by Jacob as a young man in 1829, when he traveled by steamer to New Orleans to help an uncle in the dry goods business in Southern Alabama. After several years, he made his way to Niles, Michigan, where he set up his own mercantile business, and married Elizabeth House (b.1829) on 22 August 1848, with whom he had ten children. He served as paymaster in the Black Hawk War, was a member of the Democratic National Committee in 1856, and was appointed receiver of the land office at Detroit in 1857, which necessitated a move to that city. He was a delegate to the Constitutional Convention of 1867, and in 1876 and 1877 was president of the Detroit Board of Trade.

The Lukens family, connected to the Beeson family by marriage, is included in the correspondence of the collection.

Acquisition Information:

1944-2002. M-481, M-759.2, M-1019, M-3390, M-4219.2 .

Arrangement:

The Beeson family papers are arranged in eight series:

Series I: Correspondence
Series II: Diaries and Journals
Series III: Documents
Series IV: Financial Papers
Series V: Maps
Series VI: Genealogical Papers
Series VII: Newspaper Clippings
Series VIII: Miscellaneous

Rules or Conventions:

Finding aid prepared using Describing Archives: A Content Standard (DACS)
Related
Additional Descriptive Data:

Related Materials

Lyon Papers, Clements Library. To Lucius Lyon from Jacob Beeson (1807-1885), 1833 December 11-1845 February 14. 11 ALS; To Lucius Lyon from Jacob Beeson (1807-1885), E. Winslow, and C. K. Green, 1834 April 7.

Michigan Collection, Clements Library. To Jacob Beeson from Henry Rowe Schoolcraft, 1840 November 30.
Subjects
Click on terms below to find any related finding aids on this site.
Subjects:

Formats:

Names:

Places:
Contents
Using These Materials
---
RESTRICTIONS:

The collection is open to research.

USE & PERMISSIONS:

Copyright status is unknown.
PREFERRED CITATION:

Beeson Family Papers, William L. Clements Library, The University of Michigan