Back to top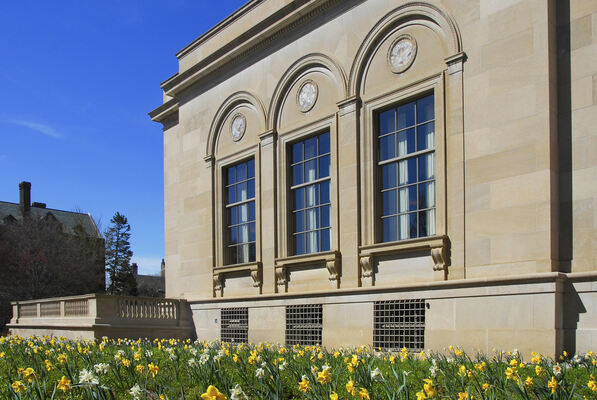 Address

:

909 South University Avenue

Ann Arbor, MI 48109, USA
Huntington family scrapbook, 1763-1893
Using These Materials
---
Restrictions:

The collection is open for research.
Summary
Creator:

Abstract:

This scrapbook contains correspondence, documents, maps, and ephemera related to the family of Jabez Huntington of Norwich, Connecticut, including his sons and other descendants. The items pertain to the American Revolution, education, family history, and life in Connecticut from the 1770s to the 1830s.

Extent:

1 volume

Language:

English

Authors:

Collection processed and finding aid created by Cheney J. Schopieray, September 2006, and Meg Hixon, February 2014
Background
Scope and Content:

This scrapbook (55 pages) contains correspondence, documents, and ephemera related to the family of Jabez Huntington of Norwich, Connecticut, including his sons and other descendants. The earliest item is a poem dedicated to Kitty Fell, written by William Apthorp in 1763, followed by a letter from William Hubbard to Andrew Huntington concerning Thomas Hutchinson's order to surrender Castle William to Colonel Dalrymple (September 13, 1770). During the Revolutionary War, Andrew Huntington received letters from his brothers Jedidiah and Joshua, who discussed escalating tensions in Boston in 1775, the gathering of Continental forces, and the progress of the war; he also received a note from Jonathan Trumbull excusing him from military duty (September 1, 1775). Other items from the late 18th century include love letters and poems to Maria Perit, cards admitting Perit to balls held at Yale College, and letters from "Lucy" at "Bethlehem" (possibly Bethlehem Female Seminary) to her brother.

A small number of items from the early 1800s pertain to the will and estate of Pelatiah Webster, Charles P. Huntington's father-in-law, and an 1802 return for the 20th Connecticut Militia Regiment. In 1814, Samuel Huntington wrote to his son Julian about his other sons' academic progress. In the 1820s and 1830s, Samuel received letters from acquaintances who discussed political issues, and in the late 1830s he wrote to his son William, discussing William's education at Wesleyan University and the possibility of his attending Harvard College. Some letters are addressed to Huntington family women, including letters from Lydia Sigourney to Mrs. Hannah Huntington (likely Andrew's wife); Maria Perit Huntington letters, often regarding literature and poetry; and letters to Ruth L. Huntington. One letter from P. H. Huntington to "Miss Perkins" contains genealogical information about the Webster, Perit, and Leffingwell families (August 13, 1891).

The scrapbook also contains documents, maps, and other materials related to the Huntington family. Visual items include property maps (cataloged separately); a photograph of Ebenezer Huntington's home in Norwich, Connecticut; a card photograph of Benedict Arnold's birthplace; and engravings of Norwich Bridge, women at leisure, and "Cromwell at Ripley Castle." Genealogical notes, poems, instructions for making a doll, and legal documents (many of which relate to property ownership) are also present. Newspaper clippings pertain to the history of the Huntington family, particularly to Jabez Huntington and his sons.

Biographical / Historical:

Jabez Huntington was born in Norwich, Connecticut, on August 2, 1719, the son of Simon and Lydia Huntington. After graduating from Yale College in 1741, he became a merchant, involved primarily with trade in the West Indies. He served in the colonial Connecticut militia and assembly and he was a member of the Connecticut Committee of Safety during the Revolution. Huntington and his first wife, Elizabeth Backus (1721-1745), had two sons, Jedidiah (1743-1818) and Andrew (1745-1824). Following Elizabeth's death, Huntington married Hannah Williams (1726-1807), with whom he had three sons and three daughters, including Joshua (b. 1751), Ebenezer (1754-1834), Hannah (1753-1761), Elizabeth (1757-1834), Mary (1760-1840), and Zachariah (1764-1850). Jabez Huntington died on October 5, 1786.

Jedidiah Huntington was born on August 4, 1743, a son of Jabez Huntington and Elizabeth Backus. After earning a bachelor's degree from Harvard College in 1763 and a master's degree from Yale College in 1770, he went into business with his father. Huntington served in the American Revolution, becoming a brevet major general by the end of the war. He later held public offices in Norwich; in 1789, he became collector of customs at New London, Connecticut. After the death of his first wife, Faith Trumbull (d. 1775), the daughter of Governor Jonathan Trumbull, he married Ann Moore; they had seven children. Jedidiah Huntington died on September 25, 1818.

Andrew Huntington was born in June 1745, a son of Jabez Huntington and Elizabeth Backus. He served as a brigade commissary during the Revolution and later became a merchant and paper manufacturer in Norwich. After the death of his first wife, Lucy Coit (1746-1776), with whom he had Joseph (1768-1837) and Hannah (1770-1818), he married Hannah Phelps (1760-1838) on May 1, 1777. Their children were Lucy (b. 1778-1846) and Charles Phelps (1779-1850). Andrew Huntington died on April 7, 1824. Charles Phelps Huntington and his first wife, Charlotte Lathrop (1781-1805) had one daughter, Abby Lathrop, who died in infancy. Following Charlotte's death, Charles married Maria Perit (1783-1854); their children included John Perit, Charles Webster, Ruth Leffingwell, Samuel Andrews, Benjamin Franklin, James Monroe, and William Henry (1820-1885). Maria Perit was the daughter of John Perit and Ruth Webster and the granddaughter of Pelatiah Webster.

Joshua Huntington was born in 1751, a son of Jabez Huntington and Hannah Williams. He initially went into business with his father, but left to serve in the Continental Army during the Revolution. He married Hannah Huntington (1750-1815) on December 11, 1771.

Ebenezer Huntington was born in Norwich, Connecticut, on December 26, 1754, a son of Jabez Huntington and Hannah Williams. He earned a degree from Yale College in 1775 despite leaving early to join the Continental Army; he served in multiple regiments during the war, eventually becoming a lieutenant colonel. After the war, he returned to Norwich, where he became a businessman. From 1792-1823, he was adjutant general of the Connecticut militia, and in 1799 he was appointed a brigadier general in the United States Army. Huntington served in the United States House of Representatives from 1810-1811 and 1817-1819. He and his first wife, Sarah Isham (d. 1793), married on December 10, 1791, and had one son. Following Sarah's death, he married Lucretia Mary McClellan (d. 1819), with whom he had nine children. Ebenezer Huntington died on June 17, 1834.

Elizabeth Huntington married John Chester (1749-1809) on November 25, 1773. They had eleven children: Elizabeth (b. 1774), Mary (b. 1779), Hannah (b. 1781), Sarah (b. 1783), John (1785-1829), Charlotte (b. 1787), Henry (1790-1791), Julia (b. 1792), Henry (b. 1793), William (b. 1795), and George (b. 1798). Mary Huntington and her husband, Reverend Joseph Strong of Norwich, Connecticut, married in 1778 and had three children: Joseph H. (b. 1781), Mary Huntington (b. 1786), and Henry (b. 1788). Zachariah Huntington, a merchant and military officer, married Hannah Mumford on March 28, 1786.

Acquisition Information:

2002. M-4243.12 .

Processing information:

Cataloging funded by the National Historical Publications and Records Commission (NHPRC). This collection has been processed according to minimal processing procedures and may be revised, expanded, or updated in the future.

Arrangement:

The scrapbook has been disbound and its contents are housed according to original page order.

Rules or Conventions:

Finding aid prepared using Describing Archives: A Content Standard (DACS)
Related
Additional Descriptive Data:

Alternate Locations

The following item is housed in the Map Division: Map of Lands On the Easterly Side of Williams Park And Broadway . [1800s].

Related Materials

The following maps have been catalogued separately:

The Griffin family and Lydia Sigourney papers contain additional materials related to Lydia Sigourney.

The Book Division holds publications related to Jedidiah Huntington:

Huntington, Jedidiah, and Lyman Law. Funeral Eulogy and Oration. New-London: Printed by Samuel Green, 1800.
McEwen, Abel. A Sermon, Preached at the Funeral of Gen. Jedidiah Huntington: of New-London, Who Died September 25, 1818; Aged 75 Years, by Abel McEwen, Pastor of the Congregational Church in New-London. Published at the Request of the Bereaved Family. The Avails of the Publication, Exclusive of the Cost, are Designed for Some Charitable Purpose... New-York: Printed by Daniel Fanshaw, 1819.

The Graphics Division holds two portraits of Jedidiah Huntington:

The Connecticut Historical Society has a collection of Jedidiah Huntington papers.

Bibliography

Dexter, Franklin Bowditch. Biographical Sketches of the Graduates of Yale College with Annals of the College History. [Volume 1.] New York: Henry Holt and Company, 1885.

Huntington, Elijah B. Genealogical Memoir of the Huntington Family in This Country: Embracing All the Known Descendants of Simon and Margaret Huntington, Who Have Retained the Family Name, and the First Generation of the Descendants of Other Names. Samford, Conn.: Published by the Author, 1863.

The Huntington Family in America: A Genealogical Memoir of the Known Descendants of Simon Huntington from 1633 to 1915, Including Those Who Have Retained the Family Name, and Many Bearing Other Surnames. Hartford, Conn.: Huntington Family Association, 1915.

Perkins, Mary E. Old Houses of the Antient Town of Norwich, 1660-1800, with Maps, Illustrations, Portraits, and Genealogies. Norwich, Conn.: 1895.
Subjects
Click on terms below to find any related finding aids on this site.
Subjects:

Formats:

Names:

Places:
Contents
Using These Materials
---
RESTRICTIONS:

The collection is open for research.

USE & PERMISSIONS:

Copyright status is unknown
PREFERRED CITATION:

Huntington Family Scrapbook, William L. Clements Library, The University of Michigan