Back to top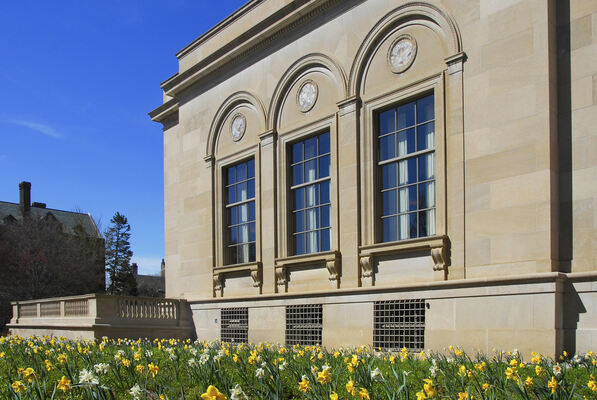 Address

:

909 South University Avenue

Ann Arbor, MI 48109, USA
Vashti Detwiler Garwood collection, 1827-1990 (majority within 1834-1896)
Using These Materials
---
Restrictions:

The collection is open for research.
Summary
Creator:

Abstract:

This collection contains correspondence, diaries, ephemera, photographs, and other material related to Vashti Detwiler Garwood, a schoolteacher and physician in Ohio, Massachusetts, Kansas, and Michigan. The collection documents her experiences teaching school in Ohio and Massachusetts, as well as her coursework at the Boston University School of Medicine. Also included are additional photographs of her family and a published history of the Novy-Garwood families.

Extent:

0.5 linear feet

Language:

English

Authors:

Collection processed and finding aid created by Clements Staff, Richard C. Bates, and Meg Hixon, February 2012
Background
Scope and Content:

This collection (0.5 linear feet) contains correspondence, diaries, ephemera, photographs, and other material related to Vashti Detwiler Garwood. The material documents her experiences teaching school in Ohio and Massachusetts, as well as her coursework at the Boston University School of Medicine. Also included are additional photographs of her family and a published history of the Novy and Garwood families.

The Correspondence series is comprised of 16 personal letters between members of the Cannon family of Pennsylvania and members of the Detwiler and Garwood families. The Cannon siblings wrote and received three letters between 1862 and 1864, sharing recent news such as local deaths. Isaiah Cannon also informed his brother, D. H. Cannon, of his intention to enlist in the Union Army (February 1, 1864).

The remaining 13 letters relate to Vashti Detwiler Garwood, including several from her mother-in-law, Angeline Garwood (1805-1881), who reported family news from Lewisburg, Ohio. Vashti received a letter from Spencer Willard Garwood, her future husband, written while he served in the 132nd Ohio Infantry Regiment during the Civil War; he provided some of his impressions of the South and shared updates about his regiment (July 7, 1864). In one late letter, W. H. Berkey, editor of the Vigilant, responded to her letter concerning conditions within the Cassopolis Jail in Cassopolis, Michigan; the Women's Christian Temperance Union believed Garwood's previously printed letter a fraud, though a clipping attached to the letter respects the Vigilant's verification of her identity (September 19, 1896).

Vashti Detwiler Garwood kept 5 Diaries and Journals between 1858 and 1868, most of which concern her experiences as a schoolteacher in Ohio and Massachusetts, as well as the early years of her married life in Fort Scott, Kansas. She wrote sporadically until the fall of 1864, when she began composing entries more frequently. Some of the journals document overlapping periods of time. Along with her experiences, she often recorded her thoughts and emotions, frequently related to her religious beliefs and her relationships. Her small pocket journal, kept throughout 1860, also contains quotations, algebra problems, and financial accounts. One late, undated entry in the journal, written between January 1, 1859, and December 31, 1864, is a lament composed after her failed attempt to win admission to Mount Holyoke Female Seminary. Her final journal, kept between January 2, 1865, and September 8, 1868, occasionally refers to military developments during the Civil War, and contains a brief allusion to the assassination of Abraham Lincoln (April 15, 1865). The series also holds a typescript of diary entries written between January 16, 1864, and September 27, 1864, made from a diary in the collection.

The Writings are 4 jokes and humorous anecdotes, including 1 referencing Native Americans; 6 poems, often sentimental in nature; a list of quotations and a set of notes; an 8-page lesson on "The Rainbow," composed in a question-and-answer format; and 2 essays on writing compositions, totaling around 3 and a half pages. One of the latter compositions is signed by Vashti Detwiler Garwood.

The first subseries of Documents and Ephemera holds items related to Vashti Detwiler Garwood's studies at the Boston University School of Medicine between 1880 and 1881, including tickets verifying her membership in the class and permission to attend lectures, an order of lectures for 1880-1881, 2 commencement tickets, and several items attesting to her successful completion of individual courses. Other material includes a printed circular addressed to students, which states the faculty's commitment to the fair treatment of women (February 5, 1882); tuition receipts; and an event program, printed in Latin. Other Documents and Ephemera are three manuscript slips attesting to Hiram Garwood's good conduct in school, funeral notices, invitations, and 3 printed, colorful cards presented to Martha and Vashti Detwiler as "reward[s] of merit."

The Recipes series (5 items) contains several recipes, including 2 individual items and a three-page sheet containing many recipes, a fragment from a food-related account, and a bill of fare.

Visual Material (22 items) includes photographic portraits and snapshots of members of the Detwiler and Garwood families, both identified and anonymous; a photograph of President James A. Garfield; a postcard depicting the University of Michigan's 1908 commencement exercises, with Vashti Detwiler Garwood marked; and a colored illustration of a woman. The collection also contains a cased ambrotype portrait of Christian Detwiler and Vashti, his daughter, taken in the fall of 1853, and a bound "Souvenir of Bethlehem, Pennsylvania" containing several views of the town.

Printed Material (22 items) consists of 16 newspaper clippings, most of which contain poetry or recipes; an educational pamphlet entitled The Family Bible Teacher, number 18 in a series; a newsletter from the Greenwich Academy, which mentions an upcoming visit by Henry Wadsworth Longfellow; 1 of Vashti Detwiler Garwood's calling cards; and 2 small cards printed with memory- and friendship-themed mottos.

Also included is a copy of the Novy-Garwood Family Record and Connections, a book published in 1990.

Artifacts include a leather wallet purchased by Christian Detwiler in 1827, a circular wooden box, a paper doll, and several outfits for the doll.

The collection also holds 6 pages of Genealogy notes.

Biographical / Historical:

Vashti Magdalen Detwiler was born in Urbana, Ohio, on February 23, 1842, the daughter of Christian Detwiler (1803-1854) and his wife, Isabella Criley (1809-1901). She taught school in Ohio from 1858 to 1863, and moved to North Adams, Massachusetts, in April 1864, where she lived with her sister and continued to teach. She became engaged to Spencer Willard Garwood (1835-1927) in 1863, and they married on September 20, 1866, despite temporarily breaking off their engagement in 1864. The couple lived in Boston, Massachusetts, before moving to Fort Scott, Kansas, in 1867. They had four children: Grace Olive (1867-1946), Ralph Stillman (1870-1930), Colver Detwiler (1873-1932), and Julia Burlingame (1877-1881). Vashti and her children returned to Boston after she separated from her husband in 1880, and there she attended the Boston University School of Medicine. She received her M.D. in 1883, and formally divorced Garwood in 1884. She then moved to Bethlehem, Pennsylvania, where she began a medical practice, and she continued to practice after moving to Ann Arbor, Michigan, where she died on May 7, 1918.

Acquisition Information:

1999. M-4226 .

Processing information:

Cataloging funded by the National Historical Publications and Records Commission (NHPRC). This collection has been processed according to minimal processing procedures and may be revised, expanded, or updated in the future.

Arrangement:

The collection is arranged in the following series:

Series I: Correspondence
Series II: Diaries and Journals
Series III: Writings
Series IV: Documents and Ephemera

Subseries I: Boston University School of Medicine Documents and Ephemera
Subseries II: Other Documents and Ephemera

Series V: Recipes
Series VI: Visual Material
Series VII: Printed Items
Series VIII: Artifacts
Series IX: Genealogy

Series are arranged chronologically, with undated items placed at the end. Some diaries, ephemera, and printed items are arranged chronologically or by size (for the safety of the materials).

Rules or Conventions:

Finding aid prepared using Describing Archives: A Content Standard (DACS)
Related
Additional Descriptive Data:

Related Materials

Novy, Frederick George, and Marguerite Novy Lambert. Novy-Garwood Family Record And Connections: Bartlett, Bishop, Bruner, Callender, Colver, Criley, Davenport, Detwiler, McGown, And Others. Elverson, PA: Mennonite Family History, 1990.

The following item was once owned by Vashti Detwiler Garwood:

Zeisberger, David, and Abraham Luckenbach. A Collection of Hymns, for the Use of the Delaware Christian Indians, of the Missions of the United Brethren, In North America. Second edition. Bethlehem, Pennsylvania: Printed by J. and W. Held, 1847.

The Bentley Historical Library holds collections of papers related to other members of the Novy-Garwood family.
Subjects
Click on terms below to find any related finding aids on this site.
Subjects:

Formats:

Names:

Places:
Contents
Using These Materials
---
RESTRICTIONS:

The collection is open for research.

USE & PERMISSIONS:

Copyright status is unknown
PREFERRED CITATION:

Vashti Detwiler Garwood Collection, William L. Clements Library, The University of Michigan