Back to top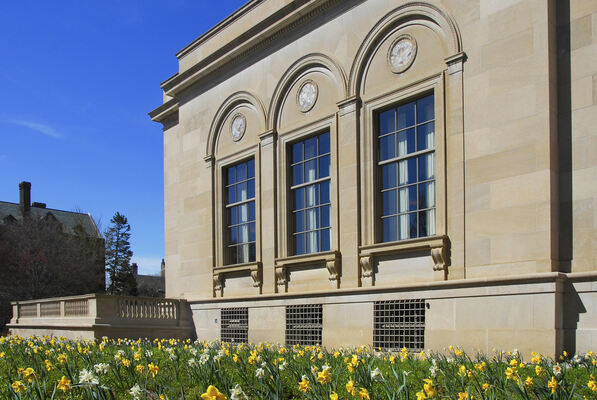 Address

:

909 South University Avenue

Ann Arbor, MI 48109, USA
Cole family papers, 1799-1959 (majority within 1821-1931)
Using These Materials
---
Restrictions:

The collection is open for research.
Summary
Creator:

Abstract:

This collection is made up of correspondence, legal documents, financial records, maps, and ephemera related to the descendants and extended family of Dr. Joseph Cole of Sharon, Connecticut; Auburn, New York; and Albion, New York. Among many represented subjects are the educational and social lives of women in New York during the early 1800s, legal aspects of land ownership and estate administration, and land along Long Pond in Rome, Maine.

Extent:

2.75 linear feet

Language:

English

Authors:

Collection processed and finding aid created by Clements Staff, March 2007, and Meg Hixon, January 2012
Background
Scope and Content:

This collection is made up of correspondence, legal documents, financial records, maps, and ephemera related to the descendants and extended family of Dr. Joseph Cole of Sharon, Connecticut; Auburn, New York; and Albion, New York.

The collection's correspondence includes letters from the children and other descendants of Dr. Joseph Cole of Sharon, Connecticut, and Auburn, New York, between 1817 and 1942. Most of the early letters in the collection are addressed to sisters Laura Altie and Mary Parsons Cole from female friends in New York. Several correspondents, including Mary Ann Kellogg and Chloe Hyde, were students at Troy Female Seminary in Troy, New York, in the 1820s and 1830s. Kellogg provided a detailed description of the school before its main building was constructed (June 24, 1821), and Chloe Hyde later shared information about her coursework and the lives of fellow students. Other acquaintances told the sisters of their religious and social lives in different areas of New York, including Lanesborough, Buffalo, and Albany.

Almeron and Dan Cole received letters from friends, family, and business acquaintances, including their brother-in-law, Hiram Foote Mather. These include 7 letters by Frances M. Elliott, who wrote Dan, her future husband, in 1835 and 1836 about her life in Scottsville, New York, and her anticipation of their upcoming marriage. Letters from the 1840s to mid-1860s are most frequently addressed to the Cole brothers and to their brother-in-law, Hiram Foote Mather, about business affairs. Many regard legal matters in Niles and Grand Rapids, Michigan.

After the mid-1860s, much of the correspondence is composed of personal and business letters between David Hyde Mather, his brother-in-law George McClure Welles, and his brothers Joseph and John Mather, who moved out West in the late 1800s. Mather also received many personal letters from his niece, Harriet Prentiss Welles, during her time as postmistress of Great Bend, Kansas, who discussed her personal finances and loans. The papers also contain some of Daniel H. Cole's business correspondence. Other correspondence from this period includes letters between George McClure Welles and Lewis Hunt about Harriet Prentiss Welles's share of Almeron Cole's estate, and personal correspondence addressed to Mary Jane Cole of Albion, New York. She received letters from many female acquaintances and a series from her cousin, D. Williams Patterson, tracing the genealogy of the Hyde family to the mid-18th century.

A selection of letters from the 20th century relate to Marston Taylor Bogert, Morrison McMath, and Lizette Harrison. Between 1912 and the 1920s, Bogert corresponded with several people in Maine, regarding property along Long Pond near Rome, Maine. Other letters relate to the family of Morrison H. McMath, a lawyer from Rochester, New York. A late series of letters by Elizabeth ("Lizette") P. Harrison of Portland, Oregon, to Ada Howe Kent of California, reflects her financial troubles and emotional state during the early years of the Great Depression.

Legal documents include papers relating to the Newton and North Hempstead Plank Road Company; New York Supreme Court Cases heard between 1848 and 1894; estate administration papers; and financial documents and records. The Cole family papers contain documents concerning taxes paid on land holdings in Rome, Maine, in the early 20th century, including property held by Edward F. Bragg in Belgrade, Maine.

Materials relating to education include six checks from the 1860s made out to Phipps' U. Seminary, a 1906 report card for a student at the United States Naval Academy, and an undated "Report Book" containing two essays. An assortment of ephemeral items and manuscript maps of Marston T. Bogert's property along Long Pond in Rome, Maine, also appear in the collection.

The Cole family papers also contain essays, notes, and poetry. Items of note include an 1850s manuscript response of the County of Orleans, New York, to recent actions of slaveholding states, calling for attendance at a Republican Party convention in Syracuse; a 1925 essay entitled "The Beginnings of Modern Spiritualism in and Near Rochester," by Adelbert Cronised; a lengthy typed travelogue of India; and an essay on the history of the Isthmus of Panama and the Panama Canal.

Biographical / Historical:

Joseph Cole, a physician and son of David Cole and Eleanor Hyde of Sharon, Connecticut, was born on December 3, 1770, and married his cousin, Sarah Hyde (1777-1817), on May 10, 1793. They settled in Auburn, New York, in 1807. Following her death, he moved to Albion, New York, where he died on August 1, 1843. They had five children: Almeron Hyde (1798-1859), Laura Altie (b. 1802), Mary Parsons (1806-1855), Eleanor Hyde (1808-1829), and Dan Hyde (b. 1811).

Almeron Hyde Cole graduated from Union College in 1818 and became a lawyer, settling in Albion, New York. He served as a justice of the peace and was a New York Senator from 1848-1849.

Mary Parsons Cole married Hiram Foote Mather (1796-1868), a graduate of Yale College (1813), on November 26, 1831, after his first marriage (to Sally Ann Hyde) ended with Sally's death in 1824. They lived in Niles, Michigan, after 1844 and, following her death, Mather moved to Chicago, Illinois, and became a successful businessman and chancery lawyer. The two had 8 children: Joseph, Laura Hannah (1842-1865), David Hyde (b. 1837), Ralph, Mary A., Caroline A., John S., and Frances C. David Hyde Mather was born in Elbridge, New York, on October 2, 1837. Following his graduation from Williams College in 1859, he became a lawyer in Chicago, Illinois. Laura married George McClure Welles of Niles, Michigan (b. 1827), on April 8, 1856; their children included Ralph Mather (1857-1861), Harriet Prentiss (b. 1859), and Ellen Webber (1863-1886). Welles served as captain of Company K in the 11th Michigan Cavalry Regiment during the Civil War and became a dry goods merchant in Great Bend, Kansas. Harriet married a man named Bain and later served as the town's postmistress.

Dan Hyde Cole married Frances Maria Elliott of Scottsville, New York (b. 1817) on May 4, 1836, and practiced law with his brother Almeron in Albion, where he served in many public positions, including two terms as a New York Senator (1864-1865 and 1874-1875).

Chloe Hyde (daughter of David Hyde, brother of Sarah Hyde Cole, and Olive Campbell) was born in Auburn, New York, on August 20, 1816, and lived with her aunt, Laura Hyde Kellogg, in Skaneateles, New York. She later moved to New York City, where she died on May 21, 1850.

Ralph Mather Cole was born in Albion, New York, on April 30, 1882, and received a BA from Williams College in 1905. Following his graduation, he moved to New York City, where he worked for the American Telephone and Telegraph Company before moving to Rochester, New York. On December 2, 1914, he married Elsie Morrison McMath. He died in 1964.

Acquisition Information:

2001. M-4164.2 .

Processing information:

Cataloging funded by the National Historical Publications and Records Commission (NHPRC). This collection has been processed according to minimal processing procedures and may be revised, expanded, or updated in the future.

Arrangement:

The collection is in a temporary arrangement.

Rules or Conventions:

Finding aid prepared using Describing Archives: A Content Standard (DACS)
Related
Additional Descriptive Data:

Bibliography

Binney, C. J. F. The History and Genealogy of the Prentice, or Prentiss Family, in New England, etc., from 1631 to 1883. Second Edition. Boston: 1883.

Howe, Herbert Barber. Decennial Record of the Class of 1905, Williams College. Watertown, Connecticut: 1915.

Parsons. E. B. Williams College. Four Years in College and Twenty-Five Years Out of College. Syracuse, New York: Smith & Bruce, 1884.

Phoenix, S. Whitney. The Whitney Family of Connecticut, and Its Affiliations: Being an Attempt to Trace the Descendants, as Well in the Female as the Male Lines, of Henry Whitney, from 1649 to 1878. Vol. 1. New York: [Bradstreet Press], 1878.
Subjects
Click on terms below to find any related finding aids on this site.
Subjects:

Formats:

Names:

Places:
Contents
Using These Materials
---
RESTRICTIONS:

The collection is open for research.

USE & PERMISSIONS:

Copyright status is unknown
PREFERRED CITATION:

Cole Family Papers, William L. Clements Library, The University of Michigan