Back to top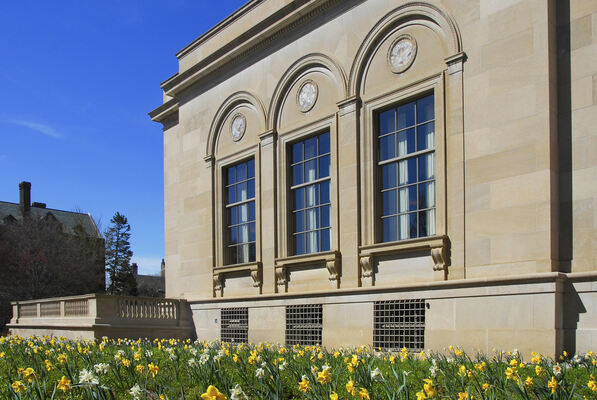 Address

:

909 South University Avenue

Ann Arbor, MI 48109, USA
Stinchfield family papers, 1837-1999
Using These Materials
---
Restrictions:

The collection is open for research.
Summary
Creator:

Abstract:

The Stinchfield family papers contain the correspondence, business records, financial and legal documents, photographs, and genealogical papers of the Stinchfield family, founders of a successful lumber business in Michigan in the mid-19th century. The collection also includes materials related to social and family events in Grosse Pointe and Bloomfield Hills, Michigan, through the mid-20th century.

Extent:

6.25 linear feet

Language:

English

Authors:

Collection processed and finding aid created by Terese Austin, 2011
Background
Scope and Content:

The Stinchfield family papers consist of the correspondence, business records, financial and legal documents, photographs, and genealogical papers of Jacob W. Stinchfield, his wife Maria Hammond Stinchfield, and their descendants. The collection's correspondence and documents are organized by generation, reflecting their original order. The earliest items in the collection (Generation I series) include real estate transactions involving Jacob Stinchfield of Lincoln, Maine, dating from 1837. Beginning in the 1860s, after the family's move to Michigan, the records include correspondence, accounts, and other financial records relating to the lumber business, begun by Jacob and continued by his son Charles Stinchfield. The materials provide information respecting the management of men in lumber camps, logging in winter weather conditions, methods of transportation, the challenges of rafting logs downriver, and other lumber business operations in volatile market conditions. Jacob and Charles Stinchfield's partner, and frequent correspondent, was David Whitney, Jr., a wealthy Detroit businessman.

The Stinchfields expanded their company to include railroads (to facilitate their logging operations) and mineral mines. Many documents in the Generation II series, including manuscript and printed maps, concern land development in Michigan, where the family owned a farm in Bloomfield Hills, and in the West, especially Wyoming. The family traveled extensively and corresponded about their experiences in Europe, Asia, and the western United States. The Civil War is represented with small but significant holdings -- among them, a September 21, 1864, note written and signed by President Abraham Lincoln, requesting a fair hearing for a furlough (probably for George Stinchfield), and a February 14, 1863, letter from Vice President Hannibal Hamlin to Jacob W. Stinchfield, assuring him that George McClellan would not be ordered back to the command of the army.

The collection's twentieth-century materials (Generation III and Generation IV series) consist largely of the personal correspondence of Jacob Stinchfield's grandchildren and great-grandchildren. The life of Charles Stinchfield, Jr., is well documented, from his schooling at St. John's Military Institute in Manlius, N.Y., and a brief time at Cornell University, through his roles in the family business, his marriage, and the raising of his three children. Interactions between Charles Stinchfield, Jr., and his father, Charles Stinchfield, a demanding and energetic businessman, are also well represented in the collection. The materials reveal relationships between family members and their servants, and spiritualists' attempts to contact Charles Stinchfield III, who died of appendicitis in 1933 at the age of 15. Later papers provide descriptions of the social life of a wealthy family in the early and mid-20th century, at their residence in Grosse Pointe, Michigan, and at their country home in Bloomfield Hills, Michigan.

The Genealogy series, compiled largely by Diane Stinchfield Klingenstein, contains extensive background research on family members, copies of Ira and George Stinchfield's Civil War records, transcriptions of letters written by Charles Stinchfield on a journey west in 1871 (not otherwise represented in the collection), and a typewritten draft of Diane Klingenstein's family history, "One bough from a branch of the tree: a Stinchfield variation."

In addition to materials organized by generation, the collection includes photographs, scrapbooks, pastels, realia, and books. Many of the photographs are individual and group portraits (both studio and candid) from the 19th and early 20th centuries. The images include many exterior views of the land and buildings of the family's country home in Bloomfield Hills, Michigan (Stonycroft Farm, ca. 1910), and of the Stinchfield residence in Grosse Pointe, Michigan (ca. 1940s). Early 20th-century lumber camps and railroads in Oregon and mining camps in Nevada are represented in photographs and photograph albums. The collection contains photos from trips to Japan (ca. 1907), the American West, and Europe. The collection's scrapbooks include newspaper clippings, invitations, and photographs, mainly concerning the life of Diane Klingenstein in Grosse Pointe, Michigan, during the 1930s and 1940s.

The Stinchfield family papers contain three pastel portraits of unknown subjects. The Realia series includes a bone ring likely made by George Stinchfield when he was a prisoner on Belle Isle, Virginia; a ring bearing Ira Stinchfield's name and regiment, in case he died during the Civil War; hospital identification and five baby pins for Diane W. Stinchfield (1925); a variety of additional Stinchfield family jewelry; and several wooden, crotched rafting pins, apparently from Saginaw, Michigan.

The Books series includes a copy of The Pictorial Bible, given to Charles and Mary from Father Fish, June 12, 1879, and a selection of 9 additional publications, which are cataloged individually. A comprehensive list of these books may be found by searching the University's online catalog for "Klingenstein."

Biographical / Historical:

Jacob Stinchfield was born in Phillips, Maine, in 1805 or 1806. He married Maria Hersey Hammond (1818-1917) in 1837 and they had four children: Ira, George, Charles, and Mary. Jacob became an established landowner, lumberman, and town official after settling in Lincoln, Maine. When his family moved to Michigan in 1864, Jacob Stinchfield continued in the lumber business, buying and selling timberlands in the vicinities of Midland and Saginaw, and adjacent to the Tobacco, Tittabawassee, and Grand rivers.

Two of Jacob's children, Ira (1838-1868) and George Stinchfield (1840-1877), served in the Civil War. Ira enlisted in the 7th Maine Volunteer Regiment, Company C, in August, 1861. While taking part in the Peninsular Campaign in Virginia, he contracted chronic diarrhea and transferred to the 9th Regiment of Veterans Reserve Corps. He received his discharge August 20, 1864. Plagued with continued ill health, Ira was under a doctor's care from 1866 until 1868. He married Abba S. Wolton of Enfield, Maine, shortly before his death in 1868.

George Stinchfield enlisted in the 1st Maine Cavalry, Company E, in 1862. He was a prisoner of war in the Belle Isle prison camp near Richmond, Virginia, from May until September 1862. He was hospitalized following his release, and eventually received his discharge from the army in November 1863. He worked as a clerk in the adjutant-general's office from 1864 to 1867. George then traveled west in an attempt to improve his health; his lung complaints had been exacerbated by his time in prison. He tried many occupations: working a lathe, starting a grocery store, and staking gold claims (with little success). While on a trip to Michigan, he married Sarah Olmstead in Lansing. George Stinchfield died of tuberculosis in Boulder, Colorado, in June 1877.

Mary Stinchfield (1849-1884) married Willis Cole and had two children: Charles and Willis, Jr. Mary's brother, Charles, helped raise the children after Willis Cole abandoned his family and after Mary's death (several years after Cole's departure).

Jacob Stinchfield died in 1873 and Charles Stinchfield (1847-1918) took over his father's lumber business. He continued an existing partnership with David Whitney, Jr., and expanded into railroads and mineral mines. Charles Stinchfield married three times (Mary Fish; Minnie Belle Thayer; Anne Tillson) and had three children: Louise Stinchfield Van Dyke (b. 1880), Charles Stinchfield, Jr. (1882-1957), and Marian Stinchfield Hopkins (b. 1885). The collection includes materials from the families of all three of Charles Stinchfield's children, but the bulk relates to Charles Whitney Stinchfield, Jr. He tried his hand at several aspects of his father's business, including a stint with David Whitney's logging company in Oregon, before settling down to manage the family concerns in Detroit and raise a family in Grosse Pointe.

Charles Stinchfield, Jr., married Emily Wickersham in 1916, and they had three children: Charles Stinchfield III (1918-1933), Robert Stinchfield (b. 1919) and Diane Stinchfield Klingenstein (b. 1925).

Annie Tillson Stinchfield gave the University of Michigan a gift of $10,000 for the purchase of 320 acres of land in 1925, as a memorial to Charles and Jacob W. Stinchfield, her husband and father-in-law, respectively. The University subsequently expanded Stinchfield Woods to 770 acres. The land is a field research area for the demonstration of forest management and sustainable ecosystem management, and is a legacy of the Stinchfield family's role in the history of Michigan.

Acquisition Information:

2000-2010. M-4143, M-4224, M-4372, M-4697, M-4740, M-4788 .

Processing information:

Cataloging funded by the National Endowment for the Humanities (NEH) and the "We the People" project.

Arrangement:

The Stinchfield Family papers are currently organized into ten series:

Generation I (Jacob Sinchfield family papers, 0.25 lin. ft.)
Generation II (Charles Stinchfield family papers, 2 lin. ft.)
Generation III (Charles Stinchfield, Jr., papers, 2 lin. ft.)
Generation IV (Diane Stinchfield Klingenstein family papers, 0.5 lin. ft.)
Genealogy (1.5 lin. ft.)
Photographs
Scrapbooks
Pastels
Realia
Books

The current organization reflects the collection's original organization.

Rules or Conventions:

Finding aid prepared using Describing Archives: A Content Standard (DACS)
Related
Additional Descriptive Data:

Alternate Locations

Located in the Clements Library Graphics Division:

3 pastel portraits (Pr. B Original Art)
A portion of the photographs and photograph albums (original photograph boxes 5-9).

Additional books donated to the Clements Library by the Klingensteins may be found by searching the University's online catalog for "Diane Klingenstein."
Contents
Using These Materials
---
RESTRICTIONS:

The collection is open for research.

USE & PERMISSIONS:

Copyright status is unknown
PREFERRED CITATION:

Stinchfield Family Papers, William L. Clements Library, The University of Michigan