Back to top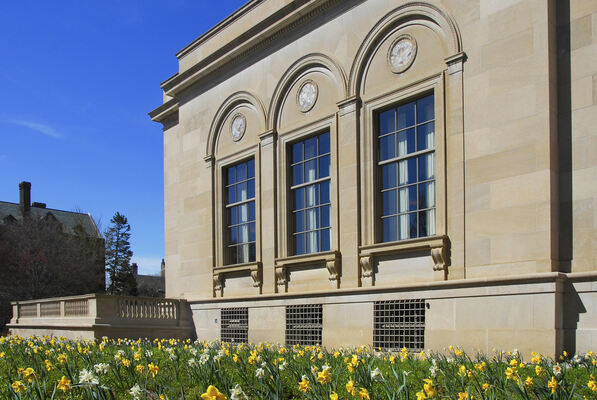 Address

:

909 South University Avenue

Ann Arbor, MI 48109, USA
Busbey papers, 1838-1928 (majority within 1848-1903)
Using These Materials
---
Restrictions:

The collection is open for research.
Summary
Creator:

Abstract:

The Busbey papers contain the personal and professional correspondence of William H. Busbey and many of his family members. Of note are letters to and from William and his brother during the Civil War; letters between William and his wife Mary after the war; and a letter from Ann Busbey, William's mother, which documents her 1894 trip west from Chicago, with vivid descriptions of the scenery in Kansas, Colorado, New Mexico, Arizona, and California.

Extent:

4.5 linear feet

Language:

English

Authors:

Collection processed and finding aid created by Philip Heslip, September 2009
Background
Scope and Content:

The Busbey papers collect the personal and professional correspondence of William H. Busbey and several generations of his family. Included are 1,259 letters, 6 documents and receipts, 117 writings, 9 photographs, 134 newspaper clippings, and additional printed materials.

The earliest item in the Correspondence series is a letter from William's grandfather, Hamilton Busbey in Coles Country, Illinois, to his son Thomas (November 9, 1839). Included in the early letters are 33 items of schoolwork from the Busbey children in the late 1840-1850s, such as several essays, notes, and small decorated name tags. The collection also contains letters to and from William and his brother Hamilton during their service in the Civil War. The letters describe events at war, including the Battle at Stone River and watching gun boats patrolling the Tennessee River, as well as the brother's health and daily activities. Letters from Ohio report on deaths in the family back home and how the town and family are coping with the war. In one particularly poignant letter from a member of the Botkin's family, the author reports on local boys who have died and been discharged from the war, then writes:

"I have seen the tears trickle down the cheeks of old and young, while conversing on the subject of this unholy war. Secession, was their pet idol and it has ruined thousands, utterly bankrupt those who were wealthy, happy, and prosperous under the old flag. The new, has brought them nothing, but poverty and wretchedness -- well yes, I might say, it has brought swarms of Yankees, to bask in the salubrious rays of the glorious sun far down in the land of cotton..."

Approximately 70 letters were written by Mary (Molly) Busbey and William to each other, most of them in the months prior to their wedding in 1868. They wrote extensively about love and the health and welfare of their friends and family. Before their wedding, several letters were exchanged between Mary's parents and William, regarding William's request for permission to marry their daughter. William's work as managing editor of the Inter Ocean is documented through letters to the editor and inter-office communication.

The Busbey family papers also collect letters to Mary from her family and friends, letters to their daughters Grace and Mabel, and letters to William from both his parents. Of note are three letters (23 pages) from Ann Busbey, William's mother, which document her 1894 trip west from Chicago, with vivid descriptions of the scenery in Kansas, Colorado, New Mexico, Arizona, and California. Mary's mother, sisters, and friends wrote about 70 letters to Mary, with news about the family's health and economic well-being.

The Documents and Receipts series contains 5 business receipts and a document related to estate of Ezra P. Jones of Ohio.

The Photographs series is composed of 8 photographs of various members of the Busbey family.

The Writings series is comprised of copies of William Busbey's published works and rough drafts of articles, stories, and speeches from his career in the newspaper business. Topics include the newspaper business, the press and the Cuban question (1898), the Monroe Doctrine (1905), family and genealogy, and a biographical sketch of William H. Busbey.

The Printed Material series is composed of miscellaneous printed items such as poems, advertisements, invitations, programs, and other items. Of note is a list of members of the 1st Kentucky Infantry, Company C (of which Busbey was a Sergeant), and a fairwell card to Elwyn A. Barron of the Inter Ocean signed by other 23 employees.

The Newspaper Clippings series consists of 134 newspaper clippings, including several copies of the Inter Ocean's tribute to William's personal and professional achievements after his death. Miscellaneous items, such as ribbons, children's cards, and empty envelopes, conclude the collection.

Biographical / Historical:

William Hamilton Busbey (1839-1906) was one of nine children born to Thomas C. Busbey and Anna Botkin of Ohio. William joined the Union Army in April 1861 and was a captain with Company C of the 1st Kentucky Infantry until June 1864. In 1867, he served as private secretary to Ohio Governor Jacob Dolson Cox, and by 1868 had also served as secretary to Governor Rutherford B. Hayes. After these appointments, Busbey was as a successful newspaper editor, first for the Ohio State Journal in Columbus, Ohio, then for the Toledo Blade, then the Chicago Tribune, and finally the Inter Ocean in Chicago.

In 1868, William married Mary M. ("Mollie") Harvey. Mary was one of several children of Sarah B. and John S. Harvey, of Oak Grove and Central City, Illinois. Among her siblings were George, Jennie P., and Phebe. After marriage, William and Mary lived in Columbus, Ohio, until 1875, when they moved to Chicago, Illinois. Mary and William had two daughters, Winifred Grace ("Gracie") and Mabel Harvey.

Acquisition Information:

1998, 2013, 2016. M-3447, M-5001, M-6035 .

Processing information:

Cataloging funded by the National Endowment for the Humanities (NEH) and the "We the People" project.

Arrangement:

This collection is organized into seven series:

Series I: Correspondence
Series II: Documents and Receipts
Series III: Photographs
Series IV: Writings
Series V: Printed Material
Series VI: Newspaper Clippings
Series VII: Miscellaneous.

Each series is ordered chronologically.

Rules or Conventions:

Finding aid prepared using Describing Archives: A Content Standard (DACS)
Related
Additional Descriptive Data:

Related Materials

Duke University Library holds a small collection of William H. Busbey's Civil War-era letters.
Subjects
Click on terms below to find any related finding aids on this site.
Subjects:

Formats:

Names:

Places:
Contents
Using These Materials
---
RESTRICTIONS:

The collection is open for research.

USE & PERMISSIONS:

Copyright status is unknown
PREFERRED CITATION:

Busbey Papers, William L. Clements Library, The University of Michigan