Back to top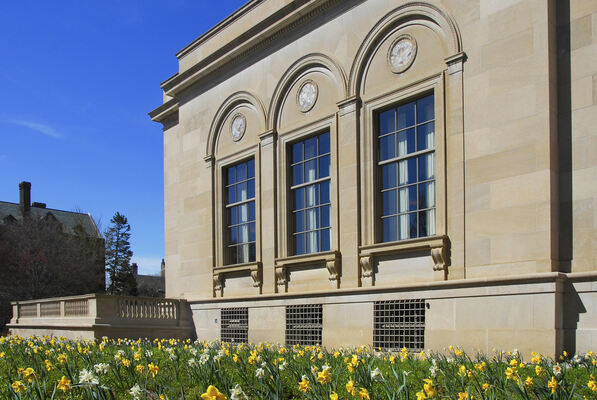 Address

:

909 South University Avenue

Ann Arbor, MI 48109, USA
Helen M. Noye Hoyt papers, 1863-1925 (majority within 1863-1864)
Using These Materials
---
Restrictions:

The collection is open for research.
Summary
Creator:

Abstract:

This collection consists mainly of letters that Helen Hoyt wrote to her family and friends in Buffalo, New York, while working as a nurse in the Naval Academy Hospital during the Civil War. Her letters are about the suffering and death of the soldiers, her job, and her religious sentiments.

Extent:

70 items

Language:

English

Sponsor:

James S. Schoff Civil War Collection

Authors:

Collection processed and finding aid created by Catalina Oyler, 2004
Background
Scope and Content:

Of the 70 items in this collection, 57 are letters Helen Noye wrote during her 11 months as a volunteer nurse at the Naval Academy Hospital. Most of these letters are addressed to her entire family or her parents. Eleven are addressed to her siblings and one to her aunt. She also sent four letters to a ladies church group in Buffalo.

The letters from Helen are about a variety of subjects concerning her work and life as a volunteer nurse. She wrote about distributing food to the wounded soldiers, writing letters for them and finding ways to amuse them, such as organizing hymn singing. Her deep religious sentiments led her to read sermons and the Bible to her patients and she often wrote about Christian soldiers and the conversations she had about religion. She also wrote about the suffering of the wounded soldiers whom she tended, including a number of amputees. Occasionally she wrote the details of a soldier's death, often reflecting on his religious sprit just before he died.

Helen also wrote about the world around her, including descriptions of the quarters she lived in and the layout of the camp. She wrote about the places she visited including a trip to the capitol, nearby Camp Parole, College--Green--Barracks, and a visit to a Russian ship sent to fight for the Union. Helen also mentioned her clothing in the letters as she was often requesting items from home.

Descriptions of food show up in many of Helen's letters, some contain recipes. She sent notes to her church society about how the food they sent was appreciated and what they should send more of. After being put in charge of food for her section in March, her letters are filled with descriptions of what she made and served the soldiers, comments on full and half diet, and problems that arose in the kitchen.

Helen also made general comments on African--Americans she encountered while at the hospital, noting that there was a separate building for black soldiers and the different levels of education they have. Helen also wrote about former slave women and children who followed the Union Army.

In one letter sent to her church group, Helen included a thank you note written by an anonymous soldier.

Two later letters are also with the collection; one letter dated 3/18/1872 is to Helen from her father, the other dated 8/15/1875 is to Helen from her husband Birney Hoyt describing iron processing at Elk Rapids, Michigan.

Four photographs in the collection are pictures of the hospital supplies tent, with Dr. Vanderkeift, Chaplain Sloane, and Helen in front of it; a row of tents with a number of solider and women standing in front of them; and portraits of Dr. Vanderkeift and his wife taken in 1864.

There is a three page "sketch" by Helen about her experience as an army nurse summarizing her time there and mentioning a few specific events. There is also a receipt and an envelope both from 1925 on the back of which Helen jotted down notes about her time at the Naval Academy Hospital.

Miscellaneous items include two permission slips given to Helen while she was at the Hospital. One is from 5/6/1864 and is for "Helen M. Noye and party to go across the Severn river in a small boat." The other is a travel pass from 7/6/1864, verifying Helen's loyalty. One short newspaper clipping that was written by a former patient of the Annapolis General Hospital on how well he was treated there. And a detailed lithograph of the "U.S. General Hospital Div. No.1"

Biographical / Historical:

Helen or Nellie M. Noye was born around 1844 in Buffalo, New York. Her father John T. Noye was a wealthy manufacturer of mill machinery. Helen had two brothers Hadie and Richard K., and a sister Lizzie. In August of 1863 Helen journeyed to Annapolis, Maryland, to spend one year as a volunteer nurse in the U.S. General Hospital Division No. 1, also called the Naval Academy Hospital. The hospital had opened in 1857 and remained open through out the Civil War, even though the Naval Academy itself had been removed to Newport, Rhode Island.

Helen was the youngest of 15 nurses at the hospital, so young that when Dorothea Dix, chief of the army nurses, visited the camp, Helen was "spirited away" in fear that she would be ordered to leave because of her age. Helen worked under the supervision of nurse Sister Tyler, and the surgeon in charge Dr. B. A. Vanderkeift. She roomed and worked with Maria or Hallie Hall, who was 27 and, of all the nurses, closest in age to Helen. Helen and Miss Hall became "best and life long friends," both of them being very religious and more critical of the other nurses for their exaggerations and drama.

Helen's work was mainly to tend to the wounded soldiers. She distributed food to the soldiers, wrote letters they dictated, and she wrote letters to the soldiers' families after their deaths. Her deep religious sentiments lead her to read sermons to the soldiers, comfort them spiritually, and in some cases convert them. When she started working most of her patients were paroled prisoners from Richmond, Va. Later patients came from those wounded at the battles around Petersburg, and eventually only officers were assigned to the hospital. Helen showed kindness to all the soldiers who came through the hospital, including black soldiers who were housed in their own building, and a young Confederate soldier, who died at the hospital.

In early March of 1864, while Miss Hall was away, Helen was given extra duties and placed in charge of section five. In addition to tending more soldiers she was in charge of arranging their meals. Helen very much enjoyed preparing the soldiers' food, even if she did feel "how hard a lady's position as supervisor is."

In July 1864, due to the proximity of the Confederate Army, Helen and the other nurses were ordered to leave the hospital. After departing the hospital, the train on which Helen was riding was captured by the Confederate Army just north of Baltimore. Helen and the other passengers were helped off the train and left with their baggage and a handcar. The next day the abandoned passengers were picked up by a steamer and Helen returned to Buffalo to care for her ailing mother. Helen never returned to the hospital and the work to which she was "heart and soul devoted."

In 1867 Helen married Birney Hoyt, a lawyer from Michigan who became a circuit court judge from 1871--1881, and moved to Grand Rapids, Michigan.

Acquisition Information:

1998. M-3440 .

Rules or Conventions:

Finding aid prepared using Describing Archives: A Content Standard (DACS)
Related
Additional Descriptive Data:

Related Materials

For other collections of Civil War nurses at the William Clements Library see: Cornelia Hancock and Elizabeth Comstock papers.
Contents
Using These Materials
---
RESTRICTIONS:

The collection is open for research.

USE & PERMISSIONS:

Copyright status is unknown.
PREFERRED CITATION:

Helen M. Noye Hoyt Papers, James S. Schoff Civil War Collection, William Clements Library, The University of Michigan