Back to top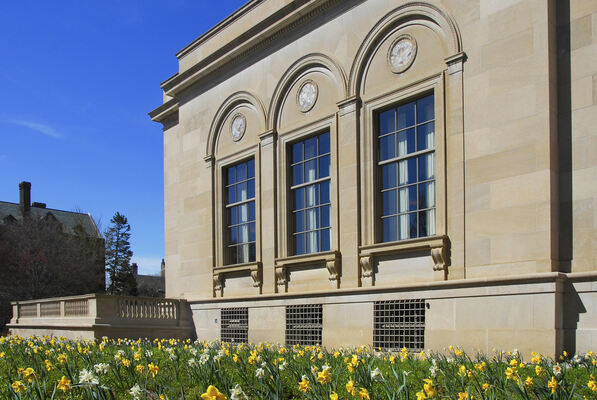 Address

:

909 South University Avenue

Ann Arbor, MI 48109, USA
George Clinton papers, 1697-1760 (majority within 1745-1753)
Using These Materials
---
Restrictions:

The collection is open for research.
Summary
Creator:

Abstract:

This collection contains the letters, documents, and accounts of George Clinton, colonial governor of New York. The bulk of the collection is comprised of drafts of Clinton's letters, incoming official letters, Clinton's letter book for 1752-1753, military memoranda, documents related to Indian affairs, and personal, government, and military accounts during King George's War.

Extent:

2.5 linear feet

Language:

English

Authors:

Collection processed and finding aid created by Philip Heslip, April 2011
Background
Scope and Content:

The George Clinton papers (985 items) contain the letters, documents, and accounts of George Clinton, colonial governor of New York. The bulk of the collection documents the years 1744 through 1753, and is comprised of drafts of Clinton's letters and speeches, incoming letters, Clinton's letter book for 1752-1753, military memoranda, and personal, public, and military accounts. The collection is rich in correspondence concerning Indian relations and the political history of New York, along with records concerning Clinton's troubled personal finances.

The Correspondence and Documents series (699 items) consists Clinton's outgoing letters and speeches, as well as incoming letters, military and government reports, instructions from Whitehall, intelligence on French and Indian activities, memoranda, legal papers, and court documents. Included are 191 items written by Clinton, of which many are draft dispatches that contain material omitted in the official copies sent to London. The papers largely concern New York politics, including political sparring with James DeLancey and the Assembly, as well as military activities and affairs with Native Americans. Clinton maintained correspondence with Massachusetts Bay Lieutenant Governor Spencer Phips concerning frontier conflicts with Indians, communicated with General Peter Warren concerning the siege at Louisbourg, and discussed allying with the Six Nation Indians against the French during King George's War with George Thomas and Sir William Johnson.

Notable items include:

July 2, 1741: George II to Benning Wentworth detailing the boundaries of New Hampshire, certified by Theo. Atkinson
June 25, 1742: George II to Clinton discussing a conspiracy and attack on Fort George by "Blacks and Others" during which buildings and stores were burnt, an incident that resulted in 30 executions
June 1744: Michael Houden to Clinton concerning "Observations…touching the method of succeeding in the intended expedition agt. Canada"
[1744]: John Lydius' account describing the state of the French military at Crown Point
August 19, 1745: Spencer Phips to Clinton requesting a quota of troops in aid of Massachusetts troops on the frontier near Fort George, in case of a war with the Indians
September 12, 1745: George Thomas of the Philadelphia Assembly to Clinton supporting a treaty with the Six Nation Indians at Albany
September 14, 1745: Peter Warren to Clinton listing the French ships bound for Louisbourg
April 9, 1746: Newcastle to Clinton instructing the raising of a body of regular troops from New York for a land expedition against Montreal
June 1746: James Livingston's account of French defense on the St. Lawrence River near Quebec
July 19, 1746: Stephen Bayard to Clinton concerning British and Dutch prize ships and a demand for the return of "the free Negros which Capt. Denas took and sold at Rhode Island"
September 11, 1746: Intelligence on the French fleet from a French sailor cast away
January 22, 1747: Clinton's reasons against attacking Crown Point
April 22, 1747: Clinton to Knowles giving an account of his and his family's attendance at a country dance where they were treated rudely
October 20, 1747: John Roberts to Clinton concerning an Indian spy pretending to be a Seneca
October 25, 1747: Sir Charles Knowles to Clinton discussing his views on trading with the enemy during a time of war
November 1747: Massachusetts General Court's amendments to the agreement of September 8, 1747, between Massachusetts, New York, and Connecticut, concerning their mutual defense and security
October 6, 1748: "The information of Thomas Williams who went with the Flag of Truce to Canada," which included intelligence from a black prisoner captured by the French, information on French-Indian relations on the Mississippi River, and the difference in prices of beaver pelts purchased by British and French traders
October 28-November 10, 1748: Benjamin Stoddert journal containing descriptions of Crown Point, Montreal, and Québec
September 24, 1749: Clinton to Newcastle describing the "State of the present disloyal Situation of Affairs in New York…" and concerning conflicts between the governorship and assembly
October 3, 1750: Spencer Phips to Clinton concerning the French instigating the Indians to attack British settlers on the eastern frontier of Massachusetts
May 18-30, 1751: George Croghan's journal of his trip to Ohio, in which he reported that the French were keeping the Indian women and children naked and not letting the tribes trade with the British
[July 2, 1751]: List of condolence gifts for the loss of Onondaga Indians who died in Canada, and notes on Indian rituals of condolence as said by Mohawk chief Hendrick
July 1751: Clinton's "Reasons for the Suspending of James Delancey Esqr from the Execution of the office of Lieutenant Governour…"
January 25, 1753: Lewis Morris to Clinton concerning purchasing a slave in New York
April 20, 1753: Sir William Johnson to Clinton concerning the mobilization of military forces by the French and Indians
August 20, 1753: Bill of exchange of two Negro women from Anne Clinton to Elizabeth Williams
August 4-14, 1757: Copies of 10 letters concerning the French and Indian capture of Fort William Henry, describing the murder and scalping of women, children, "Negroes, Mollatoes & soldiers"
June 1758: Clinton's will dividing his meager estate among his family

The Letter Book series (1 volume) is a 175-page copybook covering Clinton's final year as New York governor from January 3, 1752, to February 23, 1753. Entries are primarily drafts of letters from Clinton, as well as copies of letters from prominent New York lawyer James Alexander and other New York officials. Recipients include Sir William Johnson, Cadwallader Colden, John Catherwood, George Clarke, and Benjamin Stoddert, among others. Topics covered include New York politics (concerning the council, assembly, and James DeLancey), military matters (concerning troops at Fort Frederick, Oswego, and Fort George), relations with the Six Nations and Catawba Indians, and British relations with Spain.

Entries of note include:

February-March 1752: Letters discussing the January 11, 1752, mutiny at Oswego under Captain John Mills
September 20, 1752: Letter concerning a widow's military pension
October 25, 1752: Letter concerning Clinton's membership in a missionary society promoting the Gospel at Staten Island
December 5, 1752: Letter to Governor of St. Augustine Fulgencio Garcia de Solis discussing British-Spanish relations, governmental issues in East Florida, and efforts to emancipate enslaved people "that could prove [their] right to it." December 6, 1752 letter to Francisco Caxigal de la Vega, Spanish governor of Cuba, referencing previous communications with Garcia de Solis.

The Indian Speeches and Councils series (38 items) consists of copies of official treaties, deeds of surrender, proclamations, conference and speech transcriptions, petitions, responses from sachems, and other official interactions between the British colonial government and the Six Nation tribes. Documented are activities at Albany, Annapolis Royal, Cape Breton, Mount Johnson, Fort George, Oghguago (Tuscarora Village on the Susquehanna), Lake Ontario, Niagara, and Quebec. Of interest is material related to expeditions against the French in Canada, conferences at Philadelphia and Albany, and items from important figures such as Sir William Johnson and Mohawk chief Hendrick Theyanoguin (1692-1755).

Items of note include:

December 13, 1726: Deed of surrender from the Cayuga, Onondaga, and Seneca Indians with the Sachem's marks
May 21, 1744: Paul Mascarene to William Shirley reporting on letting women and children into the garrison after a rumor of approaching French and Indian forces created panic in the region
December 4, 1750: Speech from Cayuga Sachem and a reply from William Johnson concerning a Five Nations and British alliance
August 8, 1751: Colden's State of Indian Affairs
November 11, 1752: Letter from South Carolina Governor James Glen to the Six Nation confederation concerning friendships between northern and southern tribes (Creeks, Cherokee, and Chickasaw)
June 16, 1753: Response to the "Mohawk Indians complaining of Encroachments on their Lands and Frauds in the purchase of them--Fort George in New York"

The Accounts series is organized into three subseries: Personal Accounts, Indian Accounts, and Government and Military Accounts.

The Personal Accounts subseries (114 items) documents George Clinton's finances, particularly his and his family's personal expenses in New York, and records of his debts in his final years. Items include receipts for goods and services, records of paid and outstanding bills, stocks purchased, two financial memo books (1745 and 1750-1754), and a cash book (1748).

The Indian Accounts subseries (20 items) contains colonial government accounts for Indian presents, disbursements paid to Indians for military expeditions, and payments to British officers for Indian prisoners and scalps. These primarily document interactions with the Six Nation tribes.

The Governmental and Military Accounts subseries (113 items) contains paymaster records for troops, laborers, and government officials; accounts for troop provisions, stores, medicine, and supplies; levy and customs accounts; payments for transportation of goods and mail; and other financial records related to New York's colonial administration. Included are the expenses for the aborted British and Indian expedition into Canada against the French (March 1747 and November 1, 1748), and the expenses for John Young "entertaining the French Embassy for Exchange of Prisoners" (October 17, 1748).

Biographical / Historical:

George Clinton (1686-1761), British naval officer and colonial governor of Newfoundland and New York, was born in Lincolnshire, England, to Francis Clinton, sixth earl of Lincoln, and Susanna Penyston. Clinton served for 35 years in the Royal Navy, entering in 1708 and becoming a captain in 1716. Through a familial connection with Thomas Pelham-Holles, first duke of Newcastle, he secured various high-ranking positions, such as governor of Newfoundland (1731), commodore of the Mediterranean Fleet (1736-1738), and rear admiral (1743). Also through Newcastle, Clinton obtained the governorship of New York in 1741, but did not arrive in the province until 1743. Allying himself with Chief Justice James DeLancey (1703-1760), Clinton pitted himself against the New York Assembly over matters of military control, governor's pay, and political appointments. Clinton dissolved the assembly in 1745 and 1747 and but in both cases the people of New York reelected opposition assembly members. In 1746, after a drunken dispute over military policy, Clinton cut ties with DeLancey and turned to Cadwallader Colden for counsel.

During the war with France (King George's War, 1744-1748) Clinton appointed William Johnson (1715-1774) to manage Colonial-Indian relations, and recruited the Six Nations tribes to join British forces against the French in Canada. Clinton failed to organize the New York Assembly behind the expedition and without the support of the British Army, the Indian and colonial forces abandoned the attack. After the war, Clinton focused his attentions on his conflicts with the Assembly over constitutional issues and Indian relations, and on boarder disputes with New Jersey, New Hampshire, and Massachusetts. In 1753, Sir Danvers Osborn took over the New York governorship. Clinton returned to England and represented Saltash in Parliament from 1754 to 1760.

Clinton was perpetually in debt and never found enough success in his naval and political appointments to escape financial ruin. Clinton married Anne Carle around 1727. They had six children, including Sir Henry Clinton (1730-1795), who became commander-in-chief of the British forces in North America during the Revolution. George Clinton died in 1761.

Acquisition Information:

1937. M-333, M-1079, M-7001 .

Processing information:

Cataloging funded by the National Endowment for the Humanities (NEH) and the "We the People" project.

Arrangement:

This collection is organized into four series:

Series I: Correspondence and Documents
Series II: Letter Book
Series III: Indian Speeches and Councils
Series IV: Accounts

Subseries I: Personal
Subseries II: Indian
Subseries III: Government and Military

Each series and subseries is ordered chronologically.

Rules or Conventions:

Finding aid prepared using Describing Archives: A Content Standard (DACS)
Related
Additional Descriptive Data:

Related Materials

The following Clements Library collections contain material written by George Clinton:

The following Clements Library maps relate to George Clinton:

The New York Historical Society, the British Library in London; and the New Jersey Historical Society all have George Clinton manuscripts.

Bibliography

Ranlet, Philip. "Clinton, George." American National Biography Online . Feb. 2000.

Newcomb, Benjamin H. "Clinton, George (1686--1761)." Oxford Dictionary of National Biography , Oxford University Press, 2004.

Several of the items in this collection were printed in the following series: Colden, Cadwallader. The Letters And Papers of Cadwallader Colden.... New York: Printed for the New York Historical Society, 1918-1937.

Contributors

Alexander, James, 1691-1756.
Anson, George, 1697-1762.
Asycough, John.
Bagueneau, Marcha & Prescott.
Bainbridge, Edmund.
Bayard, Stephen, 1700-1757.
Bearcroft, Philip.
Bedford, (John Russell) 4th duke of, 1710-1771.
Belcher, Jonathan, 1681-1761.
Bladen, Thomas, 1698-1780.
Bradley, Richard.
Bull, William, 1710-1791.
Burnet, William.
Catherwood, John.
Chew, Joseph.
Clarke, George.
Clinton, Charles, 1690-1773.
Clinton, George, ca. 1686-1761.
Colden, Cadwallader, 1688-1776.
Colhoun, Alexander.
Cosby, William.
Cuyler, John.
De Lancey, James, 1703-1760.
De La Warr, John West, 7th Baron, 1st Earl, 1693-1766.
Erskine, Robert.
Forsans, M.
Gellibrand, Samuel.
Glen, James.
Gooch, Sir William, 1681-1751.
Great Britain Sovereigns (George I)
Great Britain Sovereigns (George II)
Grossbeck, Gerardue.
Hamilton, James, 1710-1783.
Hamilton, John, 1692-1747.
Hawkins, Eleazar.
Hendrick, Mohawk Chief, 1692-1755.
Holland, Edward. 1702-1756.
Holland, Henry, 1704-1777.
Houden, Michel.
Hunter, Robert.
Jasper, Edward, d.1749.
Johnson, Sir William, 1715-1774.
Kennedy, Archibald.
Knowles, Sir Charles, d. 1777.
Lawrence, Thomas.
Lincoln, Sir Francis Fiennes Clinton, 6th Earl.
Lincoln, (Henry Clinton) 7th Earl, 1684-1723.
Lindesay, John.
Lovingston, Henry.
Livingston, James.
Livingston, Philip, 1686-1749.
Livingston, Robert.
Lock, Thomas Graser, Robert, and other fishermen.
Ludlow, Gabriel.
Lydius, John Henry.
Montagu, Mary (Churchill) Montagu, duchess.
Morris, Lewis, 1698-1762.
Morris, Robert Hunter, 1700-1764.
Newcastle, (Thomas Pelham) Holles, 1st duke, 1693-1768.
Ogle, Samuel.
Palmer, Anthony, 1675-1749.
Parker, James.
Partridge, Richard.
Pepperell, Sir William, 1696-1759.
Philipse, Adolph D.
Phips, Spencer, d.1757.
Ralegh, Thomas.
Roberts, John.
Sanders, Robert.
San Juan, Jose Miguel de.
Schuyler, Myndert.
Schuyler, Peter.
Scott, John.
Shirley, William, 1694-1771.
Shuckburgh, Richard.
Smith, William.
Spottiswood [Spotswood], Alexander.
Stevens, Arent.
Stoddert, Benjamin.
Thomas, George.
Townsend, Isaac, d.1765.
Van Dam, Rip.
Walker ,Henry.
Wall, Gwiney Patterson.
Warren, Sir Peter, 1703-1752.
Wentworth, Benning, 1696-1770.
West, James, 1703-1772.
Willard, Josiah.
Williams, Thomas.
Wolcott, Roger, 1679-1767.
Wraxall, Peter.
Younge, John, d. 1753.
Contents
Using These Materials
---
RESTRICTIONS:

The collection is open for research.

USE & PERMISSIONS:

Copyright status is unknown
PREFERRED CITATION:

George Clinton Papers, William L. Clements Library, The University of Michigan