Back to top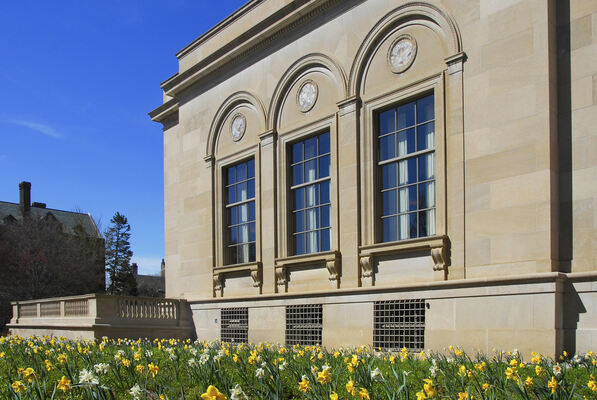 Address

:

909 South University Avenue

Ann Arbor, MI 48109, USA
Eliza O. Perkins Burke papers, 1846-1867
Using These Materials
---
Restrictions:

The collection is open for research.
Summary
Creator:

Abstract:

Eliza O. Perkins Burke's letters and papers document the life of a military officer's wife before and during the Civil War, and her friendships with fellow military wives.

Extent:

60 items

Language:

English

Authors:

Collection processed and finding aid created by Rachel K. Onuf, July 1998
Background
Scope and Content:

Most of these letters are addressed to Eliza Perkins Burke, excepting a handful written to Mary, an invitation to Capt. Perkins to play billiards, and a certificate of merit presented to Edward while he was at St. Louis University. This is a scattered, spotty correspondence, but there are a couple cohering elements. Many of the women writing to Eliza were also married to military men. They had become friends on Sullivan's Island, while their husbands, many of whom were in the 3rd Artillery, were stationed at Fort Moultrie in the 1830s and early 1840s. The Civil War is another theme around which several of these letters cluster, although only one letter is from an actual soldier. The other coherent grouping is a series of six letters from Rosalie Smith, who was trying to obtain a divorce and chafing under the necessity of depending on her sister's husband for financial support.

The letters from fellow military wives show how close the women had become while together on the island, and there is a sense, especially during and after the Civil War, that these friendships were doubly valuable because they reminded the women of better times. Many of the wives did not see each other again after leaving Fort Moultrie, or only enjoyed infrequent visits. Although they only wrote to each other occasionally, they expressed great nostalgia for the time shared on Sullivan's Island. Often a milestone -- birth, death, or wedding -- prompted the letter, and the author often described her children's progress.

Judith Chiffelle, who had probably been on Sullivan's Island with her brother Thomas, was an anomaly. While the rest of the women were married to military men, Judith was single. She taught school in Baltimore and was raising her dead sister's children while their father ran his business in St. Louis. She wrote, "this I know will astonish you. I like to be an independent old maid, I will never marry. I have taken an oath to live single for my dear childrens' sake" (1854 December 17). Two years later her tone is less triumphant: "what a change a few years make in our life -- I struggling along trying to make a living hard work & keeping school " (1857 February 2). She admits that she would "long ago have laid down this weary head" had it not been for the children.

The Civil War era letters include one from Caroline Carson, a southern woman who suffered multiple hardships. Her husband died, "the plantation was sold according to his directions," and then her father's house, where she had stored her possessions, was burned: "Everything I had in the world was burnt up -- Books and pictures, china, glass linen all my little effects which I valued, and hoped someday to get around me again" (1862 February 4). "I hope in this horrid war no thing of the kind will happen to you," she continued. Another letter, from a northern lady, shows the less direct effect the war had on women who were not in the midst of the fighting. Rather than wondering where to live, Annie Eustace pondered what to wear: "in this time of our country's great troubles, we should think of something else, beside dress and party giving . . . I spend very little time and thought about fine dress, and making a show; I have lost all taste for such things (1862 May 6). There is also one letter from Eliza's soldiering nephew David P. Hancock while he was at Fort Ontario in Oswego, New York, recovering from a wound and anxious to get back to the field (1862 May 12).

The other clutch of letters is certainly the most intriguing one. Rosalie Smith was living, along with her mother, at her sister Ann Eustace's house in Dixon, Illinois. Rosalie bridled at having to depend on Judge Eustace, whose wealth had been severely reduced by the depression of 1857, but she saw no alternative until her brother Joe returned from Mexico with funds. In response to Eliza's suggestion that she get married, Rosalie wrote, rather obliquely, "this would be a long story and probably uninteresting on paper, but should I ever see you, I will give you some of my reasons for remaining in 'meditation free'" (1859 November 30). By the next year, Rosalie's reasons for resisting her reliance on her brother-in-law had increased: "Judge Eustace's relatives have always annoyed me by reports of our entire dependence on him, making things at times, very disagreeable to all" (1860 October 27). This letter also alludes to a Mr. Sheridan, who was apparently Rosalie's husband, whom she now wished to divorce. She was worried that he would "use every effort to annoy, and keep me bound; money only, will be the great lever by which it can be accomplished." She moved to Chicago with her sister's family, and she happily discovered that "a residence of two years, will grant me a divorce, provided Sheridan does not make application to live with or support me; so on this account too, I am anxious to keep quiet, that he may not know where I am, to molest me" (1860 December 3).

Biographical / Historical:

Captain and Eliza O. Perkins had three children, Mary Hancock, Edward, and Lutie. Before the Mexican War, the Perkins family had been stationed at Fort Moultrie, on Sullivan's Island in Charleston's harbor, and Eliza forged many lasting friendships with the other officer's wives she met there. Capt. Perkins died sometime shortly before December 1851, and his widow moved to St. Louis, which might have been where they lived prior to their stint on Sullivan's Island. Eliza was Catholic, and St. Louis had a thriving, established Catholic community. She sent Mary to the Convent of the Sacred Heart, where the young girl refined her many accomplishments, including French and music. In addition to the piano and guitar, Mary also played the harp. Edward was attending St. Louis University in 1860, and that same year, Eliza's niece, Rosa Murdock, came to live with her. Eliza also corresponded with two nephews, Jonathan and David Hancock, as well as her relations the Worthingtons, who lived in Rushville.

Col. Martin Burke had been at Fort Moultrie when the Perkins were there, and after the death of Capt. Perkins, Burke remained friendly with his family. Eliza married Burke in the first few months of 1861. Burke, a career military man born in Maryland, had been transferred to the 3rd artillery in 1823, and served with that unit during the war with Mexico and the Civil War. He was named Brevet Brigadier General 13 March 1865 for faithful service to his country. Shortly after the marriage, the family was posted up at Fort Hamilton, in Brooklyn, where Mary might have met her future husband.

Mary followed in her mother's footsteps and married a military man -- John Dawes O'Connell, a second lieutenant in the 2nd U. S. Infantry who served as a Captain of the 14th Infantry during the Civil War, and was made Brevet Colonel 13 March 1865 for gallant and meritorious service during the war. After the war, O'Connell, now a Major in the 17th Infantry, served in the garrison at San Francisco Harbor and then on frontier duty at Ft. Yuma. While there, John and Mary's son Eddie died, and he was buried in Los Angeles. They returned to the east, settling in New York in early 1867 with their son Johnny. Although the letters cease, it is known that O'Connell died that September.

Acquisition Information:

1996. M-3277.2 .

Rules or Conventions:

Finding aid prepared using Describing Archives: A Content Standard (DACS)
Related
Additional Descriptive Data:

Bibliography

Boatner, Mark Mayo. The Civil War Dictionary, Rev. ed. (New York, 1988).

Cullum, George W. Biographical Register of the Officers and Graduates of the U. S. Military Academy, at West Point, N. Y. (New York, 1868).

Hamersly, T. H. S. Complete Regular Army Register of the United States for One Hundred Years, 1779-1879. (Washington, D.C., 1880).

Correspondents

Blake, M. M.
Brother Patrick
Burke, Martin, d.1882
Burke, Eliza O. Perkins
Carson, Caroline
Chiffelle, Judith (Sister of Thomas Chiffelle, West Point '36)
Churchill, E. M. (Mrs. William H. Churchill, who graduated from West Point in 1840, along with William T. Sherman. He was with the 3rd artillery at Ft. Moultrie 1843-1845. He died at the age of 28 at Point Isabel Texas, October 19, 1847)
Duchonynette, G. ?
Ellis, E. S.
Eustace, Annie M.
Fourrs?, Dr. C. M.
Hancock, David P.
Hancock, Jonathan
Harrington, Hattie
Ingraham, George H. Jr.
Jack, Samuel C.
Johnson, Margaret
King, Marian E. C.
Machette, M. E.
Marston, S. Ella
Mechtitates, M. (Mary's sister-in-law)
Miles, B.
Miller, Jane O. (Mrs. Bvt. Brig.-General Morris S. Miller, Lieut.-Colonel, Quartermaster Dept.. Her son A. Macom Miller graduated West Point in 1865)
Murdock, Rosa
Perkins, Lutie
Perkins, Mary Hancock (Mrs. Col. John Dawes O'Connell)
Smith, Rosalie
Wade, Johnanna (Daughter of Major Wade)
White, Delia (Mrs. Edward Brickell White, a lieutenant in the 3rd artillery, resigned 1836. A Col. in the South Carolina artillery in the C. S. A., d. 1882)
Worthington, A. M.
Worthington, R. M.
Eugenia
Susanna

Partial Subject Index

Army spouses
Billiards
Catholics--Missouri--St. Louis
Childbirth
Children
Convent of the Sacred Heart (St. Louis)
Depressions--1857--United States
Divorce

1860 October 27
1860 December 3

Female friendship
Fort Moultrie (S.C.)
Fort Ontario (N.Y.)
Mexican War, 1846-1848
New Year
Prime, Samuel Irenaeus, 1812-1885
Single women

1854 December 17
1857 February 2
1859 November 30

Songs, English--United States
St. Louis University (Mo.)

1860 (Certificate of Merit)

United States--History--Civil War, 1861-1865

1862 February 4
1862 April 7
1862 May 12

United States. Army. Artillery Regiment, 3rd
Women teachers--Maryland

1854 December 17
1857 February 2
Subjects
Click on terms below to find any related finding aids on this site.
Contents
Using These Materials
---
RESTRICTIONS:

The collection is open for research.

USE & PERMISSIONS:

No copyright restrictions.
PREFERRED CITATION:

Eliza O. Perkins Burke Papers, William L. Clements Library, The University of Michigan