Back to top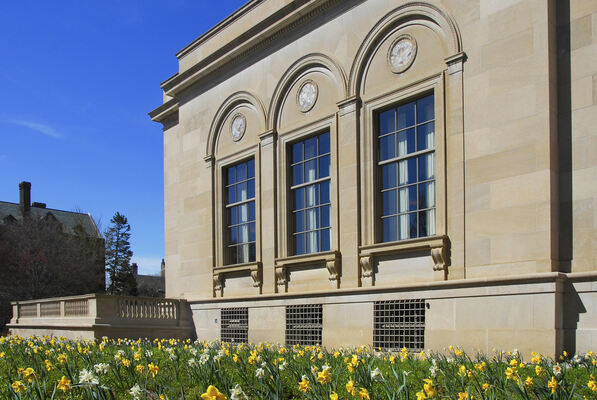 Address

:

909 South University Avenue

Ann Arbor, MI 48109, USA
R. W. Benson journal, 1905–1906
Using These Materials
---
Restrictions:

The collection is open for research.
Summary
Creator:

Abstract:

This journal describing a train trip through the South and a winter spent in Florida was compiled by R. W. Benson from letters written to her daughter.

Extent:

54 pages

Language:

English

Authors:

Collection processed and finding aid created by Rachel K. Onuf
Background
Scope and Content:

This journal describing a train trip through the South and a winter spent in Florida was compiled by R. W. Benson from letters written to her daughter, Miss Clara Benson of Wellesley, Mass. Mrs. Benson might have copied her letters before sending them, but it seems more likely that she borrowed the letters at a later date in order to create a book recording her winter "dropped into a world of orange trees." Mrs. Benson also pasted in the postcards she sent to her daughter, as well as some wildflowers she had enclosed in one letter.

Seven of the cards are picture postcards of places Mrs. Benson visited. She took pains to place herself within the context of the scene depicted: "We circumnavigated the citadel. We walked where you see a man walking," she noted on the front of the postcard of the Tampa Bay Hotel. On two cards illustrating scenes from Havana, R. W. Benson made intriguing allusions to living in or taking an extended visit to Cuba in 1867. Two of the actual letters to Clara are included as well. There is a gap from January 27, the last copied letter, to April 8, the date of the next, and final letter, indicating that this journal does not represent the complete correspondence. Two calling cards, an envelope of pressed wildflowers, and a New Year's greeting are laid in the volume.

Mrs. Benson's letters do not progress in a linear fashion, but often return to and retell the same stories in quite different ways. Some events obviously upset her. When two ladies dawdled in the dressing-room on the train, she was in an "awful flurry" to dress herself and Lydia before the train reached Tampa. She also mulled over losing her pocket-book at the Hotel minutes before departing for Thonotosassa. More pleasant recollections were also repeated in her letters. She was enraptured by the young William Draper, "the 'saving grace' in our 'Old Folk's Concert,'" often mentioning his willingness to help and his broad shoulders.

Delight in the natural world fills her letters, from more traditional observations of the lovely view of the lake to curious descriptions of how the oranges looked "quite social in the nice top-sail breeze" one day and "sullen and belligerent" in the "glimmering sun" of a still day. She described twilight, "which as usual in southern climes is short," as "a mere wave of the hand." When writing about a walk among "frequent cypresses with their mourning moss trailing," she stopped her narrative of the walk to reflect that while "on the other trees the long trailing moss swaying in the wind seems quite a cheerful decoration, on the cypress it seems like mourning."

R. W. Benson also discussed the temperature in great detail, no doubt reveling in the balmy weather she was experiencing. She often mentioned what layers of underwear she had either removed or put on: "I prophesied we would soon discard all underwear, but when I had taken a sponge bath I found I wanted some underclothes, after all."

Biographical / Historical:

Mrs. R. W. Benson lived in or near Pawtucket, R. I., and was probably a widow in her late fifties or early sixties when she embarked on a trip to Florida. On December 11, 1905, she left the Pawtucket railway station in the company of "Cousin" Abner, his sister Lydia, and Anna Johnson, a "jolly, hearty Swede of 45 or 50," who served as housekeeper. On the way to Florida they were joined by Gamaliel Bradford Draper (identified as "brother," aged 74), and William Bradford Draper (identified as "nephew," aged 21, and later nicknamed "Saving Grace"). Although they are all probably related, the precise relationships are difficult to determine.

Abner apparently owned a house and some property in Thonotosassa, a town about sixteen miles from Tampa. Mrs. Atwood, another potential relation, had a house nearby. Two other neighbors who were also there that winter, the Adamses and Elliots, who owned a total of 160 acres that they had laid claim to in 1877.

Mrs. Benson noticed the land and the "colored people" she passed by on her way, often focusing on the size and condition of the homes she observed from the train. Once in Tampa, the party stopped at the Steacy's Hotel, where Lydia rested while the others visited Palmetto Beach, the post office, and the Tampa Bay Hotel, "said to be the largest and most beautiful in the world." That evening they took the short train ride to Thonotosassa, where neighborly Mr. Adams met them with his carriage and drove them the remaining two miles to the house, which a "dignified colored woman" had prepared for their arrival.

While at Abner's house, Mrs. Benson cared for and worried about Lydia, who had pushed herself too hard on the trip down, and subsequently spent much of her time dozing and overeating. Mrs. Benson frequently did get out of the house, walking to the store with "Swedish Anna," visiting her neighbor, Mrs. Adams, and taking carriage rides. A rumor of 75 cases of smallpox in Tampa might have been a strong disincentive to returning to the city. Abner, on the other hand, spent a good deal of time "on business" in Tampa, which included acquiring a horse that promptly fell sick with distemper upon arrival in Thonotosassa.

Acquisition Information:

1996. M-3212.3 .

Rules or Conventions:

Finding aid prepared using Describing Archives: A Content Standard (DACS)
Related
Additional Descriptive Data:

Partial Subject Index

| | |
| --- | --- |
| African Americans--Southern States--Social conditions--To 1964 | |
| Aged--Florida | |
| Alligators--Florida | |
| Florida--Description and travel | |
| Food habits | |
| Havana (Cuba)--Description and travel | |
| Horses--Diseases--Florida | |
| Palmetto Beach (Fla.)--Description and travel | |
| Railroad travel--Southern States | |
| Smallpox--Florida--Tampa | |
| Southern States--Description and travel | |
| Southern States--Social conditions--1865-1945 | |
| Swine--Florida | |
| Tampa (Fla.)--Description and travel | |
| Thonotosassa (Fla.)--Description and travel | |
| Tourist trade--Florida--Tampa | |
| Underwear | |
| Vacations--Florida | |
| Visiting | |
| Winter--Florida | |
| Women--Florida--Diaries | |
| Women--Rhode Island--Diaries | |
| Ybor (Fla.)--Description and travel | |
Subjects
Click on terms below to find any related finding aids on this site.
Contents
Using These Materials
---
RESTRICTIONS:

The collection is open for research.

USE & PERMISSIONS:

Copyright status is unknown.
PREFERRED CITATION:

R. W. Benson Journal, William L. Clements Library, The University of Michigan