Back to top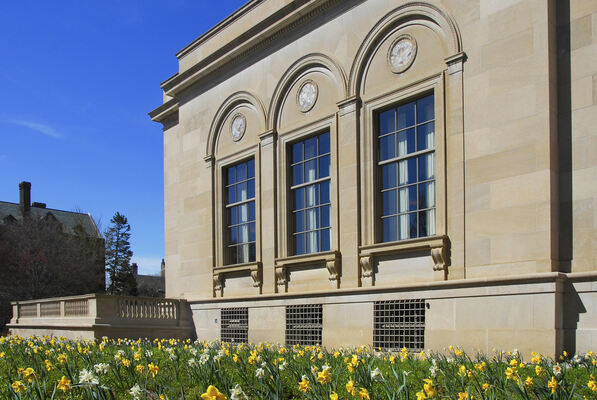 Address

:

909 South University Avenue

Ann Arbor, MI 48109, USA
Cushing family collection, 1790-1934 (majority within 1828-1928)
Using These Materials
---
Restrictions:

The collection is open for research.
Summary
Creator:

Abstract:

The Cushing family collection is made up of correspondence, financial records, and other items pertaining to the family and descendants of Boston merchant Hayward P. Cushing.

Extent:

1 linear foot

Language:

English

Authors:

Collection processed and finding aid created by Naomi Herman-Aplet and Meg Hixon, October 2012
Background
Scope and Content:

The Cushing Family collection is made up of correspondence, financial records, and other items pertaining to the family and descendants of Boston merchant Hayward P. Cushing, including his son, Hayward W. Cushing.

The Correspondence series (124 items) is primarily made up of incoming letters to Hayward P. Cushing, Maria Peirce Cushing, and Hayward W. Cushing. The first item is a letter to Betsy Barber in Epping, New Hampshire (May 9, 1790).

Hayward P. Cushing received personal and professional letters from family members and business acquaintances from 1828-1870. His brother Nathaniel wrote of his life in Brooklyn and Grand Island, New York, in the 1830s and 1840s; one letter concerns his journey to Grand Island on the Erie Canal (August 9, 1835). Jane Cushing, Hayward and Nathaniel's sister, discussed her life in Scituate, Massachusetts, in the mid-19th century. Sophia Cushing, Hayward's cousin and his most frequent correspondent, reported on her financial difficulties, thanked him for his assistance, and shared news from Uxbridge, Massachusetts. Hayward P. Cushing received letters from his wife Maria while she vacationed in Maine, and from his daughter Florence. His business correspondence includes a letter about the sale of the brig Ann Tyler (January 23, 1858).

Maria Peirce Cushing's earliest incoming letters are courtship letters from Hayward P. Cushing, her future husband. After the mid-1850s, he wrote to her from Boston, Massachusetts, while she vacationed in Scituate, Massachusetts, and Frankfort, Maine. He provided news about his life and their children. Maria's sister Caroline discussed her life in Bridgeport, Maine, and a cousin named Abby described her life in Boston. In the mid-1870s, the Cushings' daughters Florence and Jenny wrote to their mother about their courses, textbooks, and experiences at Vassar College.

The final group of dated correspondence consists of incoming letters to Hayward Warren Cushing, including news from Massachusetts medical organizations operating in the 1880s and a series of 10 letters by his wife Martha, who described her trip to Europe in 1928. She discussed her transatlantic voyage and Mediterranean cruise on the Canadian Pacific ship SS Empress of Scotland, as well as her experiences in countries including Portugal, Spain, Cyprus, Turkey, Italy, Israel, Egypt, Monaco, France, and England. She enclosed a postcard from Naples, Italy, in one of her letters.

Undated correspondence includes additional letters to members of the Cushing family, as well as picture postcards showing French surgeons, statues, and buildings.

The Journals and Notebooks series consists of 2 items. Florence M. Cushing kept a diary while visiting London from January 2, 1880-January 18, 1880. Her sightseeing excursions included trips to the British Museum, National Gallery, Windsor Castle, and Westminster Abbey. The notebook contains recipes, instructions, and scientific notes compiled by Hayward W. Cushing. Entries about building animal traps and tying knots are accompanied by explanatory illustrations. Other topics include medicinal formulas and chemistry, instructions for making types of ink (including invisible inks), and lists of items used on camping trips.

The Financial papers series is comprised of account books, receipts, and other records related to members of the Cushing and Peirce families.

The Account Books consist of 5 items:

An appraisal of Hayward Peirce's estate in Scituate, Massachusetts, recorded in March 1827, with two sections listing the value of his personal property and transactions involving his land.
H. M. Peirce's record of purchases, primarily of school supplies, from May 1834-April 1835. A printed notice about the estate of Silas Peirce is laid into the volume (May 21, 1920).
Nathaniel Cushing's account book, pertaining to transactions with Nathan Cushing, from whom he primarily purchased groceries between October 1853 and August 1861.
Hayward P. Cushing's account book concerns shares that he and Jane Cushing owned in railroad companies and banks (July 1849-July 1855). Additional financial notes relate to the settlement of related financial accounts.
Account book recording Maria P. Cushing's investments and dividends (October 1870-January 1894); she received income from the estate of Silas Peirce, Sr., among other sources.

The Receipts, Checks, and Accounts (over 300 items) are arranged by person and company; each group of items is arranged chronologically. Nathaniel Cushing materials pertain to board, taxation, food, and other miscellaneous expenses. The Cushing, Hall, and Peirce documents concern financial affairs, including stock and bond investments. The group of items related to Hayward W. Cushing includes a large number of personal checks from many different banks, as well as additional accounts and documents. Among the financial papers related to Hayward P. Cushing is a receipt for Jane Cushing's board at the McLean Asylum for the Insane (December 31, 1869). The series contains additional accounts and financial records.

The Documents series (20 items) is made up of legal and financial contracts related to business partnerships, estates, and land ownership. The final item is an "Apple Pest Survey in Worcester County" for 1929-1931 (April 15, 1932).

The Drawings (3 items) are architectural drawings of methods for dropping masts (February 25, 1888), several floor plans (1919-1931), and an overhead view of an orchard (undated).

The Printed Items and Ephemera series includes 3 newspapers (1800-1864), 2 annual reports of the Boston Lyceum (1838 and 1840); a lecture by Benjamin Scott about the Pilgrims (1866); a reprinted love letter from John Kelly to an unidentified recipient (original 1817; printed in 1892); a group of check tickets from the Pullman Company; a printed calendar for 1870; a facsimile of The New-England Courant from February 1723; calling cards and invitations; and an embroidered piece of cloth.

The Genealogy series (14 items) consists of pamphlets, bulletins, newspaper clippings, and other items related to various members of the Cushing family from the 19th century into the early 20th century.

Biographical / Historical:

Nathaniel Cushing of Scituate, Massachusetts, had four children with his wife Jane Peirce: Jane (1808-1892), Nathaniel (1809-1857), Hayward Peirce (1812-1870), and Nathan (1814-1903). Hayward Peirce Cushing became a merchant in Boston, Massachusetts. He and his wife, Harriet Maria Peirce (1817-1897), had four children: Florence Maria, Hayward Warren (1854-1934), Livingston, and Ida. Hayward Warren Cushing received a bachelor's degree from Harvard University in 1877 and a medical degree from Harvard University in 1882; he practiced medicine in Boston. In January 1894, he married Martha Helen Thompson of Sanford, Maine; they had two children, Helen and Elizabeth.

Acquisition Information:

1994. M-3006.31 .

Processing information:

Cataloging funded by the National Historical Publications and Records Commission (NHPRC). This collection has been processed according to minimal processing procedures and may be revised, expanded, or updated in the future.

Arrangement:

The collection is arranged in the following series and subseries:

Series I: Correspondence
Series II: Journals and Noteboks
Series III: Financial Papers
Series IV: Documents
Series V: Drawings
Series VI: Printed Items and Ephemera
Series VII: Genealogy

Most series are arranged chronologically. The Receipts, Checks, and Accounts are arranged by subject.

Rules or Conventions:

Finding aid prepared using Describing Archives: A Content Standard (DACS)
Related
Additional Descriptive Data:

Related Materials

Vassar College has a collection of Florence Cushing papers.

Bibliography

"Cushing, Hayward Warren, M.D." Encyclopedia of American Biography. New Series. Volume 4. Winfield Scott Downs, ed. New York: The American Historical Society, 1935.

Cushing, Lemuel. The Genealogy of the Cushing Family. Montreal: Lovell Printing and Publishing Company, 1877.

Parsons, Henry. Parsons Family: Descendants of Cornet Joseph Parsons, Springfield 1636-Northampton 1655. Volume 2. New Haven (Conn.): Tuttle, Morehouse, and Taylor Co.

Quinquennial Catalogue of the Officers And Graduates[,] 1636-1930. Cambridge (Mass.): Published by the university, 1930.
Subjects
Click on terms below to find any related finding aids on this site.
Subjects:

Formats:

Names:

Places:
Contents
Using These Materials
---
RESTRICTIONS:

The collection is open for research.

USE & PERMISSIONS:

Copyright status is unknown
PREFERRED CITATION:

Cushing Family Collection, William L. Clements Library, The University of Michigan