Back to top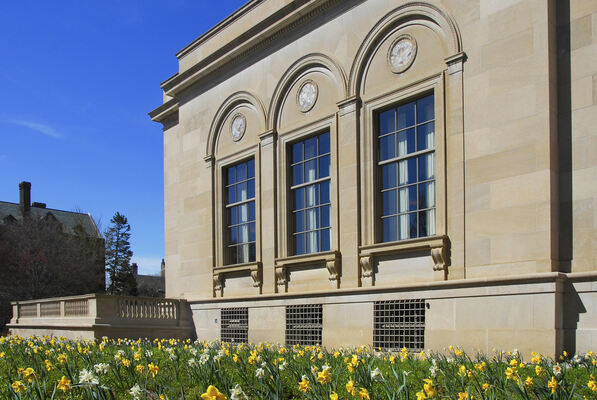 Address

:

909 South University Avenue

Ann Arbor, MI 48109, USA
Ellen Rice journal, 1848-1849
Using These Materials
---
Restrictions:

The collection is open for research.
Summary
Creator:

Abstract:

The Ellen Rice journal contains the daily thoughts of a deeply religious woman devoted to her sisters and family, while she worked in her sister's household.

Extent:

128 pages (2 volumes)

Language:

English

Authors:

Collection processed and finding aid created by Rachel K. Onuf, 1998
Background
Scope and Content:

This intelligent, articulate young woman wrote in her journal every evening, recording far more than the day's events. Although she did note newsworthy items at the local and national level, she rarely gives the reader much of a clue what she had been doing all day long. The brief moments when she allowed herself to complain about her situation make it clear she worked long days attending to the needs of her nieces and nephews, and that she was responsible for most of the family's sewing. She chose not to dwell on drudgery. Instead, she celebrated her love of God, of Nature, and of her relatives, particularly her sister Susan.

Ellen felt close to God when she was close to Nature. In springtime, living in Boston made her "feel confined in a cage and long to soar away to my native element and live in the temple of Nature" (1:32). She believed that "no one can cultivate and watch the growth of Flowers, without feeling their hearts expand and fill with thoughts of God which exerts a beneficial influence upon the character. One ray of religious love sheds a light upon the character which no sunbeam can outshine" (2:11). She was occasionally critical of the preachers who did not deliver the word of God as purely as nature did. After one sermon, she accused the preacher of not having a "deep mind," and she chastised another for using "coarse and common" comparisons and expressions, even though his ideas were good (2:21, 1:53).

Ellen continuously returned to the concept of nature as a sublime channel to God:

"What pent up feelings it awakens to roam again o'er the hills among the trees, rocks and flowers. I look upon these as not merely inanimate objects, for there seems to be a connecting link between them and our spirits a something which awakens all the fine feelings and emotions of the heart and makes us keenly sensitive to the wisdom and Goodness of God and his love and mercy to us" (1:46).

In addition to connecting spiritually with God through nature, she was attuned to spiritual connections with people, through their letters. When reading "line after line traced by the loved one's hand, the image rises before me and I hear the spirit breathing the words I read" (1:17).

She felt divided between her home with Mary and her home with her parents, but there was one steady attraction that always made her old home in Wayland more appealing -- her sister Susan lived there. "My heart whose every chord vibrates to her own, yearns to be near her and enjoy the happiness which true sisterly love only can know," she frequently declared (2:3). After expressing her excitement that Susan would soon visit her, she added, "surely it is natural that I should rejoice at the thought of meeting a Sister whose love is pure and strong and in whom I find an echo for every thought and wish" (2:39).

Tension arose when her brother-in-law refused to let her go visit Susan, even though she could easily have been spared from his house for a few days: "I think he cares but little for me or my feelings, but I will not entertain unkind feelings towards him for Mary's sake" (1:38). Even though her relationship with William was cool, she resolved that if her sister died, she would willingly "give up all my youthful hopes and pleasures and devote my life to them, for I love them too well ever to trust them to the care of another" (1:30).

There were men in her life, or wanting to be in it, but she did not really respond to them. She visited and corresponded with Jared, and initially argued that men and women ought to able to have as close friendships as women were allowed to have. "I know it is not customary but that does not prove that it is wrong," she wrote, and insisted that she "can see no reason why those of different sex cannot be friends as well as those of the same" (1:20). A few weeks later, however, she decided to break off the correspondence "for several reasons," but her true feelings for him remained obscured. After they moved to Lexington, Mr. Thayer, a traveling daguerreotypist, fell for her, and startled her with his frank declarations. She told him she did not feel she could be any more than a "common acquaintance" of his, although she was "extremely sorry to disappoint his anticipations" (2:22). He eventually left town, after urging her to reconsider, and presenting her with her likeness in a beautiful case. The third suitor, Mr. Gammell, announced that he wanted her for his "chosen companion," but she remained unmoved (2:49). The cares of her sister's household overwhelmed her, and soon after she succumbed completely.

Biographical / Historical:

Ellen spent most of her time as a member of her eldest sister Mary's household in Boston. Mary had married William on December 15, 1845, and they had several children, including a couple who were probably from William's previous marriage. Although Mary had a house girl, she desperately needed help, particularly with the sewing and caring for the children. When Mary was confined or very ill, as she was twice in 1849, their sister Susan would have to come lend a hand as well. This always made the time pass more easily for Ellen, for she loved her sister Susan dearly, and missed her presence most acutely when she was at Mary's. When she could, Ellen visited her parent's home in Wayland, where Susan lived, but William and Mary could rarely spare her. When she did return to Wayland, she typically had at least one niece in tow.

In March 1849, Mary gave birth to a daughter, and Ellen rather opaquely noted, "we should have preferred a boy still I know it will be for the best some way, that it is not" (1:25). The child was not named until September. In May the Boston house the family had been living in was auctioned off for $2,500.00. They moved out to East Lexington, where Ellen enjoyed listening to their German neighbors singing on Saturday nights. Ellen was thrilled to be back in the country, for she equated proximity to nature with proximity to God.

As an exceedingly religious and spiritual young woman, Ellen's special pleasures were being outside and teaching Sabbath school, which she did until Mary's second illness began, in October. Ellen was then held hostage to the sickbed, with the baby constantly in her arms, and all the chores to attend to. She was unable to get out in the fresh air she loved so well, and believed she needed to preserve her own health. Susan came to help, but she caught the fever from Mary, and returned to their parent's home in Wayland, where she eventually recovered. Mary also improved, slowly, but not before the fragile health of her nursemaid was thoroughly broken. According to a brief note at the end of her journal, Ellen died on January 16, 1850. (The Lexington, Mass., Vital Records lists Ellen as having died on January 16, 1850 at age 19.)

Though Ellen Rice's name is not mentioned in the journal itself, a number of details about her life and her family are known, and it is possible through outside sources to identify her and her family.

Acquisition Information:

1994. M-3006.1 .

Rules or Conventions:

Finding aid prepared using Describing Archives: A Content Standard (DACS)
Related
Additional Descriptive Data:

Bibliography

New England Historic Genealogical Society. Lexington Massachusetts Record of Births, Marriages and Deaths to January 1, 1898.

Rice Family Genealogy

Rice, Calvin, b.1796 and Rice, Mary Perry Drury, b. 1798

Rice, Ellen, 1830-1850
Rice, Susan
Stowe, Mary Rice, b. 1822, married Stowe, William, 1816-1892

Stowe, William, b.1839
Stowe, Mary Lizzie, b. 1840
Stowe, Eugenia, b. 1843
Stowe, Ellen Grace, b.1847
Stowe, Susan Georgianna, b. 1849

Partial Subject Index

| | |
| --- | --- |
| Alcoholism | |
| Art--Exhibitions | |
| Boston (Mass.)--Parks--Common | |
| Burns, Robert, 1759-1796 | |
| Butler, Charles, 1750-1832. The life of Fenelon, Archbishop of Cambray. | |
| Childbirth | |
| Cholera--Massachusetts | |
| Courtship | |
| Daguerreotype | |
| Dance | |
| Davis, Andrew Jackson, 1826-1910 | |
| Dysentery | |
| Family reunions | |
| Fasts and feasts | |
| Female friendship | |
| Fever | |
| Fires | |
| Friendship | |
| German Americans | |
| Gold mines and mining--California--History--19th century | |
| Goode, Washington, d.1849 | |
| Hanging | |
| Infants--Weaning | |
| Irish Americans | |
| Lexington (Mass.)--Description and travel | |
| Love | |
| Lunar eclipses--1849 | |
| Maiden aunts | |
| Mayo, Sarah Carter, 1819-1848 | |
| Nature--Religious aspects | |
| Orphans--Massachusetts | |
| Poetry | |
| Sears, Edmund Hamilton, 1810-1876 | |
| Sedgwick, Catharine Maria, 1789-1867 | |
| Sermons, American--History and criticism | |
| Shipwrecks--Massachusetts | |
| Sisters | |
| Spiritualism | |
| Sublime, The | 1:24, 1:47-48, 1:54, 1:58 |
| Teeth--Extraction | |
| Telegraph, Wireless | |
| Thayer, Mr. | |
| Valentines | |
| Washington, George, 1732-1799 | |
| Women--Diaries | |
| Women--Religious life | |
| Women and religion | |
| Women domestics | |
| Women teachers | |
Subjects
Click on terms below to find any related finding aids on this site.
Contents
Using These Materials
---
RESTRICTIONS:

The collection is open for research.

USE & PERMISSIONS:

Copyright status is unknown.
PREFERRED CITATION:

Ellen Rice Journal, William L. Clements Library, The University of Michigan