Back to top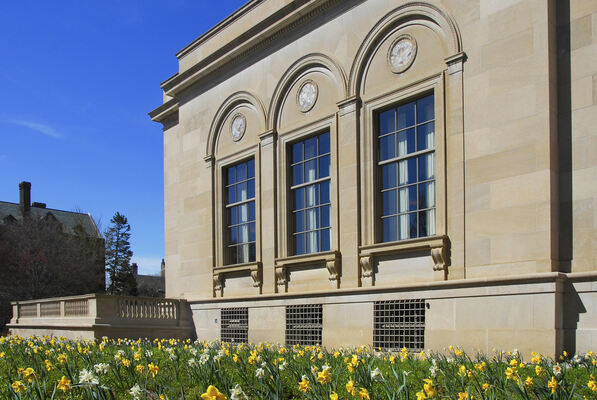 Address

:

909 South University Avenue

Ann Arbor, MI 48109, USA
Levi Wade collection, 1866-1902
Using These Materials
---
Restrictions:

The collection is open for research.
Summary
Creator:

Abstract:

This collection consists of a diary (108 pages), a school notebook (111 pages), and a scrapbook (approximately 15 pages) related to Levi C. Wade, a Massachusetts lawyer and director of the Mexican Central Railway Company in the late-19th century. The diary is an account of Wade's visit to Mexico City in the late months of 1879 to win governmental support for his proposed railway, and a record of his observations on contemporary Mexican politics. The school notebook contains Wade's lecture notes from the Newton Theological Institute and from his law studies. The scrapbook holds material related to Wade's death and to his sons, among other subjects.

Extent:

3 volumes

Language:

English

Authors:

Collection processed and finding aid created by Mary Parsons, 2002, and Erin Platte and Meg Hixon, May 2012
Background
Scope and Content:

This collection contains a diary (108 pages), a school notebook (111 pages), and a scrapbook (approximately 15 pages) related to Levi C. Wade, a Massachusetts lawyer and director of the Mexican Central Railway Company in the late 19th century.

Levi Wade kept a Diary while traveling to and living in Mexico City between October 3, 1879, and December 11, 1879 (108 pages). After leaving Boston for New York City on October 3, he embarked for Veracruz, Mexico, onboard the steamer City of Alexandria. He discussed several aspects of his life onboard, such as his leisure activities, other passengers, the weather, and stops at Havana, Cuba (October 9-10), and Campeche, Mexico (October 14), before reaching Veracruz on October 16. While on shore at Havana, Wade described the city's architecture and people, which he later compared to Veracruz, a city that had experienced recent political upheaval and executions. The day of his arrival, he and his traveling companion boarded a train for Mexico City, arriving on October 17. Wade remained in Mexico City until at least December 11, devoting most of his time to political maneuvering and attempts to secure the government's approval for his proposed central Mexican railway. He often remarked about the structure of Mexican politics and about specific events that occurred during his stay in the country, often providing his own commentary. Wade frequently reported on his efforts to secure government support, and met or corresponded with several prominent politicians, including President Porfirio Diaz and members of the Mexican Cabinet. Along with his observations about the country's political system, Wade also wrote about the country's people, food, and customs, as well as the foreigners he met during his travels. Though he often mentioned his frustration with the lack of progress regarding his proposal, by December 11 he seemed optimistic about eventual success, having received the president's support and that of other high-ranking officials.

The School Notebook (111 pages) holds 94 pages of notes from lectures Wade attended while studying at the Newton Theological Institute (1866) and approximately 16 pages of legal forms and similar notes pertaining to his legal studies (1871-1872). Wade studied the Biblical Gospels with Horatio B. Hackett (pp. 1-56), Christian ethics with Alvah Hovey (pp. 57-90), and symbology and Christian doctrines with an unnamed instructor (pp. 91-94). The section on the Gospels contains lectures on the differences and similarities between the four books, as well as on the life and ministry of Jesus Christ. "Events in Galilee Till the Second Passover," (pp. 32-41) speculates on the locations of various Biblical events, and includes verses clipped from a King James Version of the Bible. Other lectures are about Christ's final days, crucifixion, and resurrection. Alvah Hovey's lectures focused on Christian ethics, and its practical applications. The final section of religious lecture notes concerns Christian creeds, symbolism, and doctrinal sources. The final portion of the book (pp. 96-111) contains copied examples of legal forms and similar information about legal practice, notes on real estate, and a list of books Levi Wade had read (p. 97).

A Scrapbook (approximately 15 pages), complied by an unknown creator, consists of programs, reports, and newspaper clippings from 1879 to 1902. The first page shows clippings from the Westminster Review related to Levi's sons, Levi, Jr., and Robert, and many of the following pages contain programs for concerts or other events. The two printed reports are the "9th Annual Report of the Board of Directors of the Mexican Central Railway Co." (December 31, 1888), and a report from the president of Bowdoin College (1898-1899). Additional newspaper clippings are about a variety of topics, such as poetry and the development of transportation. Many relate to the death of Levi C. Wade, including an obituary from the Newton Graphic (March 27, 1891), a report on his funeral, and tributes.

Biographical / Historical:

Levi Clifford Wade was born in Allegheny City, Pennsylvania, on January 16, 1843, son of Levi Wade (b. 1812) and A. Annie Rogers (b. 1819). He attended Yale between 1862 and 1866 and, following his graduation, he moved to Newton, Massachusetts, where he attended the Newton Theological Institute (now the Andover Newton Theological School) until 1868. That year, he began to study law and to teach school, and in 1873 he was licensed to practice before the Supreme Judicial Court of Massachusetts. Between 1877 and 1880, he had a legal partnership with John Q. A. Brackett, future governor of Massachusetts, and after 1880 he worked in railway law and management. Wade served in the Massachusetts General Court from 1876 to 1879, and was Speaker of the House during his last year. He also served as president of the Mexican Central Railway Company and as a director of several other railroad companies. He married Margaret R. Rogers of Bath, Maine, on November 16, 1869, and they had 4 surviving sons: Arthur C. (b. 1875), William R. (b. 1881), Levi C. Wade, Jr. (b. 1885), and Robert N. (b. 1887). Levi C. Wade died on March 21, 1891.

Acquisition Information:

1994. M-3004.1 .

Processing information:

Cataloging funded by the National Historical Publications and Records Commission (NHPRC). This collection has been processed according to minimal processing procedures and may be revised, expanded, or updated in the future.

Rules or Conventions:

Finding aid prepared using Describing Archives: A Content Standard (DACS)
Related
Additional Descriptive Data:

Bibliography

Hurd, D. Hamilton. History of Middlesex County Massachusetts: with Biographical Sketches of Many of Its Pioneers and Prominent Men. Volume III. Philadelphia: J.W. Lewis & Co., 1890.
Subjects
Click on terms below to find any related finding aids on this site.
Subjects:

Formats:

Names:

Places:
Contents
Using These Materials
---
RESTRICTIONS:

The collection is open for research.

USE & PERMISSIONS:

Copyright status is unknown
PREFERRED CITATION:

Levi Wade Collection, William L. Clements Library, The University of Michigan