Back to top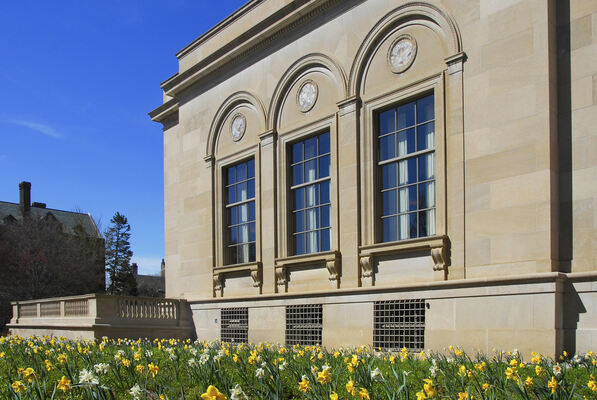 Address

:

909 South University Avenue

Ann Arbor, MI 48109, USA
William Allinson journal, 1802-1814
Using These Materials
---
Restrictions:

The collection is open for research.
Summary
Creator:

Abstract:

The Allinson journal documents Allinson's thoughts on his spirituality and marriage as well as events within the New Jersey Quaker Church, including meetings with Native Americans.

Extent:

276 pages

Language:

English

Authors:

Collection processed and finding aid created by Rob S. Cox, 1998
Background
Scope and Content:

William Allinson's journal spans more than a decade of his adult life, and includes mature reflections on both personal and spiritual matters. Closely written and very dense at over 270 pages long, the journal is an emotional and spiritual barometer of a man driven by as many disappointments as joys in his family circle, and even greater disappointments in his own soul. Allinson apparently intended to keep the journal to provide a marker of his spiritual development and as a means of contemplating his growth. Over the course of twelve years he struggled with whether his life could be worthy of recording, and whether a record of his spiritual progress could ever prove useful. Ultimately, he concluded that one day his diary would most likely to be consigned to the fire.

Seldom discussing worldly matters such as politics or the economy, Allinson examines instead a range of subjects of personal and religious interest from witnessing the crescentic shadows cast by plants during a total solar eclipse to witnessing a group of rowdy boys at meeting. Devout and deeply involved in the Society of Friends, he regularly recorded news of the Burlington Meeting and other meetings he attended as minister, elder, and visitor, as well as news of his family and local community, including disciplinary actions, laodiceanism, weddings, and committee meetings. Throughout, he displays a quintessentially Quaker understanding of the World, of conflict and its resolution, reflecting a deeply held and emotionally powerful attachment to the Society, his family, and community. Allinson was a contemporary and friend of important Quaker figures such as Jesse Kersey, George Dillwyn, Martha Routh, Ann Mifflin, Isaac Bonsall, and Elias Hicks, who appear throughout the journal.

The central point of interest in Allinson's journal, however, is a complex and finely detailed struggle with both sexual and spiritual self-discipline. At times, he indulges in the painful ruminations of a middle aged man on his seemingly eternal bachelorhood, posing a series of Quaker queries to himself: "What am I waiting for?" he asked: "Answer. For an Evidence in my own Mind that it will be right to make an Effort to change my condition, & for some satisfactory degree of Light that such procedure is approbated by Him" (1807 April 4). During the twelve years covered in the journal, Allinson found little peace within himself on spiritual issues. He never married, and did his best to deflect the pains of seeing his brothers seemingly stray from the Quaker path.

Allinson's involvement in Indian affairs stands out for note among other important issues appearing in the journal. As a member of the Committee of Indian Affairs of the Philadelphia Yearly Meeting (and despite doubting his own preparedness for such a role), Allinson was involved in the procurement of over 500 acres of land in August, 1808, on behalf of the Cattaraugus Indians, and he visited them in September and October, 1809. Of greater interest was his visit with the famed Stockbridge Indian "intercultural broker," Hendrick Aupaumut, while he was imprisoned for debt. Allinson discovered Aupaumut to be "pleasant & conversable" (1805 March 10), even while in prison. After paying Aupaumut's debts and having him released, Allinson bought him a new suit of clothes (in which, he noted approvingly, Aupaumut "prefer[ed] utility to shew"; 1805 March 11). Allinson discusses two stories told to him by Aupaumut, one concerning an "Embassy" that Aupaumut and other Indians had made to western Indians -- probably Stockbridge -- "with design to renew the League of Friendship & promote their acceptance of the Christian Religion -- Improvemt in Civilization &c." The Indians accepted Aupaumut's ministry, and gave him three ears of corn to return with, to have them planted and tended "by their choisest & best young women." Aupaumut also discussed the visions and conversion experiences of two Indians, one Shawnee, the other Seneca.

Biographical / Historical:

During the Early Republic, the Society of Friends struggled to preserve its peculiar identity in the midst of a rapidly changing America. Conflict between the Society and the world led many Quakers into reformist activism, and others into introspective withdrawal, and conflict within its own ranks ultimately produced the schisms of the 1820s through 1840s. Confronted with such turmoil, few Quakers remained unaffected.

The son of attorney Samuel Allinson (1739-1791), and a member of a prominent West Jersey Quaker family, William Allinson became a weighty member of the Burlington (N.J.) Monthly Meeting at the turn of the 19th century. Still a bachelor at age 40, he envisioned his life as intimately bound up with the affairs of the Society, and devoted his time to his religion as an elder of the meeting, clerk of the Monthly Meeting (1798-1807), representative to the Quarterly and Yearly Meetings, and as minister, advisor, and member of innumerable committees. "I do not desire a Life of Ease," he claimed, "& it is very evident it is not for me; but could I choose, it would be most agreeable to be best fitted & most Employd in religious services" (1803 April 26).

Allinson found little ease in his life, indeed. Above all, he felt himself embroiled in conflict -- with his own spiritual failings, with his bachelorhood, and with the temptations of the world. Through self-discipline and self-interrogation, he scrupulously examined every action for earthly motive and spiritual meaning. Although the ministrations of other Friends, particularly George Dillwyn, provided some solace, Allinson found little comfort in his ceaseless waiting for the stillness of the Inward Light, and he obstinately refused to move forward until he could intuit the right path. "I desire to be instructed," he stressed, "& in order thereto that nothing may be withheld which may promote my refinement & increase my acquaintance with the mind of Truth respecting me." In his heart, Allinson felt the painful scourge of spiritual inadequacy and his own inability to draw nearer to the divine; the moments of joyful communion with the divine counterbalanced by the nagging uncertainties of his own worth: "Oh for the precious Fellowship with the Father," he lamented, "for ability to enter into the Closet of the Heart & perform, oftner than the Morning, acceptable Worship there to him!" (1803 March 12).

Few things tormented Allinson as much as his bachelorhood and celibacy. Far from being uncomfortable around women, he was as willing to heed their religious insights as those of men. However because of the connection he saw between his sexual and spiritual shortcomings, women symbolized something more than men. He reproached himself when "transgress[ing] the boundaries of true sobriety" in the presence of some "lively young girls," having been prompted into levity, "which wounded my Peace" (1804 August 22), and after demurring from approaching the parents of a woman for whom he had harbored affectionate feelings for over three years, he indulged in characteristic self-reproach:

"Alas! while writing I am ready to Despair of ever arriving here, -- my strippings & Plungings must be greater than I have known, and my obedience & Faith greater than they have been, or most assuredly I never shall exceed (spiritually) the stature of a Dwarf: -- I desire, and sometimes ardently, to be perfected, but nature revolts at suffering... yet often, very often, I am too weak to ask it from a Consciousness that much Dross needs purging away, and a Dread of the Essential operation of the Furnace" (1804 November 1).

In true Quaker fashion, Allinson explained his reticence about marriage by saying only that he sought "internal Evidence to discover how long it is right to stand still & when it will be safe to move," and hoped that he would not be deluded by temptations (1805 March 23). This connection between spirituality and sexuality surfaces as well in his fears that holding back in marital relations might somehow be connected with holding back from a relation with the divine:

"I endeavor at seasons to approach the Throne of Grace & make some intercession for foregiveness of my Omissions & backslidings at the footstool of Him whom I sometimes have been enabled to call my Beloved, -- but alas! my Love seems cold -- I cannot approach -- the Temple is occupied with other Lovers, and I fail to witness, what I often long for, Jerusalem to be a quiet habitation" (1804 November 4).

Channeling his energies into his church, Allinson involved himself in a variety of Friends-sponsored charitable activities, including supporting the Westtown School, ministering to the Indians in the "western" states, and regularly attending meetings at all levels throughout western New Jersey and southeastern Pennsylvania, including preparatory, worship, monthly, quarterly and yearly meetings. Like many other members of his family, he was committed to the antislavery movement, and often visited local African-Americans "with a view to assist, Encourage, & as ability might be afforded, advise" (1805 January 25), on at least two occasions, appearing in court to support the efforts at liberation waged by African Americans held in slavery. Allinson was on the Acting Committee of the Burlington County Antislavery Society, and in 1807, became a member of the Yearly Meeting Committee on Indian Affairs.

For Allinson, the world presented a scene of almost continual strife, of contestation between the striving for a spiritually pure life, an Inward Life, and the temptations and bustle of the secular world. The young of his day, he felt, were particularly inclined to reject Quaker simplicity and plainness in dress and behavior, and peculiarly resistant to spiritual suasion. "Oh what an ago of Licentiousness & Infidelity!" he lamented, "no marvel if the Divine Indignation should be kindled; -- many of his own workmanship are forgetting him as Days innumerable. -- many are indulging in fleshy Lusts & living in the Pride of life, and many are at open War with Omnipotence & publickly declaring their disbelief of scriptures, of the Truths of revelation, & a final Retribution..." (1803 January 1). At Byberry Meeting, he found the young men to be "like Bullocks unaccustomed to the yoke." Even his own brothers, James and John, seemed to teeter on the brink of succumbing to the lures of worldly dress and comportment, leading Allinson to confront them on occasions regarding their "increasing Deviations in dress & Pursuits," and to conclude that Samuel was "in great Danger of being carried away by the Prince of the Power of the air" (1803 March 27). What he sought in himself and in society was self-discipline, spiritual simplicity, and purity. What he longed for was self-assurance and community, commodities too rarely found by Allinson to provide an abiding sense of peace.

Acquisition Information:

Donated by Barbara H. Hammitt, 1992. M-2865.1 .

Custodial History:

The diary was donated by a descendent of the Allinson family, Barbara H. Hammitt, in October, 1992. It was accompanied by two pamphlets: Proceedings of the Convention of the Friends of Peace, of the State of Pennsylvania (Philadelphia, 1850) and Letters and Observations Relating to the Controversy Respecting the Doctrines of Elias Hicks, 3rd ed. (Philadelphia, 1824), the latter of which is inscribed by Elizabeth Allinson (William's sister) to her great niece, Mary Elliott Allinson.

Rules or Conventions:

Finding aid prepared using Describing Archives: A Content Standard (DACS)
Related
Additional Descriptive Data:

Related Materials

The diary was donated by a descendent of the Allinson family, Barbara H. Hammitt, in October, 1992. It was accompanied by two pamphlets: Proceedings of the Convention of the Friends of Peace, of the State of Pennsylvania (Philadelphia, 1850) and Letters and Observations Relating to the Controversy Respecting the Doctrines of Elias Hicks, 3rd ed. (Philadelphia, 1824), the latter of which is inscribed by Elizabeth Allinson (William's sister) to her great niece, Mary Elliott Allinson. Both have been transferred to the Books Division.

The Burlington County (N.J.) Historical Society includes about 80 items relating to the Allinson family (1719-1856).

The Allinson family Papers of the Special Collections and University Archives, Rutgers University, includes approximately 0.75 lin. feet of material, including several of William Allinson's account books, some of his business papers, and letters, diaries, and business records of his father and brother, both of whom were named Samuel, and other siblings.

The Quaker Collections at Haverford College include over 14 linear feet of material relating to the Allinson family.

The Isaac Bonsall Journal in the American Travel Collection, Clements Library, consists of an account of Bonsall's missionary trip to the Indians of northwestern Pennsylvania and southwestern New York State. While they did not coincide, Bonsall's and Allinson's journeys arose out of the same committee in Yearly Meeting.

Partial Subject Index

African-American Quakers
Afrrican-Americans--New Jersey
Aging
Alexander, Ann
Allinson, David
Allinson, Elizabeth
Allinson, James, ca.1777-1811
Allinson, John, 1790-1812

8, 9, 12, 13, 85-86, 96-97, 100, 127, 134, 147a, 147c-149, 155, 175, 181, 189-191, 244, 267-268

Allinson, Samuel, jr.

41, 86, 96, 147c-149, 152, 257

Amey, D., d. 1806
Antislavery movements--New Jersey

55-56, 67, 95, 98-99, 164, 169-170

Apprentices--New Jersey
Aupaumut, Hendrick, 1757?-1830
Bachelors--New Jersey

passim, but see Celibacy and
231-233

Birds as pets
Bonsall, Isaac, 1765-1831
Cancer--Treatment
Celibacy

10-11, 124-125, 161, 204-205

Chance
Charity
Children--Death
Cooper, Sarah
Courtship--New Jersey--19th century
Death

74-75, 104, 165, 213, 214, 222-224, 266-268

Diaries--New Jersey
Dillwyn, George, 1738-1820

7,8,13, 46-47, 48, 138, 143, 176, 225-229, 235-238, 258-259

Dreams

101, 108-109, 121, 148, 189-191, 194-196, 197-199, 229-231

Eclipses, Solar
Emlen, Samuel
Family--New Jersey
Fires--Pennsylvania--Philadelphia
Friendship
Hicks, Elias, 1748-1830
Horses--Accidents
Indians of North America

130-131, 191, 193-196, 243-244

Indians of North America--New York (State)
Indians of North America--Religion
Insurance
Inward Light
Jourdan, Richard
Kersey, Jesse, 1768-1845
LeRoy, James
Lightning rods
Lipreading
Marriage
Mifflin, Ann
Militia substitution fine
Partnership
Plainness

41, 62-63, 69, 100-101, 127, 162, 252-253

Prisons--New Jersey
Quakers--Conduct of life
Quakers--Diaries--New Jersey
Quakers--New Jersey--19th century
Race
Reeve, Elizabeth Richardson
Reeve, Josiah
Routh, Martha
Scattergood, T.
Self-control--Religious aspects
Shawnee Indians
Simpson, John
Slavery--New Jersey
Smith, John, d. 1803
Smith, Robert
Society of Friends--Clergy--Appointment, call and election
Society of Friends--Discipline

8, 12, 13, 18, 36, 100, 242-243

Society of Friends--New Jersey--19th century
Society of Friends--Relations with Indians

130-131, 193-196, 243-244, 248, 251, 255, 260, 265-266

Society of Friends. Philadelphia Yearly Meeting

52-66, 130-133, 233-234, 252-256

Spiritual life--Society of Friends
Stockbridge Indians
Suicide
Teenage boys
Temperance

15, 16, 53, 131, 162, 194-196, 221

Tooth loss
Weddings--New Jersey
Westtown School
Women--Education
Yellow fever--Pennsylvania--Philadelphia
Contents
Using These Materials
---
RESTRICTIONS:

The collection is open for research.

USE & PERMISSIONS:

No copyright restrictions.
PREFERRED CITATION:

William Allinson Journal, William L. Clements Library, The University of Michigan