Back to top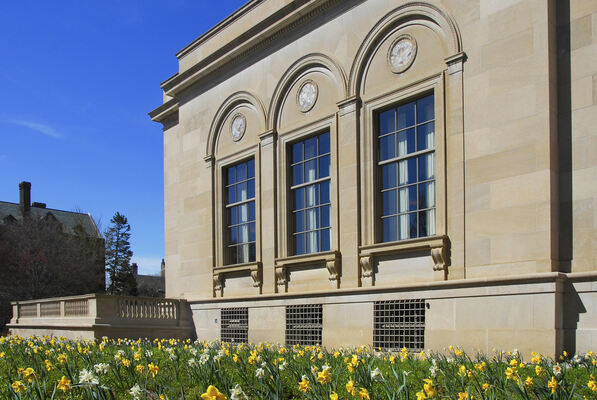 Address

:

909 South University Avenue

Ann Arbor, MI 48109, USA
David Greene letterbook, 1777-1785
Using These Materials
---
Restrictions:

The collection is open for research.
Summary
Creator:

Abstract:

The David Greene letterbook contain copies of the outgoing correspondence of an American loyalist and merchant from his wartime exile in Antigua and postwar residence in Connecticut. The letters record his business affairs, including the West Indies trade of his firm, Rose & Greene, as well as personal reflections on his experiences as a Loyalist exile.

Extent:

225 pages

Language:

English

Authors:

Collection processed and finding aid created by Manuscripts Division Staff
Background
Scope and Content:

David Greene's letterbook contains copies of Greene's outgoing business correspondence, almost evenly divided between his period as a Loyalist refugee in Antigua (ca.120 letters) and his stay in Norwich, Conn., awaiting permission to return to Boston (ca. 110 letters). The final twenty letters are written from Boston. The bulk of the letterbook consists of letters written by Greene, and are either unsigned, signed by Greene, or in a few cases, signed in the name of the firm, Rose & Greene. Most of the letters in the first half of the letterbook appear to be full text copies of letters sent, with most in the second half consisting only of brief excerpts or paraphrases.

Greene's business affairs form the core concern of the majority of letters in the letterbook. These letters include discussions of the usual round of commercial topics: the shipment of cargo to or from Antigua, East Florida, or Boston, the status of various markets, prices current, and shipping accidents. Greene occasionally records bills of lading, invoices, and insurance requirements, as well. The letters from Antigua (1777-1781) include an interesting account of an accident involving ships captained by John Callahan and William Blake and rumors of the scandalous activities of Richard Leake, a merchant indebted to Greene. In addition to his correspondence with the firm Lane, Son & Fraser, Greene corresponded with William Gardiner Greene, a Boston merchant living in Demerara, William Cowell from Grenada, William Priddie, and William Hubbard, a Loyalist merchant from Boston and old compatriot of Greene's, now conducting his affairs from New London, Conn. Greene's letters from Norwich (1781-1785) continue his correspondence with former partner and father-in-law John Rose as well as with Lane, Son & Fraser. Several letters from this period relate to a dispute over the misplacement of a debt payment to John Smith, Jr.

In Antigua, Greene was personally and financially absorbed with an interest in the course of the Revolutionary War in the West Indies. One of his letters discusses the activities of armed merchantmen capturing American ships and claiming them as prizes (p. 5, 13 February 1777), and several later letters record naval skirmishes between the French and English fleets, beginning in the Fall of 1778 (p. 99, 27 September 1778; p. 101, 21 October 1778; p. 107, 13 January 1779; p. 115, 12 November 1779; and p. 154, 29 June 1781). In a letter dated 29 June 1781 (p. 154), Greene comments on the British command. Several letters offer particular insight into the effect of the War on trade, both in Antigua and Connecticut. Letters dated 6 September 1777 (p. 63), 27 September 1779 (p. 113), and 18 August 1780 (p. 130) reveal the stagnation of commerce in the West Indies, and later letters from Norwich discuss the difficulties in exporting goods from America prior to the signing of a commercial treaty between Britain and America (see esp. p. 215, 30 March 1783; p. 216, 10 May 1783; p. 224, 16 July 1783; and p. 239, 11 December 1783).

Throughout the letterbook, Greene interweaves business matters with personal reflections on his experience as a Loyalist exile in Antigua or, later, as a former exile living in Norwich, not yet permitted to return home to Boston. Such reflections are quite common in the letters written to his friend and colleague, Thomas Fraser, but may be found in letters addressed to other individuals as well. Safely removed in Antigua, but still concerned, Greene often muses about the state of the War, yearning for a stable peace so that the can return home (see p. 106, 13 December 1778; and p. 132, 19 August 1780), worrying about the conditions of Loyalists who chose to remain in America during the War (p. 82, 17 December 1777; and p. 96, 30 July 1778), and, in one letter, offering his opinion of "his countrymen" (p. 112, 11 June 1779). Greene was displeased with the social climate on Antigua where, he felt, "every man seems to live... with a View to some other Place to which he hopes to remove at some future Period." (p. 125, 15 June 1780).

Once in Norwich, Greene quickly became frustrated at not being allowed immediately back into Boston and with the steps required to gain permission (p. 234, 20 October 1783; p. 241, 19 February 1784; and p. 243, 17 April 1784). Prior to the signing of the Peace of Paris, Greene notes that he felt restrained from speaking freely (p. 171, 12 February 1782), and thereafter, he carefully tracks the evolution of public sentiment with regard to Loyalist exiles (see esp. p. 234, 20 October 1783; p. 236, 5 November 1783; and p. 237, 22 November 1783).

Greene's letters to Thomas Fraser in particular demonstrate Greene's clever wit and a sensitivity to those to whom he is close (see esp. p. 214, 30 March 1783; and p. 216, 10 May 1783). Also of interest are two letters that refer to the treatment of and attitudes toward slaves shipped to the United States from the West Indies (p. 257, 30 October 1784; and p. 263, 7 January 1784).

Biographical / Historical:

David Greene was born in Boston in 1749 into the wealthy mercantile family of Thomas and Martha (Coit) Greene. After graduating as valedictorian of his class at Harvard in 1768 and earning a second degree from Yale in 1772, Greene entered the import/export trade in partnership with his brothers, Daniel and William Hubbard, operating from a store located on a portion of Greene's Wharf that he had inherited. By 1772, Greene had become prominent enough in the Boston mercantile community to win election as Clerk of the Market, but two years later he cut himself off from all hopes of public office when he allied himself with the Loyalist cause by signing the merchants' testimonial to Governor Thomas Hutchinson. Such an unpopular public stance in a city as radicalized as Boston was not only personally risky, it soon made it impossible to continue business. As a result, shortly after the outbreak of hostilities in the spring of 1775, Greene was forced into exile.

Arriving in London, Greene was taken into the home of Thomas Fraser, partner in the firm of Lane, Son & Fraser, known for its cordial relationship with Loyalist refugees. Never one to stray far from business, even as a refugee, Greene soon hooked up with a merchant from Antigua, John Rose, with whom he went avidly into partnership. A substantial credit line from Lane, Son & Fraser enabled Rose and Greene to finance their new enterprise, and although the firm was established in London, Greene accompanied Rose to the West Indies early in 1777 to gain better access to the West Indian markets. In November, this new commercial relationship was sealed with a personal twist when Greene married Rose's eldest daughter, Rebecca (d. 1800).

An astute businessman, Greene used the base in Antigua to develop advantageous associations with a number of mercantile firms in America, the West Indies, and the Pacific. Rose & Greene pursued a trade in West Indian produce, including rum, sugar, tobacco, rice, and molasses, as well as oak staves and lumber from East Florida, marketing most of the raw materials in England. Occasionally, they also dealt in goods captured from French ships, such as gauze, soap, wine, and brandy. Like many in the West Indies in the 1770s, Greene and Rose suffered their share of hardships from several seasons of crop failure and from the periodic interruption in trade due to the War. Greene also seems to have suffered physically from an unnamed illness.

When the French entered the War on the side of the Americans, the safety of Antigua and other British West Indian colonies was compromised. Greene became involved in the island's defense effort, working as an unpaid subaltern, and he did his best to keep abreast of the naval skirmishes off shore. Throughout, his most ardent hope was less for British victory than for the settlement of a lasting peace so that he could resume his money-making efforts at home. He finally arranged to return to New England in August, 1781, settling with his wife and two sons in New London, Conn., due to legal proscriptions in Massachusetts on exiles. While awaiting a decision on his status by the Massachusetts General Assembly, Greene appears to have lived in Norwich, Conn., maintaining the New London store that he owned with his old partner, William Hubbard. Though suffering in the post-war economic malaise, Greene and Hubbard carried on a trade in flour, pine boards, butter, and pickled fish, and occasionally in oxen, horses, flaxseed, and pot- and pearl ash. At one point, Greene floated the idea before John Rose of re-establishing a three-way trade between Boston, London, and Antigua, but these plans never materialized, and he was interested in entering the slave trade, if nothing more.

Greene submitted a petition to the Governor and Council of Massachusetts in April, 1784, for a license to return to Boston, and was added to the list of Loyalists permitted to return. Although not formally naturalized for several years more, Greene returned with his family to their manor home in Boston by the summer of 1784, and re-established his business, probably in conjunction with the Hubbard brothers, as he had long planned. Once home, he became singularly civic-minded, taking memberships on the Boston School Committee and in the Boston Tontine Association, and serving as the second vice-president of the Chamber of Commerce, director of the Union Bank, and president of the Union Insurance Company. He was also appointed Justice of the Peace.

Greene died on June 12, 1812, in Ballston Springs, N.Y., where he had gone seeking treatment for ill health. An excerpt from his obituary speaks highly of his achievements, emphasizing his skill in business and his personal integrity:

"Very few persons have passed through this life so much beloved and esteemed as Mr. Greene, by a numerous circle of friends and acquaintance -- His singular sweetness of temper, his undeviating politeness, his uncommon attention to strangers, and his extensive connections in business, made him known and admired in every part of the Union; and he was justly considered, both at home and abroad, as one of the most accomplished gentlemen of New England. He was... alike esteemed for his integrity and his attention to business."

Acquisition Information:

1992. M-2776 .

Rules or Conventions:

Finding aid prepared using Describing Archives: A Content Standard (DACS)
Related
Additional Descriptive Data:

Partial Subject Index

Dupuis & Co.
African Americans--Legal status, laws, etc.
African Americans--Social conditions

1777 May 27
1785 January 7

Agriculture--West Indies
American Loyalists

1778 July 30
1779 June 11
1781 June 29
1782 February 12
1783 May 10 (2)
1783 October 20
1783 November 22
1784 February 19
1784 April 30

American Loyalists--Antigua
American Loyalists--Connecticut
American Loyalists--Massachusetts--Boston

1777 December 17 and passim

Antigua--Commerce--18th century

1777 March 7
1777 March 10
1777 April 10
1777 May 6
1778 January 7
[1780] June 15
1780 September 11

Antigua--Commerce--East Florida
Antigua--Economic conditions--Revolution, 1775-1783

1777 March 7
1777 April 8
1777 June 12
1777 September 5
1777 September 6
[1780] June 15
1780 August 18
1782 November 24

Antigua--History--Revolution, 1775-1783

1778 September 27
1778 October 21
1778 December 13
1779 February 12
1779 March 17
1781 June 29

Armed merchant ships
Barbados--History--Revolution, 1775-1783
Blake, William

1777 June 30
1777 July 19

Boston (Mass.)--Commerce
Callaghan, John

1777 March 7
1777 April 2
1777 May 24
1780 March 28

Childbirth

1779 December 23
1782 October 1
[1783] May 29

Coast defenses--Antigua
Coinage, International
Connecticut--Commerce--1783-1789

1782 December 11
1784 June 15

Connecticut--Economic conditions--Revolution, 1775-1783
Demerara--History--Revolution, 1775-1783
Domestics
Dominica--History--Revolution, 1775-1783
Estaing, Charles Henri, comte d', 1729-1794

1778 December 13
1779 January 13-20

Exports--Saint Croix
Flaxseed

1778 January 7
1778 March 11
1778 December 13

Friendship

1777 April 10
1783 January 10

Great Britain--Commerce--United States

1777 April 10
1783 March 30
1783 May 10 (2)

Hair preparations
Hood, Samuel Hood, viscount, 1724-1816
Imports--Saint Croix
Leake, Richard

1777 March 7
1777 July 28
1777 September 5
1778 June 16
1779 June [7?]
1780 March 28

Letter-writing
Marketing channels--Antigua

1778 January 7
1778 March 11

Marriage

1777 September 16
1785 June 21

Massachusetts--Commerce
Merchants--Antigua
Merchants--Connecticut
New London (Conn.)--Description
Partnership--Antigua
Prices--Antigua

1777 May 6
1777 June 12
1780 September 11

Prices--Connecticut
Prisoners of War

1779 January 13-20
1781 November 14-17

Privateers--West Indies

1777 February 13
1777 February 13
1777 March 10

Retirement
Rice trade--Antigua
Rum industry--Antigua

1777 March 7
1777 April 15
1777 October 13

Russell, Charles
Russell, James

1777 April 14
1777 April 15
1777 June 12 (1)

Russell, James, Jr.
Saint Lucia--History--Revolution, 1775-1783
Shipping--West Indies

1778 December 4
1778 December 13

Shipwrecks--Antigua
Slavery--Antigua

1777 May 27
1780 September 19

Slavery--Dominica
Slaves--Massachusetts
Slave-trade--Connecticut

1783 October 20-November 3

Slave-trade--Massachusetts
Speculation

1777 June 12
1777 September 6
1778 July 31
1779 December 23
1780 September 11

Staves and stave trade
Tobacco--Antigua

1777 October 14 (2)
1778 July 31

United States--Commerce
United States--Commerce--Great Britain

1777 April 10
1783 March 30
1783 May 10 (2)

United States--History--Revolution, 1775-1783
United States--History--Revolution, 1775-1783--British Forces
United States--History--Revolution, 1775-1783--Economic aspects

1777 September 5
1777 September 6
1777 October 30
1778 January 7
1778 March 11
1778 July 30
1778 September 27
1778 December 13
1778 December 13
1779 September 27
[1780] June 15
1781 November 14-17
1782 November 24
1783 March 30
1783 March 30 (1)
1783 May 10 (2)

United States--History--Revolution, 1775-1783--Naval engagements

1777 February 13
1778 December 13
1779 January 13-20

United States--History--Revolution, 1775-1783--Participation, French

1778 October 21
1779 January 13-20
1779 September 27
1779 November 12

United States--History--Revolution, 1775-1783--Peace

1777 September 6
1777 September 16
1778 October 21
1778 December 13
1783 March 30
1783 March 30 (1)
1783 May 10 (2)

United States--History--Revolution, 1775-1783--Prisoners and prisons
United States--History--Revolution, 1775-1783--Prizes, etc.

1777 February 13
1777 February 13
1778 January 7
1780 September 11
1780 October 12

United States--History--Revolution, 1775-1783--Refugees

1777 April 10
1777 September 16
1778 September 27
1778 October 21
1778 December 13
1779 June 11
1780 March 22
1780 August 19
1781 June 29
1783 July 16-21

West Indies--History--Revolution, 1775-1783

1777 February 13
1779 June 11

Young, Adam
Contents
Using These Materials
---
RESTRICTIONS:

The collection is open for research.

USE & PERMISSIONS:

No copyright restrictions.
PREFERRED CITATION:

David Greene Letterbook, William L. Clements Library, The University of Michigan