Back to top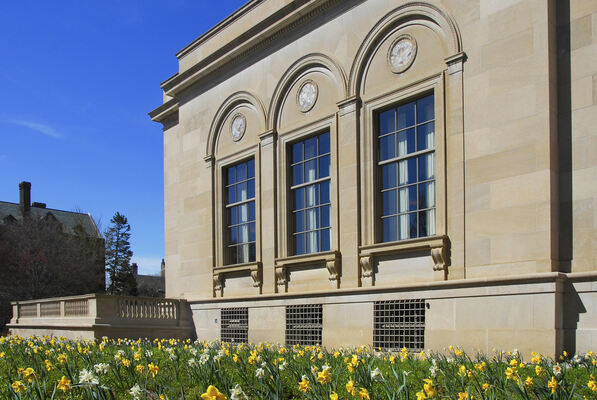 Address

:

909 South University Avenue

Ann Arbor, MI 48109, USA
Talcott family papers, 1823-1951 (majority within 1823-1908)
Using These Materials
---
Restrictions:

The collection is open for research.
Summary
Creator:

Abstract:

The papers of the Talcott family of Vernon, Connecticut, and Rockville, Connecticut, are comprised largely of correspondence among various extended family members and friends. Two Talcott women, Martha and Sarah, attended Mount Holyoke Female Seminary.

Extent:

312 items

Language:

English

Authors:

Collection processed and finding aid created by Terese M. Austin, May 2008
Background
Scope and Content:

The collection consists of 312 items:

217 letters, largely to and from the Talcott family;

69 school essays, mostly written by Martha and Sarah Talcott at Mount Holyoke Female Seminary;

2 engravings, of John B. Talcott.

24 miscellaneous items, including the Last Will and Testament of Amelia Talcott, items relating to the family business, and a detailed biographical sketch of John Talcott and his descendants.

Although much of the correspondence concerns the domestic life of the extended Talcott family, twenty-seven of the letters relate to the Talcott women's education, and the lives and careers of fellow students. Martha Goodrich Robbins (later Talcott) received some level of schooling in the 1820s. In a letter of September 18, 1823, her brother Chauncey gives his view of the subject: "When you are down on your hands and knees, dressed in old tow cloth, weeding onions, it will be of but little service to you to know what are the fashions in New York, or how many parts of speech there are, or whether the earth is round or flat as a toad. It will not make the weeds come up any faster." In spite of this, two of Martha's daughters attended Mount Holyoke Female Seminary.

One undated letter fragment, from a Mt. Holyoke instructor, Grace Stanton, to Sarah Talcott, describes in detail the reaction of a new student (Sarah Talcott) upon arrival at Mt. Holyoke -- how homesickness and the strangeness of her surroundings were soon transformed into affection and then love for the beautiful landscape, dedicated teachers and schoolmates. A letter (unsigned, dated May 1862) updates the class on current happenings in the lives of several of the women who graduated from Mt. Holyoke, some of whom were actively teaching, others who had married and were raising families, and several who were ill or taking care of ailing family members.

Another letter provides a description of a school mistress as imagined by Mt. Holyoke graduate Mary Perry, and reveals something of the bond that unites these women: "We, who are set apart from the rest of Eve's daughters as the 'Eddicators' of Papa's hopefuls and Mama's darlings. Who are neither married, nor given in marriage, whose black alpaca dresses always bear about a sprinkle of chalk dust -- whose second finger on the right bears the indelible ink stain, whose voices are always pitched on the sharps and minor keys, as being more euphonious to the sensitive ear -- weep for us...every step, motion and breath bespeaks her profession, stern, stiff, staid, prim & precise schoolmistress. This is a picture of our sisterhood, myself included, if the Fates so decree. I whisper amen, and Echo brings back the same word." (June 7, 1870, Lizzie L. to Mattie)

Religion was a strong influence at Mt. Holyoke and often appeared in the letters of its graduates. Mary Mclean wrote to Sarah Talcott, that "there are many who have learned 'the better way' within those hallowed walls, and have gone out from there with hearts devoted to the service of Christ, and vast, vast is the influence they are now exerting in this world of ours." (November 26, 1852) Another Mt. Holyoke classmate, deterred by ill health from pursuing a teaching career, resigned herself to passive endurance: "I doubt not, however, that I have a lesson to learn that could be learned in no other way; may God grant to be my instructor in this matter." (Mary Fitch to Sarah Talcott, December 21, 1858) Two undated letters refer to a prayer association, of which Martha Talcott is a member, formed of mothers and children in search of divine protection in the face of the ever-present threat of serious illness and early death.

The school essays reveal the thoughts of intelligent mid-nineteenth century young women on subjects of historic, religious, moral, and scientific interest, as well as descriptions of contemporary events. Many are mature reflections, written by Martha and Sarah Talcott in their late teens and twenties.

Only scattered references mention the family business, the Civil War, or other political or economic issues of the period. Domestic matters carry the day: family visits, illness and death, poultry reports, and the making of molasses candy (Martha Talcott school essay, March 3, 1866), to mention a few.

Biographical / Historical:

Martha Goodrich Robbins (b. August 3, 1808) married Allyn Talcott (May 23, 1800-May 22, 1863) on April 10, 1833. They lived in Vernon, Connecticut, until 1858, when the family moved to Rockville, Connecticut. They had five children, Sarah Goodrich Talcott (March 23, 1835-November 3, 1862), Martha Robbins Talcott (January 19, 1837-1913), Allyn Kellogg Talcott (b. March 2, 1839), Lavinia Isabel Talcott (July 26, 1841-October 2, 1865), Phineas Talcott (b. September 29, 1845), and Frederick Talcott (b. September 28, 1850). Martha and Sarah Talcott attended Mount Holyoke Female Seminary in South Hadley, Massachusetts, Sarah graduating in 1855 and Martha in 1866. Sarah taught for a brief time before her death at the age of 27. Lavinia Talcott also died in her twenties. Martha lived into her eighties, spending the remainder of her life in Rockville. Two of the Talcott brothers, Phineas and Allyn, were in the dry goods and grocery business in Rockville (the Phineas Talcott Homestead is a landmark in Rockville). Frederick Talcott became joint holder of a patent for a label-making machine, and co-founder of the Rhode Island Label Works, Inc., in Providence, Rhode Island.

Acquisition Information:

1990. M-2586a .

Rules or Conventions:

Finding aid prepared using Describing Archives: A Content Standard (DACS)
Related
Additional Descriptive Data:

Alternate Locations

The Talcott family papers arrived with the Hatch-Hutchinson Family papers. The two collections have no apparent connection to one another.

Related Materials

Sarah G. Talcott Correspondence, Mount Holyoke College, Archives and Special Collections, South Hadley, Massachusetts.
Subjects
Click on terms below to find any related finding aids on this site.
Subjects:

Formats:

Names:

Places:
Contents
Using These Materials
---
RESTRICTIONS:

The collection is open for research.

USE & PERMISSIONS:

Copyright status is unknown.
PREFERRED CITATION:

Talcott Family Papers, William L. Clements Library, The University of Michigan.