Back to top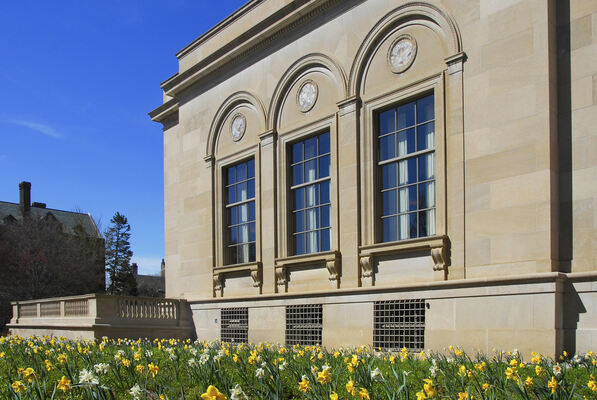 Address

:

909 South University Avenue

Ann Arbor, MI 48109, USA
John Wilkes papers, 1741-1790
Using These Materials
---
Restrictions:

The collection is open for research.
Summary
Creator:

Abstract:

The John Wilkes papers contain Wilkes's incoming and outgoing correspondence on topics such as politics, financial difficulties, and family matters. Also included are 13 contemporary portraits, several literary reviews by Wilkes, and a parody of his poem "An Essay on Woman," by an unknown author.

Extent:

423 items (7 volumes)

Language:

English

Authors:

Collection processed and finding aid created by Shannon Wait, August 2010
Background
Scope and Content:

The John Wilkes papers comprise seven volumes. Volumes I through III contain 295 letters, of which approximately three-quarters were written by Wilkes to his family members and his personal friends and followers between 1741 and 1786.

Volume I contains 91 letters and 4 printed items, arranged chronologically (April 5, 1741-November 8, 1766). Most of the letters in this volume are to and from members of the Wilkes family, including Wilkes' mother, Sarah (Heaton) Wilkes; his sister, Sarah Wilkes; and his younger brother, Heaton Wilkes. The early letters frequently concern social, family, and financial matters, and they demonstrate the importance of education to the Wilkes family. In John Wilkes' earliest letter, written to his older brother Israel at 15, he analyzed a phrase in the Iliad and found that it was not grand enough for his taste. Between 1741 and 1744, Presbyterian Matthew Leeson, the Wilkes' tutor, wrote five letters to Wilkes' mother on religious and everyday topics, including escorting John to the University of Leiden (February 2, 1743).

Items from the 1740s and 1750s also illustrate a variety of attitudes towards women. An undated poem (item 30) by John Wilkes, entitled "The Husbands Creed," paints women as domineering: "Tyranny be to the Wife, Slavery to the Husband, and ruin to the family,/ As it was in the beginning it now shall be to the End of the World. Amen." At the same time, three letters from Wilkes' older sister Sarah to a "cousin Sophy" discuss at length the "tyranny of a husband" and declare that, "Female friendship is the only real and certain good . . ." (July 27, 1755). In another letter, dated August 19, 1755, Sarah Wilkes wrote to Sophy concerning the limited opportunities offered to women, "Your soul is rather turn'd to harmony and love, you think 'if we had the same advantages in Education as men have, we shou'd make as great a figure' We have never been tried, 'tis true . . . ."

After April 1763, with Wilkes' publication of an incendiary issue of The North Briton, the materials increasingly concern political issues and their consequences for him. Several undated documents affixed to page 42 of the volume describe Wilkes' arrest by general warrant; one letter to Wilkes recommends Rome and Avignon as places for him to take refuge (December 12, 1763). In a letter dated November 15, 1763, Wilkes gave an account of his arrest and described his objections to his treatment in a letter to the Speaker of the House of Commons. Wilkes' later letters in the volume touch on his prosecution for An Essay on Woman (March 16, 1764); concern his letter to the electors of Aylesbury (November 2, 1764); reveal his custody wishes for his much-beloved daughter Mary (December 4, 1764); and show his attempts at reconciliation with Great Britain, and his desire to serve as governor of Jamaica (December 4, 1765). Also of interest are Wilkes' comments on the Stamp Act rebellion; he wrote Heaton, "You are much mistaken as to my ideas of America. I am too well inform'd of what passes there by some gentlemen I have seen, and there is a spirit little short of rebellion in several of the Colonies. If I am to be an exile from my native London, it shall not be in the new world…" (November 17, 1765).

Volume II, which covers December 15, 1766-January 3, 1786, contains 120 chronologically-arranged letters. Wilkes wrote 86 of the letters, primarily to his younger brother Heaton. His most frequent topic is his financial situation, which was often troubled, particularly after he liquidated his assets in Britain and received only a fraction of their value from his trustee and friend, Humphrey Cotes. On November 16, 1767, he addressed his resistance to the issuing of general warrants, and to the seizure of papers. In later letters, Wilkes' mother scolded him for visiting a "bawdy house" and fretted over his reputation (October 23, 1771). In the letter o April 21, 1780, Israel Wilkes described a journey to Algiers, including the beauty and climate of the city.

The time period covered by Volume III, December 10, 1762-1783, overlaps with the periods represented in both Volumes I and II. The 70 chronologically-arranged items in this volume focus particularly on Wilkes' time in prison at King's Bench, 1768-1770, and on his literary career. The volume contains 11 letters written by Wilkes from prison, mainly to his friend, the French journalist Jean-Baptiste-Antoine Suard. In these, he commented on his political and financial difficulties, and on his popular following, which had taken up his "public, national, and constitutional cause" (June 20, 1769). Also included are several literary reviews by Wilkes, with his thoughts on Robert Lowth's lectures (p. 2), John Locke's Two Treatises of Government (p. 9), John Ogilvie's Poems on Several Subjects (p. 27), and his panning of Some Specimens of the Poetry of the Ancient Welsh Bards (p. 11). In letters written during the period of the American Revolution, he commented on military strategies and opportunities.

Volume IV contains 19 letters, covering 1749-1790. Wilkes wrote 18 of the letters to recipients such as George Grenville (October 22, 1757), Francis Dashwood (September 25, 1759), and Humphrey Cotes (March 3, 1766). They cover such topics as speculation concerning "Westminster being taken by a coup de main" (April 13, 1779) and arrangements for Wilkes' daughter's trip to France (August 17, 1784). Of particular note is Wilkes' "Letter to the Worthy Electors of the Borough of Aylesbury in the County of Bucks, London" (October 22, 1764), a 21-page defense of his The North Briton writings and An Essay on Woman against charges of libel and indecency, respectively. Thomas Potter, Wilkes' collaborator on An Essay on Woman, wrote a letter dated January 29, 1757.

Volume V contains 25 letters, dating 1768-1782, all addressed to Wilkes' lawyer, Peter Fountain. The letters mainly concern routine financial matters and social visits. Also interspersed are 13 contemporary portraits and caricatures of Wilkes, including two famous caricatures by William Hogarth (see additional descriptive data for a list of the portraits).

Volume VI contains 80 letters from Wilkes to his friend and neighbor in Aylesbury, and a political supporter, John Dell. The letters cover the years 1753-1781, but are only partially chronologically-ordered within the volume. Wilkes' correspondence with Dell is rather frank and heartfelt, and at times humorous; the bulk dates to the 1750s. It documents his early political career, including standing for various elections, his relationship with Thomas Potter, and some of his parliamentary votes (January 21, 1758; p. 41). Also recorded are his reaction to his father's death (January 31, 1761; p. 5), his unorthodox relationship with his wife and daughter (April 26, 1757; p. 37), and his mocking of the hygiene of the Scots after a visit there (September 26, 1758; p. 46).

Volume VII contains a parody of Wilkes' unpublished and famously indecent poem, An Essay on Woman. Like its inspiration, the poem uses sexually explicit jokes to poke fun at Alexander Pope's poem "An Essay on Man." The poem is thought to be a manuscript copy of one held in the Bodleian Library, made at some point in the 19th century.

Biographical / Historical:

John Wilkes was born on October 17, 1725, in Clerkenwell, London, the second son of Israel Wilkes, a wealthy London brewer, and his wife, Sarah Heaton. The other Wilkes children were Israel (b. 1722), Sarah (b. ca. 1723), Mary (b. ca. 1724), and Heaton (b. 1727). John Wilkes was educated in Hereford and attended the University of Leiden from 1744-1746. The next year, he married Mary Mead (ca. 1715-1784), an heiress ten years his senior, whose dowry was the manor of Aylesbury in Buckinghamshire. The marriage produced one daughter, Mary (known as Polly; b. 1750), but ended in a separation in 1756. Thereafter, Wilkes gained a reputation as a rake, and fathered several illegitimate children. He also became increasingly involved in a notoriously bawdy gentlemen's club, the Knights of St. Francis of Wycombe, also known as the Hellfire Club.

In 1754, Wilkes stood unsuccessfully for Parliament, and was instead appointed high sheriff of Buckinghamshire. He was elected to Parliament for Aylesbury in 1757 and again in 1761, but rarely spoke and proved himself a poor debater. He instead relied on his writing talents to express his political ideas. He wrote a pamphlet and several essays for The Monitor, and then founded a satirical newspaper, The North Briton, in June 1762. In issue 45 of the serial, published on April 23, 1763, Wilkes lampooned King George III and Prime Minister George Grenville, after the kinpraised the 1763 Treaty of Paris in a session of Parliament. The King took personal offence to the attack, and on April 30, issued general warrants which led to Wilkes' arrest for seditious libel. Wilkes was freed on grounds of parliamentary privilege on May 6, but not before crowds of supporters had taken to the streets with shouts of "Wilkes and Liberty!" Several months later, Wilkes came under scrutiny for a raunchy poem he had written with Thomas Potter, entitled An Essay on Woman. He fled to France and was expelled from Parliament, found guilty of libel, and outlawed.

After five years in exile, publishing anti-government polemics and supported financially by friends, Wilkes returned to England. He entered the 1768 election, standing for London; he was defeated, but was returned for Middlesex. Government attempts to block Wilkes from taking his seat and imprisonment for blasphemy and libel made Wilkes a hero with London's lower classes. In America as well, "Wilkes and Liberty" became a rallying cry against unconstitutional Crown authority. Elected alderman in 1769, Wilkes became the center of a radical party in London which was pro-American and advocated parliamentary reform. His influence in the city continued, with his election as lord mayor in 1774 and as city chamberlain in 1779. Although he continued to sit in Parliament until 1790, his influence gradually declined. He died in 1797.

Acquisition Information:

1934, 1946, 1955, 1991. M-229, M-601, M-988, M-2697 .

Processing information:

Cataloging funded by the National Endowment for the Humanities (NEH) and the "We the People" project.

Arrangement:

The John Wilkes papers are arranged into seven volumes.

Rules or Conventions:

Finding aid prepared using Describing Archives: A Content Standard (DACS)
Related
Additional Descriptive Data:

Related Materials

The William Petty, 1st Marquis of Lansdowne, 2nd Earl of Shelburne papers contain materials related to John Wilkes.

The following institutions have collections of materials related to John Wilkes:

British Library, London
British Museum, London
Bodleian Library, Oxford
Derbyshire Record Office, Matlock
Guildhall Library, London

Bibliography

Fitzgerald, Percy H. The Life and Times of John Wilkes, M.p., Lord Mayor of London, and Chamberlain. London: Ward and Downey, 1888.

List of portraits of John Wilkes in Volume V:

Kitcheman, after Robert Edge Pine. John Wilkes Esqr. Member of Parliament for the County of Middlesex, Friend to Liberty, a Lover of his King, opposer of Ministerial Tyranny & Defender of his Country. Mezzotint, 1768.
Kitcheman, after Robert Edge Pine. John Wilkes Esqr. Member of Parliament for the County of Middlesex, Friend to Liberty, a Lover of his King, opposer of Ministerial Tyranny & Defender of his Country. Mezzotint, 1768. Printed for Robert Sayer.
Dickinson, after Robert Edge Pine. The Right Honorable John Wilkes Esq: Lord Mayor of the City of London. Mezzotint, 1774. Printed for Mrs. Sledges.
Unknown. John Wilkes, Esqr. Mezzotint, [n.d.].
Unknown. John Wilkes Esqr. Alderman of London. Colored mezzotint, [n.d.]
E. Bocquet, after Robert Edge Pine. John Wilkes Esqr. Stipple engraving. [n.d.]
Miller, J. John Wilkes Esqr. Mezzotint. [n.d.]
Unknown. John Wilkes Esqr. Alderman of London. Engraving. [n.d.]
Unknown. Jean Wilkes, elu Membre de Parlement pour le Comte de Middlesex le 28 Mars 1768. Engraving. [n.d.]
Bause, after William Hogarth. John Wilkes Esqr. Line engraving. [n.d.]
June, J. Untitled. Engraving. 1768.
Unknown. Patriotick Meteors. Line engraving. [1771] (British Museum 4887)
Hogarth, William. John Wilkes Esqr. Line engraving, 1763.
Subjects
Click on terms below to find any related finding aids on this site.
Subjects:

Formats:

Names:

Places:
Contents
Using These Materials
---
RESTRICTIONS:

The collection is open for research.

USE & PERMISSIONS:

Copyright status is unknown
PREFERRED CITATION:

John Wilkes Papers, William L. Clements Library, The University of Michigan