Back to top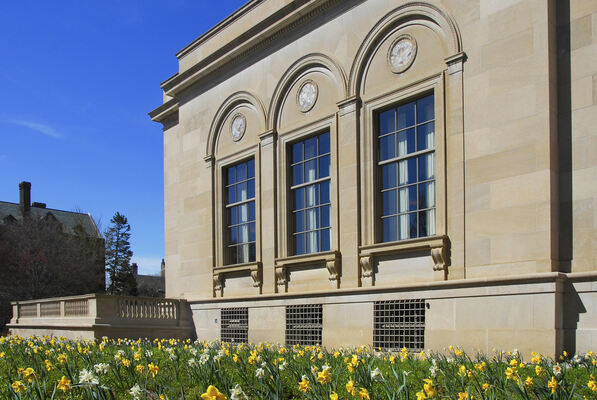 Address

:

909 South University Avenue

Ann Arbor, MI 48109, USA
Fenno-Hoffman family papers, 1780-1883 (majority within 1789-1845)
Using These Materials
---
Restrictions:

The collection is open for research.
Summary
Creator:

Abstract:

The Fenno-Hoffman papers contain the personal correspondence of three generations of the Fenno and Hoffman families of New York City. Correspondence from, to, and between the family members of Maria Fenno Hoffman, daughter of John and Mary (Curtis) Fenno of Boston and Philadelphia, and wife of Josiah Ogden Hoffman of New York.

Extent:

1.25 linear feet

Language:

English

Authors:

Collection processed and finding aid created by Rob S. Cox, September 1996
Background
Scope and Content:

The Fenno-Hoffman papers contain the personal correspondence of three generations of the Fenno and Hoffman families of New York City. It appears that the collection was initially assembled by Maria Fenno Hoffman, who was the bridge linking the Fennos and Hoffmans, or one of her children. The majority of the letters in the collection are addressed to Maria, and those written following her death are mainly from her three children. As a whole, the collection forms a diverse and uniformly interesting resource for the study of family life, politics, and literary culture in the early Republic. The Fennos and Hoffmans seem all to have been blessed with literary talent and excellent educations, enjoying interests ranging from politics and commerce to publishing and writing, but cursed with short lives and disastrous fortune. Their correspondence creates a vivid impression of a once-wealthy family struggling with adversity and personal loss. Yet despite all of their connections to the centers of political and social power, and despite all the setbacks they encountered, the overriding impression gleaned from the Fenno-Hoffman correspondence is of the centrality of family in their emotional and social lives.

The collection can be roughly divided into two, interrelated series: the letters of the Fenno family, and the somewhat later letters of the Hoffmans. Within the Fenno series are 25 letters from John Fenno to his wife, Mary, and six from Mary to John, written primarily during two periods of separation, in the spring of 1789, and summer, 1798. This correspondence conveys a sense of the passionate attachment these two held for each other, expressed with their exceptional literary gifts. John discusses the founding of the United States Gazette in 1789, including a visit with Benjamin Franklin in Philadelphia where he had gone to purchase type. His letters are full of political commentary relating to the establishment of the federal government in 1789 and the young nation's Quasi-War with France, 1798. Although Fenno's letters to his wife are filled with political opinions, he urged her not to get involved in political controversies herself, nor to form opinions of her own. Mary apparently felt free to express herself to her husband, but significantly, her letters tend to mirror his staunchly Federalist political sympathies. The collection also contains four letters from John Fenno to his children, in which he discusses the French Revolution (1794) and general political news (1797-98), while doling out some fairly standard fatherly advice.

All nine of the Fenno children who survived infancy are represented as writers in the Fenno-Hoffman Papers, each one of whom seems to have been blessed with literary talent. The most frequent correspondents among the Fennos -- Maria, Charles J., and Edward -- display an intense interest in the affairs of their family, and express a powerful attachment for one another.

The collection contains twenty letters from Maria Fenno Hoffman (1781-1823), wife of lawyer and judge Josiah Ogden Hoffman (1766-1837), and most of the other letters in the collection were addressed to her. The letters written by Maria were nearly all addressed to her children and contain information on the family, laden with large doses of motherly advice. Among her most notable letters is one addressed to Washington Irving, whose fiancée, Matilda Hoffman, Maria's step-daughter, had died shortly before their wedding day.

The young British Navy officer, Charles J. Fenno, wrote thirty-nine letters, all to his siblings, and the collection also includes one letter to Charles from British Navy officer Charles Williamson (1757-1808), advising him to take an appointment in the West Indies. Fenno's letters include detailed descriptions of his attempts to cope with the debts incurred by his brother, John Ward Fenno, his part in the Tripolitan War and the turmoil in Haiti in 1802-3, naval sparring between French and English on the high seas, and family matters. With the typical Fenno style, Charles' letters provide an excellent view of these conflicts from the perspective of a young junior officer. His last letter was written while on vacation at Coldenham, N.Y., five weeks before his death.

Charles' younger brother, Edward, wrote 69 letters to his sister and surrogate mother, Maria, and 31 to his brother, James, along with a few miscellaneous letters. As lengthy as they are literate, Edward's letters provide an engrossing, running commentary on all facets of life in New Orleans during the 1820s and 30s, when it was still more a French city than American. His interests range from politics to business, high society to love affairs (his own, as well as others'), the annual yellow fever season, death and dying, race relations, piracy, and military exploits. They offer an intimate and detailed view of Louisiana during the years in which it was undergoing a rapid Americanization, and Edward's membership in the American militia, and his keen observational abilities provide a memorable account of the changes. His last letter to Maria, written a month before her death, discusses the necessity of family loyalty.

Comparatively speaking, the other Fenno children are represented by only scattered letters. Only two letters survive from the shortest-lived of the adult Fennos, John Ward, both written in 1797. In these, Jack discusses the acute controversy between Benjamin Rush (1745-1813) and the Federalist Gazette of the United States. Three of Harriet Fenno Rodman's letters survive -- containing social news and observations -- along with seven poems, including love poetry to her husband. Harriet's daughter, Anne Eliza Rodman, is represented by 24 letters, mostly addressed to her aunt Maria Hoffman, that include excellent descriptions of politics, society, and race relations in St. Augustine. George Fenno's four letters, also to his sister Maria, reflect the tedium felt by an educated urbanite set down in the countryside. Mary Elizabeth Fenno Verplanck's nine letters describe social life in Philadelphia, Fishkill, and Ballston Springs, and her efforts to mend a serious rift between her fiancée (later husband) and her brother-in-law Josiah. The ill-fated Caroline Fenno apparently had little time to write before dying, leaving only two letters describing life in Albany in 1804. James Bowdoin Fenno's six letters concern the business climate in South Carolina and Georgia and, as with all other Fenno correspondence, underscore the importance of family ties.

The second major series of correspondence in the Fenno-Hoffman Papers is centered on the children of Josiah Ogden Hoffman and his second wife Maria Fenno, Charles Fenno, George Edward, and Julia Hoffman. This series also includes eight letters from Josiah to his wife and sons, consisting principally of advice to his wife on how to run the household and, to his sons, on how to study industriously and become a credit to their "indulgent father." The letters he received in his old age from his children are particularly revealing of Josiah's personality. In these, Josiah appears as a hypochondriac and as a literal-minded businessman obsessed with commerce who had difficulty understanding any mindset other than his own.

As a poet and writer, Charles never ceased to perplex and irritate his father. Charles was a sensitive, observant man and an exceptional literary talent whose ability to express his thoughts and feelings grew as he grew older. His 62 letters to his brother (1826-1834, 1845) and sister (1833-1845) include discussions of many issues close to his heart, from his literary career to the "place" of the artist in society, from the continual rack and ruin of his personal finances to his family relationships, pastimes, politics, and general reflections on life. His letters to George are pun-filled and witty, even when he was in the throes of adversity. Charles wrote nine letters during his famous western trip, 1833-34, some of which were rough drafts intended for publication in the American after his sister Julia edited them. His letter of July 22, 1829 offers a marvelous description of an all-night party, and the single extant letter to his father (April 26, 1834) exhibits an uncharacteristic interest in politics, perhaps to please the elder Hoffman. There are also five excellent letters from a classmate of Charles, written while Charles was recuperating from the loss of his leg in New York. These are enjoyable, but otherwise typical schoolboy letters describing the typical assortment of schoolboy pranks.

The largest run of correspondence in the series of Hoffman letters, and the core of the collection, consists of the 63 letters from Julia to George. Julia's letters (1834-45) relate her experiences in several residences, particularly in the Philadelphia home of Jewish philanthropist, Rebecca Gratz (1781-1869). Julia comments frequently on Charles's literary activities and George's checkered career as a civil engineer. Much of what she writes is commonplace yet her style makes each episode intrinsically interesting. There are no letters from George. Considering that George was Julia's executor in 1861 and was responsible for Charles's well being after being committed to an asylum in 1849, suggests that George may have assembled the collection. The only item in the collection written by George is a love poem written for Phoebe on their first wedding anniversary. He was the recipient of letters from his brother and sister, but also his cousin William J. Verplanck, niece Matilda Whitman, sister-in-law Virginia Hoffman, and nephew Ogden Hoffman, Jr.

There is a single letter from Ogden Hoffman (1794-1856), Josiah's son by his first marriage to Mary Colden, in which he gives friendly advice to his young half-brother Charles. Ogden appears to have been a valued friend to his half-siblings. He was considered the outstanding criminal lawyer of his generation. There are no letters from the servant, Caty, but there are several excellent discussions of her, particularly in Julia Hoffman's letter of February 18, 1837 and James Fenno's letter of December 1, 1821.

Among the few miscellaneous pieces written by non-members of the family are four letters from Rebecca Gratz, a close friend of the family whose name runs throughout the entire collection, particularly in Julia Hoffman's correspondence.

Biographical / Historical:

John Fenno (1751-1798) was born in Boston in 1751, the son of Ephraim and Mary Chapman Fenno. Little is known about his early life, but between April and September, 1775, he served as secretary to Gen. Artemus Ward. Fenno incurred heavy debts at the close of the Revolution, when importing goods "largely and unwisely," and eventually sought to build his fortune in the printing trade. His elegant prose while writing for the Massachusetts Centinel impressed Federalist politicians, and he had little difficulty in securing approval for a newspaper "for the purpose of disseminating favorable sentiments of the federal Constitution and the Administration."

On April 11, 1789, in the same month that George Washington became President, Fenno founded the Gazette of the United States in New York City. The following year, the paper was moved to the capitol in Philadelphia, and soon became a focal point of contestation between Jeffersonians and Federalists. In the long and often bitter debates that ensued, the Gazette became recognized more and more as the mouthpiece for Federalism, and Fenno became an important printer of political works. Alexander Hamilton was a frequent, if pseudonymous, contributor, and in 1793 he personally rescued the paper from its creditors. Fenno's Gazette matched the Jeffersonian Aurora of Benjamin F. Bache and the National Gazette of Philip Freneau, piece for piece and controversy for controversy during the 1790s. At one point, the temperature of the debate grew so high that Bache is reported to have attacked Fenno with a cane, packing a punch that his newspaper apparently could not.

Fenno entered into marriage with Mary Curtis of Roxbury, Mass., on May 8, 1777, resulting in thirteen children. John and Mary Fenno died in a triple tragedy in 1798. After giving birth to a daughter on September 2nd, Mary died of complications on September 4th at the age of 43. John, only 47, died of yellow fever ten days later, "with all his blooming virtues thick upon him," according to Boston's Russell's Gazette. Finally, the still unnamed infant daughter of theirs died on about September 16th. After this tragic September, the Fenno family consisted of nine living children, ranging in age from twenty to two. The experience of being orphaned at an early age perhaps led these children to develop unusually close ties with one another, ties they maintained even when separated by great distances.

At the age of 19, John Ward "Jack" Fenno (1779-1802) stepped into the breach to succeed his father as editor of the Gazette of the United States, but soon proved incapable of running the paper with the same degree of success. The paper fell into serious financial difficulties, and by 1800, Jack had left the newspaper. Debts to an English creditor threatened to pull the remainder of the family down with them after Jack's untimely death to yellow fever at the age of 23.

Though she survived only to the age of 42, Jack's sister, Maria Fenno Hoffman (1781-1823), was the second-longest lived of all of the Fenno children. Maria married the lawyer and judge, Josiah Ogden Hoffman (1766-1837) in 1802, and probably helped to raise the youngest of the Fenno children at their house in New York City.

Each of Jack's three remaining sisters died at very early ages, leaving few offspring. Harriet Fenno Rodman (1782-1808) lived long enough to marry John Rodman of New York City and to have one daughter, Anne Eliza. After Harriet's death at the age of 26, Rodman and his daughter lived in France for about a year, 1817, before settling in Florida. In 1822, John worked in Saint Augustine processing land claims for the federal government, but by 1824, John had become nearly deaf and was suffering from deteriorating health. Harriet's younger sister Caroline (1791-1805) was the girl that Charles J. Fenno mourned in a letter (February 20, 1806) as "our lovely little sister." Following the family tradition of early death, she died at Albany, N.Y., at age 14. Finally, the youngest girl, Mary Elizabeth Fenno Verplanck (1787-182?), married the well-known writer, editor, politician and lawyer Gulian C. Verplanck (1786-1870) in 1811. The couple had two sons before her death in her early 30s.

The Fenno boys were no more fortunate and no hardier than the girls. The adventurous second son, Charles J. Fenno (1784-1807), enlisted in the British Navy at the age of 17, arriving in London in 1802 with the heavy burden of clearing his elder brother Jack's debts. Charles saw service in Europe and the Caribbean, including assisting in the suppression of the Tripolitan "pirates" in 1802 and performing duty off the northern coast of Haiti during the revolution of 1802-03. He died in New York at age 23, while presumably on shore leave at his sister Maria Hoffman's home.

George Fenno (1786-1829) married Elizabeth and had five children. He settled at Mount Upton, N.Y., where he farmed, ran a whiskey distillery, and died early. When George died at the age of 43, however, he had achieved the Fenno longevity record. At George's death, Charles Fenno Hoffman was prompted to write: "In him you know we lose the last relative of our Mother's fated family -- what a singular fatality has pursued them! As the last three have successively died I have thought that Ma's early death was less to be regretted -- for after all that she suffered with such noble & pious resignation her gentle spirit must have rebelled or broken under the repeated blows she would have lived to meet."

George's younger brothers, James B. (1794-182?) and Edward, were the family moppets. Both appear to have been raised in the home of their sister, Maria Hoffman, at least after her marriage in 1802. James sought his fortune in Savannah and Charleston, where he tried (unsuccessfully) to establish himself as a dry-goods merchant. The youngest boy, Edward (1796-1823), also attempted dry-goods, but soon after making his way to New Orleans in 1819, he discovered more profitable employment in the wholesale auction houses. He was a captain in the Louisiana Guards, a militia unit, when he succumbed to yellow fever in 1823.

One "family member" who appears not to have been affected by short life syndrome was Caty (or Katy), the Fenno family servant. She was probably African-American, although this point is never clearly stated. A childhood nurse to all thirteen Fenno children, Caty recalled that she was already in her teens when the Battle of Bunker Hill was fought in 1775, but she still survived all of the children, living well into her eighties. In her last years, she was cared for by the third generation, George and Julia Hoffman. Washington Irving spoke of "Mammy Caty (who you know is at least one-half witch)."

The survival of the Fenno family was made more likely through the relatively long and prosperous marriage of Maria Fenno and Josiah Ogden Hoffman (1766-1837), a lawyer and leader of the Federalist Party in the New York Assembly, 1791-97, who went on to a distinguished career as associate justice of the New York superior court. Josiah's second marriage, his first, in about 1789, was a match made into the powerful Colden family. He and his first wife, Mary, had four daughters and one son before she died sometime after 1798. Their children, however, further cemented the family's position among the social elite of the city through fortunate marriages. Mathilda Hoffman, for example, was engaged to marry the rising literary talent, Washington Irving, when she died at age 18.

Like the Fennos, the Hoffmans were an ill starred family. Two of the children from Josiah's first marriage died young -- Mathilda at 18 and Mary at 22 -- and among the children of his second marriage, Charles Fenno Hoffman (1806-1884) seems to have provided new wrinkles to the Fenno tragic tradition. Charles lost a leg at the age of eleven in a boating accident, but never allowed his artificial leg to slow him down. While the accident briefly interrupted his education at George P. McCulloch's boy's school in Morristown, N.J., he nevertheless was able to enroll at Columbia College at 15, staying for two years and never graduating. In 1823, Hoffman followed his father's footsteps into the legal profession, studying in Albany. He was admitted to the bar when still only twenty-one, returning to New York shortly thereafter to practice under the eye of his ailing father.

It was not long, though, before Hoffman turned from the law to his first love of literature, writing essays and poetry for publication in newspapers, sometimes anonymously. Having become known to editor Charles King, in 1829 he assumed editorial charge of the New York American, filling in during King's temporary absence, and contributed several articles signed with an asterisk or the letter H. In January, 1833, Hoffman moved to the editorship of a new magazine, the Knickerbocker, but remained only until the autumn, when he set out on an adventurous tour of the western states that occupied several months, largely spent on horseback. This trip resulted in a series of lengthy articles for the American and eventually led to Hoffman's first book, A Winter in the West (1835).

In the late 1830s and 1840s, Hoffman assumed a series of editorial positions while continuing to write fiction. His most successful effort, Greyslaer: A Romance of the Mohawk (1839), went through two editions in its first year and was adapted to the stage at New York's Bowery Theatre in 1840. In 1841, however, given the financial hardships of a literary life, Hoffman settled into a steadier income as a customs official in New York, a position won through political patronage. He remained only until 1845 when changes in the political administration forced his resignation. Hoffman's last editorship was with the Literary World, 1847-48, which he surrendered for health reasons. In 1849, his condition having become alarming, he was admitted to the State Hospital at Harrisburg, Pa., the victim of "chronic mania." Unlike most Fennos, Hoffman lived a long life, surviving until 1884, but he passed more than half of it in the asylum. He was buried in an unmarked grave, presumably on the hospital grounds.

Hoffman's younger brother, George Edward (1808-1884) was more fortunate than Charles, and almost as long lived. After a short stay at the University of Virginia beginning in 1826, he became a civil engineer, working on roads in western New York State, and living in various towns in Pennsylvania and New York. George eventually settled in Albany in the 1840s, married Phoebe White in 1846, and together the couple had three sons. In contrast, Julia Hoffman (1810-1861), George's and Charles' sister, had a full share of the Fenno family fortune. Julia spent nearly her entire adult life with no real home. Upon his death in 1837, her father's estate evaporated under heavy debts, and from that time on, Julia depended upon her brothers for support. She lived with various friends and family for several weeks or months at a time, never marrying, until her death in 1861.

Acquisition Information:

1983-1994. M-2048, M-2815, M-3082 .

Rules or Conventions:

Finding aid prepared using Describing Archives: A Content Standard (DACS)
Related
Additional Descriptive Data:

Related Materials

Fenno, John Ward. Desultory reflections on the new political aspects of public affairs in the United States of America since the commencement of the year 1799 (G. & R. Waite : N.Y., 1800)

Hoffman, Charles Fenno. The New-York book of poetry (C. Dearborn: N.Y., 1837); includes first appearance of C.C. Moore's poem, "A visit from Saint Nicholas."

Hoffman, Charles Fenno. Wild scenes in the first and prairie (Richard Bentley : London, 1839)

Hoffman, Charles Fenno. A winter in the west (Harper and Brothers : N.Y., 1835)

Hoffman, Charles Fenno. Greyslaer: a romance of the Mohawk (Harper and Brothers : N.Y., 1840). The Library also has the Lea and Blanchard edition of 1841.

Hoffman, Charles Fenno. The pioneers of New-York: an anniversary discourse delivered before the Saint Nicholas Society of Manhattan, December 6, 1847 (Stanford and Swords : N.Y., 1848)

Gazette of the United States . The Clements Newspapers Division has a majority of issues of the Gazette for the Fenno years.

Bibliography

A full bibliography of Charles Fenno Hoffman's published works can be found in Homer Barnes' book Charles Fenno Hoffman (New York: Columbia University Press, 1930).

Fenno Family genealogy

Ephraim Fenno, leather-dresser and ale house keeper of Boston, descendant of John Fenno b. 1629, who came from Lancashire, England, to Milton, Massachusetts, in 1660. Married Mary Chapman.

Maria Fenno m. Mr. Durant
Samuel Fenno (d. 2 Oct. 1797), left widow with children:

Samuel, at Darby
Harry, at Trenton
Thomas, at sea
Ruth (d. 27 Sept. 1797)
Julius (b. 1794?)
Dau? (b. Sept. 1796?)
Child (b. after Sept. 1797)

John Fenno (12 Aug. 1751-14 Sept. 1798), d. at Philadelphia of yellow fever. Married 8 May 1777 Mary Curtis of Roxbury, Mass., (19 Sept. 1755-4 Sept. 1798) died from complications of childbirth. Her nickname was Polly.

John Ward "Jack" Fenno (26 March 1778-6 March 1802) b. in Boston.
Charles Fenno (4 Sept. 1779-8 Nov. 1780), b. in Boston.
Maria Fenno (17 March 1781-13 July 1823). Married Josiah Ogden Hoffman 7 August 1802. See Hoffman family chart for descendants.
Harriet Fenno (18 Nov. 1782-1 June 1808), b in N.Y. m. 27 Dec. 1800 John Rodman who d. after 1824, and had daughter:

Anne Eliza Rodman, who lived alone with her father in Florida in 1822, and was afterwards Mrs. Brown.

Charles J. Fenno (31 July 1784-12 October 1807). Unmarried; Midshipman in British Navy serving on ship Bellerephon.
George Fenno (28 Jan. 1786-18 April 1829), d. Upton, N.Y., the last survivor of the Fenno family. Married Elizabeth.

John
Nancy
Euphemia (b. 1814)
Mary
Upton (b. 1819)

Mary Elizabeth Fenno (2 Sept. 1787-1820s). Married 2 Oct. 1811 Gulian Crommelin Verplanck (1786-1870).
Caroline Fenno (16 June 1789-12 Nov. 1789).
Caroline Fenno (27 March 1791-1 May 1805).
Anna Fenno (27 March 1793-30 March 1793).
James Bowdoin Fenno (26 August 1794-1820s).
Edward Fenno (2 Sept. 1796-6 Nov. 1823), d. of yellow fever at New Orleans. Unmarried.
Daughter (2 Sept. 1798-ca.16 Sept. 1798).

Hoffman Family Genealogy

Nicholas Hoffman (1736-1800), son of Martinus and Tryntje Benson Hoffman of Red Hook, Dutchess County, N.Y. Married 14 Nov. 1762 Sarah Ogden (8 Sept. 1742-30 July 1821) dau. of David and Gertrude Gouverneur Ogden.

Josiah Ogden Hoffman (14 April 1766-24 Jan. 1837) b. Newark, N.J., d. New York City. Married 1st Mary Colden and 2nd Maria Fenno (1781-1823), dau. of John Fenno and Mary Curtis, 7 August 1802.

Children by first marriage to Mary Colden:

Alice Anna Hoffman (b. 1790). Married 1809 Charles Jenkins Nicholas.

Matilda (b. 1810). M. S. S. Whitman, lived at Leavenworth, Kan.
Emma. Married R. L. Molocey and lived at Janesville, Wisconsin.

Sarah Matilda Hoffman (8 Nov. 1791-25 April 1809). She was engaged to marry poet Washington Irving but died before the wedding.
Ogden Hoffman (13 Oct. 1794-1 May 1856). Married 1st 27 Dec. 1819, Emily Burrall and 2nd Nov. 1838, Virginia E. Southard (d. 1886) dau. of Samuel L. Southard, acting Vice President under John Tyler.

Charles Burrall Hoffman (b. 1821)
Ogden Hoffman Jr. (b. 1823). Became Federal District judge in California. Lived in San Francisco, 1882.

"Tip" Married Sally and had children: Southard (b. 1867), May, Alice, Jack, and one other son.

Samuel Hoffman (b. 1839)
Mary Colden Hoffman (b. 1840), living in London, 1899.
Virginia Southard Hoffman (b. 1842), living in London, 1899.

Mary Colden Hoffman (15 June 1796-7 Sept. 1818). Married c. 1810 Philip Rhinelander. Two children.
Martha Hoffman

Children by second marriage to Maria Fenno:

Infant (b. and d. 1804/5)
Charles Fenno Hoffman (7 Feb. 1806-7 June 1884) b. New York, d. Harrisburg, Pa. Unmarried.
Edward Hoffman (30 Sept. 1807-31 July 1808)
George Edward Hoffman (2 Dec. 1808-1884). Married 12 Feb. 1846 Phebe White (b. 1823).

John W. Hoffman m. Ella Lowley, m. 2nd Florence K. McCay

Dorothy Hoffman
Josiah Ogden Hoffman

Edward Fenno Hoffman m. Elizabeth McCall. Still living 1930 in Philadelphia.

Edward Fenno Hoffman
Phebe White Hoffman

Josiah Ogden Hoffman m. Helen S. Lewis

George E. Hoffman
John L. Hoffman
Helen S. Hoffman
Charles Fenno Hoffman

Julia Hoffman (1810-1861). Unmarried.
Laura Maria Hoffman (bapt. 8 Oct. 1815-summer 1816).

Mary Gillon Hoffman (1773-1807) m. James Seton (1770-ca.1832) whose brother married Elizabeth, later "Mother Seton."
Martin Hoffman (16 Oct. 1763-30 Jan. 1828). Married 1st Beulah Murray and 2nd Mary Frances Seton.
Nicholas Hoffman.

Ogden Family genealogy

John Ogden (19 Sept. 1609- May 1682) b. Bradley Plain, England, d. Elizabethtown, N.J. Married 8 May 1637 Jane Bond, dau. of Jonathan Bond.

John (1638-1702) m. Elizabeth Plum
David (11 Jan. 1639-1691/2) Twin. b. England; m. Elizabeth Swaine Ward, (24 April 1654-after 1706), dau. of Capt. Samuel Swaine & Joannah Ward, and widow of John Ward.

David (1678-1734) m. Abigail Hammond
Josiah (ca. 1679-17 May 1763) m. 1st. Catharine Hardenbroeck m. 2nd Mary Bankes. Buried at Trinity Episcopal Church, Newark, which he helped found.

David (1707-1798) b. Newark, N.J., d. Flushing, L.I.; m. 21 Apr. 1736 Gertrude Governeur (5 Mar. 1716-30 Dec. 1775) dau. of Isaac and Sarah Staats Gouverneur.

Isaac (1737-40)
Josiah (b. 1739)
Sarah (1742-1821) m. Nicholas Hoffman
Abraham (1743-98) m. Sarah Ludlow
Catherine (1745-48)
Samuel (1746-1810) m. Euphemia Morris
Nicholas (1749-52)
Peter (1750-52)
Nicholas (1753-1812) m. Hannah Cuyler
Peter (b. 1757)

Catharine (1709-1797) m. David Ogden; m. 2nd Isaac Longworth
Mary (1711-1751) m. James Banks
Jacob (1722-1780) m. Elizabeth Bradford (child of 2nd marriage)
Josiah m. Bancker (child of 2d marriage)

John (1681-1732) m. Elizabeth Wheeler
Thomas (1684-1760) m. Dinah -----; m. 2d. Jean Clawson
Swaine (1687-1755) m. Mary Ackerman

Jonathan (1639-1732) Twin
Joseph (1642-1690) m. Sarah Whitehead
Benjamin (1654-1722) m. Hannah Woodruff
Mary m. John Woodruff

Partial Subject Index

Accidents

1:18,64
4:5,40,47,71
5:16,17,49,73

Acrostics
Actors and actresses
Adams, John Quincy, 1767-1848
Adams, John, 1735-1826
African Americans
Albany (N.Y.)--Description and travel
Alcoholism
All Saints Day
Alligators
Allston, Washington
Amusements
Anastasia Island (Fla.)--Description and travel
Animal fighting
Archery--Societies and clubs
Artificial limbs
Artists

2:24
3:29-31,48
5:30,55,56,80b

Asylums
Athenian Lecture Series (Philadelphia)
Auchmuty, Louisa
Auctions--Louisiana
Authors

4:9,26,37,51,58,59,63,68,70,72,74,75
5:1,2,4-6,9,15,18,24,26,27,32,38,44,51,56,74

Autumn
Bache, William
Bachelor's Ball (Philadelphia)
Balston Spa (N.Y.)--Description and travel
Baltimore (Md.)--Description and travel
Banks and banking
Barbados--Description and travel
Barker, Jacob, 1779-1871
Bartley, Mrs. (actress)
Battlefields
Beggars
Benson, James
Biddleman, Mr.
Bigelow, Mr.
Birthdays
Blair, Lizzie, b. 1819
Boredom
Boston (Mass.)--Description and travel
Bowdoin, James, 1726-1790
Bowery Theatre (New York, N.Y.)
Bremer, Mr.
Burke, Mr.
Business
Business ethics
Cadwalader, Mr., d. 1823--Death
Calomel
Canals
Canning, George, 1770-1827
Cannon, Mr.
Cape François (Haiti)--Description and travel
Card games
Carlyle, Thomas, 1795-1881
Catholic Church
Catholic Church--Clergy
Caty (Katy)
Cemeteries
Chameleons
Charities
Charleston (S.C.)--Description and travel
Chesterfield, Philip Dormer Stanhope, Earl of, 1694-1773
Chew, Beverly, d. 1828--Death
Chicago (Ill.)--Description and travel
Childhood

See also letters by William M. Herbert and Caroline Fenno
2:1,3,15

Children--Conduct of life

2:15,21,22,32,41
3:37
4:3

Cholera
Christmas

1:70
2:15,16,17,44,74,75
4:9
5:16,81

Circus
City and town life
Clark, William, 1770-1838
Clergy

See also Larned and Forbes in this index
4:56

Clothing and dress
Clothing and dress--Prices
Coaches and coaching
Coal mines and mining
Cobbett, William, 1763-1835
Cochrane, Alexander Forrester Inglis, 1749-1831
Colden, Cadwalader David, 1769-1834
Columbia University
Commerce--Georgia--Savannah
Commerce--Louisiana--New Orleans

2:36,37,45,52,55,56,58,60,70
3:4,5,8,9,12,13,17,21,25,32,43,46,48,66,73,74,79,80,82,85,86

Commerce--Michigan
Commerce--New York (State)--New York
Commerce--Pennsylvania--Philadelphia
Commerce--South Carolina--Charleston
Cooper, Thomas Abthorpe, 1776-1879
Copyright
Courtship

1:2
2:8,35,60
3:9,45-48,51,56,75-77,79,80,89
4:51,55,65,69,71,76,77
5:1-3,6,9,11,17,43,55,75

Cowper, William, 1731-1800
Crab-digging
Croaker, pseud.
Cuba--Description and travel
Dance
Dance--Study and teaching
Death

1:16,51,53,63,73
2:23,73
3:6,62,63,85,87
4:18,23,73
5:25,49,70

Death in literature
Decatur, Stephen, 1779-1820
Deeds
Democratic Party
Dentistry
Dickens, Charles, 1812-1870
Dickens, Charles, 1812-1870
Diplomacy

1:24,29-32,37,40,48,50,53,54,76

Distilleries
Divorce
Domestic servants
Domestics

4:12,36
5:11 See also Caty

Drake, Joseph Rodman, 1795-1820
Duckworth, Sir John Thomas, 1748-1817
Dueling
Duer, Jane
Duer, John
Dutch language
Duval, William P., 1784-1854
Dwellings

3:72
4:29,58
5:7,8,13,33,40,80a

Easton (Pa.)--Description and travel
Eccentrics and eccentricities
Economy (Pa.)--Description and travel
Education

See also Schools
1:63,79
2:19-22,41
4:2,3,5,13,17,62

Elopement
Embezzlement
Engineering
Entertaining

1:47
3:61,75,77-79
4:5,8,25,27
5:41,53

Epidemics

4:18,39
5:21 See also Cholera, Yellow fever

Estates (Law)
Executions and executioners
Eyeglasses
Family

See also Parents
2:4,7,72
3:33,89
4:4,9
5:8,28

Farming
Fashion
Fenno family
Fenno, Caroline, 1791-1805
Fenno, Edward, 1796-1823
Fenno, George, 1786-1829
Fenno, James B., 1794-182?
Fenno, John Ward , 1779-1802
Fenno, John, 1751-1798
Fenno, Mary (dau. of George?)
Fenno, Mary, 1755-1798
Fenno, Mrs. Samuel
Fenno, Upton, b. 1819
Fights
Finances, personal

1:41-43,45,54,75,80,83
4:4,8,11,28,30,36,37
5:18,22,24

Firearms
Fires
Fish, Mrs.
Fishkill (N.Y.)--Description and travel
Floods--Mississippi River
Florida--Description and travel
Florida--Politics and government
Food--Prices
Forbes, Mr.
Forest fires
Fourth of July celebrations
France--Description and travel

1:17,24,29-32,37,40,48,50-54,66-68
2:25,28
3:1,67,75,77-79

France--History--Revolution, 1789-1799
Franklin, Benjamin, 1706-1790
French language
Fulton (steamship)
Funeral rites and ceremonies

See also Cemeteries
1:72
2:46,73
3:19
4:18
5:70

Galena (Ill.)--Description and travel
Gambling
Games
Gardening
Gas lighting
Genealogy
Gilman, Caroline Howard, 1794-1888
Gilman, Dr.
Goshen (N.Y.)--Description and travel
Gossip

2:14
3:50,52,68,84
5:3,47

Grammar
Gratz family
Gratz, Benjamin
Gratz, Rebecca, 1781-1869
Great Britain--Description and travel
Great Britain--Politics and government
Great Britain. Navy

See all Charles J. Fenno letters, especially
1:55,67,69,71,76,79,81-83

Greene, Nathanael, 1742-1786
Guantanamo Bay (Cuba)--Description and travel
Hair jewelry
Haiti--Description and travel
Halleck, Fitz-Greene, 1790-1867
Hamilton, Alexander, 1757-1804
Hernandez, Mr.
Hodge, Dr.--Death
Hoffman family
Hoffman, Charles Fenno, 1806-1884

2:29,32,61
3:2
4:7,9,26,37,41-49,51,52,58,59,63,68,70,72, 74,75
5:1,2,4-6,9,15,18,24,26,27,32,38,44,50,51,56,74

Hoffman, David
Hoffman, Edward, d. 1830--Death
Hoffman, George, 1808-84
Hoffman, Josiah Ogden, 1766-1837

1:73
2:4,7
4:7,11,12,18,22,27,28,32,34,57

Hoffman, Josiah Ogden, 1766-1837--Death
Hoffman, Julia, 1810-1861
Hoffman, Martin, 1763-1828--Death
Hoffman, Mr.
Hoffman, Nicholas, 1736-1800
Hoffman, Ogden Jr., b. 1823
Hoffman, Ogden, 1794-1856

2:15
3:2,3
4:24,69,71
5:16,17,48,70

Hoffman, Phebe, b. 1823
Hoffman, Sarah Ogden, 1742-1821
Hoffman, Virginia Southard
Holidays--Florida-- Saint Augustine
Holidays--France
Hopkinson, Joseph, 1770-1842
Horses
Horticultural Ball
Household moving
Howe, Fanny
Humor
Hunting
Hurricane
Ice
Indians of North America
Indians--Mixed bloods
Ingersoll, Charles Jared, 1782-1862
Inman, Henry
Irish
Irving, Washington, 1783-1859

1:61
2:68
3:2,3,52
4:54a
5:19

Italy
Jackson, Andrew, 1767-1845
Jacobins
Jarvis, John Wesley, 1781-1839
Jewelry
Jews

2:2
3:2
4:52,67,76
5:5,61

Joseph Bonaparte, King of Spain, 1768-1844
Kearny, Lawrence, 1789-1868
Kemble, Frances Ann, 1809-1893
Knox, Henry, 1750-1806
Labor and laboring classes
Lafayette Theatre (New York, N.Y.)
Laffite, Jean, ca.1780-1821
Lake Ponchartrain (La.)--Description and travel
Lancaster (Pa.)--Description and travel
Larned, Mr.
Latrobe, Benjamin Henry, 1764-1820
Lebanon (N.Y.)--Description and travel
Lent
Leslie, Charles Robert, 1794-1859
Letter-writing
Letters of introduction
Lincoln, Benjamin, 1733-1810
Literature
London (England)--Description and travel
Long Island (N.Y.)--Description and travel
Long, James, 1793-1822
Loring, John Wentworth, 1775-1852
Louisiana Guards
Louisiana--Politics and government
Louisiana. Militia
Love letters

1:2,3,5-8,10,11,13,14,34,38,64
5:58,72,82

Ludlow, Mrs. Thomas
Lyon, Lucius, 1800-1851
Marriage

1:48
3:3
4:64
5:34,57,58,73

Masculinity (Psychology)
McCoy, Mr.
McCulloch, George P.
Medicine

1:33
2:6
4:30,32,33,55
5:27,32,45,81

Mediterranean Sea
Mental health
Mental illness

See also Eccentrics
5:37,40

Merchants
Mesmerism
Mexico--Politics and government
Michigan
Middle West--Description and travel
Migration, Internal
Military companies
Military service
Militia
Mines and mining
Mississippi River--Description and travel
Mississippi--Description and travel
Money

1:2
2:15
4:22,63 See also Finance

Moro Castle (San Juan, P.R.)
Morris, Gouverneur, 1752-1816
Moses, Gratz
Mosquitoes
Motherhood
Mourning
Mowatt, Anna Cora Ogden, 1819-70
Mugging
Murder
Music
Mutiny
National characteristics, American
Nationalism
Nelson, Horatio, 1758-1805
Nepotism
New Orleans (La.)--Description and travel

1:46
2:12,33,42,43, 46,47
3:6,7,13,18,20,23,25,32,33,46,58
5:73

New Orleans, Battle of , 1815
New York (N.Y.)--Description and travel

1:18
2:23,47
3:46,58
4:6,29
5:26

New York (N.Y.)--Politics and government
New York (State)--Description and travel
Newspaper publishing

1:6,9,11,14-17,21,22,30,33
5:21

Niagara Falls (N.Y. and Ont.)--Description and travel
Ocean travel--Atlantic Ocean
Ogilvie, James, d.1820
Opera
Oranges

Orlando Furioso

Parent and child

2:15,21,22,32,41
3:37
4:3,11
5:67

Patronage, Political

1:36
4:13,14,21,24
5:43,53,54

Peace
Penn, James Jr.
Pennsylvania--Description and travel
Pennsylvania--Description and travel
Pensacola (Fla.)--Description and travel
Personality

1:73
2:57
4:7,30,34,35,39

Pets
Philadelphia (Pa.)--Description and travel

1:46
2:12
3:38
5:30,46,68

Philadelphia (Pa.)--Social life and customs
Phillips, Mr.
Photography
Physicians
Piermont (N.Y.)--Description and travel
Piracy

2:50
3:1,8,9,12,40,43,79,86 See also Privateering

Pittsburgh (Pa.)--Description and travel
Platt, Hamilton
Poetry
Poetry--Criticism
Poland
Polk, James Knox, 1795-1849
Port Royal (S.C.)--Description and travel
Portraits
Postal service

1:54,72
2:40
3:8,52,68,77

Practical jokes
Prairie du Chien (Wisc.)--Description and travel
Prejudice
Presidents--United States--Election--1844
Prices
Pringle family
Prisons
Privateering

1:2,29,32,42,66 See also Piracy

Puns
Quakers
Quarantine
Race relations--Florida
Race relations--Louisiana
Racism
Railroad law
Railroads

4:13,67
5:20,35,40,51,56,59,77

Rape
Recipes
Religion

1:33,34
2:9,16,46
3:46,50

Republican Party
Riots
Riots--England--Manchester
Riots--Louisiana--New Orleans
Riots--Pennsylvania--1873
Robbery

2:52,58,60,64
3:12,44
5:64

Rodman, Harriet Fenno, 1783-1808
Rodman, John
Running races
Rush, Benjamin, 1745-1813
Sabbath
Sampson, Mr., d. 1820
San Francisco (Calif.)--Description and travel
Saratoga (N.Y.)--Description and travel
Savannah (Ga.)--Description and travel
Saving and thrift

2:37,44,47,56,57,59,61,68
3:3,5,57
4:45,63,70,75
5:6,21,66

Scallan, Mr.
Scarlatina
Schools

See also Education
2:1,3,13,15,29,30,38,48,51,63

Scott, Walter , 1771-1832
Seminole Indians
Seton, James
Shakers
Shipping
Ships

1:1,32,49,50,52,66,72
3:12,23,40 See also Navy

Singers
Singing--Study and teaching
Slavery

1:64
2:50,58
3:30,50,73
4:42

Slavery and the church
Slaves
Sleighs and sledges
Smoking
Snakes
Snipe
Society

1:65
2:13
3:47,68,87
4:51
5:5

Somerset (Pa.)--Description and travel
Southern states--Description and travel
Spain
Spaniards--Florida
St. Augustine (Fla.)--Description and travel
Steamboats
Suicide
Summer
Swan, Kitty
Swimming
Tammany Society, or Columbian Order (N.Y.)
Tariff
Teachers
Telegraph (steamboat)
Tennessee--Description and travel
Texas--Description and travel
Theater--Louisiana--New Orleans
Theater--New York (State)--New York
Theatre--Pennsylvania--Philadelphia
Travel--Accidents
"Uncle Sam"
United States--History--Revolution, 1775-1783
United States--Politics and government

1:9,24,30,33-37
4:48,49,75
5:36,39,67,75

Vacations

1:48,65,84,85
2:35
4:24,35,38,53,54,63,66,67,69,73,74
5:60

Values

1:17,22,23,26,43,61,64
4:5,12,48

Values--France
Van Buren, Martin, 1782-1862
Vanderlyn, John, 1775-1852
Ventriloquism
Vera Cruz (Mexico)--Description and travel
Verplanck, Embury, d. 1861
Verplanck, Gulian Crommelin, 1786-1870
Verplanck, Mrs., d. 1843--Death
Virginia--Description and travel
Vote
War
Washington (D.C.)--History--Capture by the British, 1814
Washington's birthday
Webster, Daniel, 1782-1852
Weir, Robert Walter, 1803-89
West (U.S.)--Description and travel
West Indies--Description and travel
Wheeling (W.Va.)--Description and travel
Whig Party
White Lake (N.Y.)--Description and travel
Williamson, Charles, 1757-1808
Wilson, George and Ellen
Winter
Women
Women and the military
Women in politics
Women--Conduct of life
Women--Education
Women--France
Women--Intellectual life
Women--Social conditions
Women--Societies and clubs
Worthington, Mr.
Yellow fever
Yellow fever--Florida--Pensacola
Yellow fever--Georgia--Savannah
Yellow fever--Louisiana--New Orleans

2:64,69-71,73
3:8,9,15-23,25-27,56,58,60,62-67,70

Yellow fever--New York (State)--New York
Yellow fever--Pennsylvania--Philadelphia
Yellow fever--South Carolina--Charleston
Subjects
Click on terms below to find any related finding aids on this site.
Subjects:

Formats:

Names:

Places:
Contents
Using These Materials
---
RESTRICTIONS:

The collection is open for research.

USE & PERMISSIONS:

Copyright status is unknown.
PREFERRED CITATION:

Fenno-Hoffman Family Papers, William L. Clements Library, The University of Michigan