Back to top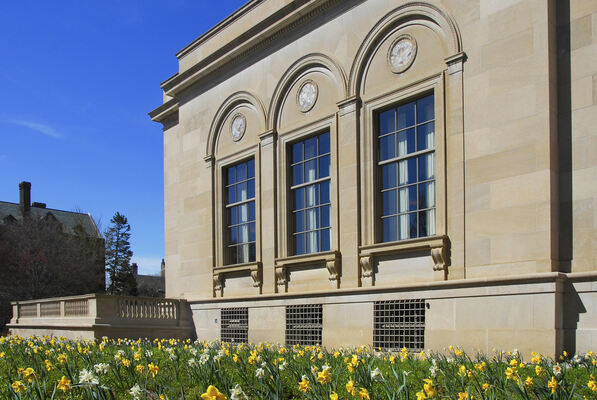 Address

:

909 South University Avenue

Ann Arbor, MI 48109, USA
Griffin family papers, 1799-1942 (majority within 1835-1868)
Using These Materials
---
Restrictions:

The collection is open for research.
Summary
Creator:

Abstract:

The Griffin family papers contain the letters of a family from Sempronius, New York, and are comprised primarily of correspondence from Lavalette and Reynolds Griffin while serving with the 75th New York Volunteers during the Civil War.

Extent:

47 items

Language:

English

Sponsor:

James S. Schoff Civil War Collection

Authors:

Collection processed and finding aid created by Clements Staff and Philip Heslip, November 2009
Background
Scope and Content:

The Griffin family papers contain the letters of the Griffin Family of Sempronius, New York, and are comprised primarily of correspondence from Lavalette and Reynolds Griffin while serving with the 75th New York Volunteers during the Civil War. The collection is composed of 20 letters, 4 miscellaneous compositions, 2 newspaper clippings, and 16 photographs and negatives.

The Correspondence series contains 20 letters, four of which date before the war. The earliest letter is from a group of men, including Daniel Griffin, to their landlord requesting that their credit be extended, because of a bad harvest (1799). The next two are between Adnah H. Griffin and Ephraim, Louisa and Jane Griffin, and concern family issues (1835). Gideon Wales (resident of Pike Pond, [New Hampshire]) wrote a letter to Jennie L. McConnell, in which he discussed many of his relative's struggles with mental illness.

The Civil War letters are from brothers Lavalette and Reynolds Griffin and are primarily addressed to their parents, Adnah H. Griffin and Jane Reynolds Griffin, and their sisters Loretta and Jennie Griffith. The letters were written from several camps in Virginia and Louisiana, and from on board the ship Daniel Webster. The bulk of the letters are in a 103-page letterbook dated October 1861-March 1863. These letters were likely copied by a relative around 1900. Both brothers were competent writers and discussed typical soldier gripes regarding food, pay, bad officers, and the boredom of the army. In a letter from December 30, 1862, Lavalette wrote: "If you want to fix a man so that he does not know anything in this world, nor care a d__m for the next, just put him to soldiering, and keep him shut up in camp for one year."

Seven separate Civil War letters are from Lavalette Griffin, dated April 1862-February 1865, and addressed to his father and sister Loretta ("Rett"). In these, he wrote favorably of the New York Soldiers' Depot, which he found well managed with many amenities for the troops. In an April 1864 letter, he recounted a trip to the capital while stationed at Camp Distribution, Virginia. In the next letter, he spoke highly of General Grant: "One thing is in our favor Since General Grant has assumed command there is not so many shoulder straps lying round Washington and there papers are examined as closely as the meanest private -- There is scarcely a day that there is not some dismissals and there aught to be more[.]" Even after the loss of his brother and his own illnesses, Lavalette found a way to keep his good humor through the war.

The lone post-war letter (1868) is an interesting item from Jennie Griffin to her brother-in-law Silas McConnell, in which she complained about the difference between salaries for male and female teachers in New York.

The Miscellaneous series has 13 items, which include two newspaper clippings; 4 pages of family birth records (1780-1878) from the family Bible; two journals by Mary Jane Wilson, which are entitled Compositions Written by Mary Jane Wilson During the Summer of 1861, A present to her Teacher Jennie Griffin (14 pages), and The Scholar's Casket, A Journal of Councils and Companion for the Young, January 1862, containing amateur essays such as Being Honest, Fault Finding, and Courage; two essays entitled On the Death of Lois Jane Griffin and On the Death of Polly Griffin, Written for her Mother (3 pages); and a receipt for groceries from Syracuse, New York, 1915.

This collection contains 11 photographs and modern prints of 5 negatives of the Griffin family. The original photographs are located in the Clements Library Graphics Division.

Biographical / Historical:

Griffin, Lavalette

Rank: Com. Sgt.

Regiment: 75th New York Infantry Regiment. Co. D (1861-1865)

Service: 1861 October-1865 April 10

Griffin, Reynolds

Rank: Corpl.

Regiment: 75th New York Infantry Regiment. Co. D (1861-1865)

Service: 1861 October-1863 July 18

Adnah H. Griffin (1808-1868) was the son of Jane Reynolds and Ephraim Griffin (son of Daniel Griffin). In 1834, he married Louisa Brown (1809-1897) in the town of Sempronius, New York; they had nine children: Lavalette (1835-1897), Loretta (1838-1912), Reynolds (1838-1863), Jane (Jennie) (1841-1889), Arthur (1845-1905), Leland (1848-1911), Alice (1849-1888), Eugene (1849-1850), and Daniel (1852-1894).

Reynolds and Lavalette Griffin enlisted in the 75th New York Volunteers in October 1861, and left New York on board the steamer Baltic for garrison duty at Fort Pickins, on Santa Rosa Island in Pensacola Bay, Florida. They were stationed there for three months, and in September, were ordered to New Orleans, then up the Bayou Lafourche to camp Brashear. There they joined parties sent out to collect food from the area and to take control the railroad linking Brashear and New Orleans. The regiment was involved in a few skirmishes and in the taking of the rebel gunboat Cotton that December. They then withdrew to Bayou Boeuf until March 1862. Reynolds Griffin died on July 18, 1863, at Baton Rouge, after being shot by a sharpshooter in the battle at Port Hudson, Louisiana. Lavalette remained with the army and participated in battles at Deep Bottom, Cedar Creek, Winchester, and Fisher's Hill, among others. He served until April 10, 1865, when he, a commissary sergeant, was honorably discharged for poor health. After the war, he returned to Sempronius and established himself as a successful farmer. He married Olive C. Sayles; they had three children. He died in 1897, after being gored by a bull.

Lavalette's sister Loretta Griffin (1838-1912) married Silas R. McConnell (b. 1849); they had three children: Louise, Miriam, and Emma.

Acquisition Information:

Donated by Helen Denning in memory of her husband, Professor Reynolds Denning, 1981. M-1942 .

Processing information:

Cataloging funded by the National Endowment for the Humanities (NEH) and the "We the People" project.

Arrangement:

This collection is organized into two series:

Series I: Correspondence
Series II: Miscellaneous

The Correspondence series is ordered chronologically, with undated items at the end.

Rules or Conventions:

Finding aid prepared using Describing Archives: A Content Standard (DACS)
Subjects
Click on terms below to find any related finding aids on this site.
Subjects:

Formats:

Names:

Places:
Contents
Using These Materials
---
RESTRICTIONS:

The collection is open for research.

USE & PERMISSIONS:

Copyright status is unknown
PREFERRED CITATION:

Griffin Family Papers, James S. Schoff Civil War Collection, William L. Clements Library, The University of Michigan