Back to top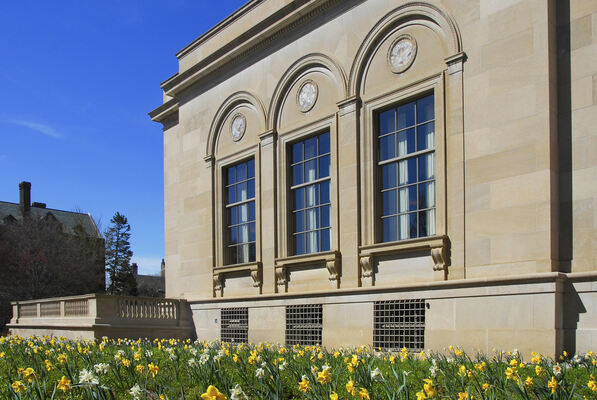 Address

:

909 South University Avenue

Ann Arbor, MI 48109, USA
Elizabeth Camp journals, 1819-1825
Using These Materials
---
Restrictions:

The collection is open for research.
Summary
Creator:

Abstract:

Elizabeth Camp's journals detail her time spent with the Stockbridge Indians as a schoolteacher and unofficial Congregationalist missionary.

Extent:

113 pages (2 volumes)

Language:

English

Authors:

Collection processed and finding aid created by Rachel K. Onuf, July 1998
Background
Scope and Content:

The first volume of Elizabeth's journal is eighty pages, and roughly half of it is Elizabeth's record of her time spent with the Stockbridge Indians as a schoolteacher and unofficial missionary. The second journal is only thirty-three pages, and since there are a number of large gaps between entries, it provides a much sketchier picture of Elizabeth's life as she returned to teaching, then attended school, got married, and had a daughter.

The High Congregational style of these journals is both edifying and entertaining. This young woman struggled constantly to know her spiritual condition, and to express her relationship with God. And unlike many a religion-steeped journal, her entries zing with lively language. Openers like "I am a poor, vile, sinful and unworthy worm of dust" and "A guilty hell deserving worm of the dust has graciously been permitted to witness another holy sabbath" sizzle, and Elizabeth rarely got through an entry without some elaborate articulation of self-loathing (1:23, 1:70).

What keeps the journal interesting, however, is the curious tension between this self-abasement -- considered the appropriate attitude with which to approach God -- and Elizabeth's pride and satisfaction in her "useful" work as a teacher and a missionary. To experience God's love, one had to feel absolutely wretched about oneself, and continually profess one's continual state of sinfulness. Therefore it was difficult, if not impossible, for her to simultaneously feel close to God and proud of her work as God's humble servant: "in short, my attainments in religion are very low. I am truly the vilest of the vile, yet I do not feel it as I ought; Oh when shall I live devoted to God? If I am a christian, why do I not love God more, and serve Him better? I know I have a very selfish, wicked heart, & Oh Lord! make me feel it, & give me deep repentance. May my heart be broken for my sins, & may I cheerfully submit to God in all his dealings with me" (1:16).

Elizabeth was frustrated that although she knew she was wicked, she did not always feel wicked -- and when one was devoting one's time so usefully helping the "dear red people," it must have seemed somewhat contradictory to try to feel like one had a "selfish wicked heart." And yet she did try, repeatedly. "Oh I am a sinful worm, & may I feel it more and more & humble myself at the feet of Him, who is the sinner's friend" (1:41).

Initially Elizabeth mentioned that her school has seven native children and six whites, but she did not mention the white children again -- in fact, the next entry states "had but seven native children," suggesting that the whites ceased attending (1:26-27). She brought her little niece to Stockbridge with her to keep her company, and she felt "something lonesome, as I am deprived of the society of white people" (1:26). Loneliness soon passed, as she involved herself in the community. Within a few weeks, she wrote: "I do love these dear red people. I have peculiar sensations while uniting with them in their devotions such as I do not experience meeting with any other people" (1:43). She was even able to relieve her own religious distress by talking with a "dear christian Indian woman" (1:46).

In addition to teaching school, Elizabeth attended native female society meetings, "the object of which is to promote industry and good morals among the females" (1:32). She also visited households, speaking to the women individually about their spiritual state of mind and instructing them in religious matters. When one woman said she had always loved the Saviour, Elizabeth had to explain to her that she was wrong. "I told her that we were born into the world enemies to God, that we did not naturly love Him, nor anything that is good &c." (1:32). She also went to weekly "conferences," and sermons on the Sabbath. Although Elizabeth presumably communicated with the Stockbridge in English, a "Mr. S." delivered a sermon in the natives' tongue (1:29). Most of the meetings Elizabeth attended were conducted in the Indian's language, and she had to rely on tone and demeanor to gauge whether or not the people were suitably "solemn," which they typically were.

Leaving the Stockbridge in September was difficult for Elizabeth. She shook hands with her school children, and after a final prayer meeting together, "two indian women accompanied me home, spent the night with me & breakfasted with me this morning" (1:51). Elizabeth went on to visit friends and return to her native home, and closed her journal with a lengthy transcription of Mrs. Martha Laurens Ramsay's "self dedication and solemn covenant with God," copied from the memoir of that "excellent woman" (1:71-80).

The most interesting part of the second volume of the journal is Elizabeth's account of hearing a dead woman's journal read aloud by her intended spouse (2:10-11). Elizabeth praised the young woman, who had possessed "superior qualifications for extensive usefulness, both native and acquired," and the young man, who "performed his task with an appearance of deep solemnity -- sensibly feeling his loss."

Biographical / Historical:

As a young woman, Elizabeth Camp spent her time teaching school and visiting friends. A devout Congregationalist, Elizabeth constantly prayed for the salvation of all souls, and was particularly anxious for the time "when all the tribes of Indians shall have among them the regular preaching of the gospel, & when their children shall be taught science, the arts of civilization, and the christian religion" (1:12-13). After visiting the Stockbridge Indians and meeting "many ardent & devoted christians, who, I thought were far more eminent for piety, than myself," Elizabeth was happy to accept a teaching position among them for the summer of 1820.

The history of the Stockbridge Indians, whose descendants prefer to be called the Stockbridge-Munsee Band of the Mohican Nation, is a complex story involving Dutch, English, French, Mohawks, and other tribes. To seriously compress the tale, in the 1730s, the town of Stockbridge in western Massachusetts had been established as a Christian mission town for the Indians. In addition to the missionaries who lived among the Indians to assist them in leading Christian lives, many other whites settled in Stockbridge. They soon wished to worship separately, segregate what had been communal schools, and strip the Indians of the right to vote. Even after fighting on the American side during the Revolution, the Stockbridge Indians, as these Mohicans came to be known, were not considered American citizens. The Stockbridge appealed to the Iroquois Nation, requesting a small land grant to live on, and the Oneida invited the Stockbridge Indians to come live near them. New Stockbridge, a six mile square tract of land adjacent to the Oneida's reservation, was established in 1785, and the territorial boundaries of this tiny reservation were officially established in 1794. About 300 Christian Stockbridge Indians resettled in New Stockbridge, New York.

When Elizabeth Camp went among them to teach the children and give the women religious instruction, the Stockbridge Indians were on the verge of another move. Greedy land speculators, led by the Odgen Land Company, wanted the Oneida and Stockbridge lands, and in 1822 the Indians, under the guidance of the U. S. government, began to remove to Wisconsin, where they were finally granted a reservation in 1856. Elizabeth spent only a few months among the Stockbridge, whom she seemed to hold in the highest esteem, as Christians and as a race.

After that summer, Elizabeth continued to circulate among friends, family, and other schools, but she provided few details in her journals. In August of 1823 she became a student again, and briefly attended the school for young ladies that Yale College graduate Claudius Herrick had established in New Haven in 1808. Herrick's school was apparently "distinguished for a high tone of moral and religious sentiment," which would have suited Elizabeth admirably (Dexter, 326).

Elizabeth Camp married Rev. Erastus Cole on September 28, 1823, in Morris, Connecticut (Lorraine Cook White, ed. "The Barbour Collection of Connecticut Town Vital Records"), moved to Hunter, New York, and by 1825, resided in Worcester (which could be Massachusetts or Otego County, New York). Elizabeth gave birth to a daughter on August 9. Circumstantial evidence suggests that the couple ultimately moved to Medina, Ohio.

Elizabeth Camp appears to have married Rev. Erastus Coles of Hunter, New York.

Acquisition Information:

Donated by J. Stark, 1979. M-1854 .

Rules or Conventions:

Finding aid prepared using Describing Archives: A Content Standard (DACS)
Related
Additional Descriptive Data:

Bibliography

Dexter, Franklin Bowditch. Biographical Sketches of the Graduates of Yale College with Annals of the College History, Vol. V. (New York, 1911).

Frazier, Patrick. The Mohicans of Stockbridge. (Lincoln, Neb., 1992).

Partial Subject Index

| | |
| --- | --- |
| Congregationalists--New York (State) | |
| Herrick, Claudius, 1775-1831 | |
| Indians of North America--Religion | |
| Language and languages--Religious aspects--Christianity | |
| Ramsay, Martha Laurens, 1759-1811 | |
| Stockbridge Indians--Missions | |
| Stockbridge Indians--New York (State) | |
| Women--Diaries | |
| Women--Religious life | |
| Women teachers--New York (State) | |
Subjects
Click on terms below to find any related finding aids on this site.
Contents
Using These Materials
---
RESTRICTIONS:

The collection is open for research.

USE & PERMISSIONS:

No copyright restrictions.
PREFERRED CITATION:

Elizabeth Camp Journals, William L. Clements Library, The University of Michigan