Back to top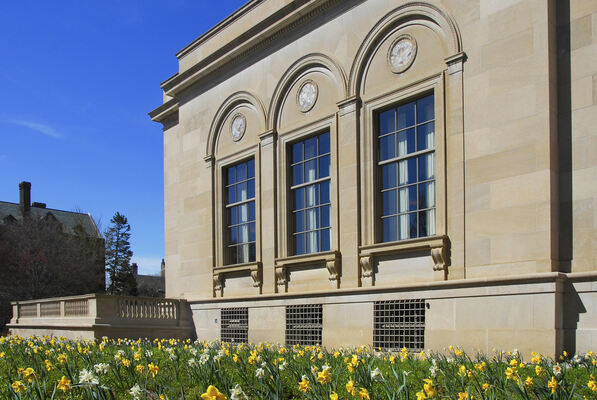 Address

:

909 South University Avenue

Ann Arbor, MI 48109, USA
Young Ladies Union Society of Danbury (Conn.) record book, 1826-1842
Using These Materials
---
Restrictions:

The collection is open for research.
Summary
Creator:

Abstract:

This volume includes the records of the Young Ladies Union Society from 1826-1842, a benevolent society primarily comprised of unmarried women who sewed items to raise money.

Extent:

135 pages

Language:

English

Authors:

Collection processed and finding aid created by Rachel K. Onuf, 1973
Background
Scope and Content:

This volume includes the annotated constitution of the Young Ladies Union Society, annual reports from 1826-1842, informal minutes from 1827-1842, and a list of members. The minutes, which were kept by the secretary, (often a new woman every year), include information about when and where the women met, what work was accomplished, what books purchased, what letters and monies received, as well as personal news about the membership. There were occasional gaps when the society did not meet.

The mission of the organization was to "extend the usefulness of its members, by meliorating the condition of mankind," which they did by raising money in order to donate it to worthy institutions and benevolent societies. The young women raised most of their money by sewing fancy articles, which they then sold to individuals. Much of their time was devoted to making "false collars" and shirts for men, and they often had orders to fill. They also made other gewgaws, like "oak leaf needle books with acorn emerys attached to them," embroidered caps, stockings, and most mysteriously, "an invisible," which might be some unmentionable piece of men's clothing (p.41, 47). The ladies also made things that they donated as gifts in kind, including lamp shades for the Presbyterian Church and clothing for missionaries to the Sandwich Islands. The Society raised the most money during the two years it participated in the Christmas Fair.

1834 through 1836 was the golden age of the society, when they had the most members and the most money to give to worthy causes. Early donations had included $10 to the theological department at Yale (p.7) and $30 to pay for the new pastor's membership in the Home Missionary Society (p.12). In 1833 they determined to raise enough money to give $10 to each of the following organizations: Sunday School Union, Colonization Society, American Bible Society, Seamens Friend Society, American B. C. F. M., American Tract Society, Education Society, Female Benevolent Society, American Home Missionary Society, as well as "Objects of Benevolence at Home" (p.43). Although they did not quite meet their goal, they felt they were "stimulated to exertion by it," and at the next annual meeting, again resolved to raise $100 for "benevolent objects," which they did succeed in doing (p. 54).

Missionaries were of particular interest to society members. The ladies gave money directly to Mr. Ruggles, a missionary to the Sandwich Islands, who thanked them by sending the society "some pieces of cloth made of bark" once he had returned to the mission (pp. 57, 60). The members carefully divided the tapa cloth among themselves. When a local boy, Amos Cook, decided to follow in Mr. Ruggles' footsteps, the society gave him $10 (pp. 59, 64, 65, 71).

Society members also resolved to improve their minds as they sewed, and over the years they experimented with reading aloud The Improvement of the Mind by Isaac Watts, reciting lessons, and delivering compositions or sentences based on words selected at the previous meeting. In later years, gentlemen seemed to attend the Society meetings more regularly, and sometimes the visitors disrupted the lessons. At other times, the men participated, reading compositions, or providing the group with words for their sentences, as a western visitor did: "He gave out these words for our next meeting. Amplitude Contemplation Philomathian Expatriation" (p. 64). In 1836 the Society adopted the idea of "reading the Bible, accompanied with prayer and singing a hymn at sunset," which proved to be a popular exercise (p. 59).

During the summer of 1836, the society selected five poor children "with the design to educate and clothe them, hoping to raise them from their degraded situation and make them useful and happy" (p.60). After the Depression of 1837, the Society increasingly concentrated on local benevolence efforts, and their contributions to organizations were far more modest.

On top of the challenges of the economic depression, which dried up their orders and stopped the Christmas Fair, the society was also continually losing members to the state of holy matrimony. Although a handful of married women continued to be members, many moved away with their husbands, or became too involved with their own housekeeping to sew the day away for other people. Death also took its toll, and the members particularly grieved to hear of the death of longtime member Sarah Clark, who had moved to Marietta, Ohio after her marriage to Mr. Andrews, and died shortly after giving birth (p. 84).

Biographical / Historical:

The Young Ladies Union Society of Danbury, Conn., which had been established around 1817, was a benevolent society primarily comprised of unmarried women, but several young married women and three gentlemen were also members. The society, governed by elected officers (including a librarian), met on a rather irregular basis and sewed things they would then sell, donating the profits to various worthy causes. Gentlemen would typically only appear at the meetings to buy the articles the women had made and escort the ladies home. Thirteen members at a meeting was considered "unusually large," and the average was probably between six and eight attendees. Often the women did not meet as frequently as they intended, due to the weather, a paucity of available members, or the distraction of other town events. Occasionally when they had an order to fill, the members, often assisted by non-members, would meet more often. By the 1840s, the young women were devoting themselves to local benevolent work, and concentrated on helping the poor children of Danbury. Although this filled volume ends in 1842, it is likely the Union Society continued to exist.

Acquisition Information:

1973. M-1639 .

Rules or Conventions:

Finding aid prepared using Describing Archives: A Content Standard (DACS)
Related
Additional Descriptive Data:

Statistics culled from annual reports

| Date | Event |
| --- | --- |
| 1826 | 26 meetings |
| 1828 | 10 meetings |
| 1829 | 29 meetings; 19 group members |
| 1830 | 20 meetings; 17 group members |
| 1831 | 29 meetings; 14 group members |
| 1832 | 38 meetings; 12 group members |
| 1833 | 20 group members |
| 1834 | 23 meetings; 20? group members |
| 1835 | 39 meetings; 30 group members |
| 1836 | 33 meetings; 28 group members |
| 1837 | 26 meetings; 17 group members |
| 1838 | 21 meetings |
| 1841-1842 | 42 meetings; 15? group members |
Subjects
Click on terms below to find any related finding aids on this site.
Subjects:

Formats:

Names:

Places:
Contents
Using These Materials
---
RESTRICTIONS:

The collection is open for research.

USE & PERMISSIONS:

Copyright status is unknown.
PREFERRED CITATION:

Young Ladies Union Society of Danbury (Conn.) Record Book, William L. Clements Library, The University of Michigan