Back to top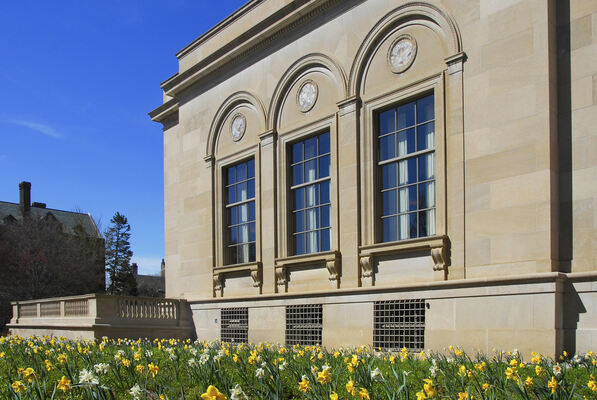 Address

:

909 South University Avenue

Ann Arbor, MI 48109, USA
West family papers, 1697-1880
Using These Materials
---
Restrictions:

The collection is open for research.
Summary
Creator:

Abstract:

The West family papers are comprised of approximately 1,400 letters, letter books, documents, and financial records pertaining to Reverend Samuel West and his two sons, Benjamin and Nathan P., of Boston. The bulk of the collection (approximately 900 items) relates to business concerns, particularly to Benjamin West's sugar refining firm.

Extent:

2.25 linear feet

Language:

English

Authors:

Collection processed and finding aid created by Cheney J. Schopieray, July 2010, and Meg Hixon, November 2011
Background
Scope and Content:

The West family papers are comprised of approximately 1,400 letters, letter books, documents, and financial records pertaining to Reverend Samuel West and his two sons, Benjamin and Nathan P., of Boston. The bulk of the collection (approximately 900 items) relates to business concerns, particularly to Benjamin West's sugar refining firm.

The Correspondence and documents series consists of approximately 150 items, dating from 1679 to 1880; the bulk of these are dated between 1759 and 1826. Though the majority of the material within the series pertains to business affairs, several groups of letters relate to other topics. One early group of letters concerns Samuel West's move from Needham, Massachusetts, to Boston's Hollis Street Church, and another group to a Boston committee's proposal to alter the municipal government in 1815, which includes its lengthy report [September 25, 1815]. In addition, the series contains personal and family correspondence, though to a lesser extent. Primary correspondents within the series include Caleb and Joshua Davis, Benjamin West, Enoch H. West, Samuel West, Richards Child, Mills Olcott, Samuel and Ephraim May, Sarah Plimpton, George Cheyne Shattuck, and Elisha and Elizabeth Ticknor.

The collection's two Letter books belonged to Benjamin West, and hold copies of 166 outgoing letters, dated 1803-1827, related to his various business affairs and the settlement of his uncle's estate, as well as personal matters.

The Financial records series contains three subseries: Bills and receipts, Sugarhouse accounts, and Account and expense books. The series contains approximately 300 bills and receipts dating from 1748 to 1824, primarily pertaining to labor, repairs, and donations to various Boston societies and institutions. About 600 sugarhouse accounts (1796-1823) record financial transactions associated with Benjamin West's sugar refining business, and include accounts, bills, and receipts. The four books cover Benjamin's West's personal accounts and expenses between 1797-1799 and 1811-1827; the first of these concerns West's service in a local militia, as well as his other financial matters, including numerous accounts for clothing, tobacco, and trips to the theater.

Legal documents within the collection are divided into two subseries, covering Land and real estate (1707-1824) and other Legal documents (1738-1834). The first subseries consists of approximately 60 items, which relate to mortgages, indentures, and other agreements about land around Boston and in Charlestown, New Hampshire. The West family frequently dealt with the Wheelock and Metcalf families when purchasing land. The second subseries is comprised of approximately 75 miscellaneous documents, including material related to Samuel West's interests in Needham, Massachusetts; bills from Nathan P. West's time at Harvard College (1788-1792); and the family's additional business and legal concerns.

The Printed and miscellaneous items series consists of approximately 20 items, dated 1714 to 1825. Among these are broadsides, including programs for Samuel West's internment services and various anniversaries, and partially printed school reports. Miscellaneous manuscript items are 13 statements of Christian faith; manuscript music for several hymns; two books kept by Nathan P. West, including a copybook of mathematical problems and exercises (1792-1807) and a commonplace book (1798-1813) with medicinal recipes West used in his drugstore; and scattered quotations. The copybook also includes a small drawing of a skull next to a bottle of borax on its inside cover.

Biographical / Historical:

Samuel West (1738-1808) was the son of Rev. Thomas West, a clergyman and teacher from Rochester, Massachusetts. Samuel studied divinity at Needham, Massachusetts, and eventually moved to Boston. His brother, Benjamin West (1746-1817), eventually became a lawyer in Charlestown, New Hampshire, where he worked with Simeon Olcott. Samuel had three sons and a daughter, including Samuel, Jr., Nathan Plimpton (d. 1814), Benjamin West (1776-1829), and Priscilla. The younger Benjamin West was a Boston merchant and sugar refiner during the first decades of the 19th century. In 1826, he moved from Boston to Charlestown, New Hampshire, and resided there until his death in 1829.

Acquisition Information:

1965. M-1371 .

Processing information:

Cataloging funded by the National Historical Publications and Records Commission (NHPRC). This collection has been processed according to minimal processing procedures and may be revised, expanded, or updated in the future.

Arrangement:

The West family papers have been organized into the following series and subseries:

Series I: Correspondence and documents
Series II: Letter books
Series III: Financial records

Subseries I: Bills and receipts
Subseries II: Sugarhouse accounts
Subseries III: Account, receipt, and expense books

Series IV: Legal documents

Subseries I: Land and real estate
Subseries II: Business and legal documents

Series V: Printed items and miscellaneous

Rules or Conventions:

Finding aid prepared using Describing Archives: A Content Standard (DACS)
Related
Additional Descriptive Data:

Alternate Locations

Four broadsides are housed in the Book Division:

Related Materials

The Manuscripts Division's Schoff Revolutionary War collection contains a set of six letters written by Benjamin West (1746-1817) to his brother, Samuel West (1738-1808), pertaining to Benjamin's Revolutionary War service in South Carolina.

The Clements Library Book Division holds a selection of published sermons and essays of Samuel West.

Bibliography

Saunderson, Henry Hamilton. History of Charlestown, New Hampshire: The Old No. 4, Embracing the Part Borne by Its Inhabitants in the Indian, French And Revolutionary Wars, and the Vermont Controversy; Also Genealogies and Sketches of Families, from Its Settlement to 1876. Claremont, N.H.: Claremont Manufacturing Co., 1876.

West, Benjamin, and James Stanley Schoff. Life In the South 1778-1779: The Letters of Benjamin West. Ann Arbor: The William L. Clements Library, 1963.
Subjects
Click on terms below to find any related finding aids on this site.
Subjects:

Formats:

Names:

Places:
Contents
Using These Materials
---
RESTRICTIONS:

The collection is open for research.

USE & PERMISSIONS:

Copyright status is unknown
PREFERRED CITATION:

West Family Papers, William L. Clements Library, The University of Michigan