Back to top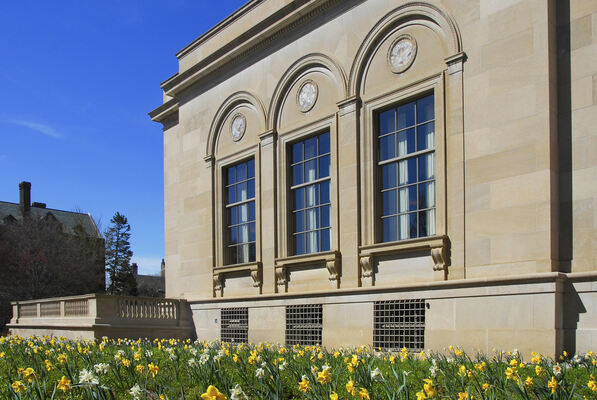 Address

:

909 South University Avenue

Ann Arbor, MI 48109, USA
James Sterling letter book, 1761-1765
Using These Materials
---
Restrictions:

The collection is open for research.
Summary
Creator:

Abstract:

The James Sterling letter book contains the outgoing letters of Sterling, a prominent trader at Fort Detroit, concerning transactions, prices, demand for goods, as well as accounts of events during Pontiac's War.

Extent:

1 volume

Language:

English
French

Authors:

Collection processed and finding aid created by Richard Bates and Shannon Wait, February 2011
Background
Scope and Content:

The James Sterling letter book contains 164 pages and 175 letters in all, spanning July 1761 to October 1765. Sterling wrote all the letters while at Fort Detroit, and they deal mainly with business and occasional local political matters. His letters provide a picture of the fur trade and the consumer needs of Indians, French civilians, and the British military, as well as the day-to-day concerns of a prominent trader at Fort Detroit.

The volume opens with a 6-page record of a council held "at the Wiandot Town near Detroit" by the deputies of the Six Nations (Iroquois) in order to convince members of the Ottawa, Wyandotte, Ojibwa (Chippewa), and Potawatomi tribes to ally themselves with the French. Sterling acted as interpreter during the meeting, and kept its minutes. The document records the Iroquois' grievances with the British, whom they accused of having "Disrespect" for them and their lands, adding "their Behaviour towards us gives us the greatest Reason to believe that they intend to Cutt us off intirely." The Iroquois urged the more western tribes to take quick action against the British and stated that "our Warriors are already prepared." The document contains long quotes from several speakers, including an Iroquois deputy and a "Captain Campbell," likely Donald Campbell, who expressed astonishment at the belligerent attitude of the Iroquois toward the British. The following day, the western tribes reported the meeting to the British, maintaining their loyalty.

Sterling's outgoing letters commence on July 20, 1761. He mainly wrote them to trading partners and clients, discussing details of shipments, prices (generally calculated in beaver pelts), and the availability of goods. On page 11 of the book, in a letter to Captain Walter Rutherford [August 27, 1761?], Sterling listed numerous items for sale along with their prices in pelts. These include strouds, blankets, shirts, buckskins, wampum, brass kettles, gun powder, knives, bed lace, and thread. Letters also shed light on the destinations and methods of the transportation of goods. In the first years of the correspondence, goods were shipped by fleets of bateaux, sometimes belonging to the military. Later, several schooners and sloops plied Lakes Erie and Huron, and went as far north as St. Mary's River at Sault Ste-Marie. All goods had to be portaged at Niagara ("The Carrying Place"), while those to and from Albany were similarly reloaded at Oswego on Lake Ontario.

Sterling sometimes encountered problems with other traders and colleagues, including unscrupulousness, drunkenness, and offensive treatment of Native Americans, which alienated them as trading partners. He criticized John Collbeck, the commissary at Fort Niagara, for allowing his staff and servants to drink without restraint and for keeping a "seraglio of Indians Squahs in the same condition" of intoxication (January 10, 1762). On May 31, 1762, he complained to his partner, James Syme, that goods had arrived from New York "wet, dirty, and broken." Other hazards included storms and theft, which Sterling noted on several occasions.

A few letters detail the events of Pontiac's War as well as its effect on trade. On July 25, 1763, Sterling noted the capture of Fort Venango in Pennsylvania and the continuation of the siege at Fort Detroit, and hoped for relief from the army. On August 7, 1763, he described the Battle of Bloody Run as "the damn'd Drubbing the Savage Bougres gave us" and lamented the death of an aide-de-camp, "Capt. Delyelle." In other letters, he reported that trade with Native Americans had been prohibited by British officials (August 7, 1763), and gave an account of an attack on the schooner Huron by 340 Native Americans, resulting in the death of its commander, Captain Walter Horsey (September 8, 1763). The volume contains a gap in the correspondence between October 1763 and September 1764.

The volume also contains occasional references to Sterling's personal life. In a letter of February 26, 1765, Sterling informed his associate, John Duncan, that he had married Angélique Cuillerier, "the best interpreter of Indian languages in Detroit;" her dowry of 1,000 pounds included houses in Fort Detroit. Sterling also frequently referenced his brother, John Sterling, who was stationed at Niagara. James did not feel that John was capable of running the operation there, but called him dependable.

Biographical / Historical:

James Sterling (sometimes "Stirling") was born in Ireland and came to North America in the early 1750s. He served as an officer in the Pennsylvania forces during the French and Indian War, and as commissary of provisions at Fort Oswego in 1759 and Fort William Augustus in 1760. In July of 1761, Sterling relocated to Detroit, where he became the western agent of the trading firm Livingston, Rutherford, Duncan, Coventry & Syme. Sterling was a shrewd businessman, proficient in English, French, and several Native American languages, and quickly found success in this role. The firm dispatched goods and merchandise to other traders in New York and to the upper Midwest, and supplied goods for cash to British forts at St. Joseph, Bay City, and Michilimackinac, as well as to the British and French civilians around those posts. During Pontiac's siege of Fort Detroit in the summer of 1763, Sterling commanded the local militia. The next year, he formed a trading partnership with John Duncan, which John Porteous joined several years later. On February 9, 1765, Sterling married Angélique Cuillerier, dit Beaubien, who had grown up in a family of prominent traders and spoke several Indian languages. They had at least three children: Jacques, Angélique, and Pierre.

Sterling also found work as a tax collector and surveyor. He was assistant engineer under Henry Hamilton at Fort Detroit and surveyed land there shortly after the outbreak of the American Revolution. After a falling out with Hamilton, he went briefly to Quebec in 1778, and then returned with his family to England. There, he continued his business partnership with Porteous and was part-owner of the British privateer, Vengeance. Sterling is thought to have returned to North America after the war, but the date and place of his death are unknown.

Acquisition Information:

1931. M-125 .

Processing information:

Cataloging funded by the National Endowment for the Humanities (NEH) and the "We the People" project.

Rules or Conventions:

Finding aid prepared using Describing Archives: A Content Standard (DACS)
Related
Additional Descriptive Data:

Related Materials

The Thomas Gage papers: Ten returns and letters written by Sterling.

The George Germain papers: Letter written by Sterling dated September 29, 1779.

The Amherst papers: Three items written by Sterling, all dated November 4, 1763.

The Clements Library also has the John Porteous letter book; Porteous was Sterling's business associate.

Bibliography

Sterling, Albert M, and Edward Boker Sterling. The Sterling Genealogy. New York: Grafton Press, 1909.

A partial subject index is located in the collection's control file.
Subjects
Click on terms below to find any related finding aids on this site.
Contents
Using These Materials
---
RESTRICTIONS:

The collection is open for research.

USE & PERMISSIONS:

Copyright status is unknown
PREFERRED CITATION:

James Sterling Letter Book, William L. Clements Library, The University of Michigan