Back to top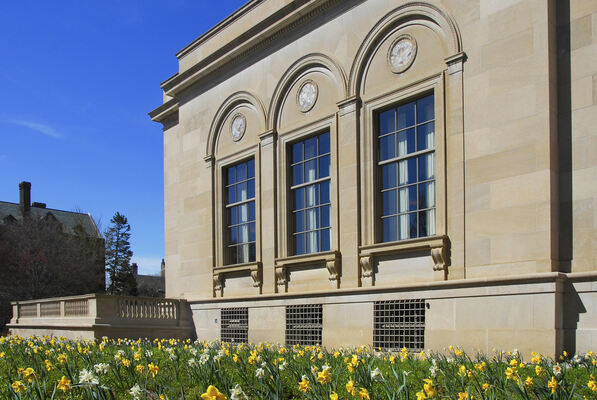 Address

:

909 South University Avenue

Ann Arbor, MI 48109, USA
Heinrich family photograph collection, 1895, 1910-1986 (majority within 1915-1930)
Using These Materials
---
Restrictions:

The collection is open for research.
Summary
Creator:

Abstract:

The Heinrich Family photograph collection is made up of a photograph album, loose photographs, correspondence, and other items pertaining to Eberhardt William Heinrich, and his parents, Bruno Otto Paul Heinrich and Helene Heinrich. The Heinrich family immigrated to Dubuque, Iowa, from Germany in the early 1920s. The photograph album contains photographs related to Bruno Heinrich's service in the German army in Eastern Europe during World War I. The remainder of the collection documents the family's immigration story, life in the United States, and later trips to Germany.

Extent:

1 volume, 2 boxes (1 linear foot)

Language:

English
German

Authors:

Collection processed and finding aid created by Meg Hixon and Eve Neiger, December 2013
Background
Scope and Content:

The Heinrich family photograph collection consists of 1 photograph album, 102 loose photographs, 4 letters, 1 passport, 76 postcards, 18 loose album pages, and 1 ceramic beer stein relating to the family of Eberhardt William Heinrich. The collection depicts the life of a German soldier during World War I and the immigration of a middle-class German family to the United States between the wars. Eberhardt Heinrich compiled the materials and wrote a brief family history, two copies of which are included in the collection.

The photograph album (13cm x 19cm) of Eberhardt Heinrich's father, German soldier Bruno Heinrich, contains 101 photographs and photographic postcards related to Bruno Heinrich's army service in Eastern Europe during World War I. Captions in English, added later by his son, identify people, locations and dates. The volume has a red cloth cover with a printed iron cross on the front, dated 1914. Bruno Heinrich's Iron Cross medal is placed in a clear plastic envelope inside the volume's front cover.

The Bruno Heinrich album shows individual and group portraits of German soldiers playing cards, resting in earthwork bunkers, in trenches, drinking, sitting by large artillery pieces, posing in ruined buildings, and mounted on horseback. Several photos are posed with local residents or refugees; one image features captured armored tanks. Most of the photographs were taken in Serbia, Poland, and Russia, though a few came from France and Germany. Although many of the photographs show soldiers and civilians at leisure, others depict the devastation and the humanitarian crisis created by the war. Images of note include a photograph captioned "Waking up in the ditch after a party;" a German cemetery of fresh graves and birch wood crosses; soldiers displaying a captured Serbian banner; Heinrich in a domestic interior with his rifle, hat, and "bridal picture" on the wall behind him; and a view of a Russian cloister with a large crowd of civilian refugees. Photographs at the end of the album depicting Bruno Heinrich and his brothers-in-law Paul Hobach, Heinrich Hobach, Richard Albert, and Willi Osterloh, who served on the Western front, may have been added later.

The loose photograph series includes 102 photographs arranged by subject matter, dating between 1910 and 1979. Some photographs have manuscript captions in English and German on the verso. A majority of the images show the families of Bruno Heinrich and of his wife, Helene, and of a young Eberhardt Heinrich. Family members are often identified on the verso. Also included are photographs of the family's immigration to the United States, crossing the Atlantic aboard the German steamship SS Yorck, and trans-Atlantic voyage to Germany in 1930 onboard the German ocean liners SS Bremen and SS Europa. Images depict groups and individuals onboard ship and views taken of the ocean en route. Also included are snapshots taken at the University of Michigan's geological field station in Wyoming, Camp Davis; plus other images of travel and family life in Dubuque, Iowa. Of note are three photos taken on separate dates of Bruno Heinrich, Helene Heinrich, and Eberhardt Heinrich, each posed atop a camel in front of the Great Sphinx and the pyramids at Giza in Egypt.

The collection's manuscripts consist of four letters and one passport. Three manuscript letters are written in German on business letterhead; two dated June 16, 1910, and one dated March 13, 1911. The latter includes two recipes written in English on the verso. One letter, in English, is dated July 29, 1985 and typewritten on Ann Arbor News letterhead. The United States passport was issued to Helene Heinrich on March 21, 1960, and tracks her travel to numerous countries around the world throughout the early 1960s.

The collection of postcards contains 76 lithographic and photomechanical souvenir postcards from Germany and the United States dating from the early to mid-twentieth century. Some notes inscribed on the verso are written in English and German and may have been added by Eberhardt William at a later date. A majority of the postcards depict German cities visited by the Heinrich family in 1930. Also included is a group from Chicago, Illinois museums; and a group of "Bonzo" dog cartoons by George E. Studdy. Of note is a group of sentimental postcards of German soldiers from the World War I era; a photographic postcard of Eberhardt William and Helena Heinrich aboard the SS Yorck during their immigration from Germany to the United States in 1923; and a souvenir postcard from Bremen, Germany featuring a colored lithograph of a traveler with a rucksack. A paper flap under the rucksack lifts to reveal a miniature accordion-fold viewbook of Bremen scenes.

The loose album pages series includes 18 loose pages separated into five groups dating from 1923-1964. Pages were likely previously part of compiled albums though no longer extent. Captions in English and German may have been added by Eberhardt Heinrich at a later date. Group 1 includes photographs taken aboard the SS Europa, during the October 1930 trans-Atlantic voyage from Bremerhaven, Germany to the United States. Images include photographs taken from the ship and from shore at Bremerhaven, Germany, including dramatic photographs of large seas taken from the ship's deck. Group 2 is primarily commercial photographs from the family's 1930 trip to Germany depicting Bremen; the Breitachklamm gorge, and towns of Sonthofen and Oberstdorf in the Allgäu region; Berlin; and the Spreewald. Group 3 features photographs of East and West Berlin taken in October 1963 by Helena Heinrich. The final two groups are photographs of a family visit to the gravesite of Julian Dubuque in Dubuque, Iowa, August 1964, and a trip to the 1939-1940 New York World's Fair in October 1940.

The final item in the collection is a half-liter ceramic regimental beer stein with a decorative pewter lid. The family history included in the collection notes that the stein belonged to Helena Heinrich's brother-in-law, Willi Osterloh, a member of the Kaiser's Garde-Kürassier-Regiment. The stein, manufactured by the Mettlach factory of Villeroy and Boch, with a production date of 1895, is decorated in the PUG (Print Under Glaze) style. It is inscribed with "Garde-Kürassier-Regiment" and depicts Garde-Kürassier-Regiment soldiers both standing and astride horses. The soldiers wear the normal service uniforms and the parade uniforms of the regiment. The pewter lid has a cast eagle thumb lift and is decorated with the seal and motto of the Order of the Black Eagle: "Summ Cuique."

Biographical / Historical:

Bruno Otto Paul Heinrich was born in Anklam, Pomerania (Germany), in 1883 and worked for his father William Heinrich, a haberdasher. Heinrich served in the German army prior to World War I. After emigrating to Argentina for a short time, he returned to Germany to work as a traveling salesman for a large German office supply company in the Mediterranean region, North Africa, and Middle East. At the outbreak of World War I, he married Helene Elizabeth Hobach (1893-1986), and was recalled into the army, serving in a quartermaster unit in Serbia, Russia, and Poland. Heinrich and his wife had one son, Eberhardt William (1918-1991), who was born on February 10, 1918 in Braunschweig, Germany.

After the Armistice, Heinrich was offered a German government job as a coal miner. Heinrich immigrated to the United States in 1922 and settled near his aunt in Dubuque, Iowa. He was followed in 1923 by his wife and son. They would later return to Germany for sightseeing in summer and fall of 1930, returning to the United States in October. Bruno Heinrich died in 1957.

Eberhardt Heinrich received degrees from Iowa State University (B.S., 1940) and from Harvard University (M.Sc, 1942 and Ph.D.,1947). During World War II, he worked as a geologist for the U.S. Geological Survey. After the war he became Professor of Mineralogy at the University of Michigan where he worked for 36 years and published eight books. Eberhardt Heinrich retired from the University of Michigan on December 31, 1983 and died on July 8, 1991 in Ann Arbor, Michigan. This collection was donated to the Clements Library by the family.

Acquisition Information:

2004. F-713, M-2599.8, P-1586.1 .

Processing information:

Cataloging funded by the National Historical Publications and Records Commission (NHPRC). This collection has been processed according to minimal processing procedures and may be revised, expanded, or updated in the future.

Rules or Conventions:

Finding aid prepared using Describing Archives: A Content Standard (DACS)
Related
Additional Descriptive Data:

Bibliography

Fifteenth Census of the United States: 1930. 1930.
Contents
Using These Materials
---
RESTRICTIONS:

The collection is open for research.

USE & PERMISSIONS:

Copyright status is unknown
PREFERRED CITATION:

Heinrich family photograph collection, William L. Clements Library, The University of Michigan