Back to top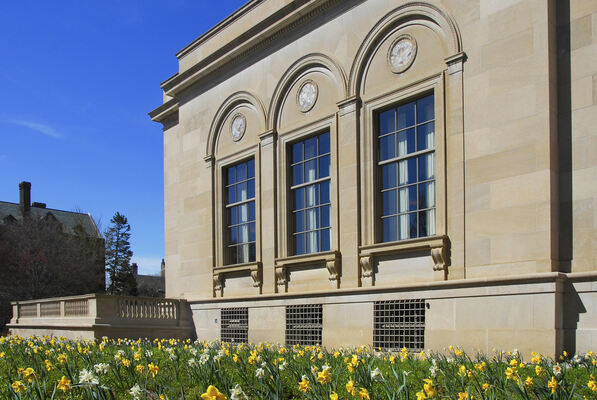 Address

:

909 South University Avenue

Ann Arbor, MI 48109, USA
Chilocco Indian School Collection, 1908-ca.1950
Using These Materials
---
Restrictions:

The collection is open for research.
Summary
Creator:

Abstract:

The Chilocco Indian School collection consists of 1 piece of realia, 1 school yearbook, 1 pamphlet, 1 manuscript, 1 graduation certificate, and 107 photographic images in various formats related to the Chilocco Indian School in northern Oklahoma.

Extent:

16 tintypes, 18 photographic prints, 73 postcards, 1 piece of realia, 1 school yearbook, 1 pamphlet, 1 manuscript, and 1 graduation certificate in 3 boxes.

Language:

English

Authors:

Collection processed and finding aid created by Jakob Dopp, February 2020
Background
Scope and Content:

The Chilocco Indian School collection consists of 1 piece of realia, 1 school yearbook, 1 pamphlet, 1 manuscript, 1 graduation certificate, and 107 photographic images in various formats related to the Chilocco Indian School in northern Oklahoma. Many of the images are portraits of individuals, structures, and activities associated with the Chilocco Indian School; most are individual and group portraits of Native Americans, but there are also several images showing school buildings, agricultural activities, sports teams, and white American adults and children. The majority of the images are real photo postcards from the 1910s.

A total of 16 tintypes (mostly 8 x 5 cm) are present in the collection. Included are studio portraits of Native American men, women, boys, and girls wearing western clothing. Many of the tintypes have been moderately hand-colored. None of the subjects nor their tribal affiliations have been identified.

Also present are 18 photographic prints (6 unmounted and 12 mounted). The 6 unmounted prints are all 11 x 6.5 cm snapshots taken in 1920 that appear to have been taken by tourists and were once stored in a photograph album. Inscribed captions include the following: "Gold Fish Pond Chilocco OK 1920"; "Three Indian Boys"; "View of the lake at Chilocco"; "Little Girls Dormitory at Chilocco Government School 1920"; "Dairy at Chilocco"; "Chilocco OK Indian School Stadium 1920." Of the mounted photographs, there are 10 of approximately the same size (8.5 x 6.5 cm; all albumen prints) that show individual and group studio portraits of Native American men, women, boys, and girls. The remaining two mounted photographs (12.5 x 8.5 cm and 10.5 x 6.5 cm respectively; both albumen prints) are studio portraits of a very young Native American girl and a Native American boy with his mother which bears the verso inscription "T. Wolf." None of the subjects nor their tribal affiliations have been identified.

Real photo and photomechanical postcards (mostly 14 x 8.5 cm) make up the remaining 73 photographic images in this collection. Most images consist of individual and group portraits of Native American and white people, the latter of which many appear to have been affiliated with various Indian Agencies and/or boarding schools.

Items of particular interest include an image of a young Native American boy captioned "Jim McKay's kid"; a studio portrait of an unidentified Native American man by George B. Cornish; a studio portrait of a man possibly identified as "Red Fox" through an inscription on the verso; a studio group portrait of an unidentified married Native American couple captioned "New Year Eve. 08-09" in which the photographer appears to have edited the negative by painting fake snowflakes on the subjects; a group portrait of Umatilla Agency superintendent E. L. Swartzlander's children Lawrence and Inez; views of Chilocco Indian School buildings such as Haworth Hall, Home One, the Printing Department, and the inside of a classroom; and three photographs showing young men dressed in World War I-era army uniforms.

Sports-related images include group portraits of the 1912-13 Chilocco men's basketball team, the 1906 and 1915 Chilocco women's basketball teams, the 1945-46 Chilocco men's football team, and a Chilocco men's baseball team from an unknown year.

A relatively small number of postcards have been signed. Of the postcards that have signatories, there are eight signed by Samson B. Harjo (Seminole; name also spelled "Sampson B. Harjo"); one signed by "John Wolf" (tribal affiliation unknown); one signed by "Silas Beal Brown"; three signed by Chief Tishomingo's grandson Joe F. Factor (Chickasaw); and five signed by Umatilla Agency clerk Alvin Barbour.

The Alvin Barbour postcards (6 in total) are the only postcards in the collection that contain correspondence. Writing from Pendleton, Oregon, Barbour was in communication with a girl at the Chilocco Indian School named "Anna" of unknown tribal background who appears to have come from the Umatilla Agency. In one postcard with a view of a school building dated March 4 1914, Barbour expresses delight that Anna was "pleased with the pennant" he sent her and that he hopes it will "remind you of home and of the sender." In another postcard bearing an outdoor portrait of Barbour dated April 18 1914, Barbour states that he is glad Anna has recovered from an illness and that he sent her some Easter lilies. Two postcards dated April 27 1914 show images of Barbour and a Native American girl from the Umatilla Agency identified as "Ruth" taking turns sitting on a fallen tree trunk. Two postcards do not bear any correspondence and include an outdoor portrait of Barbour (signed "Yours very truly, Alvin Barbour") and an unsigned outdoor group portrait of Barbour with two other men posing on a bridge.

The realia item is a double-handled silver basketball trophy (10 x 15 x 6 cm) bearing the engravings "Chilocco Basket Ball League 08" and "Bird's Head - Escudero - Du Bois - Taylor - Jones." The trophy was awarded to "Team Jones" in 1908 after they won all four of their matches in their five-team intramural league. "Bird's Head" may possibly be Jesse Bird's Head, while "Escudero" may possibly be Cipriano Escudero (approximately 1882-?).

Printed publications include a 1932 Chilocco Indian School senior class yearbook as well as an illustrated libretto and associated program from a 1907 Chilocco Indian School production of Hiawatha. The front cover of the libretto bears the inscription "Lulu Gregory, Tonkawa, Okla."

The manuscript item consists of a three-page handwritten document regarding the "Crimson" flag of an unidentified University Preparatory School (possibly the Tonkawa U.P.S.) and its importance being "similar to that of the Stars & Stripes to the United States." The document is unsigned and undated.

Also present is a graduation certificate (51 x 40.5 cm) granted by the Chilocco Indian School in 1897 to Myrtle M. Long (tribal affiliation uncertain). The diploma was signed by Superintendent Benjamin F. Taylor, principal teacher Philena Everett Johnson, and teacher Anna D. Burr.

Biographical / Historical:

In 1882 Congress authorized the establishment of five non-reservation boarding schools for Native Americans. The Chilocco Indian Agricultural School opened in 1884 and began to take in members of various tribal groups, including Cheyenne, Arapaho, Wichita, Comanche, Pawnee, and later, Cherokee. It was situated on 8,640 acres of land in the Cherokee Outlet along the northern border of Oklahoma.

Chilocco provided students with academic and vocational training, but the emphasis was clearly on the latter. Boys received training mainly in agricultural skills and building trades, girls in domestic skills and basic nursing. Following the lead of Captain Richard Henry Pratt, the head of the Indian Industrial School in Carlisle, Pennsylvania, Chilocco operated on a strict military regime and attendance at weekly Christian services was required. The overall approach reflected the prevailing philosophy of the day that integration and assimilation into white European culture, requiring the suppression of tribal identities and customs, were the best ways to transform Native American youth into productive members of society.

Attendance at Chilocco peaked at 1,300 in the 1950s but began to drop off as Native Americans gained access to mainstream public schools. In its later years, it catered to students from tribes as far away as Arizona and Alaska. The school closed after Congress dropped its funding in 1980 in response to changing social conditions and years of protests from activist groups. In nearly one hundred years of operation, it had brought in 18,000 students from 126 different tribes and awarded 5,542 high school diplomas, nearly equally between males and females.

Acquisition Information:

Donation from University of Michigan Native American Studies Program and Prof. Robin A. Beck. June 2016. F-1163; F-1169; F-1170 .

Custodial History:

UM Native American Studies, transferred to Clements via UM Prof. Scott Lyons, Native American Studies; additional donations directly from Prof. Robin A. Beck.

Rules or Conventions:

Finding aid prepared using Describing Archives: A Content Standard (DACS)
Subjects
Click on terms below to find any related finding aids on this site.
Subjects:

Formats:

Names:

Places:
Contents
Using These Materials
---
RESTRICTIONS:

The collection is open for research.

USE & PERMISSIONS:

Copyright status is unknown.
PREFERRED CITATION:

Chilocco Indian School collection, William L. Clements Library, The University of Michigan.