Back to top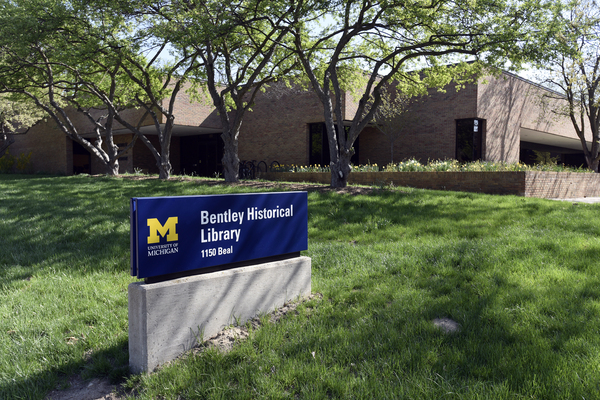 Address

:

1150 Beal Avenue

Ann Arbor, MI 48109-2113, USA
College of Engineering (University of Michigan) publications, 1873-2022
Using These Materials
---
Restrictions:

The records are open for research.
Summary
Creator:

Abstract:

Publications produced by the College of Engineering and some of its academic departments and administrative units as student organizations. Includes annual reports, briefing papers, brochures and pamphlets, bulletins and college catalogs, calendars of college events, histories, manuals, newsletters, programs, proposals, reports, songbooks, and statistics.

Extent:

27.3 linear feet
771.7 MB

Language:

English.

Call Number:

977 Bimu C141 2

Authors:

Finding aid prepared by: Marilyn McNitt, 2002, 2003, September 2015; Sarah Lebovitz, January 2017; Olga Virakhovskaya in August 2023
Background
Scope and Content:

The College of Engineering Publications consist of printed and born-digital material produced by the College of Engineering and some of its academic departments, administrative units and student organizations. Publications of some academic departments are cataloged separately. This collection includes:

- annual reports - briefing papers - brochures and pamphlets - bulletins and college catalogs - calendars of college events - histories - manuals - newsletters - programs - proposals - reports - songbooks - statistics

The College of Engineering Publications are divided into five series; Unit Publications, Sub-Unit Publications, Topical Publications, Student Publications; and Chronologically Arranged Publications.

The Unit Publications series contains printed material published specifically by the College of Engineering. These publications are defined as being widely distributed and may be published at regular intervals. They are arranged by genre of the publication.

The Sub-Unit Publications series contains publications from subordinate offices, departments, programs, laboratories and organizations within the College of Engineering. These publications are arranged alphabetically by the creating sub-unit.

The Topical Publications series includes publications which document specific events or activities such as anniversary celebrations, convocations, faculty awards or memorials, graduation exercises, or one-time conferences hosted by the College of Engineering.

The Student Publications series contains publications published by student groups within the College of Engineering. The specific student organizations are arranged alphabetically by name of the organization.

To expedite access to the College of Engineering publications, all materials received after 2017 are added to the collection in chronological order by the year of publication within the Chronologically Arranged Publications series. The series contains Unit, Sub-Unit, Topical, and Student publications.

Some publications (or their successors) may no longer be available in print but are available on the school's website, www.engin.umich.edu.

Biographical / Historical:

The Department of Engineering was established at the University of Michigan in 1858, four years after engineering courses were first offered. In 1871 Professor DeVolson Wood suggested that the Department of Engineering be separated from the Department of Literature, Science, and the Arts, but it was not until 1895 that such a separation occurred. In that year, the departments of civil, mechanical, and electrical engineering were organized into a distinct Department of Engineering and Professor Charles Ezra Greene was appointed dean. The department was to be governed by the faculty, with the dean handling admission of students. Mortimer Elwyn Cooley, a professor of mechanical engineering at the University since 1881, was appointed dean upon Greene's death in 1903 and took office in 1904. He served as dean until 1928 and was succeeded by Herbert Charles Sadler, a professor of naval architecture and marine engineering who had been on the University of Michigan faculty for thirty-nine years. Sadler resigned the deanship in 1937 and was followed by Henry Clay Anderson, a professor in the Mechanical Engineering Department. Anderson died in 1939 and was replaced by Ivan Charles Crawford, a civil engineer who had served as dean of the colleges of engineering at the University of Idaho and the University of Kansas. He was dean of the College of Engineering at Michigan from 1940 to 1951. The sixth dean of the college, George Granger Brown, held the post from 1951 to 1957. He was followed by Stephen S. Attwood, 1957-1965, Gordon Van Wylen, 1965-1972, and David V. Ragone, 1972-1980. Hansford W. Farris served as acting dean from 1980 until the 1981 appointment of James J. Duderstadt. Duderstadt resigned in 1986 to become provost and vice president for academic affairs for the university. He was succeeded as dean by Charles M. Vest, 1986-1989. Daniel E. Atkins, III, was interim dean from 1989 to 1990, Peter M. Banks served as dean from 1990 to 1996, and Stephen W. Director assumed the deanship in 1996.

In 1905 the Regents of the University approved the establishment of a chair of architecture in the Department of Engineering. With this decision, courses in architecture were once again made available. (In 1876-1877 William Le Baron Jenney had lectured as Professor of Architecture and Design in the new Department of Architecture and Design, which had been established in 1873 within the School of Mines. Due to a lack of funds, these courses were suspended in 1877. Jenney left the university in 1880, having fulfilled his obligations as architect for the university's new museum).

By 1913 the Department of Engineering had become the Departments of Engineering and Architecture. The title was changed in 1915 to the Colleges of Engineering and Architecture. In 1931 the College of Architecture became an independent unit.

In 1920, under the leadership of Dean Cooley, the Department of Engineering Research was formed as a means of promoting cooperation between the university, the state, and private industry. Through this department private industries sponsored research projects that would be conducted by College of Engineering faculty members. In addition to providing financial assistance, such projects enabled students and faculty members to engage in research of current interest in a wide variety of areas. Beginning in 1940, projects sponsored by the federal government were undertaken by the department and in 1948 the department was reorganized as the Engineering Research Institute. In 1957-1958 the Research Institute became an administrative unit of the university.

Before World War II the College of Engineering focused primarily on undergraduate education and on providing students with practical experience and skill. The many technological advances that occurred during and after the war prompted an increased emphasis on research and theory and a corresponding emphasis on graduate education. This shift was reflected in the development of research facilities on the North Campus beginning in the 1950s with the Cooley Laboratory. Technological advances also prompted changes in the curriculum and structure of the college. Some new departments were created, such as Nuclear Engineering. Other departments shifted their emphases; Aeronautical Engineering, for example, became Aerospace Engineering. The records reflect these developments as well as the broad changes which took place in the College of Engineering from its inception in the late nineteenth century up to the 1970s.

In the 1980s the College of Engineering continued to meet the technological challenges of the future through instruction, research, and development. Most of the college was relocated to North Campus in the early 1980s. This was followed by additional construction and renovation to house the college's major research initiatives, including the Center for Advanced Scientific Computation, created to study the applications of supercomputing, and the Center for Robotics and Integrated Manufacturing (CRIM), established in 1981 to examine the future needs of the modern manufacturing industry.

Funding was a major concern of the college in the 1980s. The tightened budgets of the previous decade resulted in increased faculty teaching loads and decreased research resources. The college sought to rectify this situation by appealing to the state for increased funding, attempting to keep the University of Michigan's College of Engineering on par with its peer institutions. As it looked toward the 1990s, the goals of the college, as stated in College of Engineering Briefing Material 1988-89 (Box 52, Folder: Briefing Materials), were twofold: first, "to establish preeminence in certain areas of special relevance to the state and region," such as manufacturing science and technology, machine intelligence, systems integration, and engineering design; and second, "to establish preeminence in certain areas of research and education of anticipated importance to the future of technology," including advanced optics and electronics, materials science and technology, information technology, and biotechnology.

By 1996, new programs had been added, most notably a Department of Biomedical Engineering and an Engineering Research Center for Reconfigurable Machining; the latter was chosen by the National Science Foundation to be the largest center in the country for basic research in manufacturing. The college also continued to increase its presence on North Campus, adding a carillon tower, the Robert H. Lurie Engineering Center, and a new library called the Media Union. The latter, shared with the schools of Architecture and Urban Planning, Music, and Art, was an ambitious project, described as a place where "new information technology will create a 'virtual' community of thinkers, allowing face-to-face dialogue and collaboration across thousands of miles".

Deans of the College of Engineering

| Date | Event |
| --- | --- |
| 1895-1903 | Charles Ezra Greene |
| 1903-1928 | Mortimer E. Cooley |
| 1927-1928 | George W. Patterson, Acting Dean |
| 1928-1937 | Herbert Charles Sadler |
| 1937-1939 | Henry C. Anderson |
| 1940-1951 | Ivan C. Crawford |
| 1951-1957 | George Granger Brown |
| 1957-1965 | Stephen S. Attwood |
| 1965-1972 | Gordon Van Wylen |
| 1972-1980 | David V. Ragone |
| 1980-1981 | Hansford W. Farris, Acting Dean |
| 1981-1986 | James J. Duderstadt |
| 1986-1989 | Charles M. Vest |
| 1989-1990 | Daniel E. Atkins, III, Interim Dean |
| 1990-1996 | Peter M. Banks |
| 1996-2016 | Stephen W. Director |
| 2016-2023 | Gillimore, Alec |

Acquisition Information:

The Publications were transferred from the College of Engineering (Donor no. 1884 ) in several accessions beginning in 1937. Printed material is received on a regular basis.

Processing information:

In preparing digital material for long-term preservation and access, the Bentley Historical Library adheres to professional best practices and standards to ensure that content will retain its authenticity and integrity. For more information on procedures for the ingest and processing of digital materials, please see Bentley Historical Library Digital Processing Note. Access to digital material may be provided either as a direct link to an individual file or as a downloadable package of files bundled in a zip file.

To expedite access to the College of Engineering publications, all materials received after 2017 are added to the collection in chronological order by the year of publication within the Chronologically Arranged Publications series.
Related
Additional Descriptive Data:

Related Material

The publications for some individual departments have been processed separately, including those for:

Department of Aerospace Engineering
Department of Atmospheric, Oceanic and Space Sciences
Department of Chemical Engineering
Department of Civil and Environmental Engineering
Department of Electrical Engineering and Computer Science
Department of Industrial Operations and Engineering
Department of Materials Science and Engineering
Department of Mechanical Engineering and Applied Mechanics
Department of Naval Architecture and Marine Engineering
Department of Nuclear Engineering.

Related Materials

Bentley Historical Library houses College of Engineers (University of Michigan) records
Contents
Using These Materials
---
RESTRICTIONS:

The records are open for research.

USE & PERMISSIONS:

Copyright is held by the Regents of the University of Michigan but the collection may contain third-party materials for which copyright is not held. Patrons are responsible for determining the appropriate use or reuse of materials.
PREFERRED CITATION:

item, folder title, box no., College of Engineering (University of Michigan) Publications, Bentley Historical Library, University of Michigan