Back to top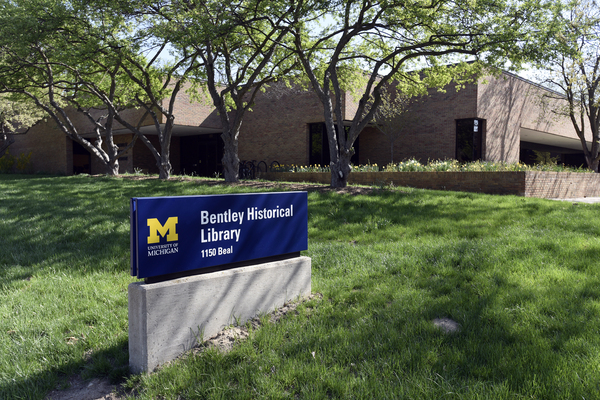 Address

:

1150 Beal Avenue

Ann Arbor, MI 48109-2113, USA
Clarence T. Johnston papers, 1888-1941
Using These Materials
---
Restrictions:

The collection is open for research. Access to glass plate negatives, located in boxes 1-7 and 11-34, is restricted to staff only.
Summary
Creator:

Abstract:

Professor of engineering at the University of Michigan. Photos of Johnston's personal and family life in Wyoming and Michigan, including student activities at the University of Michigan; photos of his work on water projects in the West and in Egypt; and photos of Camp Davis, the summer engineering camp of the University of Michigan in Cheboygan Co., Michigan..

Extent:

17.5 linear feet

Language:

English.

Call Number:

88344 Aa2 UAm

Authors:

Finding aid prepared by: Rebecca Johnson, 1988, Revised 2016
Background
Scope and Content:

The Johnston collection spans the years of 1888-1928. The bulk of the collection is comprised of photographic prints, mainly cyanotypes, and glass plate negatives. Scattered papers are also present and include biographical material and topical files relating to Johnston's personal, religious, and professional activities. The collection has been arranged into five series, which include: Personal and Family Photographs, Work Photographs, Camp Davis Photographs, Glass negatives, and Biographical Materials.

Biographical / Historical:

Clarence Thomas Johnston was born on a farm in Littleton, Colorado on October 23, 1872. His mother, Melissa Drummond Johnston, was of Scotch and Welsh ancestry. His father, James Albert Johnston, was of Scotch-Irish and Dutch ancestry. James Johnston pursued a variety of careers: he was a farmer, miner, railway and canal builder, superintendent of irrigation systems, administrative officer in Wyoming, and finally, a banker.

C.T. Johnston married Bessie Vreeland of Cheyenne, Wyoming on October 20, 1897. It is perhaps telling of his dedication to his career that Johnston named his two sons, Clarence Nettleton and Franklin Davis, after engineers. Clarence bore as middle name the surname of E.S. Nettleton, James Johnston's partner in irrigation work, and Franklin was given the name of Professor Davis from the University of Michigan.

C.T. Johnston was educated in country schools and attended high school in Cheyenne, Wyoming, 1885-1890. He received a B.S. in civil engineering from the University of Michigan in 1895, and did graduate work in absentia from the University of Michigan, 1897-1899, to receive a C.E. degree. Johnston spent the summers of 1892-1894 in field work under the State Engineer of Wyoming. His later specialty in irrigation, drainage, and riparian rights shows roots in the work from this time. In July 1893, he completed the surveys and plans for a reservoir for the Wyoming Development Company. The reservoir had a water line of 35 miles, and a 1 1/4 mile-long dam that was 35 feet high. Later in the summer of 1893, he surveyed a line over 100 miles long for a large canal from the North Platte River in eastern Wyoming.

From fall 1894 to spring 1895, Johnston laid out placer ground over 9,000 acres for the West Side Mining Company in Routte County, Colorado. This project included maintenance of 30 miles of canal, installing a placer mining plant, and submitting a report for treating amalgam. Between 1896 and 1898, Johnston measured streams for the U.S. Geological Survey and worked in the office of the State Engineer. Early in the spring of 1897, he was involved in the construction of a large reservoir near Wheatland, Wyoming. The project involved tunnels, reinforced concrete design, and special hydraulic structures. In the fall of 1897, Johnston helped Capt. H.M. Chittenden in a study of reservoir sites in Colorado and Wyoming.

Johnston was appointed Assistant State Engineer of Wyoming in November, 1897. He held that position until the spring of 1899, at which time he was appointed Assistant Chief of Irrigation Investigation for the U.S. Department of Agriculture. This work included the study of drainage as well. Regionally, the work encompassed all western states and the South (in connection with rice cultivation). For a year in 1901 and 1902, Johnston pursued further study of irrigation and drainage in foreign countries. He studied Spain, Southern France, Northern Italy, Algiers, and particularly Egypt.

In 1903, Johnston resigned from government service to accept the position of State Engineer of Wyoming. In that office, he had administrative charge of all water use within the borders of Wyoming. During the period of Johnston's tenure from 1903 to 1911, over 10,000 rights to use water were determined and plans were approved for many million dollars worth of construction. During this same period, Johnston had charge of municipal work and water power development in Wyoming and other states. The water system of Cheyenne was one of the large undertakings of this character where a series of reservoirs was built, two of the dams being approximately 100 feet high.

On February 1, 1911, C.T. Johnston was appointed to a newly created professorship of Surveying and Geodesy in the School of Engineering at the University of Michigan. Until this time, surveying and geodesy was a part of the regular civil engineering curriculum. Under Johnston's direction, additional elective courses for the specialty in surveying were organized. A separate Department of Geodesy and Surveying was established and chaired by Johnston in 1921. Degrees were first granted from the department in 1922-1923, but the department was discontinued in 1941.

Upon Johnston's arrival at Michigan in 1911, he assumed direction of the School of Engineering's summer surveying camp. The camp was located near Cheboygan in northern Michigan at Douglas Lake. It was known as Camp Davis after Professor Joseph B. Davis from the school. Other faculty with whom Johnston worked closely at the camp were Professor Howard B. Merrick (who had run the camp until Johnston's arrival) and Assoc. Professor Hugh Brodie.

Johnston did much to rebuild Camp Davis over the years 1914-1920. However, a standing rivalry with the Biological Station at Douglas Lake prompted interest in relocating the surveying camp. Johnston led explorations of sites in Wyoming, and in 1929 the Regents of the University purchased 120 acres near Jackson Hole, 75 miles south of Yellowstone National Park. The Jackson site became the new Camp Davis. In 1941, C.T. Johnston retired from the School of Engineering.

Acquisition Information:

The collection has been brought together from a number of sources, including Robert Harris (University of Michigan Chief Marshall (donor 5375 ), Kenneth Soderbeck (donor 5126 ) and Don Bryant (donor 5127 ). All these accessions came to the library between 1971 and 1981. An earlier accession came from an unknown source.

Arrangement:

The C.T. Johnston collection of glass negatives includes three series that roughly parallel the chronology of Johnston's personal life and work. These series are "Personal and family life," "Work (engineering and surveying projects)," and "Camp Davis." Within each series are several groups of photographs arranged by existing negative numbering systems, or in the absence of a system, by date or topical groups. Most of the original negative sleeves were annotated with dates and notes explaining the photographs. When the numbers on the negative sleeves were sequential, these numbers were retained in the notes, supplemented with a date, and enclosed in brackets, i.e. 1916 [22]. When no negative numbers existed, a numbering system was supplied. The system was based on a four-digit sequence with the thousand number corresponding to the box in which the glass plate is stored. Descriptive captions were also supplied for most of the unidentified negatives. All supplied negative numbers, dates, and captions are closed in parentheses.

Unless noted otherwise, the glass negatives in this collection are all 6" x 8". Two groups of plates measuring 5" x 7", "School days" and "Family and friends, Wyoming," are located at the beginning of the "Personal and family life" series. Another group of plates measuring 5" x 7", "Early reservoirs and surveying," are located within the chronological arrangement of the "Work (engineering and surveying)" series.

The glass plate negatives comprise the first seven boxes of this collection. Boxes 8 and 9 contain prints, most of which are cyanotypes. As the organization of the prints parallels the negatives, a separate list of the prints is not necessary. The description list includes box numbers that reflect the parallel arrangement of negatives to prints, i.e. 8:2 means that the print for a negative in Box 2 will be found in Box 8.
Subjects
Click on terms below to find any related finding aids on this site.
Subjects:

Formats:

Names:

Places:
Contents
Using These Materials
---
RESTRICTIONS:

The collection is open for research. Access to glass plate negatives, located in boxes 1-7 and 11-34, is restricted to staff only.

USE & PERMISSIONS:

Copyright status is unknown. Patrons are responsible for determining the appropriate use or reuse of materials. Item "Indian Ghost Dance" in Box 8 is prohibited from any form of duplication.
PREFERRED CITATION:

item, folder title, box no., Clarence T. Johnston Papers, Bentley Historical Library, University of Michigan