Back to top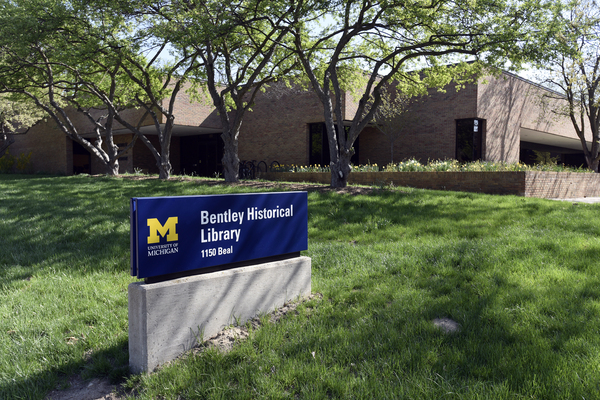 Address

:

1150 Beal Avenue

Ann Arbor, MI 48109-2113, USA
President (University of Michigan) records, 1967-2015
Using These Materials
---
Restrictions:

The President's records are open for research except for certain records restricted by statute or university policy. Restricted material includes personnel-related files, including search, review,...
Summary
Creator:

Abstract:

The Office of the President records group includes the records of University of Michigan Presidents Robben Fleming, 1968-1978 and 1988 (interim); Allan Smith, 1979 (interim); Harold T. Shapiro, 1980-1987; James J. Duderstadt, 1988-1996; Homer Neal, 1996-1997 (interim); Lee C. Bollinger, 1997-2001; B. Joseph White, 2002 (interim); Mary Sue Coleman (2002-2014); and Mark Schlissel (2014-present). The record group includes annual files from the Office of the President, which include topical files and schools and colleges files. Other series in the record group include supplemental files for each president, search files, committee appointment files, audio and visual materials, development files, Freedom of Information Act (FOIA) files, and ephemera.

Extent:

526 linear feet
2 oversize folders
1 oversize volume
18.22 GB (online)
2 archived websites (online)

Language:

English

Call Number:

87274 Bimu B3 2

Authors:

Finding aid created by Bentley Historical Library staff, previous accessions. Christine Di Bella, January 2002 Brian Williams, December 2002 Lisa Barney, October 2010 Chris Schunter, April 2015, Bentley Staff, March 2016, Emily Mathay, April 2020
Background
Scope and Content:

The records of the University of Michigan President contain the central files created and collected by the President and members of the President's staff. There is some content inherited from earlier presidents, but the record group effectively begins in 1967 with the administration of Robben W. Fleming and continues through successive administrations. (Records of Presidents prior to Fleming are cataloged under the name of the individual office holder).

The University of Michigan President's records are organized into the following series: Topical Files; Schools and Colleges Files; Supplemental Files; Search Files; Committee Appointment Files; Development; Facilities; Freedom of Information Act; Audio-Visual Material Files; Ephemera; Archived Website. Three first three series are major recurring series (Topical, Schools and Colleges, and Supplemental Files). The additional series (Committee Appointment; Searches; Development; Facilities; Freedom of Information Act; Audio-Visual Material Files; Ephemera; Archived Website) are not consistently created or predictably transferred.

Although the series are collectively described, the actual ordering of the boxes in the contents listing are not necessarily consecutive given the timing and sequence of transfers. For a summary bringing all boxes together under a particular series, see the Summary Contents list for a collective representation of boxes.

Biographical / Historical:

Prior to 1968

During the early years of the University of Michigan, the office of the president was a relatively informal post: faculty members took one year turns as president. In 1850, however, a new constitution was enacted by the state legislature in response to a widely perceived need for a stronger administrative policy at the university. The Constitution of 1850 provided that university regents be elected rather than appointed by the governor, and that a formal Office of the President should be created. The first elected regents appointed a presidential search committee in 1852, and this committee chose Henry Tappan to be the first president of the University of Michigan.

The records of presidents prior to Robben Fleming are cataloged by the name of the individual; see the list of presidents at the end of this section. For other sources of information on University of Michigan presidents, refer to the Research Note in the Scope and Content Notes section.

Robben Fleming

Robben Fleming, the University of Michigan's ninth president, was born on December 18, 1916 in Paw Paw, Illinois. He received his baccalaureate degree from Beloit College in 1938 and his law degree from the University of Wisconsin in 1941. He specialized in labor law and industrial relations, and went on to become a noted arbitrator. After graduating from law school, he served for six years with government agencies and the United States Army. Thereafter he returned to the University of Wisconsin and served as director of the Industrial Relations Center. He left Madison in 1952 to head the University of Illinois' Institute of Labor and Industrial Relations. In 1958 he joined the Illinois law faculty and remained until he was named chancellor of the University of Wisconsin in 1964. Three years later he was chosen as president of the University of Michigan and served in that capacity for eleven years. From 1979 to 1981 he was president of the Corporation for Public Broadcasting. He then returned to Ann Arbor and taught one course each year in the Law School until he became Professor Emeritus in 1985. After Harold Shapiro stepped down as president of the university in 1988, Fleming served as interim president for eight months. Fleming married his wife, Sally, in 1942 (see note, page viii). There are three Fleming children: Nancy Jo, James Edmund, and Carolyn Elizabeth.

Fleming Administration (1968-1978 and 1988)

Fleming's administration was marked by the same student turbulence that swept other university campuses around the country in the late 1960s and early 1970s. Sit-ins, protests, and demonstrations at the university were particularly frequent and impassioned from Fall 1968 to early Spring 1970. They included massive demonstrations in June 1969, which originally began as a celebration of spring by exuberant students and evolved into violent protests against methods used by police to disperse the revelers; demonstrations against ROTC recruiting in March and September 1969; a sit-in in support of a university bookstore in September 1969; a teach-in against the Vietnam war in September 1969; a teach-in on the environment in March 1970; and a boycott of classes in support of increased enrollment of minority students, organized by the Black Action Movement (BAM I) in March 1970. In addition to responding to the demands of the students, Fleming had to determine when the right to dissent interfered with the enforcement of civil law, when to take disciplinary action against student dissenters, and when to involve civil authorities in controlling student unrest. Although he was criticized by some conservatives as being too "soft" on student protesters, and by some students as being too hard on them, it was recognized that Fleming's openness, availability, and willingness to discuss issues helped minimize tensions between administration, faculty, and students.

If student unrest was the most difficult problem faced by Fleming in the early years of his tenure, financial problems became the most pressing issues with which he dealt thereafter. For several reasons, including inflation, negative reactions to student unrest, building cost increases, and competition for the tax dollar from human services programs, financial support for higher education from the federal and state government declined. In 1978, Michigan dropped to 33rd place among all states in monetary support for higher education (expenditures per $1000 of personal income), thus increasing the burden on students in the form of higher tuition. The university's tuition charges became the highest of any public university in the country; at the end of Fleming's tenure, student fees produced 33 percent of general fund revenues as compared to ten years earlier when they produced 25 percent and twenty years earlier when they produced 19 percent. Funding for equipment and building maintenance was reduced as well as that for purchases of library books. When the fiscal problems became more severe, budget reductions of academic units were imposed. Although in theory these were to be across the board reductions, in fact those units most favored escaped the reductions. This began a policy of selective redistribution of funds which was to continue into the next decade. The financial crisis continued into the 1980s and occupied much of the time and energy of President Harold Shapiro.

Just as economic conditions at the national level affected university life, so too did federal government initiatives requiring the implementation of affirmative action programs. The Fleming administration was the first to have to establish policies and procedures to try to ensure that women and minorities were treated fairly throughout the university system. Among the important steps taken: the first affirmative action program was developed in 1969; commissions for women and minorities were established in the early 1970s to develop procedures, policies and practices to achieve affirmative action goals; the classification and salaries of all professional and administrative staff members were restructured in 1972 to redress inequities; employment practices aimed at finding more minority applicants were inaugurated; women's intercollegiate athletics began a slow expansion; and the Center for African and Afro-American Studies was established.

Several significant changes occurred in undergraduate and graduate education under Fleming. The Residential College, a small and more personalized educational program, was established as an alternative to the traditional undergraduate curriculum. University branches in Dearborn and Flint became four-year colleges. The Department of Library Science became an independent school, and the School of Art became independent of the College of Architecture and Design.

Labor relations changed greatly during Fleming's tenure. Prior to his arrival in Ann Arbor, there were only two small local unions established on campus. During the Fleming years, hospital employees were organized by the American Federation of State, County and Municipal Employees; nurses formed a union; medical interns and residents were organized; clerical employees established a union, which was later decertified; and teaching assistants organized the Graduate Employees Organization.

Although a variety of matters occupied Robben Fleming as president of the University of Michigan, many observers believe his most important contribution came in successfully steering the university through the difficult years of student unrest. When he announced his retirement on September 15, 1978, students, faculty, and administrators alike, first and foremost, praised his calm leadership and efforts to preserve both intellectual freedom and academic discipline during that period.

Harold Shapiro

Until he resigned as the university's tenth president in 1987, Harold Shapiro had spent his entire professional academic career at the University of Michigan. He was born on June 8, 1935, in Montreal, Canada. He received his bachelor's degree in 1956 from McGill University and his M.A. and Ph.D. degrees in economics (the latter in 1964) from Princeton University. He immediately joined the economics faculty at Michigan as assistant professor. Three years later, in 1967, he became associate professor and was named co-director of the Research Seminar in Quantitative Economics, which produces the Michigan Econometric Models used in forecasting. He was promoted to professor in 1970 and during the next seven years served the university in a variety of capacities, including member and chairman of the important University Budget Priorities Committee; chairman of the Department of Economics; and member of the executive committees of the Institute for Social Research, Institute for Public Policy Studies, Institute of Labor and Industrial Relations, and College of Literature, Science, and the Arts. In 1977, he became vice president for academic affairs and chairman of the Budget Administration Committee. Ten months after Robben Fleming announced his resignation as university president, the Board of Regents selected Shapiro as his replacement. Shapiro served as president for eight years, then announced on April 28, 1987, that he was leaving to become president of Princeton University. Shapiro married his wife, Vivian, shortly after leaving McGill University. While in Ann Arbor, Mrs. Shapiro was an associate professor in the School of Social Work and a lecturer in psychiatry in the Medical School. Her specialty was clinical research and training in infant mental health. The Shapiros have four daughters: Anne, Marilyn, Janet, and Karen.

Shapiro Administration (1980-1987)

Harold Shapiro assumed the presidency of the university during one of the worst fiscal crises in Michigan's history. The crisis was caused, in large part, by a deep recession in the automobile industry. For three years, in the early 1980s, the state could not meet its financial commitments to the university. In 1980/81, for example, state support for the general fund fell by 12 percent. In response, Shapiro undertook three initiatives. First, he worked to convince the state legislature of the university's significant value as a research tool for the state. The economics department, for example, undertook a study of state government financing, which proved to be very useful to legislators; and Shapiro convinced the legislature to provide funding, through the university, for the Industrial Technology Institute, a unit which drew on the expertise of university personnel to study and promote economic diversification in Michigan. Shapiro also secured funding for construction of the University Hospitals, the largest state-funded construction project in Michigan history, by explaining to the legislature that the hospitals would contribute to the state's economy.

In his second initiative, Shapiro sought to increase private financial support for the university. This was the origin of the very successful $160 million capital campaign, Campaign For Michigan, co-chaired by former United States president Gerald Ford and General Motors chairman Roger Smith. It was the largest development effort ever completed by a public university. To direct the new push for more private support, the president lured Jon Cosovich away from Stanford University to become Michigan's vice president for development and university relations.

The third initiative, and the most controversial one, involved implementing budget reductions and reviews of academic units perceived to be weak in order to maintain and, in some cases, improve the quality of the rest. By doing so, Shapiro believed that the university would become smaller but better. As the financial situation worsened in late 1981, a group of university executive officers, led by Shapiro and Vice President for Academic Affairs Billy Frye, drew up what became known as the Five Year Plan. The $20 million reallocation plan was announced in March 1982 and included reviews of the schools of art, education, and natural resources. Over the course of the next several years, the Department of Geography was eliminated; the Extension Service, Michigan Media, and the Institute for Labor and Industrial Relations were markedly cut back; and public reviews of the three schools were held and deep budget cuts instituted at each. Despite the fact that the faculty had voted as early as 1980 to consider a policy of selective reallocation of funds, the number of reviews, and the secrecy involved in choosing the weaker units, led to friction between administrators, particularly Billy Frye, and faculty members. Near the end of the process, Shapiro and Frye argued that there had really been no other choice for the university, but also noted that they had underestimated the emotional strain the process had placed on faculty and students. By the middle of the 1980s, much of the rancor had subsided and budget reviews had become normal occurrences, even in sound fiscal years.

Another difficult issue faced by Shapiro concerned minority enrollment. After the BAM I strike in 1970, the university pledged to secure 10 percent Black enrollment. Despite efforts to achieve better results, the figure stood at 5.5 percent when Shapiro took office and 5.4 percent when he left. The percent of Black tenured and tenure-track faculty members remained unchanged during his presidency. In response to racist incidents on campus, and unhappiness with the progress made in increasing minority enrollment, students demonstrated in the Spring 1987 (BAM III). As a result, the university announced that new funds would be provided to secure more minority students and faculty members, grievance procedures were established, and a vice provost for minority affairs was appointed.

At the commencement exercises in December 1987, the university's board of regents awarded Shapiro an honorary degree. In addition to complimenting him on his leadership of the university during a time of fiscal crisis, and on the massive amount of building and renovation which took place during his presidency, the board cited Shapiro's efforts to strengthen the sciences, improve the faculty, and promote interdisciplinary research.

James Duderstadt

James Duderstadt was born on December 5, 1942, in Iowa and grew up in Carollton, Missouri, a rural, German, farming community. He earned his bachelor of engineering degree from Yale University (1964) and his M.S. (1965) and Ph.D. (1967) from the California Institute of Technology. He joined the University of Michigan in 1969 as an assistant professor of nuclear engineering and became associate professor in 1972 and professor in 1976. Duderstadt's nuclear engineering interests included nuclear power-controlled thermonuclear fusion, high-powered lasers, and supercomputers. In 1981 he was named dean of the College of Engineering and during the next five years, he oversaw the move of the college to the North Campus and the establishment of several new research centers and institutes. He was designated provost and vice president for academic affairs in 1986, and two years later, on June 10, 1988, the Board of Regents named him the eleventh president of the university. He married his wife, Anne, in 1964. They have two daughters: Susan and Kathy.

Duderstadt Administration (1988-1996)

When James J. Duderstadt took over as president of the University of Michigan in September 1988, he had ambitious plans to make the university a more culturally diverse, technologically advanced and financially secure institution. To a large extent, Duderstadt was successful in achieving these goals, although his eight year tenure as president was not without controversy.

One of Duderstadt's first actions as president was to introduce the Michigan Mandate, which was a plan to increase minority representation among faculty, staff and students at the university. The Michigan Mandate encouraged the recruiting and retention of minority students and faculty, and was also part of an effort to make the university a more welcoming, comfortable environment for members of minority groups. Minority representation among students increased from 15.4% in 1988 to 24.2% in 1994.

Another initiative which encouraged diversity on campus was an amendment to Regents' Bylaw 14.06, which prohibited discrimination based on sexual orientation at the university. Duderstadt supported the amendment in spite of vehement opposition from some members of the university community and from elsewhere in the state.

Toward the end of his presidency, in April 1994, Duderstadt introduced an Agenda for Women, which was similar to the Michigan Mandate and was intended to improve the climate on campus for women. The goals of the agenda were broad, from increasing the numbers of women faculty and staff, to preventing sexual harassment and violence against women, to encouraging women's participation in non-traditional fields like science and engineering. While Duderstadt's efforts to promote diversity were often the source of controversy within the university community, a Michigan Daily editorial published the day after his resignation summed up his influence on these issues in a positive light: "There is still a long way to go, but [his] vision has been an essential catalyst for progress."

Duderstadt's main initiative in the area of finance, the Campaign for Michigan, was a highly successful capital campaign with a goal of raising $1 billion. The university endowment quadrupled to $1.3 billion, during Duderstadt's tenure as president. Placing the university on stable financial footing made it possible to carry out an ambitious effort to improve the school's infrastructure. Construction expenditures during Duderstadt's presidency are estimated to have been nearly $1 billion; large-scale projects included the Aerospace Building, a chemistry building, new engineering buildings on North Campus, and major renovations to Mott Children's Hospital and the Undergraduate Library.

As part of efforts to improve the university's national academic standing, Duderstadt increased the overall research budget, placed a strong emphasis on technological research and education, and created an Office of Technology Transfer. However, concerns about the quality of undergraduate education, particularly class size and the lack of personal attention, continued to be serious issues for students.

Other issues which were sources of controversy during Duderstadt's presidency were the deputization of campus police in 1991, which allowed them to carry guns, and what came to be known as "The Code." The latter - officially called the Statement of Student Rights and Responsibilities - was implemented in 1993 as a code of non-academic conduct for students. "The Code" was broadly cast. Perhaps its most controversial provisions were its attempts to deal with "hate speech" on campus, which many at the university believed were violations of students' freedom of speech. There were enough problems with "The Code" that it was treated as an interim policy, and by the end of Duderstadt's presidency, the regents were demanding that it be revised.

Duderstadt took an active interest in university athletics, promoting restructuring of the NCAA, gender equity, and better education for student athletes. However, another source of friction during his presidency involved his relations with the Athletic Department. In 1993, he chose Joe Roberson to be the university's new athletic director. A selection committee had presented Duderstadt with four candidates for the position, but Roberson had not even been interviewed for the job. This decision was very unpopular with some members of the Athletic Department and a small but vocal group of alumni. At the end of his presidency, with the support of the regents, Duderstadt made plans to have the central administration of the university oversee Athletic Department business transactions. This decision was made after the department sold rights to the university logo and colors to the Nike company for $7 million, and after ex-football coach Gary Moeller's contract was bought out for over $380,000.

Duderstadt's September 1995 announcement of his plan to resign in June 1996 caught most of the university community by surprise. The reasons he gave for resigning were that he had accomplished his major goals, and that he was eager to return to teaching and research as a member of the engineering faculty. The seemingly abrupt decision was the source of speculation about the motives for his resignation, however, Duderstadt had accomplished all his stated goals: the university was more culturally diverse, technologically advanced and in better financial condition than when he had taken office.

Upon his departure as president of the University of Michigan, Duderstadt returned to the classroom as Professor of Science and Technology at Michigan. In addition, he heads the Millennium Project. The Millennium Project is a research center in the Media Union concerned with the impact of technology on research and teaching. Information about current research and a selection of Duderstadt's "legacy documents" are available on-line at: http://milproj.ummu.umich.edu.

Researchers interested in the Duderstadt Administration should also consult the James J. Duderstadt Papers held at the Bentley Library.

Homer Neal

Homer Neal was born on June 13, 1942, in Franklin, Kentucky. He received his B.S. in physics from Indiana University in 1961, and an M.S. (1963) and Ph.D. (1966) from the University of Michigan. Neal taught at Indiana University from 1967 to 1981 and served as the dean of research and graduate development there from 1976 to 1981. From 1981 to 1986 he was the provost and vice president for academic affairs at the State University of New York Stony Brook.

Neal joined the U-M faculty in 1987 as professor and chair of the Department of Physics. He was named Vice President for Research in 1993, a position he held until being asked to served as interim president when James Duderstadt stepped down in June 1996. Although his tenure as interim president was brief, he did begin several initiatives which were carried on by his successor, including establishing the $450,000 President's New Century Fund for Diversity and developing programs to expand research opportunities for undergraduates. Neal was the first African-American president at the University.

After stepping down as interim president, Neal declined the opportunity to return to his position as Vice President for Research in favor of returning to his research in experimental high energy physics. He is the Samuel A. Goudsmit Professor of Physics in the Department of Physics at the University of Michigan and the Director of the ATLAS Project. He and his wife, Jean, were married in 1962 and have two children.

Lee Bollinger

Lee Bollinger was born on April 30, 1946, in Santa Rosa, California. He received a B.S. from the University of Oregon in 1968 and a J.D. from Columbia University in 1971. Bollinger joined the faculty of the University of Michigan Law School as an assistant professor in 1973. He rose to associate professor in 1976, full professor in 1979, and was appointed Dean of the Law School in 1987. Bollinger left Michigan for a brief time when he was named provost and professor of government at Dartmouth College in 1994. He returned to Michigan in February 1997 as the twelfth president of the University of Michigan. He stepped down in December 2001, after accepting the presidency of Columbia University.

A noted First Amendment scholar, Bollinger's publications include The Tolerant Society: Freedom of Speech and Extremist Speech in America (Oxford University Press, 1986) and Images of a Free Press (University of Chicago Press, 1991). Bollinger and his wife Jean Magnano, an artist, have two children.

Bollinger Administration (1997-2001)

When Lee Bollinger assumed the Presidency in February 1997, many heralded his arrival as the return of a native son and an opportunity to return academics to the forefront of the University's priorities. He oversaw a period of tremendous growth and prosperity during which both admissions applications and fundraising contributions rose to record levels.

Bollinger introduced new initiatives across disciplines at the university. In 1999 he launched the Life Sciences Initiative, a campus wide effort to coordinate and expand research in the life sciences, centered on the construction of a new Life Sciences Institute. Bollinger's passion for the arts led to plans for the construction of new performance spaces on campus, including the Walgreen Drama Center and the Arthur Miller Theater. Bollinger also brought the Royal Shakespeare Company to the university for a three-week residency in March 2001.

Campus planning was a major priority of Bollinger's presidency. He commissioned Robert Venturi and Denise Scott Brown of Venturi, Scott Brown and Associates to develop a new campus master plan to inform construction decisions around the university campus in succeeding years. Bollinger also set in motion the restoration of two campus landmarks, Hill Auditorium and the Rackham Building, as well as Mason and Haven Halls. Bollinger was also instrumental in the naming of the Gerald R. Ford School of Public Policy and securing the funding for the A. Alfred Taubman College of Architecture and Urban Planning. Other milestones of the Bollinger administration included reports and recommendations issued by two major commissions appointed by the president: the Commission on the Undergraduate Experience, which examined how undergraduates are engaged at the university, and the Information Revolution Commission, which studied the university's relationship to evolving technologies.

Bollinger's tenure was not without controversies. The most visible were the ongoing lawsuits against the Law School and the College of Literature, Science and the Arts which argued that the university's admissions policies, which used race as one consideration in admissions decisions, were discriminatory. The lawsuits positioned the university at the center of the far-reaching debate over affirmative action in education, with Bollinger vigorously defending the university's practices and commitment to diversity to the university community and in national forums. The Athletics Department also saw controversy, with allegations of financial mismanagement, abrupt changes in personnel, and dissension over the university's continuing affiliation with Nike, which led to the creation of a Code of Conduct for manufacturers of apparel and other items licensed to display the school's logos.

Bollinger's relative approachability made him well-liked and respected by faculty, students, staff, and alumni alike. His annual 5K fun run for students and regular meetings with students and faculty were emblematic of his approach to community relations. His decision to leave Michigan for Columbia University in December 2001 was met with disappointment in many circles of the university community. B. Joseph White, Dean of the Business School from 1991 to 2001, was named interim president effective January 1, 2002.

B. Joseph White and White Administration (Interim, January 2002 -- July 2002)

A native of Michigan, White received his B.S. degree from Georgetown University in 1969, his M.B.A. degree from Harvard University in 1971, and his Ph.D. degree from the University of Michigan in 1975. He joined the University of Michigan faculty of the Ross School of Business Administration as a lecturer in 1973 and was promoted to assistant professor in 1975 and associate professor in 1978. In 1981, he took a leave of absence to join Cummins Engine Company, Inc., where he served as vice president for management development and vice president for personnel and public affairs. He returned to the University in 1987 as professor and associate dean of the Ross School of Business Administration. He was appointed interim dean in 1990 and dean in 1991. He served as dean until 2001. White was appointed the Wilbur K. Pierpont Collegiate Professor of Leadership in Management Education in 1999, and he served as interim president of the University of Michigan in 2002. In 2005 White was named dean emeritus of the Ross School of Business Administration and professor emeritus of business administration.

As interim president White dealt with several significant issues including the aftermath of the September 11, 2001 terrorist attacks, which claimed the lives of eighteen alumni, and the defense of the University's use of affirmative action in admissions. Professor White also continued to advance the Life Sciences Initiative, which had begun during President Bollinger's tenure.

Mary Sue Coleman

Mary Sue Coleman earned her undergraduate degree in chemistry from Grinnell College and her doctorate in biochemistry from the University of North Carolina. For 19 years she was a member of the biochemistry faculty at the University of Kentucky. As a biochemist, Coleman built a distinguished research career through her research on the immune system and malignancies. Her work in the sciences led to administrative appointments at the University of North Carolina at Chapel Hill and the University of New Mexico, where she served as provost and vice president for academic affairs. From 1995-2002, Coleman was president of the University of Iowa. In August 2002 Coleman was appointed the thirteenth president of the University of Michigan; she also holds appointments of professor of biological chemistry in the Medical School and professor of chemistry in the College of Literature, Science, and the Arts.

President Coleman and her husband, Kenneth Coleman, a political scientist specializing in Latin America, resided in the historic President's House on the University campus. They had one son, Jonathan, who worked as a portfolio manager in Denver, Colorado. (Taken from Mary Sue Coleman's biography, available through the UM Office of the President website.)

Coleman Administration (2002--2014)

Following her appointment as president in August 2002, Coleman unveiled several major initiatives designed to impact future generations of students, the intellectual life of the campus, and society at large. These initiatives included the interdisciplinary richness of the U-M, student residential life, diversity, the economic vitality of the state and nation, ethics in our society, global engagement, and issues related to health care.

Under her leadership, the University launched "The Michigan Difference," a campaign to raise $2.5 billion for the future of the institution. At its conclusion in December 2008, the campaign finale stood at $3,200,733,103 -- the most ever by a public university.

In 2004, Dr. Coleman also announced a groundbreaking partnership between the University and Google, which enabled the public to search the text of the University's 7-million-volume library and helped open the way to universal access and the preservation of recorded human knowledge.

Coleman was a strong advocate of diversity. She defended the use of affirmative action in admissions, a practice that was challenged in two lawsuits initiated during the Bollinger administration. After Michigan voters removed affirmative action from admissions in 2006 with passage of Proposal 2 (Michigan Civil Rights Initiative), Coleman launched the Diversity Blueprints Task Force to gather ideas for how the university could continue to achieve diversity without affirmative action. During Coleman's tenure, the number of minority Ph.D. recipients was in the top 10 nationally and there was notable growth in the number of minority faculty members and increasing enrollment of students who were the first in their families to attend college or came from low-income families.

Forging international partnerships, promoting global engagement, and strengthening ties with international alumni were priorities for Coleman. She traveled to China, South Africa, Ghana, Israel, the United Arab Emirates, Brazil, and India to meet with higher education leaders. In 2006, the university and China's Shanghai Jiao Tong University launched a joint institute for undergraduates studying engineering in Shanghai. In 2008, the university established the African Studies Center to provide guidance and coordination for Africa-related education and research and to promote opportunities for collaboration with African partners. In 2013, Coleman visited India and signed agreements with Indian partners to expand research in medicine and social science. She and her husband gave $1 million for international study scholarships.

Strengthening support for research was another major Coleman initiative. Under her leadership, the university's annual research budget increased by 77 percent to more than $1.3 billion, the largest of any public university. One of the hallmarks of Coleman's tenure was the university's acquisition of the Pfizer global research headquarters in 2009. This property became the North Campus Research Complex, a center for multidisciplinary research groups, public-private partnerships, research support functions, and activities to strengthen and diversify Michigan's economy. Programs connected with research support included the Interdisciplinary Junior Faculty Initiative, and MCubed, which provided support for multidisciplinary research.

Coleman was deeply involved in economic development at the state and local levels. She was a founding president of the University Research Corridor (URC), an economic development collaboration with Michigan State and Wayne State universities and one of the major players in creating Ann Arbor SPARK, the regional economic development agency. She also strongly supported the U-M Tech Transfer and was involved with the Michigan Economic Development Corporation. Additionally, Coleman launched the U-M Business Engagement Center and was influential in increasing the number of course offerings in entrepreneurship.

During the Coleman administration, the university engaged in several major building projects, including North Quad, C.S. Mott Children's Hospital and Von Voigtlander Women's Hospital, Weill Hall, Ross Business School complex, a new School of Nursing building, and a renovation of Michigan Stadium.

In 2013, Coleman announced that she would retire after June 2014 when her contract expired. Her plans after concluding her tenure included advocating at the national level for higher education and scientific research support and diversity as well as serving on the Advisory Committee to the Director of the National Institutes of Health and on the Board of Directors for Society for Science and the Public.

Mark S. Schlissel Mark Steven Schlissel received his BA in Biochemical Sciences from Princeton University in 1979. He went on to earn an MD and Ph.D at the Johns Hopkins University School of Medicine, where he became a faculty member in 1991. In 1999 Schlissel accepted a position as associate professor in the Department of Molecular and Cell Biology at the University of California-Berkeley. He advanced to full professor in 2002 and served as the department's vice chair from 2002-2007. In 2008 he was UC-Berkeley's dean of biological sciences in the College of Letters and Science, a position he held until he was appointed provost of Brown University in 2011.

Schlissel Administration (2014--2022)

Schlissel succeeded President Coleman in July 2014, and is the first physician-scientist to lead U-M. Since his inauguration, he has launched a variety of initiatives, including Academic Innovation; Biosciences; Diversity, Equity, and Inclusion; and Poverty Solutions. In June 2017, Schlissel announced the Go Blue Guarantee, a financial aid program that provides up to four years of free undergraduate tuition to in-state students from Michigan families earning $65,000 or less.

List of University of Michigan Presidents

| Date | Event |
| --- | --- |
| 1852 - 1863* | Henry Tappan |
| 1863 - 1869* | Erastus Haven |
| 1869 - 1871 | Henry Frieze (Interim) |
| 1877 | Henry Frieze (Interim) |
| 1880 - 1882* | Henry Frieze (Interim) |
| 1871 - 1909* | James Angell |
| 1909 - 1920* | Harry Hutchins |
| 1920 - 1925* | Marion Burton |
| February - September 1925* | Alfred Lloyd (Interim) |
| 1925 - 1929* | Clarence Little |
| 1929 - 1951* | Alexander Ruthven |
| 1951 - 1967* | Harlan Hatcher |
| January 1968 - December 1978 | Robben Fleming |
| January 1979 - December 1979 | Allan Smith (Interim) |
| January 1980 - December 1987 | Harold Shapiro |
| January 1988 - August 1988 | Robben Fleming (Interim) |
| September 1988 - June 1996 | James Duderstadt |
| July 1996 - January 1997 | Homer Neal (Interim) |
| February 1997 - December 2001 | Lee Bollinger |
| January-August 2002 | B. Joseph White (Interim) |
| August 2002 - June 2014 | Mary Sue Coleman |
| July 2014 - January 15, 2022 | Mark Schlissel |
| January 16, 2022 - September 2022 | Mary Sue Coleman (Interim) |
| October 2022 - | Santa J. Ono |

* Papers, including those from University of Michigan presidential tenure, are cataloged separately under the name of the individual.

Note: For insight into the life of a president's spouse, the researcher should consult the Bentley Library's printed works catalog for The Evolving Role of the President's Wife at The University of Michigan A Special Tea with Anne Hatcher, Sally Fleming, and Vivian Shapiro, Bentley Library Bulletin, no. 37 (FImuiD1:E93).

Acquisition Information:

The President's Office (Donor No. 566 ) makes periodic additions to the records. This record group includes files of presidents beginning with Robben Fleming. Records from presidents prior to Fleming are cataloged under the name of the individual.

Processing information:

During reprocessing of the president's records some material was removed from the record group and boxes consolidated with the result that some box numbers were eliminated. Box numbers from previous versions of the finding aid which have been eliminated are 74-81, 87, 180, 183, 201-203, 209, 231, and 258.

Boxes 74-81, 87, 96, 105, 112, 114-116, 180, 183, 201-203, 209, 231, 258, and 346 were eliminated during reprocessing.

Arrangement:

The University of Michigan President's record group is organized into seven series. By far the largest is the Topical File covering the tenure of Presidents Fleming to Schlissel. It is subdivided by academic year, with a new alphabet for each year. The Schools and Colleges series begins with the Duderstadt presidency; previously these files were incorporated into the Topical File. The President's Supplemental Files series is organized by presidential administration, though there may be some overlap in date spans. for each president. The Audio-Visual Materials Series is also organized by president. The search files, including president and top academic and administrative offices, are organized in five broad chronological groups and thereunder by office.

Summary Contents List

Topical Files

1967/1968 -- boxes 1-6
1968/1969 -- boxes 6-11
1969/1970 -- boxes 12-16
1970/1971 -- boxes 16-24
1971/1972 -- boxes 25-32
1972/1973 -- boxes 33-39
1973/1974 -- boxes 39-46
1974/1975 -- boxes 46-52
1975/1976 -- boxes 53-59
1976/1977 -- boxes 60-66
1977/1978 -- boxes 67-73
1978/1979 -- boxes 73, 82-86
1979/1980 -- boxes 88-95
1980/1981 -- boxes 117-121
1981/1982 -- boxes 122-127
1982/1983 -- boxes 128-133
1983/1984 -- boxes 133-139
1984/1985 -- boxes 140-146
1985/1986 -- boxes 146-155
1986/1987 -- boxes 155-163
1987/1988 -- boxes 164-176
1988/1989 -- boxes 212-225
1989/1990 -- boxes 232-243
1990/1991 -- boxes 245-256
1991/1992 -- boxes 262-267
1992/1993 -- boxes 269-275
1993/1994 -- boxes 276-282
1994/1995 -- boxes 292-298
1995/1996 -- boxes 300-305
1996/1997 -- boxes 306-311
1997/1998 -- boxes 313-318
1998/1999 -- boxes 319-324
1999/2000 -- boxes 347-352
2000/2001 -- boxes 355-365
2001/2002 -- boxes 366-374
2002/2003 -- boxes 376-384
2003/2004 -- boxes 386-395
2004/2005 -- boxes 396-405
2005/2006 -- boxes 406-416
2006/2007 -- boxes 418-424
2007/2008 -- boxes 475-480, 514
2008/2009 -- boxes 481-484, 514-515 and digital files
2009/2010 through 2014/2015 -- digital files

Schools and Colleges Files

(contained within Topical Files prior to 1988)
1988/1989 -- boxes 225-226
1989/1990 -- box 244
1990/1991 -- box 257
1991/1992 -- box 267
1992/1993 -- box 275
1993/1994 -- box 282
1994/1995 -- box 299
1995/1996 -- box 305
1996/1997 -- boxes 311-312
1997/1998 -- box 318
1998/1999 -- box 324-325
1999/2000 -- boxes 353
2000/2001 -- boxes 365-366
2001/2002 -- boxes 375-376
2002/2003 -- boxes 385-386
2003/2004 -- boxes 395-396
2004/2005 -- boxes 405-406
2005/2006 -- boxes 416-417
2006/2007 -- box 424
2007/2008 -- boxes 418-424

Supplemental Files

Robben W. Fleming Supplemental Files

Budgets -- boxes 95, 97-98
Committees -- boxes 98-104
Issues -- boxes 106-111
Policies -- box 111
Reports -- box 113

Allan F. Smith Supplemental Files

Committees -- box 104
Issues -- box 111

Harold Shapiro Supplemental Files

Articles, Speeches, etc. -- boxes 177-178
Budget Reductions,
School and College Reviews -- box 284
Capital Campaign -- boxes 179, 181-182
Committees, etc. -- boxes 104, 106, 184-191
Engagements -- boxes 192-194
Executive Officers -- boxes 195-200
Personal Papers -- box 206
Replacement Hospital -- Project -- boxes 204-206
Reports and Reviews -- boxes 207-208
Social Files -- boxes 210-211
Tanner Lectures -- box 212

James J. Duderstadt Supplemental Files

Engagements -- boxes 226, 427
Executive Officers -- boxes 227-228
Complaint Appeal Files -- box 228
Revision of The Making of the U. of M.-- box 283
Diversity Initiatives

COMU -- boxes 289, 427, 485
Michigan Agenda for Women -- box 289
Michigan Mandate -- boxes 289-290, 485
Minority Journalism Program -- box 485
President's New Century Fund -- boxes 290-291
Reports and Other Publications -- box 427
Sarah Goddard Power Memorial Fund -- box 485

Reference Files -- boxes 330, 485-487, 517
Inaugurations of Other Universities -- box 331
Divestment Files -- box 425
Computer Disks -- box 426
Correspondence -- box 426
Clubs and Organizations -- box 427
Events -- boxes 427, 485
Reports and Other Publications -- box 427
Executive Committee -- box 428
Projects -- box 428
Correspondence -- boxes 428-429, 485
Student Code -- box 485
Recommendations -- box 517

Homer A. Neal Supplemental Files

Correspondence -- boxes 429, 487

Lee C. Bollinger Supplemental Files

Campus Plan Project

Campus Plan Advisory Committee -- box 286
Venturi, Scott Brown, and Associates Reports -- boxes 286-288
Background Information -- boxes 288, 487
Correspondence -- box 487

Inaugural Greetings -- box 331
Drafts of The Tolerant Society – boxes 332-334
Life Sciences Commission -- box 354
Events -- boxes 430-434, 487
Life Sciences Initiative (LSI) -- boxes 434-435, 487
PIRC -- boxes 435-437
Universitas 21 -- boxes 437-438
Correspondence -- boxes 439-441, 487
Admissions Lawsuits -- boxes 518-519

B. Joseph White Supplemental Files

Correspondence -- box 488

Mary Sue Coleman Supplemental Files

Events -- boxes 442, 493-494
Executive Officers Meetings -- boxes 442-443
Reports -- boxes 444, 494-496, 517
Athletics -- boxes 488-489, 517
Boards/Committees -- boxes 489-492
President's China Task force -- box 493
Boards/Committees -- boxes 489-492
Speeches -- boxes 496-499
Subject Files -- boxes 499-503, 520, 526

Search Files

Searches, 1967-1989 -- boxes 336-339
Searches, 1994-1998 -- boxes 340-344
Searches, 1987-1994 -- box 345
Searches, 1992-2005 -- boxes 445-457
Searches, 1969-1990 -- boxes 458-459
Searches, 1975-2008 -- boxes 503-505, 520-522

Committee Appointment Files

Executive Committee Appointments -- box 329
General Files -- boxes 460-464
Committee Membership Lists -- box 465
Committee Membership Lists -- box 465

Development

Gift Letters -- boxes 508-513
Michigan Difference Seminars in Florida -- box 505
Prospects -- box 505
Reports -- box 505

Facilities -- boxes 506-507, 520, 522, 526
Freedom of Information Act

Appeals -- box 507
Policies and Guidelines -- box 507
Requests -- boxes 522-523

Audio and Visual Materials

Fleming Administration -- box 259
Shapiro Administration -- boxes 259, 261
Duderstadt Administration -- boxes 259-260, 335, 465
Neal Administration -- box 335
Bollinger Administration -- boxes 335, 465
Coleman Administration -- box 465

Ephemera

Printing Plates -- boxes 466-468

Accruals:

Periodic additions to the records are expected.

Rules or Conventions:

Finding aid prepared using Describing Archives: A Content Standard (DACS)
Contents
Using These Materials
---
RESTRICTIONS:

The President's records are open for research except for certain records restricted by statute or university policy. Restricted material includes personnel-related files, including search, review, promotion, and tenure files; student educational records; client/patient records; and records of executive officers of the university.

The President's record group includes restricted material in the following categories:

Personnel Related Records -- Boxes 268, 285, 326-328, 340-344, 445-457, 469-474, 485, 504-505, 514-515, 520-521, digital files
Student Academic Records -- Boxes 88, 229-230, 268, 285, 326-328, 469-474, 514-517
Patient/Client Records -- Boxes 268, 285, 326-328, 469-474, 514-515, 517-520, 522-523
Executive Officer Records -- Boxes 298, 304, 335, 376-424, 427, 442-444, 465, 475-484, 488-503, 505, 507-513, 520-521, 524, 526, oversize folder, oversize volume, digital files

Access Restrictions for University of Michigan Records

University records are public records and once fully processed are generally open to research use. Records that contain personally identifiable information will be restricted in order to protect individual privacy. Certain administrative records are restricted in accordance with university policy as outlined below. The restriction of university records is subject to compliance with applicable laws, including the Michigan Freedom of Information Act.

Categories of Restricted Records

Personnel-related files, including search, review, promotion, and tenure files, are restricted for thirty (30) years from the date of their creation.
Student educational records: FERPA's protection of personally identifiable information in a student's education records ends at the time of a student's death and therefore is a matter of institutional policy. As a courtesy to the families of recently deceased students who were enrolled at the time of death, the University generally will not release information from their education records for five years without the consent of the deceased student's next of kin. Eighty-five (85) years after the date the records were first created, the University will presume that the student is deceased. Thereafter the student's education records will be open. Student records at the Bentley Historical Library are restricted for eighty-five (85) years, but may also be made available upon proof of the death of the student.
Patient/client records are restricted for one-hundred (100) years from the date of their creation. The terms of use for particular records older than 100 years may require the research to sign a Patient/Client Access Agreement.
Executive records: Records generated by the university's executive officers, deans, directors, department heads, and their designated support staff are restricted for twenty (20) years from the date of their creation.

Restricted files are indicated in the contents list of the collection's finding aid with a restriction note indicating the restriction type and the date of expiration.

For further information on the restriction policy and placing Freedom of Information Act requests for restricted material, consult the reference archivist at the Bentley Historical Library (bentley.ref@umich.edu) or the University of Michigan Freedom of Information Office website (https://foia.vpcomm.umich.edu/).

USE & PERMISSIONS:

Copyright is held by the Regents of the University of Michigan but the collection may contain third-party materials for which copyright is not held. Patrons are responsible for determining the appropriate use or reuse of materials.
PREFERRED CITATION:

item, folder title, box no., President (University of Michigan) Records, Bentley Historical Library, University of Michigan.

item, [URL], President (University of Michigan) Records, Bentley Historical Library, University of Michigan.