Back to top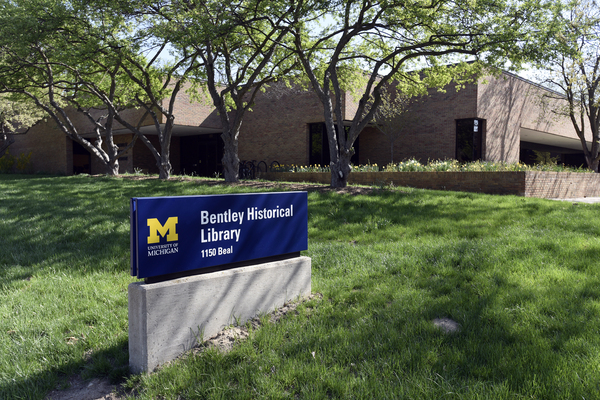 Address

:

1150 Beal Avenue

Ann Arbor, MI 48109-2113, USA
Chase S. Osborn Papers, circa 1870-1949 (majority within 1889-1949)
Using These Materials
---
Restrictions:

The collection is open for research.
Summary
Creator:

Abstract:

Governor of Michigan, writer, businessman; papers include correspondence, business records, speeches, writings, visual materials, diaries.

Extent:

149.9 linear feet ((in 152 boxes))
3 oversize volumes
1 oversize folder

Language:

English.

Call Number:

86549 Aa 2; AC; UAl

Authors:

Finding aid prepared by: Thomas E. Powers
Background
Scope and Content:

The Osborn collection consists of correspondence, diaries, business papers, scrapbooks, photographs, and other materials accumulated during his life. Materials prior to 1889 are scarce possibly because of a fire which destroyed Osborn's home; thereafter and up to the time of his death in 1949, the Osborn papers are voluminous, documenting each of this man's varied activities. Although his career as elected public official was limited to one term as governor, the collection reflects the importance of his life in areas beyond politics alone. His voice was heard, in letters and speeches and monographs, speaking out on the issues of the day - prohibition, conservation, the New Deal, and of course his life-long interest in the development of Michigan's Upper Peninsula economy and natural resources.

Biographical / Historical:

Chase Salmon Osborn was born January 22, 1860, in Huntington County, Indiana, to George A. and Margaret (Fannon) Osborn. Both of Osborn's parents were self-tutored medical doctors. Osborn attended Purdue University, 1874-1877, but left without graduating to become a newspaperman. Starting on the Lafayette (Indiana) Home Journal, Osborn worked successively on the Chicago Tribune and the Milwaukee Journal. In 1883 he moved north, purchasing the Florence (Wisconsin) Mining News. Over the next four years he also began prospecting for iron ore in the Menominee range. In 1887 he sold the newspaper and returned to Milwaukee as city editor of the Sentinel. At the same time, he helped establish and became editor of the Miner and Manufacturer (Milwaukee). Excited by the prospects of making his fortune in mining, Osborn left soon after for Sault Ste. Marie where he could be close to iron mining regions of Michigan and Ontario. To support himself he became part owner of the Sault Ste. Marie (Michigan) News which he published until 1901, approximately the same time as his discovery of a rich iron deposit in Ontario near Sudbury. With this discovery and other investments, Osborn had the money and the time to pursue other areas of interest. He did not immediately give up his newspaper career. In 1902 he bought a half interest in the Saginaw (Michigan) Courier-Herald which he held until 1912.

Long before Osborn left the newspaper business, he expressed an interest in Michigan politics as a Republican. From 1889 to 1893 he served as postmaster of Sault Ste. Marie; he was state fish and game warden, 1895 to 1899; state commissioner of railroads, 1899-1903; regent for The University of Michigan, 1908-1911; and governor, 1911 to 1912. He was unsuccessful congressional candidate in 1896, an unsuccessful aspirant for nomination as the Republican candidate for United States senator in 1918, Michigan's favorite son candidate for the Republican vice-presidential nomination in 1928, and an unsuccessful candidate for the Republican nomination for the United States Senate in 1930. Consistently progressive in his political sentiments, Osborn refused to bolt the Republican party in 1912, although he finally did vote for Roosevelt.

From 1887 on Osborn made his home in Sault Ste. Marie and on nearby Duck Island. In later years he wintered in Possum Poke, Worth County, Georgia. After 1912, Osborn devoted himself to lecturing, travel, writing, and to his investments. He authored thirteen books relating to American history, politics, Indian lore, and travel. Osborn died in Georgia on April 11, 1949.

Acquisition Information:

The collection came to the library in many different accessions beginning in 1939. Prior to his death Governor Osborn donated miscellaneous publications and writings. Donor no. 238 Following his death in 1949, his widow, Stellanova Osborn donated the major corpus of Osborn papers. Donor no. 2668

Arrangement:

The Osborn collection has been arranged into twelve series: Correspondence; Personal Letterbooks; State Game and Fish Warden; Biographical and Genealogical Materials; Diaries; Speeches; Political Papers; Mining, Timber, and Land Investments; Topical Files, Writings, Scrapbooks, and Photographs.
Contents
Using These Materials
---
RESTRICTIONS:

The collection is open for research.

USE & PERMISSIONS:

Donor(s) have transferred any applicable copyright to the Regents of the University of Michigan but the collection may contain third-party materials for which copyright was not transferred. Patrons are responsible for determining the appropriate use or reuse of materials.
PREFERRED CITATION:

item, folder title, box no., Chase S. Osborn Papers, Bentley Historical Library, University of Michigan